Find Out What Happens When You Get Banned From Facebook
Getting banned from Facebook can mean missing out on updates from friends and losing the memories you haven't backed up elsewhere. If you use the platform for business, it could also mean costly downtime. What happens to your profile, posts, friends, and comments? Whether you were banned for no reason or just got banned from Facebook for the first time, this guide will help you understand what happens when you get banned from Facebook and how to get unbanned.
What Happens When You Get Banned From Facebook?
If you are banned from Facebook, your attempts to log in will fail and instead result in the ban notification. Without access to your profile, you can't do the standard Facebook activities, like posting, commenting, or liking posts.
You are also locked out of your business page and can't continue with business unless you have a co-admin who can update the page for you. Messages sent to other Facebook users are not removed.
How To Get Banned From Facebook Forever
Facebook cites repeated violations as the cause of its permanent bans—but several activities are listed as severe and can prompt an immediate account ban. This means you may have your account suspended a few times or have your non-compliant posts flagged or taken down before you get banned from Facebook forever.
Here are some of the severe violations that can result in a permanent ban from Facebook:
Posting content that promotes violence and incitement
Associating with violent groups or organizations
Trading regulated goods, such as guns and non-medical drugs, on the platform
Posting information that can undermine the security of other Facebook users
Posting fake news that can pose a threat to personal or public health
Using Facebook's tools and data to engage in activities that violate its policies
Publishing content that sexually exploits minors and adults
Bullying and threatening other users
Displaying nudity
Abusing intellectual property
Having a spam-like account or posts
How To Get Someone Banned From Facebook
If you would like to have a certain profile banned from Facebook, all you need to do is report the account as follows:
Visit the profile you want to report
Tap on the More option and choose Find support or report profile
Select the option that best explains how the user violates the Facebook Community Standards
Click Next and provide a report (if required)
Tap Done
Facebook uses its Community Standards as a guide to judge the account, but there is no guarantee that users will be banned.
If you wish to report a specific post instead, here is what you need to do:
Go to the post you wish to report
Use the Find support or report option to submit your complaint
How To Ban Someone From a Facebook Page
Facebook recommends that you ban users who consistently post spam on your page. If you want to ban someone from your Facebook page, there are two ways to achieve that, and you also have the option to unban them when you wish.
To ban someone from the post they published on your page, follow these steps:
Open your Facebook app
Navigate to your Facebook page
Go to Visitor posts
Click on the three dots in the top right of the post by the user you intend to ban
Select Ban From Page, then OK
To ban someone from the list of people who like your page, proceed as follows:
Open your Facebook account
Navigate to your page
Tap the More icon represented by three dots
Click on Edit settings
Select People and other pages, then go to People who like this page
Click Ban next to the user you intend to ban
Tap OK
How To Get Unbanned From Facebook
When a user is banned from Facebook, they get an automated email alert about the ban. Depending on the violation, you may receive a warning alert or be banned temporarily (for a few hours up to 30 days) or permanently for repeated violations. Usually, the notification message is vague, stating violation of Facebook's Community Standards.
If you feel that your account was wrongfully suspended, you may request a review using these steps:
Open the review form in the Help Center
Enter your email address and name
Upload a photo of your ID
Click Send
The support team will receive your request for review, and you will hopefully get unbanned from Facebook. An account banned for severe violations cannot be restored. For temporary bans or suspensions, you need to wait for the specified time to expire and avoid repeating the same violations.
Use DoNotPay To Get Unbanned From Facebook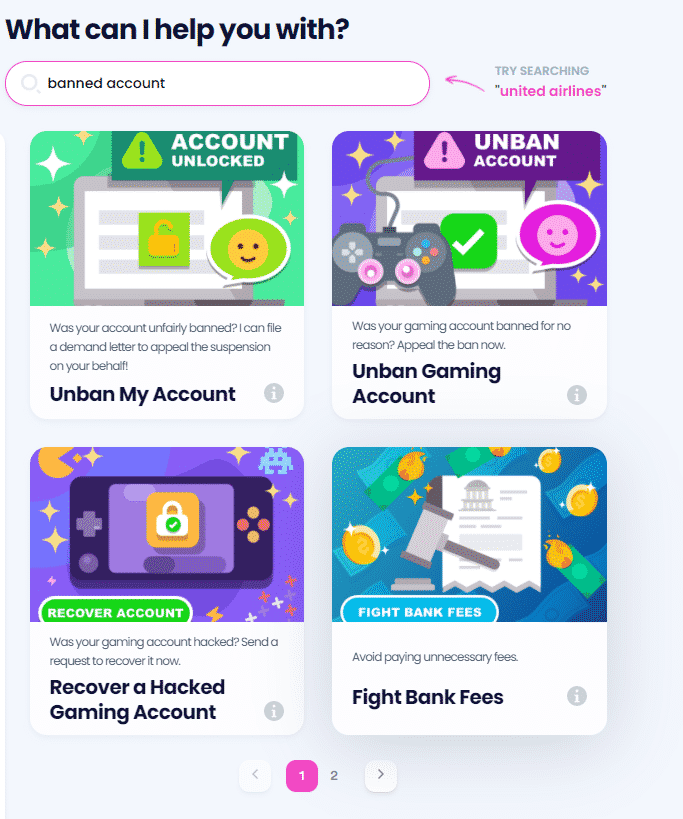 Responding to the ban notification email does not promise success for your unban request. Due to a global user base and many ban appeals sent daily to Facebook's support team, it's easy for a request to go unnoticed.
If you would like to appeal your ban and receive a response from Facebook, use DoNotPay. To send your request, follow these steps:
for DoNotPay
Find the Unban My Account product
Answer a few questions about your banned Facebook account
Click Sign and Submit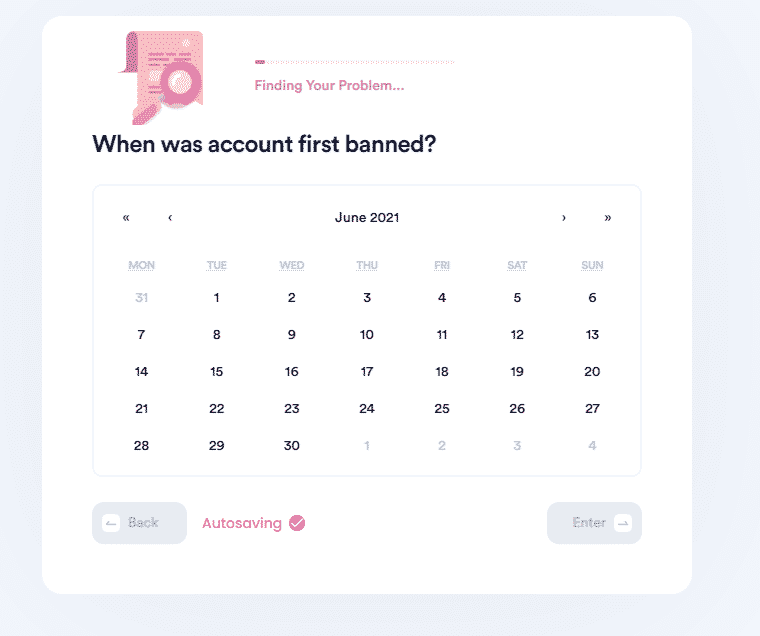 DoNotPay will automatically generate a custom demand letter and send it to Facebook quickly. You should expect to get a response from Facebook in two weeks as per the terms of the demand letter. If Facebook marked your ban as a final decision or you previously got a response stating the same, making another appeal won't help.
You can use our tool for other popular social media if you're experiencing these issues:
Get Unbanned From Other Platforms Using DoNotPay
If you have troubles with your suspended Facebook account or any other platforms, DoNotPay can help you appeal your suspension. We will help you create a demand letter that doesn't get lost in the pile of requests companies receive daily.
All you have to do is and use the Unban My Account.
Get started the right way by checking out our guides about various platforms below:
Our App Solves Your Legal Issues!
Do you really have to set aside astronomical amounts to pay lawyers for drafting legal documents or taking a person or business to small claims court?
The answer is no—all the cash remains in your pocket, thanks to DoNotPay! From now on, you can perform many legal tasks from home with the help of our app. It enables you to create flawless powers of attorney, divorce settlement agreements, and child travel consent forms in a snap.
That's not all—once we generate these documents for you, we also help you have them notarized via a video meeting. No need to waste your time and fuel visiting notary offices.
Check Out Other Perks DoNotPay Offers!
DoNotPay provides a wide selection of services, from creating virtual credit cards and burner phone numbers to getting refunds from companies and canceling subscriptions. Have you received an unfair parking ticket? Appeal it with our app before you know it! Are email spam and robocalls making your life a living hell? No scammer stands a chance against our efficient AI-powered tools and features!
We also work in your favor when it comes to safety. Our app offers perfect ways to prevent copyright infringement, stalking and harassment, work discrimination, sex offenses, and disputes with annoying neighbors.