Troubles With PayPal? Locked Account Can Be Easily Recovered via DoNotPay!
Have you realized during checkout that you can't access PayPal? Locked account issues are frustrating, and resolving them might take some time.
If you don't have time to wait for the response to your complaint, possibly for weeks on end, DoNotPay has a solution.
Sign up for our service and gain access to Unban My Account—our tool that composes ban appeal letters for you and speeds up their processing. This way, you can appeal your suspension in a fraction of the time it would take you to do it the traditional way—through PayPal's support page.
PayPal Locked Account—Potential Reasons
In case your PayPal account is suspended, check your email inbox for a message from the company that explains why this happened.
The reasons that PayPal's explanation email may list are following:
Regulatory requirements—in case you requested a product, such as a debit card, your account may get limited until this request gets fulfilled (as required by law)
Violation of the Acceptable Use Policy—if you are using your account for trading illegal items (such as firearms or prescription medication)
Suspicion of unauthorized use—your account will be suspended to protect your funds if PayPal:

Believes your account is being used without your authorization
Receives a message from your bank that there have been unauthorized transfers between your PayPal and bank account
Gets a notification from your credit/debit card issuer that your card has been used without your authorization

Higher-risk sales activity—if you are a merchant and your activity includes:

A large number of claims and chargebacks
A sudden and complete change in the type of products you sell (high-cost items)
An unusual and rapid increase in sales volume

Inactive account—if you haven't used your account after you've opened it
How Do I Unlock My PayPal Account?
If your PayPal account is suspended, these limitations can be appealed through the platform's Resolution Center, and here's how:
Go to the PayPal Homepage
Scroll down to the website's footer to find the link for Help and Contact and tap it
Click the Resolution Center link
Select Go to Account Limitations
Go through each listed step and click Resolve
It may happen that the details you provide aren't sufficient. In this case, you'll receive a request for additional information via email from the PayPal support team. You should reply to this email as soon as possible before they close your support ticket.
Your account may remain locked for some time even after you've responded to each of their requests. If this issue goes on for a while, there are two opinions:
Check your email for additional information requests from the PayPal support team
Wait a bit longer since they may still be examining your case
Why Wait for the PayPal Help Center? Locked Account Complaints Are Easier To Handle With DoNotPay!
If you are wondering whether there is a smoother way to get unbanned or unsuspended from PayPal—yes, there is. DoNotPay is here to help you throughout the complaint filing procedure. We also speed up the processing so you don't find yourself waiting for a response for weeks.
Our app collects your PayPal account info, generates a custom appeal letter, and sends it to PayPal. This professionally-written complaint puts enough pressure on the company's complaint processing team and pushes them to set your demand as a priority among thousands of other submissions.
Here is how you can use DoNotPay to start the unlocking process for your PayPal account:
Open your DoNotPay account in a web browser and find Unban My Account tool
Answer several of our questions regarding your PayPal account details, such as:

Email address and phone number you used to open and verify your account
Date when your account got locked
Reason PayPal provided for locking your account

Tell us about any suspicion you have that you are being discriminated against based on gender, race, religion, nationality, etc.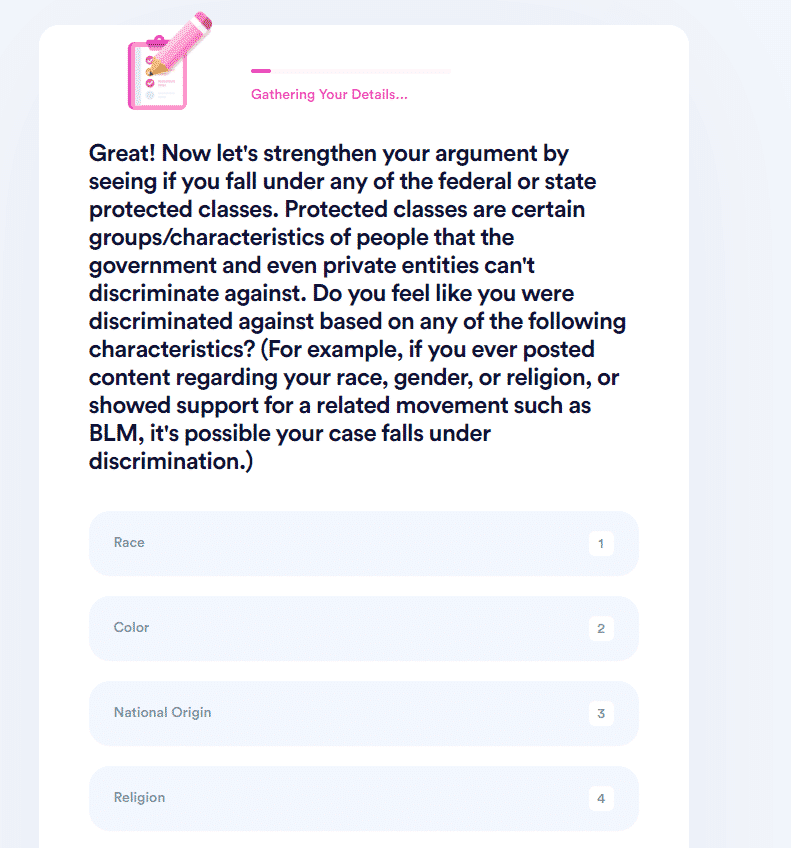 All those answers will provide our app with enough info to build a strong case for you. The appeal letter will also give PayPal a response deadline of two weeks so they don't' waste your time.
The best thing is—if your complaint doesn't work, you can take your case to a small claims court with our help.
Do You Have Issues With Other Platforms? Rely on DoNotPay for More Help!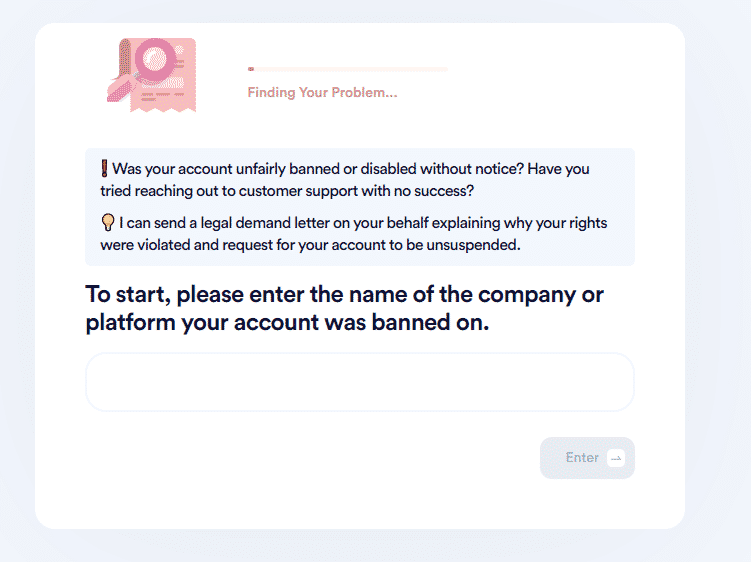 Your online shopping experience can be compromised by suspension issues outside of PayPal. Unban My Account helps you file complaints to numerous shopping-related platforms, and some of them are:
DoNotPay's Abilities Go Well Beyond Shopping Platforms
Some platforms affect our lives on a larger scale than e-commerce does. Social networks first come to mind, but also video streaming, gaming platforms, and other web-based services.
DoNotPay's Unban My Account tool, together with its gaming-focused counterpart Unban Gaming Account, can help you resolve suspension issues on the majority of platforms you use daily.
Here are just a few of our guides that can help you with banned or suspended accounts:
DoNotPay Is Committed to Solving All Kinds of Problems for You
Are you lost in the sea of administrative tasks? By subscribing to DoNotPay, you gain access to many products and features that can assist you in:
Check Out What Our Robot Lawyer Can Do for You
Not too skilled at drafting contracts and agreements? Keep calm and let DoNotPay, your virtual assistant, do it for you! Our app can generate various legal documents, including divorce settlement agreements, child travel consent forms, and powers of attorney. All it takes is to click a few times or answer several quick questions—we do all the rest!
Besides providing personalized documents, DoNotPay takes over other tiresome legal tasks. These include having your documents notarized, filing lawsuits in small claims court, requesting crime victims' compensation, or submitting HR complaints.