Bakersfield College Financial Aid From A to Z
Is Bakersfield College your preferred place to start your higher education, but you feel like you can't cover all the costs? Don't despair—this is a problem most students are facing. All you should do is have a look at the available financial aid programs offered by the institution and apply for them within proposed deadlines.
How to apply for Bakersfield College financial aid? When? What do you need for your application? When will you receive the money if you are selected? Look for the answers to these questions in our article!
Eligibility Criteria for Financial Aid at Bakersfield College
The financial aid application procedure at Bakersfield College starts with completing a specific form that will help the college estimate your financial need. Depending on your student group and a few other criteria, you will need to fill out the:
The table that follows shows the qualification criteria for both forms:
To Qualify for FAFSA, You Must:
To Qualify for CADAA, You Must:

Belong to one of the following categories:

U.S. citizens
U.S. nationals
Eligible non-citizens
Permanent residents

Have a high school or GED diploma
Be accepted as a regular student at this institution
Possess a valid Social Security card
Keep solid academic progress
Repay all your previous student loan debts
Be registered with Selective Service—for male candidates only

Be an international/undocumented AB-540 student
Have a minimum of three completed years at any California high school
Go through one of the following scenarios:

Graduate from any California high school
Take the California High School Proficiency Exam
Obtain a GED diploma in California

Fill out an affidavit stating that you will file/have already filed for legal immigrant status
You must submit these forms each school year to qualify for a new annual round of financial aid.
Another important aspect is deadlines as your application must be filed within the proposed time frame. Here are some important dates you should consider if requesting financial support at Bakersfield College:
October 1—FAFSA and CADAA for the next year become available
February 1—Scholarship application deadline
March 2—Cal Grant deadline
May 1—Priority document deadline
Award letters containing the college's decision are sent in July.
Offered Bakersfield College Financial Aid Types
By submitting a FAFSA/CADAA form, you get considered for most available financial aid programs at Bakersfield College. The institution provides two types of support schemes:
Non-need-based financial aid
Need-based financial aid
Here is the table with more details:
Non-Need-Based Financial Aid
Need-Based Financial Aid

Scholarships
Private loans
Federal Parent PLUS Loans
Federal Stafford Unsubsidized Loans

State grants
Federal Pell Grant
Federal work-study programs
Federal Stafford Subsidized Loans
Fee waivers
Federal Supplemental Educational Opportunity Grant (FSEOG)
Not all the listed programs may be available for all student groups. You can check the applicable schemes for each category by exploring the institution's website or contacting the support team.
What Happens After You Complete Your FAFSA/CADAA?
Here are the steps following your application submission:
Read through your Student Aid Report (SAR)—You must do this to prevent any potential mistakes in your FAFSA form. If you notice incorrect information or any errors, the form needs to be resubmitted as soon as possible
Wait for the college to make a decision—The Bakersfield College financial aid office will assess your financial need by considering your Cost of Attendance (COA) and the Expected Family Contribution (EFC). Once the amount you should receive is calculated, the institution will send you an official offer via mail
Revise the offer—If you requested financial aid from multiple colleges, compare the offer you got from Bakersfield College to the others and determine the most favorable solution
File an appeal if you aren't satisfied with the outcome to get more money—If you don't want to give up on Bakersfield College because of a low financial aid amount, try appealing its decision. Compose an appeal letter elaborating on the reasons for your application and describing all financial issues that make your EFC lower. Don't forget to include an overview of other, more generous offers you received from other colleges you applied for. If you aren't too skilled at writing such a document, and have it generated in a few clicks
Go Against Low Financial Aid Offers by Filing an Appeal With DoNotPay
Are you afraid that you won't be able or have time to write an appeal letter yourself? Don't rely on suspicious and often inaccurate online templates. DoNotPay will compose a claim for you in the blink of an eye and send it to the institution in question!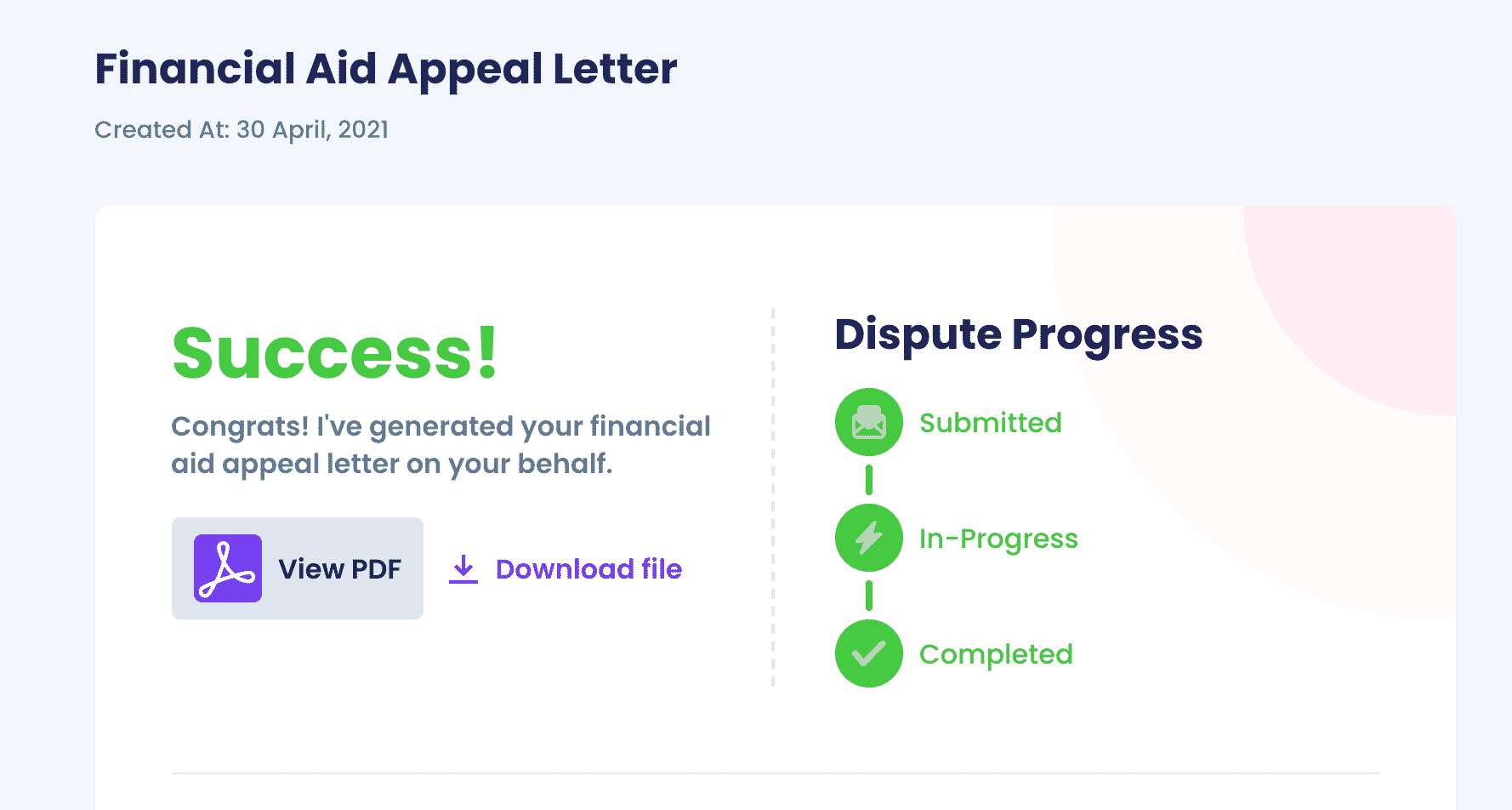 Here's a super simple process you should follow to get our help:
in any preferred web browser
Look for the Appeal for More Financial Aid product
Enter Bakersfield College as the name of the institution you want to attend
List more colleges that gave you better offers if you applied for any
Disclose a few basic details about yourself, your household, and your finances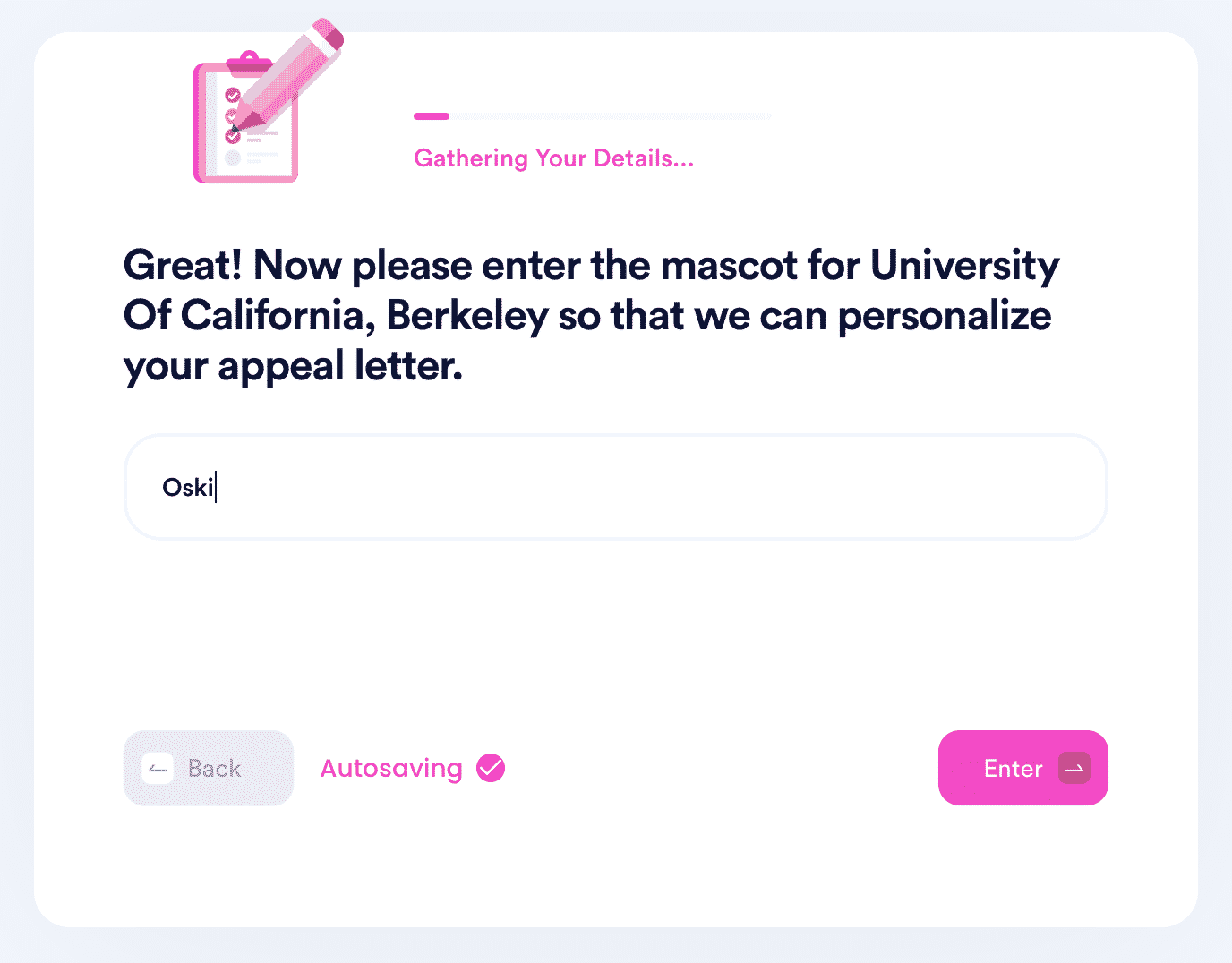 The best part is that you can use this procedure to appeal the decision of any college or graduate school, including the ones listed in the following table:
Is Bureaucracy Giving You a Headache? DoNotPay Can Help!
Bureaucracy is a big part of our lives that we can't escape. We understand the struggle over at DoNotPay—that's why we've created various features that can help you out! The world's first robot-lawyer app can assist you with:
DoNotPay's Arsenal of Features Doesn't Stop Growing
DoNotPay's number of handy features keeps growing by the day. Our platform can help you with various issues ranging from filing insurance claims to finding clinical trials. Want to save money on unused subscriptions? DoNotPay has got your back! We can help you cancel them and fight any subscription spam email that you get. Your AI assistant can also get you free raffle tickets or find any missing money in no time!
With DoNotPay, you'll have access to countless features that grow in numbers by the day! You'll be able to block robocalls, deal with tedious neighbors, and much more!