The Ins and Outs of Augusta University Financial Aid
It's no secret that colleges and universities are expensive, especially when it comes to tuition. Although you can't get into your dream school without spending some money, that doesn't mean you can't save a pretty penny when applying!
If you want to apply to Augusta University and the expenses are too high, you can always consider the financial aid programs it offers to make your tuition more affordable. With our guide, you'll be able to find all the relevant info about Augusta University financial aid and figure out how to apply for it!
Subscribe to DoNotPay, and learn how to appeal a rejected or low financial aid offer without breaking a sweat!
What Financial Aid Types Does Augusta University Offer?
Before applying, you should learn what financial aid types you can choose from. Augusta University offers the following ones:
Financial Aid Type
Programs
Scholarships

Hope Scholarship
Zell Miller Scholarship

Grants

Federal Pell Grant
Federal Supplemental Educational Opportunity Grant (FSEOG)
TEACH Grant

Federal work-study

On-campus jobs include working at the dining hall or in the library

Federal direct loans

Georgia Student Access Loan
Direct Loan
PLUS Loan
Alternative loans
How To Apply for Augusta University Financial Aid
Applying to Augusta University may seem complicated, but don't worry! We're here to explain the process step by step to make it simpler. To apply for Augusta University financial aid, you have to:
Check if you're eligible and complete the Free Application for Federal Student Aid (FAFSA) for federal financial aid or Georgia Student Financial Aid Application System (GSFAPPS) for state scholarships and grant programs. Processing your FAFSA application will take from five to seven days
Read and make sure there aren't any mistakes in the Student Aid Report (SAR) that the FAFSA will create. If you need to make any corrections, feel free to do so
Visit the Augusta University official website to see what other forms you should provide to apply for the specific financial aid type you want
Hand in the required documents to the Office of Student Financial Aid
Check your POUNCE account to accept or decline the loans
Wondering when to apply for financial aid? The safest option is to do it when applying for admission. That way, you'll receive an offer in time for enrolling.
Who Is Eligible for Augusta University Financial Aid?
Augusta University offers financial aid to both undergraduate and graduate students. If you want to apply for a specific financial aid type, you should visit the Augusta University official website and see what requirements you should meet to be eligible for it.
You can also find the net price calculator on the website and use it to see how much money you would need based on the cost of attendance and financial aid provided to students in the previous years. Keep in mind that this is not a final net price—it's only a rough estimate.
How Can I Contact the Augusta University Financial Aid Office?
If you have any questions about your application for financial aid, reach out to the Augusta University Financial Aid Office. You can do so in several ways—consult the table below for instructions:
Contact Augusta University Support Via
What To Do
Phone

Dial 706-737-1524
Ask what you want to know
Follow any instructions he or she gives you

Email

Write an email explaining your dilemma
Send it to osfa@augusta.edu

Fax

Type out your request
Fax it at 706-737-1777

Mail

Compose a letter with your request
Mail it to the following address:

Office of Student Financial Aid, Summerville Campus - Fanning Hall, 1120 15th Street, Augusta, GA, 30912

In person
You can visit the Augusta University Financial Aid Office in person and ask about your application on the spot. Visit the following address to do so:

Office of Student Financial Aid, Summerville Campus - Fanning Hall, 2500 Walton Way, Augusta, GA, 30904
Use DoNotPay To Appeal a Low Augusta University Financial Aid Offer With Ease!
Did Augusta University make a low financial aid offer or reject your application altogether? Don't worry! We're here to help you file an appeal letter in the blink of an eye! The process is streamlined to a tee, and we do all the work for you! Follow these instructions to initiate the process:
Choose the Appeal for More Financial Aid feature
Supply us with info about the college you want to attend and your financial situation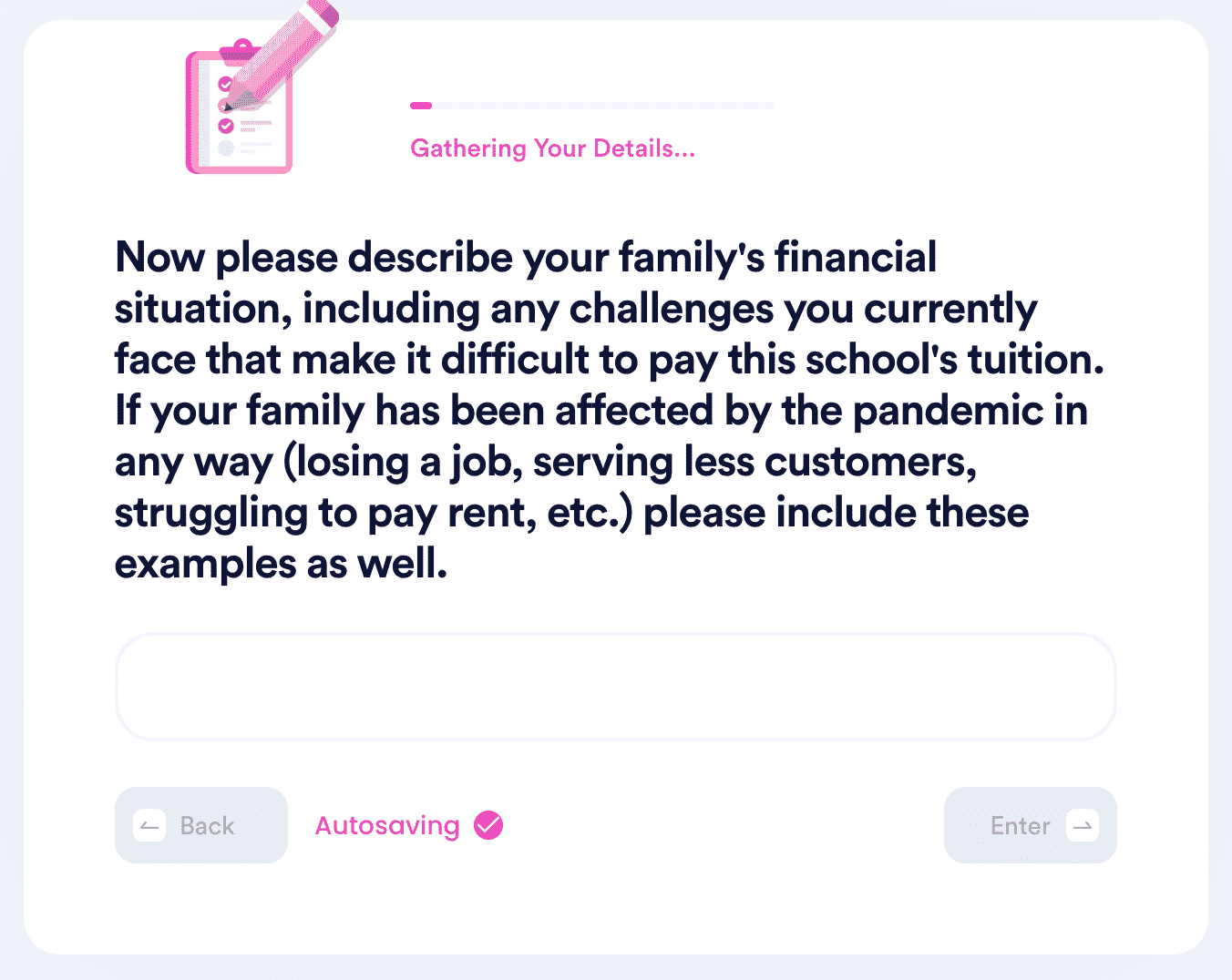 Once you complete the above-listed instructions, DoNotPay will generate your appeal letter and send it to Augusta University Financial Aid Office in your stead!
If Augusta University doesn't offer enough financial aid, you can check out the table below and see how to get more support from other colleges:
DoNotPay's Vast Collection of Features Keeps Expanding
Determined to simplify bureaucratic procedures and help you with various daunting items on your to-do list, we created DoNotPay—the world's first robot lawyer! With us, you can:
Streamline Different Tasks by Using DoNotPay's Practical Features
Are you looking for an efficient way to gain back your unclaimed money or get a refund from a company? Do it with DoNotPay without lifting a finger! Our app provides excellent money-saving features that will increase your budget and make all unnecessary expenses disappear.
We can assist you in terminating unwanted subscriptions, recovering your unused gift card funds, reducing your bills, and requesting late delivery refunds. You don't even need to hire lawyers to write a financial aid appeal letter, an HR complaint, or a child travel consent form in your stead—our app can do all this!