Making Sense of the AT&T Return Policy—The Only Guide You'll Ever Need
Did you spend your hard-earned money on an AT&T device that fails to serve your needs? Our comprehensive AT&T return policy guide will shed some light on the return process and let you in on a few secret tips and tricks to getting a refund quickly!
AT&T Return Policy—General Terms
Consumers and Individual Responsibility Users (IRU) have up to 14 days after the purchase to return accessories and devices to AT&T. If you signed an AT&T business agreement as a Corporate Responsibility User (CRU), you can return your devices and accessories within 30 days of purchase. Note that all tablets must be returned within 14 days of purchase.
To qualify for a return, the items must meet the following criteria:
New devices need to be in like-new condition, with no damage, in the original packaging, and with all original components (battery, charger, manual, and unopened software)
AT&T Certified Restored devices need to be in like-new condition, undamaged, and in the original packaging
AT&T Certified Pre-Owned devices should be undamaged (except normal wear and tear) and in the original packaging
Although the company accepts returns for almost all devices and accessories, the following exceptions apply:
Closeout items
Cosmetic blemish items (except AT&T Certified Pre-Owned)
Insurance replacement items
Prepaid refill and gift cards
You can return products bought directly from AT&T, a corporate-owned AT&T retail store, online on the official website, from the myAT&T app, or over the phone. Items that weren't purchased from any of the listed places cannot be returned. If you bought a product from another authorized AT&T dealer or retailer, it's best to consult the merchant's return policy.
How To Return Products to AT&T
You can return devices and accessories to AT&T by:
Visiting the nearest AT&T store
Mailing the item
If your device was purchased at an AT&T retail store, you can return it to any AT&T store during the return window. If you bought it online or by phone, you can mail it back to AT&T or return it to any retail store.
Be sure to back up all your content from the device, including personal information and contacts, pictures, videos, messages, and everything else you want to save. Disable the Find Phone features, do a factory reset, and remove the SIM and memory cards.
Returning Products to AT&T Stores
Returns to a store are straightforward—you have to:
Locate the nearest AT&T store
Pack the items in the original packaging, with all accessories included
Bring the receipt with you
Explain the reason for your visit to an AT&T employee
Your return will be processed shortly, but you may have to wait a while to get a refund.
Mailing Your Returns
To return AT&T equipment by mail, you need to follow these steps:
Contact customer care at 800-331-0500
Ask for a prepaid label
Print the label or have AT&T mail it to you
Pack the item(s) in the original packaging securely
Affix the prepaid label on the outside of the box (make a copy for your record)
Mail the parcel with the United States Postal Service
Make sure not to lose the tracking information as you should keep an eye on the parcel until it reaches AT&T's warehouse. You will receive an email informing you whether your return was accepted or not.
When starting the return process, these are the options you can use:
| | |
| --- | --- |
| Can I Initiate a Return Via: | Yes/No |
| DoNotPay | Yes |
| Email | No |
| Phone | Yes |
| In person | Yes |
| Website | No |
DoNotPay Paves the Way to Easy Returns
Is mailing your item giving you trouble? Do you despise waiting in line? Let DoNotPay assist you in making a return to AT&T in a jiffy! We know the ins and outs of the AT&T return policy, so you needn't worry about getting stuck in the process. , and in three simple steps, we will:
Customize a return request letter to AT&T
Inform the company whether you'd like a refund or an exchange
Set a deadline to ensure your request gets processed promptly
Provide you with a free return shipping label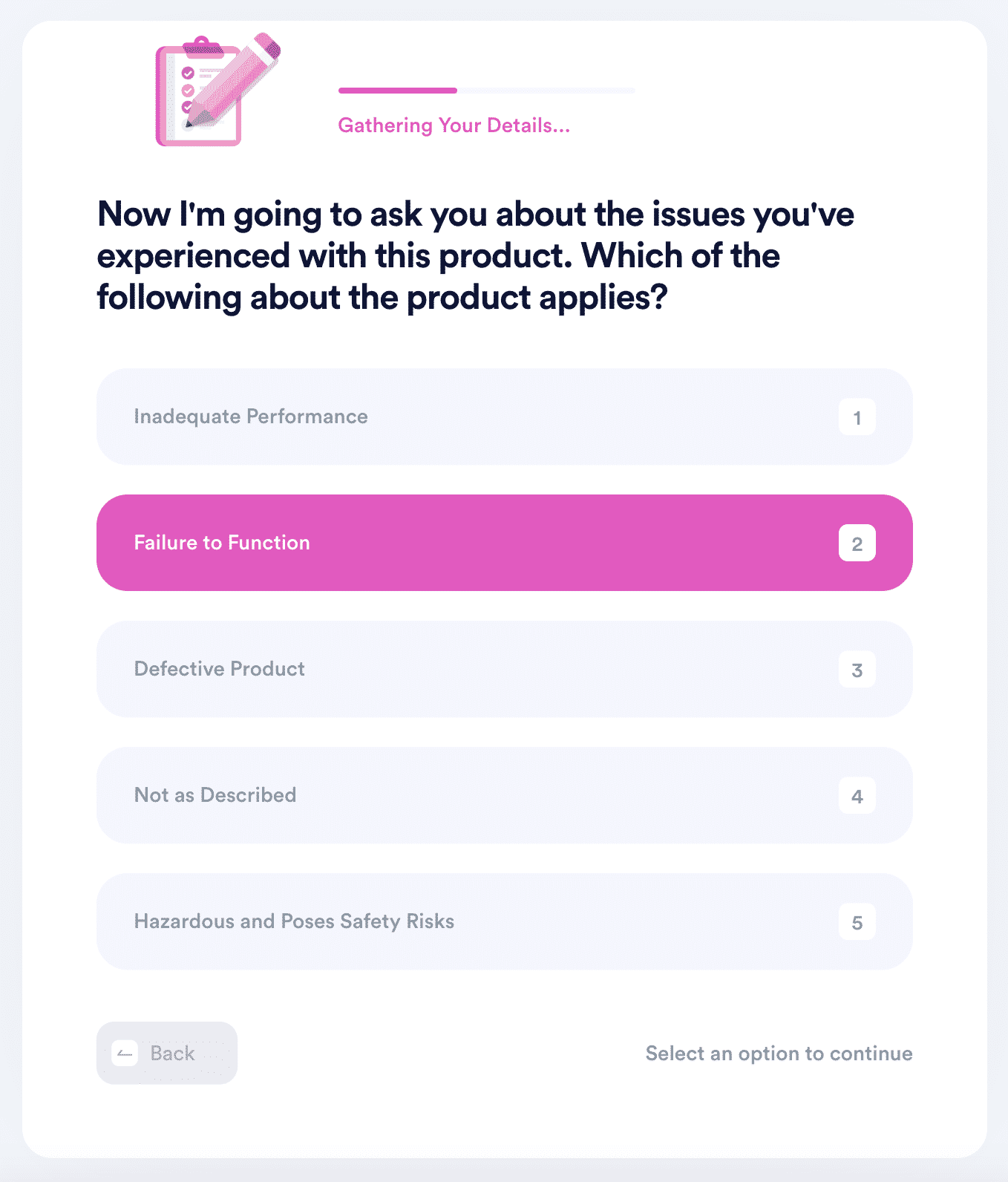 All you have to do is:
Navigate to our Item Return Request option
Answer a few simple questions regarding your purchase (add photos if needed)
Click on Submit
In just a few minutes, we will initiate the process and won't stop until you get what's yours!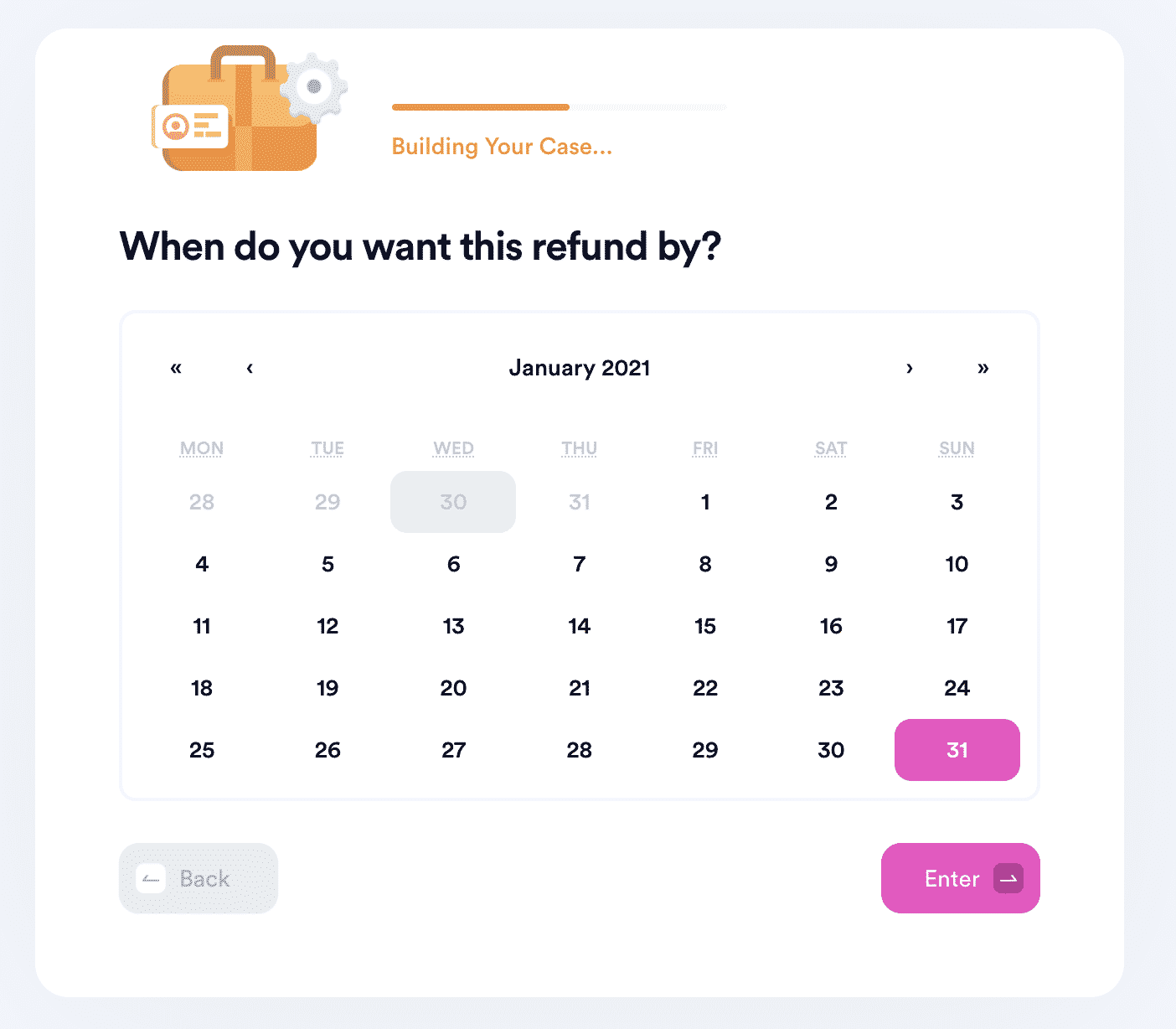 We have helped other AT&T users solve issues such as:
If you need assistance with returning products to other popular retailers, you can rely on our guides to lead the way.
Don't Tolerate Corporate Attitudes—Request What's Rightfully Yours
DoNotPay is known for being the champion of customer advocacy because we help our users claim what's rightfully theirs, and we don't tolerate big corporations taking people's hard-earned money.
No matter if you want to request a refund, insurance, extended warranty, or compensation from airlines, our AI-powered lawyer will fight for your right.
If you feel like you're overpaying certain subscription services, we can help you cancel them. Also, if you want to test a subscription before you start paying money for it, don't connect your credit card to the free trial page! You can sign up for free trials using our virtual credit card. That way, companies won't be able to charge you auto-renewal fees because the card has no funds.
Wait! DoNotPay Can Help You in Many Other Ways
DoNotPay has many different areas of expertise—helping you return your faulty items is only one of them.
Check out how our app can assist you in: