Get Your
DirecTV Now
(
AT&T TV Now) Free Trial
With DoNotPay's Virtual Credit Card
AT&T TV is a streaming multichannel TV run by the telecommunications giant AT&T. 
There are three brands under the AT&T TV brand umbrella, including AT&T TV Now—formerly DirecTV Now. 
They are:
AT&T TV 

AT&T TV Now

AT&T Watch TV 
AT&T TV Now is a direct-to-consumer service launched in November 2016 that's available to purchase without a contract. Since it launched in 2016, it has aimed to compete with other over-the-top Internet television services such as YouTube TV or Sling. 
The service had 788,000 subscribers in April 2020.
Does AT&T TV Now Offer a Free Trial?
Yes, you can get a free seven-day trial of an AT&T TV Now package through AT&T. 
Your payment information will be required during the sign-up. The accepted payment methods include credit cards—Mastercard, Visa, American Express, and Discovery—and PayPal.
How Can I Get an AT&T TV Now Free Trial?
You can apply for a free trial simply by clicking on this link and entering your payment details. This should kick-start your free trial automatically.
Does the AT&T TV Now Free Trial Automatically Renew Into a Paid Subscription?

The AT&T TV Now free trial does turn into a paid monthly subscription automatically. 
AT&T will ask for a payment method to ensure the service isn't interrupted when your free trial comes to an end. Keep in mind that the bank will verify your payment method with temporary pre-authorization charges. 
If you don't want your free trial to renew into a subscription, make sure to cancel by 7 p.m. ET on the seventh day of your trial. To be completely sure that your free trial has ended, sign in to your account to find out.
How Much Does AT&T TV Now Cost After the Trial?
AT&T TV NOW is among the priciest live TV streaming service options on the market. If you opt for it, you can stream the service on up to ten different devices.
Once your free trial runs out, you're looking at the following costs depending on the selected plan:
| | | |
| --- | --- | --- |
| Plan | Monthly price | TV channels |
| PLUS | $55/mo. | 45+ |
| MAX | $80/mo. | 60+ |
| ENTERTAINMENT | $93/mo. | 65+ |
| CHOICE | $110/mo. | 85+ |
| XTRA | $125/mo. | 105+ |
| ULTIMATE | $135/mo. | 125+ |
| OPTIMO MÀS | $86/mo. | 90+ |
How to Stave Off Automatic Renewal Charges With DoNotPay's Free Trial Card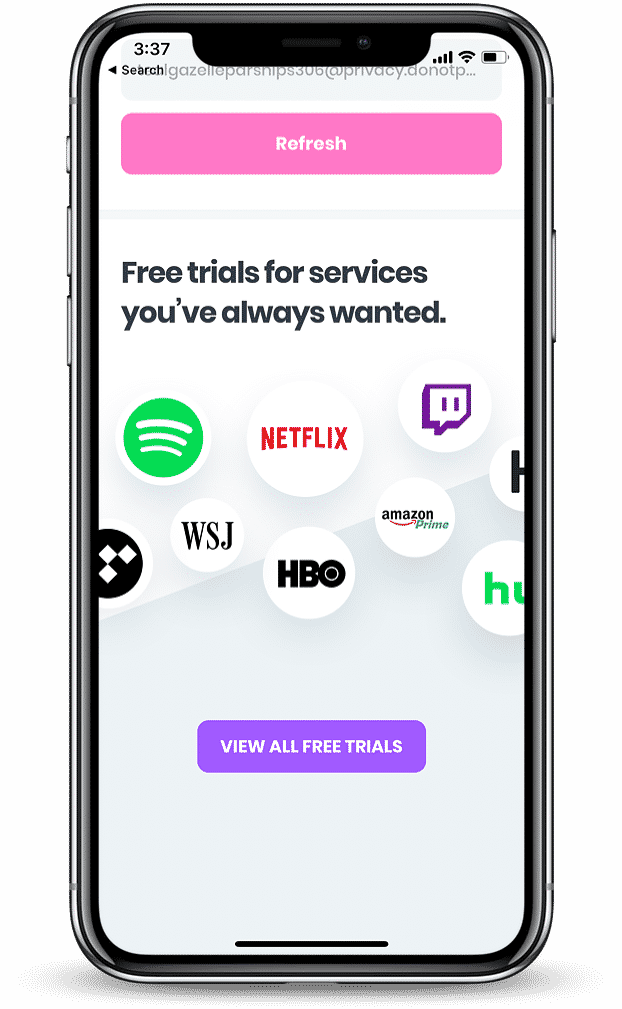 A study conducted by West Monroe Partners has revealed that most people don't have an accurate perception of how much of their money goes to various subscription charges each month. The average user shells out $237.33 a month on assorted service fees, which is 197% higher than what the survey respondents originally guessed!
Our guess is that a good fraction of that number goes towards unplanned, unsolicited subscription charges when a free trial runs out, and the auto-renewal kicks in.
Thankfully, DoNotPay has devised the best antidote to this common predicament. With our app's virtual credit card, you can apply for as many free trials as you like without worrying they will result in an unwanted expense.
How does it work exactly?
Our Free Trial Card:
Creates a temporary credit card number that's valid for a one-off use

Isn't connected to your bank account

Gets denied on subscription pages

Is approved only on free trial pages
This means that, even if you forgot to cancel the free trial on time, you will not be charged a single cent. That's because the Free Trial Card that you used for sign-up doesn't have any funds on it. Most services will also automatically unsubscribe you when they fail to charge you.
So not only have you saved some money but also the time it would take you to cancel the subscription. Two birds with one stone, right?
To get your virtual credit card, visit DoNotPay in your web browser
DoNotPay's Email Address for Free Trials Keeps AT&T TV's Spam At Bay

Our Free Trial Card stands in the way of any unwanted, auto-renewed subscription fees withdrawing money from your bank account. What it can also do is create a random email address that you can use when signing up for your AT&T TV Now account. 
If you're wondering why you should use a separate email address just for free trials, know that it's the best way to:
Keep your inbox spam-free

and prevent the company from sending marketing newsletters to your real email address

Stop the company from tracking your location and gathering other private data 
All relevant emails from the subscription service—regarding your account servicing, for instance—will still get forwarded to your real email address. It's just the spam that we'll keep far away from your real inbox. 
DoNotPay Identifies Your Underused Subscriptions

When you're being charged membership and subscription fees automatically, it's easy to lose sight of how much money actually goes towards these services. Perhaps you're not even using some of them, or not using them enough!
When you link your bank or email account to DoNotPay, our app will do a quick scan of all the services you're currently paying for. When we find those that you're underusing, we will point them out to you and recommend that you cancel them. If you prefer, we can also tackle any cancelations on your behalf. By doing so, you might save tens, if not hundreds of dollars in just a few months!
If You Encountered Problems With AT&T, DoNotPay Will Guide You Through the Legal Process

Has AT&T breached their contract with you, overcharged you, or mistreated you in any other way? If that's the case, don't sit idly—the best course of action is to sue the company in small claims court. 
We'll prepare the required forms and other documentation, then recommend the best argumentation you can use to win the case. Find out more about how DoNotPay can assist you with your AT&T small claims lawsuit and help you secure a settlement.
Taking a stand against large corporations can be a daunting experience, but our app wants to make sure everybody feels empowered to protect their rights in court. Proudly, DoNotPay has been awarded the 2020 Louis M. Brown Award for Legal Access by the American Bar Association. 
DoNotPay Can Do Much More for You 

If you liked the ease and convenience of signing up for AT&T TV Now's free trial with DoNotPay's virtual credit card, why not discover even more similar features? Did you know, for example, that DoNotPay can give you a hand with those pesky robocalls pretending they're from AT&T?
Get us to help you with some tasks you dread doing on your own. You can rely on our app to save time and money, or even to earn cash by securing compensation and refunds.
Open DoNotPay in your web browser, and you're likely to find a solution to the problem that's been weighing on your mind.
We can assist you with:
Contesting speeding tickets

Fighting traffic tickets