Filing an AT&T Warranty Claim With Zero Stress
AT&T is the number one telecommunications provider in the USA with more than 100 million subscribers and dizzying revenue of $175,1 billion. Apart from providing wireless, entertainment, and business services, this company also sells phones, tablets, smartphones, and other hand-held devices.
What Does the AT&T Warranty Policy Cover?
Most AT&T devices come with an original manufacturer warranty, but its duration depends on the type of device. The following table shows the coverage for all available products the company offers:
Type of Device
Warranty Coverage Period

New Apple Devices

One year

New Devices Other Than Apple

AT&T RADIANT Max: Two years

AT&T Calypso: Two years

Other devices: One year

AT&T Certified Restored

90 days

AT&T Certified Pre-Owned

No warranty

Once Replaced Devices

One year from the replacement date
The manufacturer bears the expenses of repairing any product defect resulting from a material/manufacturing error. This lasts as long as your device is under the provider's original warranty. After it expires, you can purchase the AT&T extended warranty plan from Asurion Home+, AT&T's business partner, and keep your devices safe for longer.
Are There Exceptions to the AT&T Warranty Policy?
To be able to claim your AT&T warranty, you need to make sure that the warranty policy covers the device failure you have encountered, as not all malfunctions are eligible for repair. 
Here are some exceptions that may apply:
Damage caused by product misuse or improper installation

Unauthorized modifications or repairs that resulted in malfunctions

Spillage of foods, drinks, or any other liquid that resulted in malfunctions

Damage caused by combining AT&T devices with accessories that don't align with the company's prescribed standard

Physical damage caused by negligence (cracked frame, damaged ports, excessive dings, cracked or shattered screen, etc.)

Regular wear-and-tear parts of the device—screens, battery, camera lenses, and other components that need replacement from time to time
DoNotPay Provides the Quickest Way To File an AT&T Warranty Claim
If you are looking for the fastest way to file a warranty claim for an AT&T device, DoNotPay has your back! You won't have to deal with long and stressful phone calls. We will mediate between you and AT&T and resolve the issue as soon as possible.
Here are the steps you need to follow to use this feature:
Open DoNotPay in any

Choose the

Claim Warranty

feature and pick

Warranty on a Purchased Product

Choose

AT&T

as the company you want to claim a warranty from

Provide the chatbot with the necessary details and specify what kind of issue you have faced

Click on

Submit My Claim
Our AI-based technology will collect basic info about the issue you have experienced and generate a claim letter in your stead. 
DoNotPay can help you if you're claiming car, home, or extended warranties for used cars.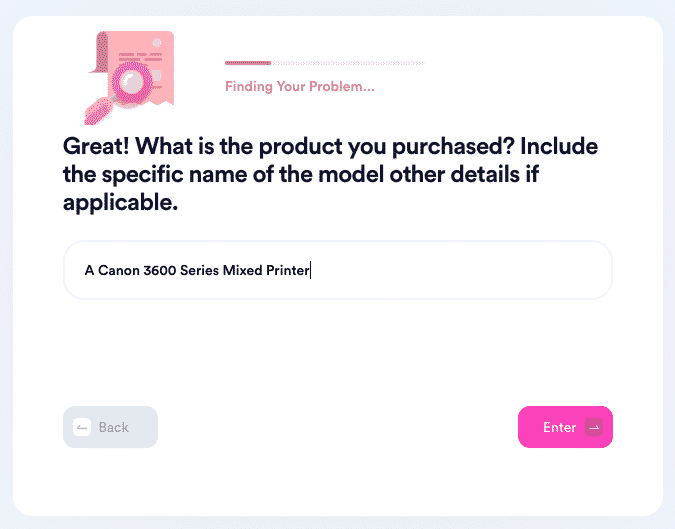 How To File an AT&T Warranty Claim on Your Own
Apart from DoNotPay, the only way you can file a warranty claim to AT&T is by contacting them over the phone. This is the procedure:
Dial

800.331.0500

Explain to the representative that you want to file a warranty claim and what the issue with the device is

Provide them with the required information and purchase details
The representative will give you the necessary instructions for shipping the faulty device back to the company and send you a replacement within six working days. In case you want your item to arrive sooner, you can pay an extra fee and get it within two working days.
Did AT&T Decline Your Claim? DoNotPay Helps You Get a Second Chance
Many companies tend to refuse warranty claims without a particular reason. That's nothing new. You may face numerous problems with companies that went out of business or refuse to cancel your extended warranty.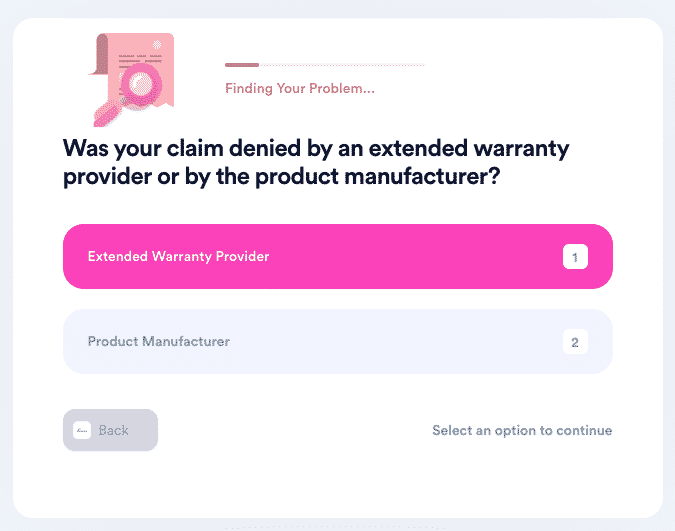 DoNotPay has a feature that resolves these issues, as we can help you file an appeal and increase your chances to get what you are entitled to.
To submit an appeal with our app, follow these instructions:
Open DoNotPay in your

and navigate to the

Claim Warranty

option

Pick

Appeal on a Denied Warranty 

Choose whether you are filing an appeal against the original manufacturer or the extended warranty company

Provide the necessary information and the rejected warranty claim
We will create an appeal letter and send it to the company in question right away. You don't have to do anything else, and the company will contact you soon to discuss the case with you.
What Else Can DoNotPay Do?
Interested in learning more about home warranties? The reviews related to them could save you nerves and time. Check out our knowledge base in your and read all about it! 
We can also teach you how to file a claim with any home warranty provider, such as IGS, Super, Costco, Blue Ribbon, Home Warranty of America, and many more.
More problems with AT&T? Report AT&T spam texts, get a refund from this company, or cancel your membership if you aren't happy with the service provided.
DoNotPay can also lend you a helping hand with:
Contesting speeding tickets

Disputing traffic fines