The Essential Info About Amherst Financial Aid
Amherst College is a private liberal arts college intended solely for undergraduate students. This school is located in Massachusetts and has around 2,000 students enrolled. Since it is considered a prestigious college, anyone who wants to attend this school will need to pay sky-high tuition of $58,640.
In case you can't afford to spare that much money but would still like to have a great education, you can apply for Amherst financial aid.
Sign up for DoNotPay to appeal the school's decision if it rejects your application or makes an unsatisfactory offer and you need more money.
How To Apply for Amherst College Financial Aid
If you want to apply for financial aid from Amherst, you will need to follow the procedure and deadlines. Take a look at the table below to see the steps you should complete:
| | |
| --- | --- |
| Steps | Explanation |
| Complete the CSS Profile | You will need to visit your CSS Profile and enter the Amherst College code (3003) |
| Submit your and your parents' federal tax returns and wage statements | If you are a U.S. citizen or a U.S. permanent resident, you can submit signed copies of these documents through the College Board's Institutional Documentation |
| Complete the Free Application for Federal Student Aid (FAFSA) | You can submit this form only if you are a U.S. or permanent resident. You will need to enter the Amherst code (002115). The federal deadlines for submitting a FAFSA form for academic years of 2020–2021 and 2021–2022 are both on June 30 by 11:59 p.m. CT |
How Can You View Your Financial Aid Details?
You can see all of your financial aid details, such as family contribution, student expense budget, document status, and personalized messages in the Financial Aid Portal.
What Types of Financial Aid Are Available at Amherst?
Amherst College is a "need-blind" school. This means that if you apply for financial aid, it will not affect your admission application process. The different types of financial aid that you can apply for are:
Grants and scholarships
Loans
Student employment
As much as 56% of students at Amherst receive grants and scholarships, while only 16% get financial aid in the form of loans. There is a high interest in student employment, and 49% of individuals enrolled work part-time to help pay for their education.
Which Grants and Scholarships Can You Apply for at Amherst College?
If you want to apply for financial aid that doesn't require repayment, you should try getting a grant or a scholarship if you qualify. At Amherst, you may apply for:
Federal Pell Grants—This grant can be awarded to students with financial need as determined by the federal formula
State grants or scholarships—You can use a grant or a scholarship at Amherst provided by your state government if you are a resident of:

Connecticut
Delaware
The District of Columbia
Maine
Maryland
Massachusetts
New Hampshire
Pennsylvania
Vermont

Federal Supplemental Educational Opportunity grants—Amherst offers grants of $4,000 per year to students with great financial need
Amherst College scholarships—This is additional aid drawn from the College's scholarship endowment income
Alumni scholarships—You can apply for any of several Amherst Alumni Association's special scholarships. There is no separate application, and the alumni associations pick the recipients together with the Office of Financial Aid
Which Student Loans Can You Apply for at Amherst College?
Student loans are a variant of financial aid that needs to be repaid, and these are your options:
Federal Direct Stafford Loans (subsidized and unsubsidized)
Amherst College Loans:

Computer loans
Short-term loans
Student Employment Available at Amherst College
Students at Amherst College can choose to get a job on campus to help pay for their education. They may also be employed off campus under the Federal Work-Study Program by a state, federal, or local public agency or private nonprofit organization.
What Should You Do if Your Financial Aid Application Is Denied or the Offer Is Unsatisfactory?
If the offer you get from Amherst College doesn't seem like it would cover all your expenses or if you are rejected, you can file an appeal! There is no need to stress—turn to DoNotPay to receive help creating an appeal letter!
Use DoNotPay To Draft a Rock-Solid Financial Aid Appeal Letter
If you are unsure how to compose a financial aid appeal letter or don't have enough time for this task, you can count on DoNotPay. Our app will make sure Amherst reconsiders its decision. You only need to follow these four steps:
Choose our Appeal for More Financial Aid product
Tell us what the sum of financial aid other schools offered you is (if you applied to more than one)
Give us the relevant info about your family's current financial status
Once you complete the short questionnaire, DoNotPay will send the appeal letter to Amherst College immediately.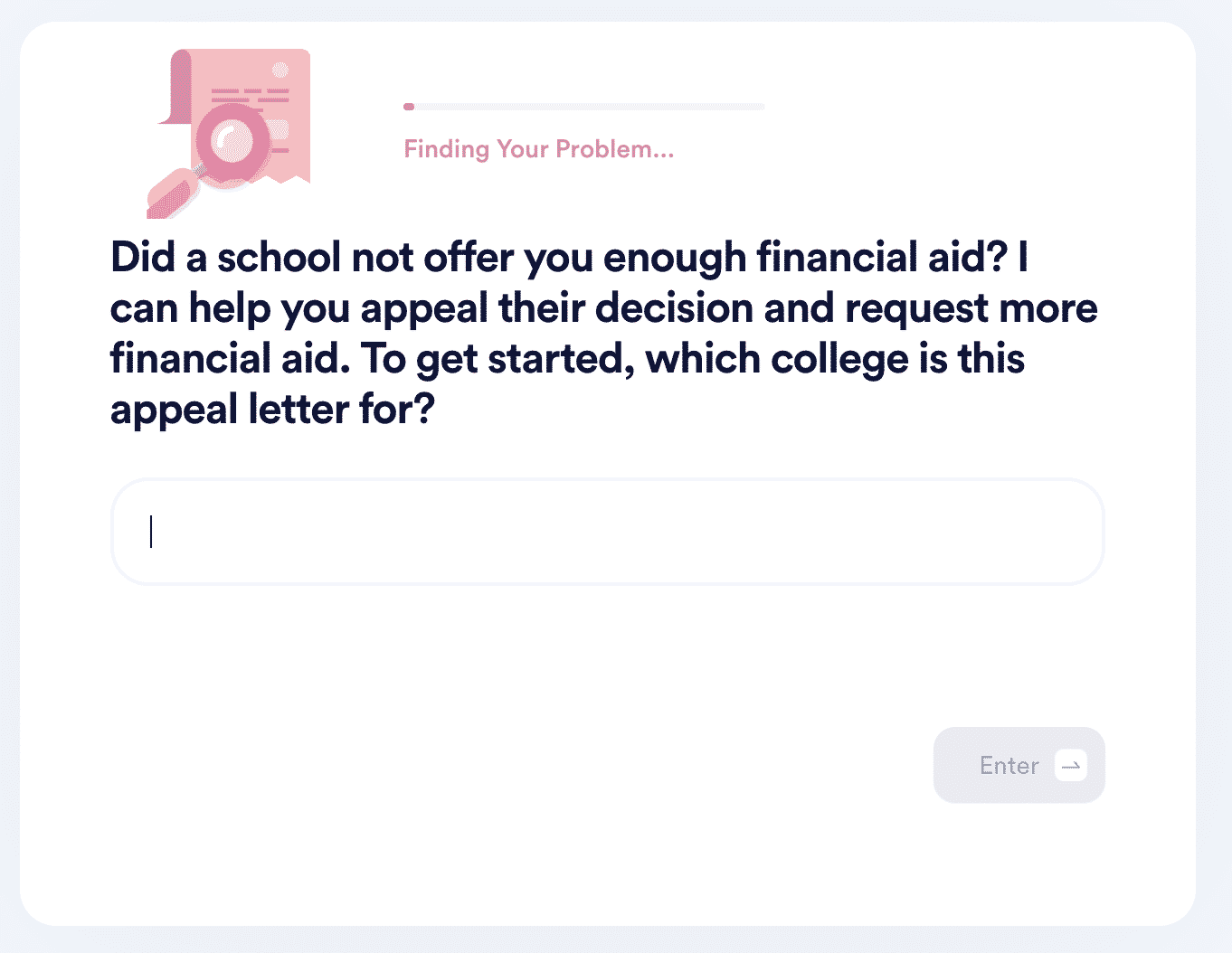 If you are wondering how many years you can receive financial aid or want to know what the maximum amount you can get is, DoNotPay is here to answer your questions! Our app also has the scoop on financial aid for graduate school.
Don't stop there—check out other schools' offers:
Do More With DoNotPay's Useful Features
DoNotPay offers a unique service when it comes to filing for divorce or drafting a divorce settlement agreement, but we don't stop there! Our app can also help you draft, fax, and get other legal documents notarized in a flash! From powers of attorney to child travel consent forms—we assist you every step of the way!
If you need to file an insurance claim, fight workplace discrimination, or sue a company in small claims court, you can use our app to get it done with ease.
Deal With Companies Stress-Free
If you like to shop and you often make purchases, you know that companies can cause all kinds of issues along the way. DoNotPay has a trick up its sleeve that helps you deal with any issue a company causes like a pro!
Wasting hours waiting for a customer support rep to pick up becomes a thing of the past once we get involved. We'll show you how to request a refund, cancel a subscription, apply for free trials, use a virtual credit card, and claim a warranty easy-peasy!
If your package is damaged or missing, we'll show you how to track it and file a missing package claim.