GameStop Return Policy—Coronavirus Affects Your Returns
Not sure how the GameStop return policy during the coronavirus pandemic works? Review our detailed guide below—or better yet, leave the work to DoNotPay.
Does GameStop Accept Returns During the Coronavirus Pandemic?
Yes—GameStop still accepts returns and trade-ins of merchandise on a limited basis. The primary change to the policy is that only credit or credit card-based purchases are eligible for return at the moment.
GameStop has also implemented a range of protective measures to ensure customers can purchase, return, and exchange products safely. These protocols include:
Disinfection of all second-hand merchandise is mandatory before resale
Employees are subject to daily health screening measures and self-assessments
All visitors of GameStop retail locations are required to wear approved face masks
Plexiglass shields have been installed at all cash registers
Social distancing is mandatory inside GameStop retail locations
Business hours have been reduced
What Merchandise Can Be Returned?
The products you wish to return must be:
Unopened
Unworn
Items must be returned with the original receipt, and a government-issued photo ID may also be requested. GameStop reserves the right to refuse a return and requires that the item is sent to the manufacturer.
What Types of Returns Are Prohibited During the Coronavirus Pandemic?
To limit the risk of transmission, GameStop has temporarily suspended return eligibility for items purchased with the following:
How Do You Initiate a Return With GameStop?
GameStop offers a limited number of ways to start the return process:
Phone—1-800-883-8895
In person at your local GameStop retail location
What Is the Accepted Timeline for GameStop Returns?
How long you have to return an item purchased from GameStop depends on the type of merchandise:
| Item | Return Window |
| --- | --- |
| Products | 30 days |
| Accessories | 30 days |
| Apparel (with tags) | 30 days |
| Defective products | 30 days |
| Pre-owned merchandise | 7 days |
How To Return Products to GameStop
GameStop offers two ways to return merchandise respecting the predetermined timeframes:
Returning Items in Person
GameStop products can be returned in person at any retail location. Follow these steps:
Ensure the product is in its unopened packaging (unless it was pre-owned)
Bring your original receipt
Include the packing slip (if it was initially purchased online and shipped to you)
Take the item to a GameStop location to initiate the return
Returning Items by Mail
Follow these steps to return GameStop products by mail:
Start your return online or by calling 1-800-883-8895
Print your shipping label
Securely package the item
Attach the shipping label to the parcel
Ship the package at a UPS or FedEx return access point
Are There Limitations to the GameStop Return Policy?
Yes, specific products cannot be returned:
Digital content
Gift cards
Point of Sale Activation cards
Individual products purchased as a part of a bundle
Items bought on sale or special promotion may also have limited return eligibility.
What Is GameStop's Trade-In Policy?
GameStop is famous for its second-hand video game market. They make it easy for customers to buy pre-owned games at a much lower price. Keep in mind that the trade-in policy has specific terms you must follow to exchange your purchased items:
Trade-ins are only eligible for store credit
A government-issued photo ID and/or a customer profile is required
An adult must accompany underage customers to exchange merchandise
Customer information may be made available to law enforcement authorities (where required by law)
GameStop reserves the right to refuse any trade-in
The above terms are subject to change according to local and state laws that contradict them.
DoNotPay Will Handle Your GameStop Return for You
If you're sick and tired of reading through GameStop's numerous terms and conditions—don't worry because there's a simple alternative available to you. DoNotPay will manage the process from end to end.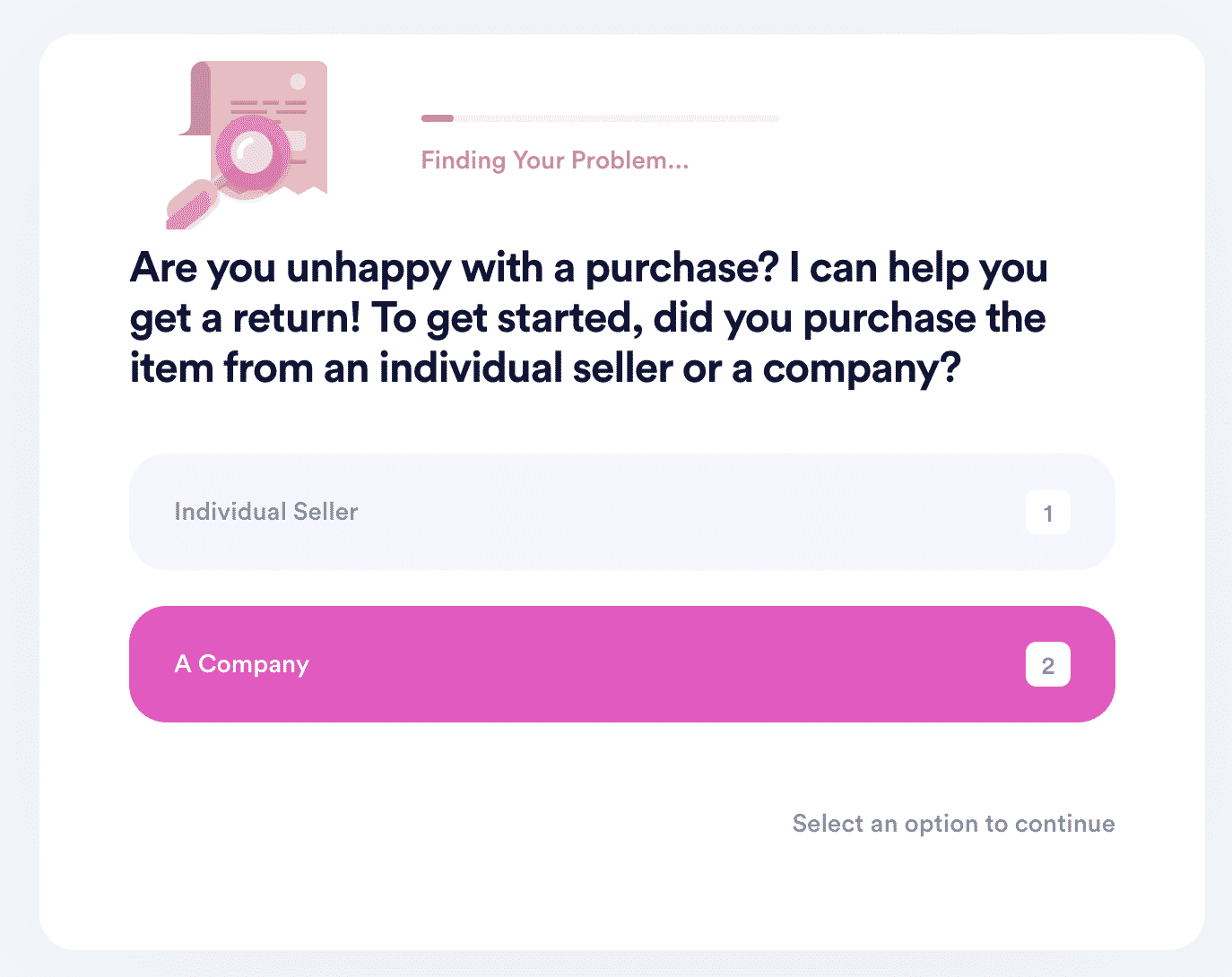 Our AI-powered robot lawyer provides a long list of tools designed to help consumers like you get what they need without all the tedious legwork. DoNotPay's Item Return Request tool is the perfect solution to your current predicament. We even go a step further and set a response deadline to ensure you get a prompt response.
Here's how to get the process started:
Make an account or log in to DoNotPay
Select the Return Request tool
Answer a few questions and upload a photo of the product
Submit your request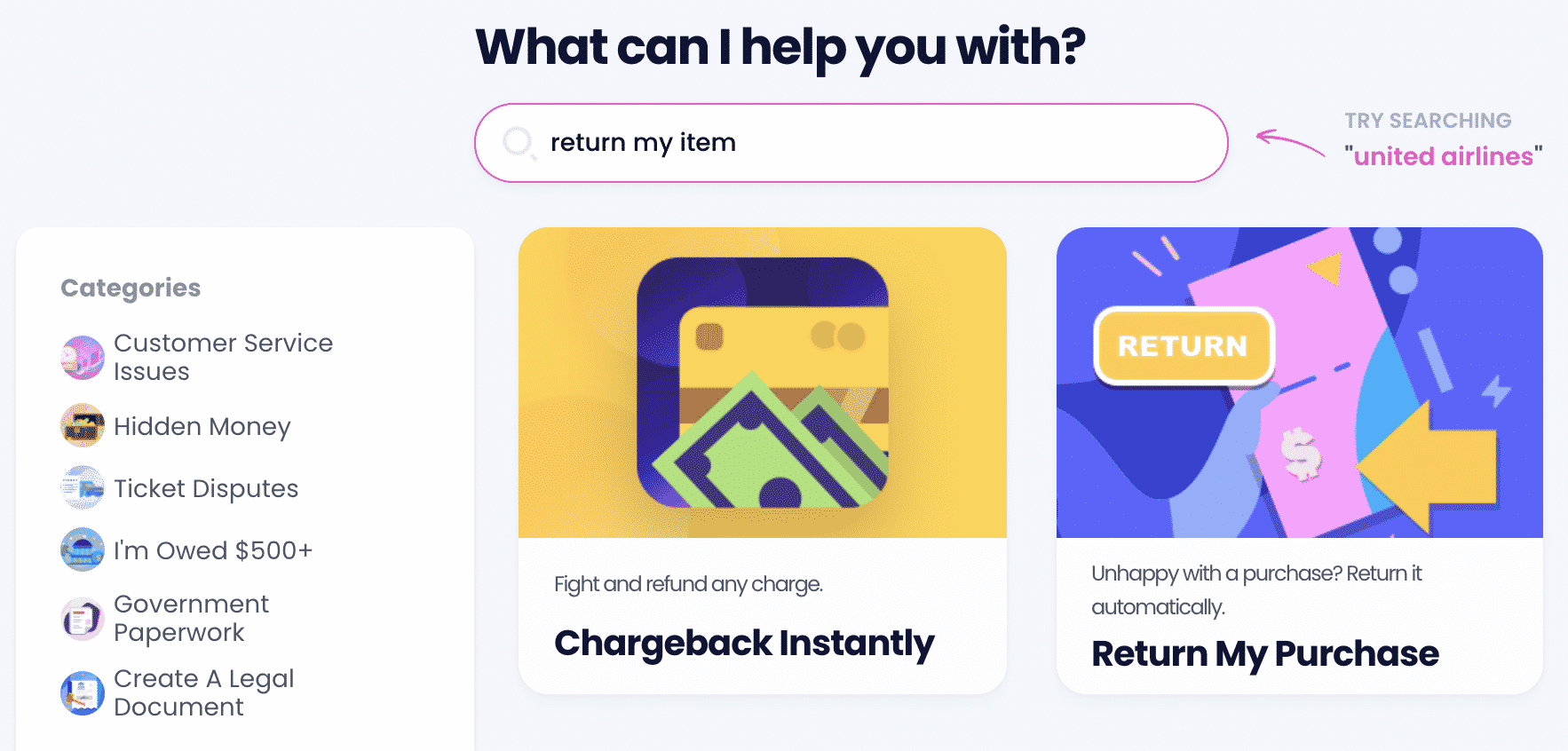 It's that easy—instead of going through every step detailed above, you can let DoNotPay take care of it for you.
If you need to return items to other retailers as well, make sure to consult our helpful guides to minimize your work:
Sick of Dealing With Companies? We'll Take Over
Companies that don't respect your consumer rights are the reason why DoNotPay exists—our range of AI-powered products is here to help you fight for justice.
If you want to demand a refund for a rescheduled flight, cancel your free trial using our virtual credit card, sue any company or individual in small claims court, appeal your parking tickets, protect your work from copycats, claim warranty and insurance, rely on your AI-driven personal assistant.
Don't want to pay sky-high lawyer fees for simple legal tasks? You shouldn't—use DoNotPay to draw up any legal document, including a child travel consent form, divorce settlement agreement, power of attorney, and many more.
Complete All Tasks From the Comfort of Your Home
As soon as you subscribe to our versatile app, you'll be able to do all of the following without leaving your home: