Cancel Google Store Financing in the most efficient way possible
Issued and serviced by Synchrony Bank, Google Store Financing is a credit card used solely for purchasing Google Store products. Cardholders enjoy a lot of benefits from the moment they enroll with this program, and they're given a lot of leeway while shopping on Google Store.
How to cancel Google Store Financing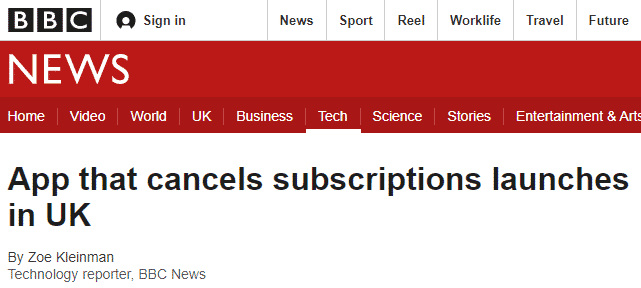 DoNotPay aside, the only way to put a stop to your GSF subscription is to go through the Synchrony Bank as they're the financial middleman in this arrangement.
How to cancel Google Store Financing via phone
Contact

Synchrony Bank

by dialing 866-794-8802

Tell the operator you wish to cancel Google Store Financing

Once you jump through several bureaucracy-fueled hoops, the cancelation of your account should begin momentarily
Rely on DoNotPay to do the unsubscribing for you
As there's no way to avoid dealing with a bank while canceling the Google Store Financing card, having someone else do this for you sounds like a grand idea, doesn't it? This is exactly what DoNotPay can do for you.
Available on any our app turns unsubscribing from services into a wholly straightforward procedure. Here's how easy unsubscribing from Google Store Financing is with DoNotPay:
Launch our app

Click on Find Hidden Money

Type in Google Store Financing in the search bar

Cancel the service with a single click of a button
We'll save you from wasting time and energy on dealing with Synchrony Bank's representatives, giving you ample room to do something more productive with your time.
DoNotPay—The answer to all your (un)subscription needs

Among other things, DoNotPay helps our users get a tight grip on their subscription expenses.
Once you sign up with us, you'll be able to connect your email address or bank account to our app safely. This enables us to analyze your spendings and single out every subscription charging you on a recurrent basis, providing you with a handy overview of where your money is going.
If you decide to pull a plug on one of the subscriptions, all you need to do is give us your go-ahead, and our app will handle the entire cancelation process on its own. We'll reach out to the service provider, deal with all the technicalities, and inform you once the job is done. Easy peasy.
Are there any worthwhile alternatives to Google Store Financing?
Company
Price
Benefits

Amazon Store Card

The base card is free, but Prime membership will set you back $119 per year or $12.99 a month

5% back on every purchase you make with Amazon

$60 Amazon gift card once your application is approved

No interest for 6 months for purchases of $149 and upwards (12 months for purchases $599 and more)

Discover it Cash Back

Free

5% cash back on everyday purchases

No foreign transaction fees
DoNotPay can also be used to sue unethical service providers

If you've been wronged by the Google Store Financing program in some way, our team is ready to protect your rights as a consumer and help you pursue justice in the court of law.
DoNotPay is an ideal option if you're looking for an easy and quick way to launch a small claims court case, something our 2020 Louis M. Brown Award for Legal Access will vouch for. If you really have a case, we'll set the proceedings in motion and guide you through the entire legal process.
What else can DoNotPay do for you?
We've made DoNotPay with a single goal in mind—to streamline and simplify as many mundane tasks in your life as possible. Our app offers a long array of services, so here's what you can expect to get once you come on board with us:
Fighting speeding tickets

Disputing traffic tickets