How to fight robocalls
Robocalls are becoming a severe problem in the United States. According to a recent study, one in ten Americans had lost money over the past year to phone scams. On average, we are talking more than $350 per victim, and a total nationwide loss of $8.9 billion!
The United States is the eight most spam-called country in the world. To make matters worse, the number of robocalls keeps rising.
What exactly are robocalls, and how do they work?
Robocalls deliver pre-recorded messages through auto-dialing software to millions of people each day. Due to improved and sophisticated technology, robocalling software can make up to one million phone calls in one hour!
While we usually link robocalls to frauds, it is important to note that they can be used for acceptable purposes such as appointment reminders, flight cancelation notifications, etc. 
The Federal Trading Commission (FTC) does not allow businesses to use robocalls for the promotion of their products and services!
How do robocalls function?

To better understand how robocall operations function, let us break their process down into five basic steps:
Acquiring lead lists

Getting a phone provider

Running a robocall software

Managing a phone bank

Managing the income
First, they get a lead list
You might not know, but scammers can acquire lead contacts fairly easily. Some legitimate businesses that sell leads to telemarketing companies can sell scammers millions of numbers for a couple of thousands of dollars. 
Then, they get a phone provider
Regardless of FTC's efforts to put a stop to robocallers, dozens of small phone providers still place scammers' numbers into America's phone network. 
Operating a robocall software
Robocalling software can make up to a million calls in one hour. The program can dial numbers in a loop and attach spoof numbers to every single call. These spoof numbers mimic the victim's area code to increase the likelihood of someone picking up the phone. 
Operating a phone bank
Between three to five percent of people who receive robocalls respond to them by pressing number one for more information. When this happens, they get transferred to a real person in a call center who tries to draw out your personal information or even money. 
Managing the income
Fraudsters typically want to convert their income to different currencies and forms of money, such as gift cards. This is done to prevent authorities from tracking the cash flow. 
How to block robocalls on cell phones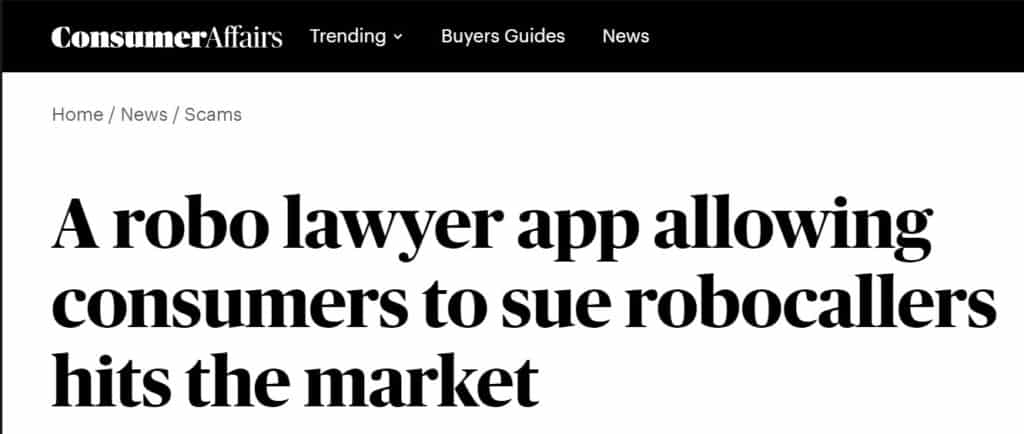 Until lawmakers sort out the robocall issue we are facing as a nation, you can temporarily take the matter into your own hands and block robocallers on your cell phone.
iOs and Android devices come with built-in number blocking features, most mobile carriers provide proprietary blocking tools, but you can also use third-party apps such as:  
App

Features

Extremely user-friendly interface

Free for basic services

$2.99 per month for the standard package, or $14.99/year for Hiya Premium

Accurate service that allows legal robocalls

Free for VoIP landlines

$1.99 per month 

Free 14-day trial

Includes Answer Bots

Free 7-day trial

$2.99 per month or $24.99 per year for Android devices;$3.99 per month or $29.99 per year for iOS devices

Text spam filtering and customizable spam lists
Blocking robocalls on iOS devices
Blocking unfamiliar numbers on iOS devices is pretty straightforward. These are the steps you need to take:
Open the Phone app

Tap on Recents

Tap on the Info icon found next to the number you want to block

Select Block this Caller

Select Block Contact
In case you have an iOS 13 or higher installed on your device, you can silent unknown contacts instead of blocking them. These calls are directly forwarded to voicemail, and you can always access them by checking your recent calls list. To do this, you will have to:
Go to Settings

Tap on Phone

Turn on the Silence Unknown Callers switch
Blocking robocalls on Android devices
If you have an Android device, you will have the option to block a specific number or block unknown numbers altogether. To block a specific number, you can:
Open the Phone app

Select Recent Calls

Tap the number and click block or report as spam

Confirm the message asking if you want to block this number
To block all unknown numbers, you should:
Open the Phone app

Select Settings

Tap on Blocked Numbers

Turn on the switch for blocking all unidentified numbers
How to block robocalls on landlines
The first thing you should know is that landline technology is not as advanced as cell phones are. 11% of households still use old copper wire technology, whereas the rest of the country with home phones rely on VoIP (voice-over-Internet) services. 
Blocking robocallers with a copper phone line is not as easy as you might think. You would need to attach a robust piece of hardware to your phone for it to show unwanted numbers on its screen. The problem with this technology is that it usually comes preloaded with a fixed amount of numbers. That is no good since scam robocallers tend to change numbers frequently.
If you are using VoIP services, things are a bit different. You have a few options to consider:
Put your number in FTC's Do Not Call Registry

Use a third-party service
Reporting unwanted calls to the FTC
Every time you receive an unwanted call, you just call FTC and report it. They will suggest some preventive measures you can take and add the spam number to their list. 
To report an unwanted call to FTC, you have to:
Visit

FTC's website

Click on Report Unwanted Calls

Fill out the information regarding the unwanted call

Submit your report
If you prefer filing your report over the phone, you can do it by dialing 1-888-382-1222.
Blocking robocalls through a third-party service
Some third-party companies provide robocall blocking services for both mobile phones and landlines. Nomorobo is one of those companies.
Nomorobo works with most major carriers such as AT&T, Verizon FiOS, Comcast Xfinity, and others. They use a system called "simultaneous ringing" that forwards all of your calls directly to Nomorobo. If the company picks up the call first and establishes that you are dealing with a scammer, your phone will not ring the second time. 
Robocalls must be illegal, right?
Well, not really. The political campaign calls will always be there, and, as we already mentioned, some robocalls come as part of a certain service package (appointment reminder messages, canceled flight notifications, etc.). 
Spam calls are a whole different ball game. Recently, the United States Congress passed the Telephone Robocall Abuse Criminal Enforcement and Deterrence Act that increased fines for spam robocallers to up to $10,000 per call!
In addition to higher fines, phone companies are prompted to speed up the implementation process of "call authentication technologies," which will ensure the legitimacy of incoming calls before they reach the consumers. 
California is the only state that requires an existing relationship between you and the caller. In case the relationship is non-existent, the call gets banned. Spam callers are not really affected by this law, because as long as the call is coming from a state outside of California, it cannot get banned by proxy.
What can I do about robocalls?

Above everything else, you can use DoNotPay's Robo Revenge to stop certain robocallers from bothering you, by tracking them down and suing them for up to $3,000. 
While DoNotPay does a great job at protecting you from US-based robocallers, dealing with overseas ones is far more difficult.
These are the few basic steps you should take to stop getting bothered by spam callers:
Put your number on FTC's Do Not Call Registry

Do not answer the phone

Do not provide personal information

Do not answer just to mess with the spam caller
Putting your number on the Do Not Call Registry
One thing that'll cost you nothing but might make a world of difference is putting your number on FTC's Do Not Call Registry. If your number is found in this registry, telemarketers and other robocallers will be engaging in illegal activity by deciding to dial your number.
The downside of this preventive measure is that only legitimate businesses will adhere to and respect this rule. Fraudulent robocallers, especially the ones calling from overseas, will not care about FTC's Registry, nor the penalties related to its violation. 
Declining the calls
The easiest step you can take is to block unfamiliar numbers that are repeatedly trying to reach you. However, blocking robocall numbers will not be as effective as you might think, as scam callers tend to change numbers all the time.
That is why you should simply avoid answering calls from unfamiliar numbers, especially if they are too similar to your own. Also, if the area code does not match yours, it would be best to decline the call.
Providing personal information is a big no-no
If you end up answering the call, try your best not to provide the caller with your personal information, no matter how persuasive they may be or how much they know about you. Do not fall for scam callers that are claiming to be IRS or government representatives. If the government wants to contact you, it will send you a notice by mail, or even show up at your door.
Providing scam callers with your personal information lets them use it for credit card and identity frauds!
Do not mess with spam callers
Some people want to have fun with spam callers and answer the phone just to mess with them. This is not a great idea because just answering the call lets the fraudster know that you are willing to talk, which can lead to much more spam calls in the future.
On a more sinister note, some scammers will call just to talk to you and ask you some questions. They will do this to record your voice and use it as a signature for authorizing fraudulent charges via the phone!
Getting sweet revenge with DoNotPay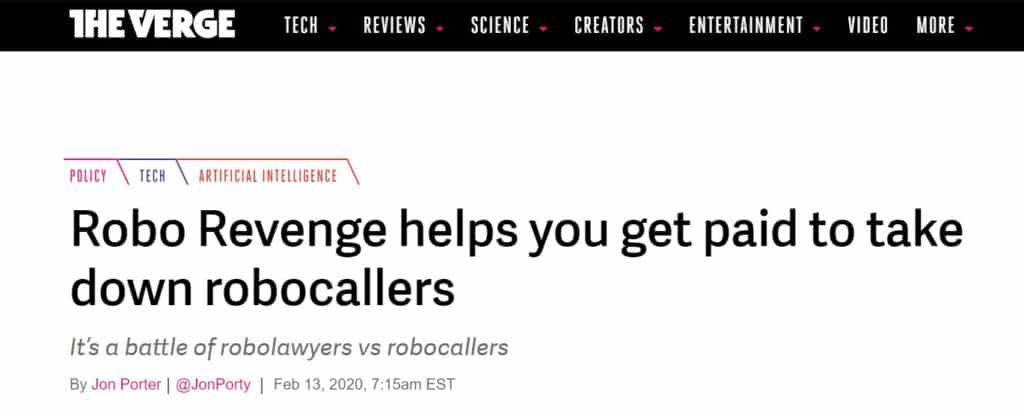 Given that the U.S. government is taking a lot of time to sort out the issue of scam robocalls, we have decided to take matters into our own hands. 
In 2019 alone, Americans received almost 60 billion robocalls! To put a stop to this harassment, we have introduced a new feature to our DoNotPay app. It is called Robo Revenge! 
Robo Revenge helps you eliminate robocalls from your life by suing robocallers and getting up to $3,000 in compensation for being a victim of these scams.
To get access to our services, simply visit DoNotPay via a web browser.
Here is how it works:
You receive a robocall

The scammer asks you to pay some type of fee or service

You open DoNotPay and select Robo Revenge

Our app generates a

virtual credit card

You provide the fake card information to the scammer

DoNotPay tracks them down when they try to charge the card

We use their information to write a demand letter and file a claim
How does DoNotPay get rid of robocalls?
First of all, DoNotPay places your number in the Do Not Call Registry. This is essential because if your number is in the Do Not Call Registry, receiving unsolicited robocalls violates the Telephone Consumer Protection Act (TCPA).
Apart from that, DoNotPay provides its users with a virtual credit card. When the robocaller asks you for your banking information, all you have to do is hand out the virtual credit card information. By doing this, you allow DoNotPay to track down the scammer through the transaction details, which are later used to generate a demand letter and court filing documents to sue the robocaller.
The main idea behind Robo Revenge is to eliminate robocalls by forcing the caller to pay money each time they try to spam call someone.
The only downside of DoNotPay's Robo Revenge is that it does not work with robocalls coming from overseas. The fact that you do not know where someone is located makes the suing process impossible.
Popular robocall scams to watch out for
Though there are countless robocall scams you might fall victim to, some of them are more common than others. To help you better prepare for these fraudsters, and recognize them instantly, here is a list of the most common robocall scams to date:
| | |
| --- | --- |
| Robocall scams | What they entail |
| Neighborhood spoofing | To ensure that their target picks up the phone, these scammers spoof a local area number. They know that, if you live in Texas, you will probably not answer a call coming from Indiana. Worst of all, these types of scammers can even use your number to harass other people. In case that happens, you can expect to receive a ton of return calls from the spoofers' victims. Robocall blocking apps are not effective when it comes to neighborhood spoofing, as they can only block recognizable scam numbers and not real ones.  |
| IRS scams | Tax scams have been around for years. You receive a call from an IRS inspector that might even recite his fake badge number to make the whole thing more believable. He or she will tell you that you have an unpaid tax bill to cover, and might even threaten to issue an arrest warning if you do not do so. Back in 2017, the FTC received more than four million complaints regarding this issue. Keep in mind that the IRS contacts taxpayers via U.S. Mail, not through robocalls! |
| Google SEO scams | These scams are particularly dangerous if you are a small business owner. Victims receive a message from an alleged Google representative claiming that if they do not return the call, their Google Search listings will completely disappear. Also, they will claim that you need to pay additional search engine optimization services to avoid getting banished from the internet, basically. Google went on record to say that they do not use robocalls. Therefore, if you receive this type of call, you will know that you are dealing with scammers. |
| Government grant scams | Another common robocall scam includes being offered free government money. These scammers typically use Washington, D.C., area codes, to make the scheme more believable. Before the alleged grant is transferred to your account, scammers will ask you to pay a processing fee, as well as provide your address, banking information, employer, etc. Scammers use this information later on for credit card and identity frauds.  |
More than just a robocall terminator

Suing spam callers is but a fraction of what we have to offer. Our app boasts a vast number of features that can help you overcome stressful obstacles without much hassle. DoNotPay can also assist you with: 
Fighting speeding tickets

Disputing traffic tickets
You can access DoNotPay through your web browser, and get rid of the red tape that's complicating your life!