Virtual credit card generator—How does it work?

Credit card numbers—virtual credit cards included—are not a random series of digits. There is a specific pattern that they follow to be able to pass the verification tests. The software used to create these numbers is called the credit card generator.
It doesn't matter if you are generating real or dummy credit card numbers, the process is always the same. In case you need to come up with a fake virtual credit card, you must create the number in the same way the authorized issuers generate the numbers of valid credit cards.
With many apps for creating card numbers available, you can make your own fake VCC numbers and use them to protect your financial data on websites that you don't completely trust. As online shopping becomes the primary way of buying products and services, it is crucial to make sure that our information is protected from fraud and theft. 
Using VCCs and dummy credit cards is wise when you have to provide card details to new merchants, or to retailers that have a history of third-party breaches and hacks.
What are virtual credit card generators?
A credit card generator is a piece of software that uses predetermined patterns to create credit card numbers. The principle is the same with both plastic and virtual cards. The pattern for the creation of these numbers is established through a mathematical formula. Even fake card numbers have to follow the pattern to be verifiable.
The same software can generate real credit card numbers, virtual credit card numbers, and fake card numbers. The difference is that real cards, both plastic and virtual, are linked to a bank account while the fake card number is not connected to any actual source of funds.
The verification test that credit cards must pass uses the Luhn Algorithm to establish whether their number is correct. That is why even the fake card numbers can pass the validity test. The financial transaction is an entirely different process, and fake credit cards cannot be used to purchase goods or services.
Why use a virtual credit card generator?

The main reason why you might need a virtual credit card generator is the fact that there are numerous websites and online businesses that are designed to take your money and vanish. Recognizing such establishments is getting more complicated, so fake credit cards are an excellent way to stay safe on the Internet.
Even with honest merchants, there is a possibility of hacking and third-party breaches that can endanger your bank account. Fake VCC will enable you to browse different websites without having to give away any of your confidential details.
Providing a dummy card number allows you to test a merchant and see if there is anything suspicious about their business. As there is no money on the card, they won't be able to charge anything. If you decide that the online store is legitimate, you can always use your actual VCC to shop for products and services.
Using one of the apps that generate credit card numbers is handy in case you are sure that no purchases will be made with that specific merchant, or if you are testing websites and their payment methods. You will be able to notice any fraudulent activities, while you can be sure that your funds are safe.
Are there different types of virtual credit card generators?
Every software that produces credit card numbers is the same, but it can deliver results differently. Two main types available on the market are:
Single credit card generators

Bulk credit card generators
Single credit card generator
A single credit card generator creates only one virtual credit card number. If you need one fake card that you can use for all testing purposes, this type of service will do the trick for you. You will have the dummy VCC that you can use whenever you are reluctant to provide your personal data to an online merchant.
Bulk credit card generators
Bulk generators create a series of credit card numbers. Issuers use this type of software because they provide service for many clients. In the case of fake card numbers, a bulk generator is handy if you need different, yet unique card numbers for various retailers. Bulk generators are also useful if you need VCCs for more people at the same time.
How to recognize a valid VCC Number?

Recognizing a proper card number is not easy unless you are a pro. The mathematical formula behind VCC numbers is complicated, and credit card generators use an intricate pattern to create unique card numbers. 
These are the features of every valid card number:
It has 16 digits that are divided into four groups

The first six figures are the major industry identifier (MII), meaning that they serve as the identification of the issuing company

The digits from position six to nine are cardholder's bank account identification numbers

The last digit is known as the check number, and it is used for the validity check of the card
Major industry identifier (MII)
The first six digits that serve as MII are there to provide the information regarding the card-issuing company. They will vary depending on the industry. Every major player on the credit card scene has its specific numbers, so you can recognize the issuer without seeing the card:
Mastercard

number starts with five

Visa

number begins with four

American Express

begins with either 34 or 37
With credit card generators, you will choose which card you would like to create.
Check number and Luhn Algorithm
The last digit, aka the check number, is essential for card number verification. The validity check is performed by using the Luhn Algorithm, a formula invented by a scientist called Hans Peter Luhn. This is how it works:
Take out the last digit of the card number

Reverse the remaining numbers

Multiply the digits in odd positions by two

Subtract nine from all numbers that are higher than nine

Sum up every individual result

Add the check number to the checksum
If you get a multiple of ten, the card number is valid. Every merchant system performs this check to verify the card. This should not imply that anything will be charged from the card. It just serves as a validation of the card number.
How to use a virtual credit card generator?
Credit card generators are in extensive use, and if you are enjoying the benefits of VCCs, it's safe to say that you are already using one. Every time you reach for a virtual card number from your issuer, you are getting it from a VCC creating software.
You can also use a fake credit card generator to create dummy card numbers for testing purposes. There are various apps and programs that offer such services. The best way is to test them and see which one provides valid card numbers for the lowest price. Some of the websites even offer free services.
The process is simple. The generator will give you all that you need to register with an online merchant:
Card number

Security code

Expiration date
Depending on the generator, you may be required to provide a name that you wish to attach to your card, but often there will be no need for personal data. Once you get the card details, you can use them for registration and testing, as all online stores will only validate the number in the beginning.
Are VCCs legal?
Credit card numbers created by fake VCC generators are legal as long as you restrict their use to testing purposes. Even official institutions use them to check payment systems during the demo trials.
Fake virtual credit cards are not actual cards, so there is no physical product that could be considered a forgery. If a website states that they will use the card for verification purposes only, you can provide a dummy card number because there are no financial transactions involved.  
Be aware that fake credit card numbers should not be used in an attempt to pay for goods and services because it constitutes fraud, and you can be subject to criminal charges. In case an online merchant specifies that they will charge a registration fee, using a fake card can be deemed illegal in the eyes of the law.
The benefits of virtual credit cards
VCCs offer different benefits, which is why they became so popular over the last couple of years. With major hacks and smaller breaches jeopardizing many people's accounts and personal information, the need arose for additional security in the world of online shopping.
Enter virtual credit cards, and the problem appeared to be solved. The incognito cards used as on-time paying tokens provided an opportunity to purchase online without disclosing any of your precious financial data.
Although VCCs are a welcome improvement, it seems that some concerning issues need to be addressed:
The annual fees most issuers charge for VCCs make them a bit pricey for testing only purposes

The hackers are getting more advanced, and they may find a way to get a hold of your bank account details because your VCC is still linked to your account or an actual credit card
Fake cards are ideal if you still haven't decided that you are going to use the services of an online retailer or service provider. They serve as an extra buffer between you and the potential breaches in the merchant's system. 
Once you are sure that you are dealing with a trustworthy business, you can opt for using a legitimate payment method. Until then, using a fake VCC is the best security protocol you can follow. Check some of the pros and cons of VCCs in the table below.
| | |
| --- | --- |
| What's good about VCCs | What's not so good about VCCs |
| They keep personal data safe | They need to be generated for every purchase |
| They protect from shady online retailers | They come with additional fees and charges |
| They allow the restriction of their use to specific merchants or timeframes | They cannot be used for in-person purchases |
DoNotPay Free Trial Card

Apart from testing various websites and protecting yourself from malicious merchants, VCCs are an excellent way to enjoy free trials of numerous streaming services. Since all of them offer different features, it gets hard to figure out which are suitable for you.
That's why we all love free trials as we get the chance to check the service and decide if we like it based on personal experience. The problem is that with the number of free trials we sign up for these days, it is quite easy to forget to cancel a subscription once the initial period is over.
Some sites go even further, and you often end up subscribing to a service that you already canceled. Another nasty trick is that the providers make it so complicated to unsubscribe that you end up paying just because the cancelation process is too demanding.
DoNotPay designed its Free Trial Card to help you avoid these tricks. The card has everything a regular VCC needs to be approved by an online service provider, yet it is in no way connected to your bank account, and it doesn't contain any of your personal information.
How does DoNotPay's Free Trial Card work?

Since the Free Trial Card meets all the demands of an actual credit card, you can use it for trial periods with various online streaming services. One of the best traits of the DoNotPay virtual credit card is that it's easy to obtain. All you need to do is log on DoNotPay via your web browser, and you are just a click away from a perfectly safe VCC.
Once you get your card, you can use it to start as many free trials as you want. There is no danger that you will be stuck with a service that you don't need because the card is valid only for free trial periods. When testing time expires, the merchant will not be able to charge you with any fees whatsoever as the Free Trial Card is not linked to existing bank accounts or credit cards.
The DoNotPay app uses a secure credit card generator that creates valid card numbers with all the necessary details, so every piece of information that the service provider requests will check. 
Why use DoNotPay Free Trial Card?

If you don't want to bother with online credit card generators, or you are unsure if the numbers will be valid, let us give you a perfect VCC that unlocks many services. Some of the main advantages of the Free Trial Card are:
It is easy to get 

It opens the services available to U.S. residents because it can come with the U.S. billing address

It protects you from automated subscriptions attached to some trial periods

It cancels all subscriptions automatically

It contains no funds or links to funds, so you are safe from hacks and malicious breaches
Some of the online fake card number generators won't provide all the required details, or the billing address will not be acceptable for specific online service providers. Some merchants may ask for additional verification to unlock their services. DoNotPay Free Trial Card saves you time and money and allows you to enjoy the benefits of free trials carefree.
Check the table below to see what are the main differences between a regular credit card and a Free Trial Card from DoNotPay.
| | |
| --- | --- |
| Regular credit card | DoNotPay Free Trial Card |
| Attached to a bank account and all personal information | No information attached to the card |
| Does not block hidden subscriptions | Blocks all subscriptions |
| Allows charges | Does not allow charges because it's a zero funds card |
| Susceptible to hacks | Safe from hacks as there is no info stored on the card |
Where to use DoNotPay Free Trial Card?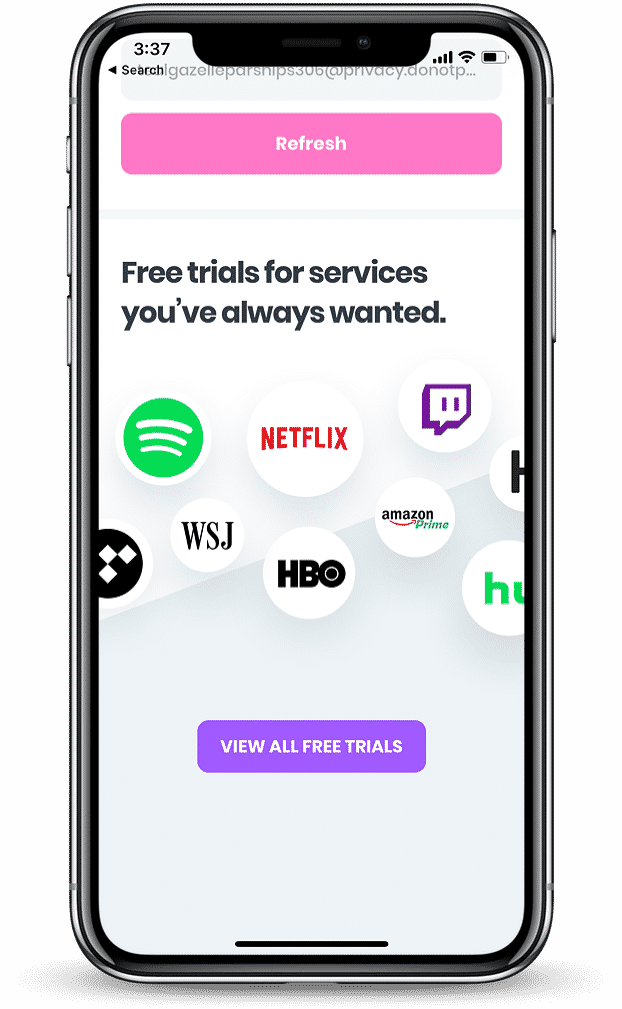 You can use the Free Trial Card to sign up for the service of all popular providers. You don't have to worry about their cancelation policy because DoNotPay will block all subscriptions, and the card will be invalid once the testing period finishes.
Use your Free Trial Card to enjoy the services of:
Twitch

ESPN Go

Netflix

Spotify Premium

Disney+

HBO
You should be aware that this card can be used for trial periods only. Once that is over, you will need to provide your actual VCC to keep using the services of any of the above providers. 
Enjoy Services Worry-Free With DoNotPay
Do you want to try out a new service but are worried about being charged if you forget to cancel it before it ends?
With DoNotPay, you can sign up for free trials without worrying about auto-charges. Our virtual credit card makes sure you enjoy your trial run of the service and prevents any company from taking money out of your real account.
This free-trial card also protects you from email spam because it generates an alternate email address for the free trial sign up.
If you want to keep your phone number private and deter robocallers and text spammers, use DoNotPay's Burner Phone feature when subscribing to services.
In case the company does charge you, initiate a chargeback on your credit card transactions instantly with our app.
Discover DoNotPay's Amazing Features
DoNotPay is a virtual lawyer app that can take over annoying bureaucratic tasks from you. 
We can cover anything you may need help with—dealing with customer service reps, booking appointments with the DMV, securing refunds and compensation from airlines, disputing your parking tickets, or getting you an extension on bill payments.
Our app can help you draft any legal document in minutes or access public records from state and federal databases.