Here's The No.1 Phone Number For Uber Verification
In big cities with impossible traffic and expensive cabs, Uber has become indispensable. If you sign up for an Uber account on your smartphone, you will need to enter a phone number to start using the app.
With frequent news reports of significant data breaches on various online platforms, it's no wonder that more than 80% of Americans fear for their privacy and feel reluctant about sharing their personal information with different apps and services, including phone numbers.
The modern privacy anxiety gave rise to several protection methods, including burner phones and fake phone number apps, but none can beat the solution developed by DoNotPay.
Why Does Uber Need My Phone Number?
When you download the Uber app and try to register, one of the required fields to fill in is a phone number. One of the signup process steps is the SMS verification, so the phone number you enter must be valid. Like many other companies, Uber uses text messages on the pretext of increased security.
Besides the initial registration, Uber might ask for your phone number if you have trouble logging in or if you turn on the two-step verification. The good news is that a phone number is not a must in such situations since the app offers alternative ways to confirm your identity.
Does Uber Need My Real Phone Number?
Once you sign up successfully, Uber lets you request pick-ups on the mobile website without using a phone. You can also contact your driver from the app without revealing your phone number. The drivers will see a random local number, and even if they save it, the callback won't connect.
To use this feature after requesting a ride, follow the steps below:
Open your

Uber

app

Tap the phone icon in the lower-left corner

Choose

Free Call

Give the app permission to use the phone's microphone if you haven't tried this feature before
How Do I Verify My Phone Number in Uber?
You can use several methods to sign up for Uber and verify the necessary info without disclosing your real phone number. The table below contains the most common solutions:
| | |
| --- | --- |
| Methods of Verification | Yes/No |
| DoNotPay | Yes |
| Email Only | No |
| Burner Phone | Yes |
| Google Voice | No |
How To Verify an Uber Number With a Flip Phone
Burner phones are contract-free phones that can cost as low as $30 or $40. You can think of them as additional mobile devices with prepaid SIM cards that you can use in these situations:
You need to hide your primary phone number

Your expensive smartphone is lost or broken

You want to avoid annoying

robocalls

or spam texts
Burner phones are usually simple or outdated mobile devices—think flip phones that were popular in the early 2000s. Anyone can purchase them at all major retailers like Amazon, Target, or Walmart.
While burner phones can be useful, you should also consider their downsides:
It is another device to charge, pay for, and look after

Spam calls and annoying text messages won't stop—they will go to your other phone

Prepaid minutes expire if you don't use them
Use DoNotPay To Bypass Uber Phone Number Verification

With DoNotPay's modern technology, buying burner phones is no longer necessary. You can leave that outdated technology and fake phone numbers in the past where they belong because our web app offers a more convenient solution—burner numbers.
DoNotPay's burner number is a temporary phone number that you can use when you want to:
Sign up for online dating services and apps

Bypass SMS verification

Prevent personal data leaks

Keep away from spam

Avoid spending money on prepaid phone bills
Getting a burner number with DoNotPay is fast and straightforward:
Sign up for a DoNotPay account in any

Select

Burner Phone

when you log in

Type in

Uber

and hit

Create a temporary number
You can use the freshly generated burner number to create your Uber account. When Uber sends you a verification text, you can open it in DoNotPay and copy the verification code to proceed with your registration.
With this method, the risk of receiving spam doesn't exist because the app deactivates the burner number after ten minutes since it is for one-time use only.
The Best Part About DoNotPay's Fake Phone Number Is Its Versatility
Plenty of apps and services require phone number verification. While two-step authentication is a great way to ensure that nobody else can log into your account, you may not always feel comfortable giving something as private as your phone number to big corporations.
If you want to test out the service, but are reluctant to provide your actual phone number, you can use DoNotPay's randomly generated phone number instead. Here are some instances in which DoNotPay can help you bypass phone verification:
DoNotPay Supplements Your Burner Number With a Virtual Credit Card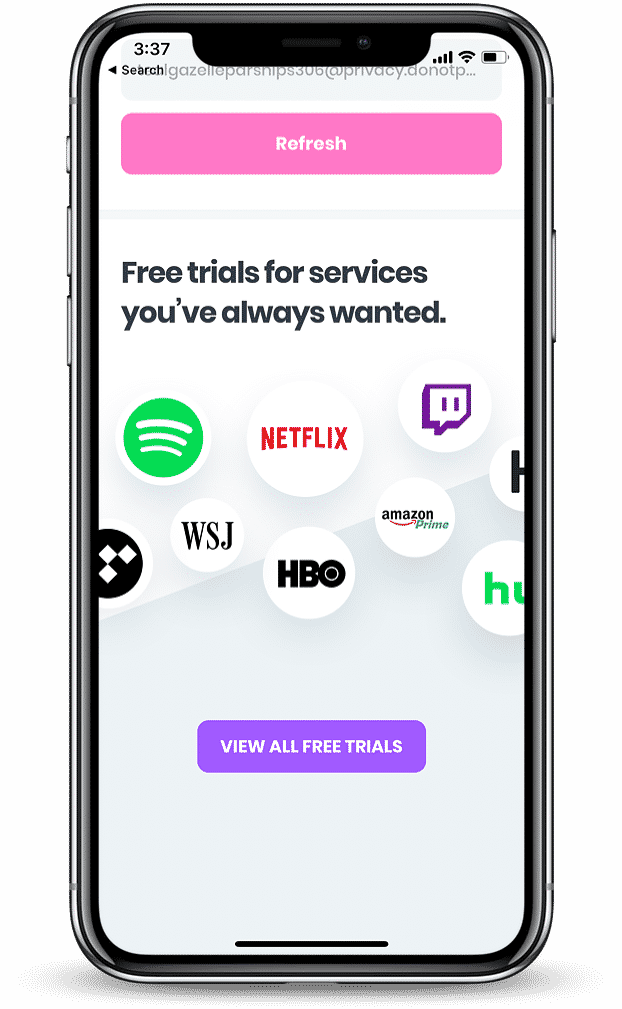 Our platform values your privacy and security. To help you protect your sensitive financial data, DoNotPay has integrated the Free Trial Card feature into the process of creating a burner number. With these two options, signing up for free trials that turn into automatic subscriptions is much easier!
After you check your SMS inbox in DoNotPay to get the verification code, you can choose to create a free virtual credit card. The card will work like a charm on free trial pages for subscription services that ask for credit card details upfront, like Netflix or Spotify.
You will be able to use any service during the free trial period without worrying about getting charged if you don't cancel on time. DoNotPay virtual credit cards have all the same information as regular credit cards, including expiration date and CVV. Since they're not connected to your bank account, there is no risk of losing money!
Uber
's
Two-Step Verification
for a
Lost Phone
What if I lose or break my phone and need to access my Uber account from another device? Won't Uber ask for my phone number again? These questions express valid concerns, but you don't need to worry about them when you use DoNotPay for Uber phone number verification.
Uber allows you to go around its text verification procedure in these situations. When you turn on the two-step verification in your Uber app, you can choose between two authentication methods:
Text message

Third-party security apps
To avoid using text messages, follow this procedure:
Install a third-party security app on your phone and make sure it's connected to your Uber app

Open the Uber app and hit the menu icon

Choose

Settings

and then

Security

Hit

2-step verification

Select

Edit

next to

Delivery settings

and pick the security app
Uber recommends the following security apps:
| | |
| --- | --- |
| App | Where To Download |
| Google Authenticator | |
| LastPass | |
| Duo Mobile | |
Another method for avoiding text message verification is to use backup codes. You can access them from your Uber app in Settings, store them somewhere safe, and use them for authentication if you ever need it.
DoNotPay Can Solve Your Other Uber-Related Problems

Our platform is a powerful resource for solving various kinds of administrative issues. We can help you secure a refund from Uber or Uber Eats, stop Your Uber Code text spam, or cancel Uber Ride Passes. DoNotPay can also assist with more serious issues like dealing with sexual harassment by Uber drivers or suing Uber in small claims court.
Access all of our features from any , including:
Disputing traffic tickets

Fighting speeding tickets