How To Circumvent Snapchat Phone Number Verification Without Using Your Real Number
Snapchat is a free multimedia messaging app that lets users send short-lived messages that become inaccessible after a certain amount of time. To create an account, users must verify either their phone number or email address. 
To protect their privacy, users often enter a fake phone number or use a burner phone to verify their accounts. If you prefer not to provide Snapchat with your personal number, you can use DoNotPay to generate a temporary phone number to pass the phone verification process. 
Why Should I Use a
Fake Phone Number for Snapchat
Verification?
The protection of personal information online has become a hot-button topic in the past few years. Large companies like Snapchat and Facebook are notorious for selling their customers' personal info to advertising agencies. Sharing your phone number with Snapchat guarantees that you will eventually receive spam texts and calls. 
More than 80% of Americans are reluctant to share their information online due to the risk of leaks and spam. Many apps and services demand users' email addresses, phone numbers, and credit card information to register. To avoid giving away their personal information, people use various methods to circumvent these requirements. 
Instead of providing your real phone number to Snapchat, you can:
Buy a burner phone at a retailer such as Walmart or Target

Use one of the many

fake phone number apps

available online

Google a fake number

Ask a friend to use their phone number

Use DoNotPay's

Burner Phone

feature
How To Verify Phone Number on Snapchat
Using DoNotPay's Burner Phone Feature

DoNotPay provides you with the quickest and most convenient way to generate a temporary phone number for Snapchat verification. You can avoid giving away your personal info to any service that asks for it. Here's how to generate a number to use for Snapchat:
Access DoNotPay from your

web browser

Go to our

Burner Phone

section

Type in the name of the service you need a number for and press

Create a temporary number

Use the number to verify your account and send a confirmation text

Type in the verification code before our number deactivates
The temporary phone number we provide lasts ten minutes and can verify any service.
Here is an overview of all the ways you can use our temporary phone number:
| | |
| --- | --- |
| Can I Use a Fake Number for | Yes/No |
| Signing up for trials | Yes |
| Two-factor verification | No |
| Phone verification | Yes |
| Sending and receiving texts | Yes |
| Making calls | Yes |
| Signing up for surveys | Yes |
Why Won't Snapchat Verify My Phone Number
?
Many users have found that Snapchat won't verify their phone, even when they use a real number. If you receive the message "We cannot verify this phone number," Snapchat might have encountered one of these issues:
The service is down for maintenance

It's not a valid phone number

There is heavy traffic

The connection has timed out
Snapchat's phone verification system isn't perfect, and it often fails to verify valid numbers.
Use DoNotPay's Virtual Credit Card Generator To Avoid Giving Your Credit Card Info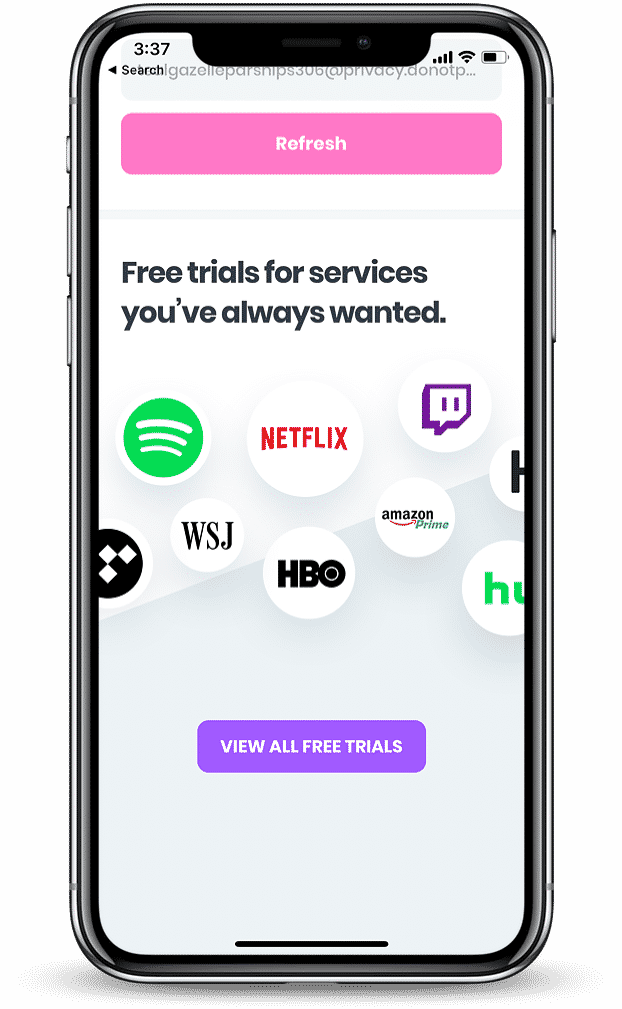 We use credit card generators for the same reason we use burner phones and fake numbers. It helps avoid situations in which our personal information could be leaked or exploited. 
Legitimate services request credit card info to register you for free trials, as counterintuitive as that may seem. When the free trial expires, these services try to sign you up for a paid version of the subscription. If you don't cancel in time, you'll get billed.
A free virtual credit card generator solves this problem. It lets you sign up for a free trial without providing your real credit card. The merchant can't tell the difference between virtual credit cards and real ones. 
You can then enjoy the trial until it runs out when you'll get unsubscribed, as the virtual credit card doesn't have any funds on it. 
Why Does
Snapchat Want To Verify My Phone Number?
There are many benefits to verifying your phone number on the app. Like many other services, Snapchat tries to protect your account by verifying your identity via phone number and email address. If you provide them with this information, you can retrieve your account easily when you forget your password or get hacked. 
Two-step verification adds another level of security. It prevents others from accessing your account because Snapchat texts a code to your phone directly. Unless intruders have your login credentials and the linked device, they won't be able to log in to your account. Keep in mind that you can't use a temporary number for two-step verification, as the number you provide will be used repeatedly. 
Another reason Snapchat asks for your number is to prevent spam. If users made accounts with no phone or email requirement, spammers would create thousands of accounts. Phishing and fraud accounts are easier to track when they're linked with emails or phone numbers. 
How Do I
Verify My Phone Number on Snapchat?
Whether you're using your real phone number or a temporary one, you should try to verify your Snapchat account. If you skipped phone verification and signed up for Snapchat with your email, you can add your phone number later by accessing the app's Settings page. To verify a phone number, follow these steps:
Press the

gear

button to reach the

Settings 

Go to the

My Account

page and tap

Mobile Number

Enter the number you want to verify

Tap

Verify

 

In the pop-up window, click on

Send via SMS

When you receive the number, input it in the text box and press

Continue
If you use DoNotPay's temporary number feature to generate a new number, you must complete these steps within ten minutes, as the number will be deactivated past this point. 
The verification text is sent from a U.S. number, which means international users may be charged an additional fee. Make sure you've enabled international text messaging before you press Send via SMS. 
Standard text messaging fees apply for verification messages. 
Let DoNotPay Be the Robot Butler That Solves Your Problems in a Snap

DoNotPay has helped thousands of users verify different services with its temporary phone numbers. Once you've verified Snapchat, consider using our fake numbers to sign up for any other service that requires phone verification. 
We'll help you join Facebook and PayPal without having to provide your real phone number. Whether you need to find a free burner phone app or verify your business with a Google phone call, DoNotPay can help you. 
Other features DoNotPay provides include disputing parking tickets, requesting compensation for delayed flights, and suing companies in small claims court. If you don't know how to cancel Ready Refresh or XSport, we can do it for you. 
You can start using these features once you sign up for DoNotPay in your web browser. To get an idea of what else we can help you with, check out this list of tasks we simplify:
Disputing traffic tickets

Fighting speeding tickets