What's the Best Instant Approval Virtual Credit Card
We all know that dreadful feeling when you find a cool subscription-based service that you want to try out and click on the "start my free trial" button, only to see that it requires imputing your credit card information. Most of us would look past this or write it off as a minor inconvenience and hit that "sign up" button. A month later, when the free trial has ended, you'd get a notification that your subscription has been auto-renewed, and your bank account is suddenly tens of dollars lighter.
But what if we told you there was a quick and easy way to finally leave those unwanted subscription charges in the past where they belong? With a Free Trial Card—DoNotPay's instant approval virtual credit card—you can sign up for free trials online without having to worry about an auto-renewed subscription charge after the free trial runs out.
We'll run you through the main functionalities and benefits of DoNotPay's life-changing instant approval online virtual credit card.
What Is an
Instant Virtual Credit Card
?
An instant virtual credit card is essentially a randomly generated "mockup" credit card that's connected to your chip credit card, but keeps your private banking information hidden when shopping online or signing up for subscription-based services.
Instant approval credit cards generate random and disposable credit card numbers, expiration dates, and control numbers to protect your privacy and keep your financial information safe. This means that you don't have to wait to get approved for an instant credit card number, make a deposit before you can start using it, or anything of the sort.
By concealing your credit card data from the merchant, you are minimizing the chances of having your actual credit card information stolen.
How Does an
Instant Online Virtual Credit Card
Work?
The principle of an instant virtual credit card is identical to its physical counterpart. Just like the chip creates a single-use token that changes every time you use your card to make a purchase, a virtual credit card generates unique, one-off information that changes with your every online transaction. Depending on the issuer of your card, you can also get a card that generates a pseudo-number that you can use multiple times.
To the seller, the information from a virtual credit card will look absolutely identical to that of a regular credit card. You'll have peace of mind when using an instant virtual credit card online—for both purchases and subscriptions—because it adds an extra layer of protection. By not revealing your real credit card information, it is safeguarding your money from any fraudulent activities that happen in the sometimes murky waters of the World Wide Web.
How Does DoNotPay's Instant Virtual Credit Card Work?


DoNotPay's Free Trial Card functions similarly to other virtual credit cards, with one key distinction—it does not require you to link your actual credit card to the VCC. This means that there's absolutely no chance that you will get charged after the free trial. On that note, it's important to understand that DoNotPay's Free Trial Card is just that—it doesn't and cannot hold any actual money, so you cannot use it for online purchases.
An added benefit of DoNotPay's instant approval virtual credit card is that it creates a temporary email address that you can use while signing up for online free trials.
Our app creates a random, disposable email address and forwards all the important messages to you, while also disabling location tracking and making sure that your actual email doesn't end up on any spammy marketing newsletter lists. Not only will you be protected from online scams that target your credit card information, but you'll also be spared of the annoying spam emails companies flood your inbox with.
You can access DoNotPay through any .
Why You Should
Get a Virtual Credit Card Quickly


Instant approval virtual credit cards are not only convenient, but they also improve your online privacy and security significantly. Think of it not as a substitute for your actual credit card, but as an essential, more secure supplement.
A virtual credit card comes with a myriad of perks, including:
Improved privacy

Better protection against fraud

Ability to sign up for free trials risk-free

Ability to limit the daily/weekly/monthly number of transactions

Instant approval
Improved Privacy
If the merchant you're dealing with doesn't have a robust security system in place, you're potentially exposing yourself to identity theft and data breaches.
Scammers can get access to other sensitive information, such as your passwords, phone numbers, social security number, physical address, and the like. By not revealing your actual credit card information, a virtual credit card protects your identity.
Better Protection Against Fraud
A virtual credit card safeguards your personal account number (PAN) card details against any online theft, fraud, and double-charges.
With over 270,000 reported cases of credit card fraud in 2019, it's of utmost importance that you amp up your financial security level with a virtual credit card that offers instant access.
Ability To Sign up for Free Trials Risk-Free
When a free trial you forgot to cancel expires, you can be certain that the subscription will not auto-renew and result in an unwelcome subscription charge on your account.
Ability To Limit the Daily/Weekly/Monthly Transactions
To prevent any unwanted charges, you can customize the number of transactions on a daily, weekly, or monthly basis, as well as set the maximum amount you can spend per transaction.
Drawbacks of Using Virtual Credit Cards
Although virtual credit cards offer quite a few advantages, they are not a magical solution without any drawbacks.
There are a few instances where you should think twice before using your virtual credit card, as you may run into complications down the road. When relying on virtual credit cards for online purchases, not that you:
Can't get refunds

Won't be able to verify your credit card information at a later stage

Can't use them to withdraw money
Can't Get Refunds
Let's say you purchased something using virtual credit card information, but you weren't quite happy with it and applied for a refund.
Even if your refund has been approved, you may come to an impasse if the merchant insists the refund gets placed on the same account number you used when you made the purchase—your random, one-off credit card number will have already expired.
Won't Be Able To Verify Your Credit Card Information at a Later Stage
Often, when you use a credit card to make an online reservation for a rental car, airplane ticket, or hotel accommodation, you will be asked to show the same card during check-in for verification purposes or to pay with it. This will be impossible with a VCC since you used a virtually generated random number to make the transaction.
Can't Use Them To Withdraw Money
Generally speaking, virtual credit cards cannot be used to withdraw cash from ATM-s. In some cases, this may be a possibility, but one that comes with a high network fee attached.
Pros & Cons of
Instant Approval Virtual Credit Cards
Is a virtual credit card right for you, or should you stick to a conventional credit card only? Check this succinct overview of its advantages and drawbacks to find out.
| | |
| --- | --- |
| Pros | Cons |
| Protects you against fraud | Can prevent you from obtaining a refund |
| Hides your personal information | Cannot be used for verification purposes |
| Allows you to set transaction limits | Doesn't allow you to withdraw cash |
| Lets you cancel quickly and easily | Impractical for recurring payments |
Most Common Uses for
Virtual Credit Cards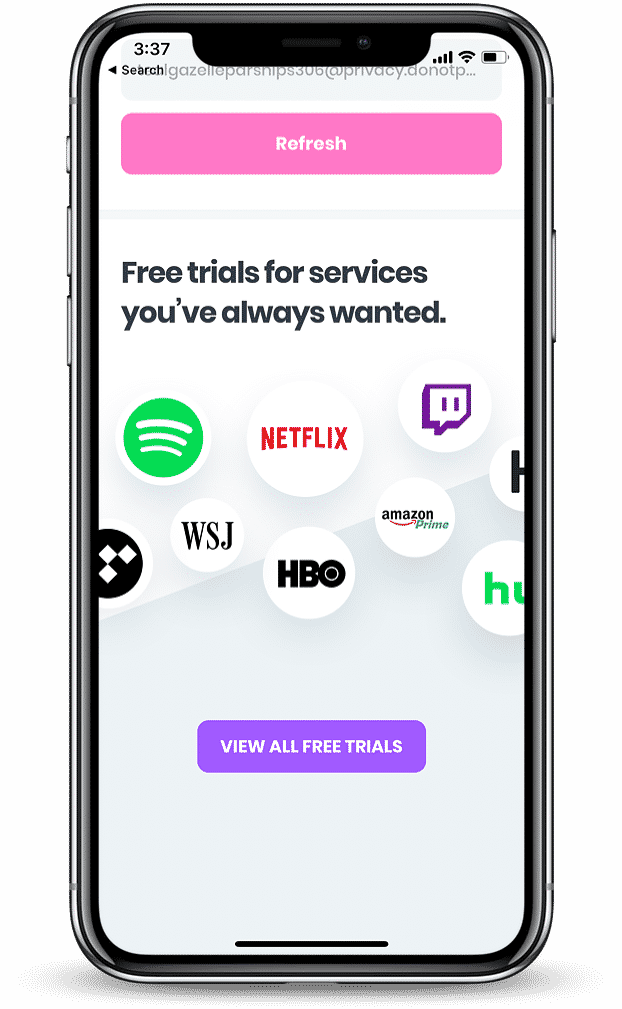 It's evident that immediate access credit cards have quite a few advantages. The most common uses for instant approval virtual credit cards are:
Signing up for a free trial online

Making a one-time online purchase

Buying from vendors you haven't purchased from before
Signing up for a Free Trial Online
When you want to test out a certain service, it's unnecessary to disclose your financial details and risk unwanted charges later on. Some companies charge their users even after they've canceled the free trial, and then make it an absolute pain (if not downright impossible) to retrieve that money.
With DoNotPay's Free Trial Card, you don't have to worry about fraudulent merchants, unwanted charges, and data breaches when signing up for a free trial. Since it's not connected to your bank account, there's absolutely no risk and you get to enjoy a free trial that is genuinely free!
Making a One-Time Online Purchase
According to Statistic Brain, identity theft happens to 12 million Americans every year, with the average victim suffering a loss of about $5,000 per theft. While most online purchases are uneventful, every time you buy online, you expose yourself to the risk of having your personal and financial information stolen. If you're buying a product or a service online that doesn't require a recurring payment, it is much safer to do so with a virtual credit card.
Buying From Vendors You Haven't Purchased From Before
Online shopping represents the pinnacle of convenience in today's day and age. Still, you can never be too careful when it comes to buying on the Internet, particularly if you're dealing with a merchant you don't entirely trust or have never purchased from before.
Some online stores are created purely as a front to steal money from unsuspecting buyers. To avoid getting scammed out of your hard-earned money, make sure that the website you're buying from starts with "https:" (the "S" at the end standing for "Secure"), don't give out more personal information than necessary (such as your Social Security Number), and use a virtual credit card to pay.
Online frauds and other criminal activities aside, the Internet is generally a wonderful place brimming with useful content and fun, high-quality online subscription-based services you can try out for free for a limited amount of time. Use DoNotPay's virtual credit card to sign up for any (or all!) of these:
ESPN Go

Doordash

Jira

ESPN

Disney+

Postmates

YouTube Red

PlayStation Vue

CBS All Access
How Does DoNotPay's Free Trial Card Compare To Your Actual Credit Card?


Your bank's physical credit card has its own set of benefits and uses, but when it comes to signing up for free trials online, DoNotPay's instant approval virtual credit card is an unbeatable choice. We've made a direct comparison of these two types of card:
| | |
| --- | --- |
| Real credit card | DoNotPay's Free Trial Card |
| Allows charges | Doesn't allow charges |
| Shows your credit card info | Hides and protects your personal information |
| Exposes you to potential theft or fraud if the website is hacked | Safeguards you from potential theft or fraud if the website is hacked |
| Hundreds and thousands of dollars of unwanted charges | Zero unwanted charges |
| Doesn't include an email address | Comes with a temporary email address |
Where Can You Get a
Virtual Instant Credit Card
?
There are several providers that offer a virtual credit card. Which one is the right choice for you will depend on your individual preferences and needs.
DoNotPay
We have created DoNotPay's Free Trial Card because we realized how many people were losing money every month, simply because canceling that already-forgotten-about free trial slipped their mind. To sign up for it, access DoNotPay through your .
Capital One Eno
You can get a virtual credit card by Capital One through Eno, the bank's virtual assistant. The virtual card can be accessed as a browser extension for Google Chrome, Mozilla Firefox, and Microsoft Edge. When you're doing your online shopping, click on the extension button prior to paying. You'll receive a unique credit card number to use in the instance. All settings of your virtual credit card can be managed on Capital One's website.
Citibank virtual account numbers
Citibank offers a tool that allows you to create virtual account numbers and set expiration dates and spend limits for them. You also have the ability to view purchases made with virtual account numbers and the remaining balance on a particular account number. These virtual account numbers can exclusively be used for transactions done over the phone or online.
DoNotPay Protects Your Privacy and Finances
Sharing your credit card details online comes with inherent risks, and it's getting more difficult to tell reputable websites and shady ones apart. With DoNotPay's virtual credit card generator, you will be able to protect your identity and bank account from cyber scammers.
Whenever you're unsure whether an online merchant can be trusted, generate a virtual credit card in an instant and proceed without worries. Our virtual cards also work like a charm if you want to avoid automatic payments after free trials.
DoNotPay Can Also Save You a Valuable Time and Hundreds of Dollars Each Month!

DoNotPay is your AI Consumer Champion and is downloadable on any , and it offers many awesome features that can turn your life into a breeze. It can:
Appeal traffic tickets
Dispute speeding tickets