Is There a Way To Use Google Voice Without Phone Number Verification?
Google Voice is a phone service that allows users to forward calls, texts, and voicemails by using a phone number Google provides. You will have to give your phone number to verify your account, but what happens if you don't want to? Find out if there is a way to avoid phone number verification when signing up for Google Voice and which one is the most efficient.
Why Does Google Voice Need Phone Number Verification?
All legitimate companies that require your phone number for identity verification do so for safety reasons. Google Voice regards phone number verification as an anti-fraud measure. They don't want anyone to abuse the numbers they offer and commit scams. 
By giving your phone number to the company, you prove that you are not a robot. This safety measure also ensures you have easy access to your account in case you forget your password.
When a company has your phone number, they can easily contact you if they notice any suspicious activity on your account.
If you want all these protective measures, you need to give your personal information—a phone number. Leaving your number online to various companies comes along with different risks, and a lot of people would rather avoid that step. If you want to skip the phone number verification efficiently, you need to learn more about how this process works.
How Does Google Voice Phone Verification Work?
If you want to use Google Voice, you need to disclose your phone number. This is how it works:
Visit the Google Voice website

Select the

Settings

button in the top right corner

Find the

Linked Numbers

category

Click on

New Linked Number

Type in the phone number you want to link

Google Voice will send you a six-digit code via text

Enter the code in the text box

Select

Verify
If you want to use a landline number, the process is a bit different: 
Select the

Verify By Phone

link

Select the

Call

button 

Google Voice will call your landline number and provide you with the six-digit code
You can't use Google Voice without giving your number, but are there any ways around it?
Can You Bypass Google Voice Phone Verification?
Google Voice works in the following way: you provide them with a number to get a number. Yes, it's not the best solution when you are trying to avoid using a personal number in the first place.
Maybe you don't want to leave your personal information everywhere and would like to skip the phone verification step completely.
You will need to provide Google Voice with a certain number, but there are ways of keeping your privacy safe.
This is what people usually do when they don't have a phone, lose their phone, or don't feel like leaving their number to yet another company:
Search

Google

for fake phone numbers

Purchase burner phones

Borrow a phone from someone else
"Free" options won't get the job done. If you decide to borrow a phone from someone, you leave them exposed to potential robocalls or text spam.
Googling fake phone numbers will most likely lead you to some sort of a scam, and you don't want to compromise your privacy even further. To get a phone number that actually works, you will have to spend some money.
You can opt to buy a burner phone, but this purchase won't be that cheap. Do you really want to spend $50 on one number? 
There is a more effective way of dealing with phone number verification, and its name is DoNotPay.
Verify Google Voice Without Phone Number by Using DoNotPay

DoNotPay is the best way to avoid phone number verification:
You will get the desired results

You won't endanger someone else's privacy

You won't have to pay more than our affordable monthly subscription to get all the benefits we offer
Unlike burner phones that come with one number, our app offers several different temporary numbers a month!
If you want to solve all your phone verification problems, you should do the following:
Access DoNotPay in your

web browser

Find our

Burner Phone

category

Type in the name of the company you'd like to use this service for

Hit the

Create a Temporary Number

button
Your new temporary phone number will appear along with a text containing the verification code you can use to sign up for any service. The providers won't be able to contact you because the number you get will be deactivated after ten minutes. Don't test your luck with other fake phone number apps and choose DoNotPay!
The Best Part About DoNotPay's Fake Phone Number Is Its Versatility
Plenty of apps and services require phone number verification. While two-step authentication is a great way to ensure that nobody else can log into your account, you may not always feel comfortable giving something as private as your phone number to big corporations. 
If you want to test out the service, but are reluctant to provide your actual phone number, you can use DoNotPay's randomly generated phone number instead. Here are some instances in which DoNotPay can help you bypass phone verification: 
Use DoNotPay's Virtual Credit Card To Avoid Leaving Your Personal Info to Companies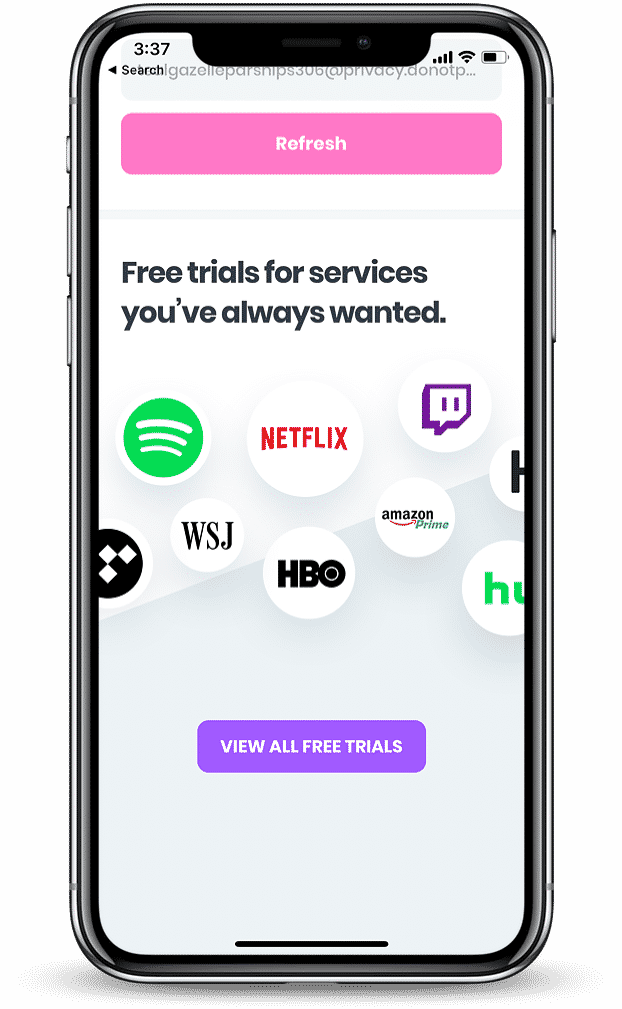 DoNotPay's virtual credit card is an efficient way to sign up for free trials and enjoy them while they last without stressing about potential charges once they end. The card number we generate for you doesn't have any money linked to it since it is not a real card, so service providers can't use it to request a payment. 
We could say that DoNotPay's virtual credit card is a sister feature of Burner Phone. Take a look at the table below to see how they are connected:
Burner Phone Feature

Both features help protect your personal data

They make sure you can enjoy various services without worries of possible consequences that come with sharing sensitive data

The companies won't be able to get in touch with you after you apply for a service because the numbers or emails attached to virtual credit cards don't really exist

Virtual Credit Card Feature
Save your hard-earned money and protect your privacy with the help of the world's first robot lawyer!
DoNotPay Is a Master of Tackling Administrative Issues

If you are wondering whether Google Voice can block robocalls, DoNotPay has the answer you are looking for. In case you are unsatisfied with any of the other services Google offers, your virtual assistant can get rid of them for you.
If you'd like to get a refund from Google Play, we can tell you what's the easiest way to retrieve your money.
If you no longer want to use Google Play or Google Drive storage membership, we can help you cancel their services in no time.
Perhaps you're having trouble with Google Spam emails? Don't worry—we know the best way to deal with this issue as well.
DoNotPay can help you with an array of other administrative problems. Open our app in any web browser and let us assist you with:
Disputing traffic tickets

Fighting speeding tickets