Need a Fake Phone Number for Facebook Verification? Here's How To Do It!
To create a new Facebook account, you have to provide a valid phone number when signing up. The company has had numerous issues with spam and phishing accounts, so they wish to verify that every new user is genuine and not only looking to create multiple spam accounts. 
This protective measure can make it difficult for users to create multiple accounts for their business or other purposes. Facebook is known for sharing their users' account details with advertising agencies liberally, which leads to email and text spam. 
To avoid buying a burner phone or giving your real phone number to Facebook, use DoNotPay's temporary number feature. It's a quick workaround that will help you sign up for any service that requires a phone number. 
Can I Use the Same U.S. Phone Number for Facebook Verification
More Than Once?
You can't verify more than one account using a single phone number. This limit makes it difficult for new users to set up multiple accounts for business or private reasons. 
If you have an older account that only uses an email, you can use your current phone number to sign up for a new account. If you already used your real phone number, you'll have to resort to more creative methods to verify it. 
How To Find a Fake Phone Number for Facebook
You don't have to use your real phone to sign up for Facebook. Workarounds exist, and they can help you create a new account without investing in a new phone plan. There are plenty of methods of getting a valid phone number without using your personal phone:
Burner phones

—You can purchase a burner phone with a prepaid SIM card and use it to sign up for Facebook. It's an expensive workaround for a free Facebook account, but it gets the job done. If you need to verify multiple Facebook accounts, burner phones might not be the most cost-effective solution

Someone else's phone

—If you have a friend that doesn't care about sharing their personal information with Facebook, you can ask to use their phone number to verify. The only downside is that you need to find a friend that hasn't already used their number for Facebook verification

Google Voice

—Google's call forwarding service can help you verify Facebook without a phone number, but it can be tedious.

You can't verify via text, but you can force Facebook to allow you to verify your account through a phone call

. It takes a few days of trying to verify through text before Facebook prompts you to call them. The line might be busy, so make sure you keep trying until it works
Here's an overview of the different ways you can get a real or fake phone number to verify a Facebook account:
| | |
| --- | --- |
| Can I Verify Using | Yes/No |
| DoNotPay | Yes |
| A Friend's Number | Yes |
| Burner Phones | Yes |
| Google Voice Text | No |
| Google Voice Call | Yes |
How To Get a Phone Number for Facebook Verification
Using DoNotPay

Nowadays, Americans are more concerned about their online privacy and hesitant to give businesses their personal information. Services like Facebook don't hesitate to sell their users' phone numbers to ad agencies and political groups, leading to those users being spammed with texts and calls. 
DoNotPay can help you sign up for Facebook without divulging any personal info, including your phone number. Here's what you should do:
Access DoNotPay from your

web browser

Open the

Burner Phone

feature and click on

Create a temporary number

Use the number we generate to sign up for Facebook

Enter the confirmation number you receive after signing up
The number will be deactivated after ten minutes, giving you a lot of time to receive and type in the confirmation number. You can verify your Facebook account and start using it immediately. 
Why Should I Use a
Fake Cell Phone Number for Facebook
?
If you already used your phone number to sign up for your personal Facebook account, setting up a business account requires a new number. Unless you have a separate phone used for business, you'll have to use a burner phone to achieve this.
There are numerous reasons why you wouldn't want to give your real phone number to Facebook:
They don't keep their data safe

It could lead to spam texts and calls

They might sell your data to the highest bidder
With the recent Cambridge Analytica scandal, users hesitate when providing info to Facebook. To be on the safe side, you should use a burner phone and give Facebook minimal info about yourself. 
Why Does Facebook Require a Phone Number To Verify My Account?
Facebook is littered with spam and phishing accounts. In the past, anyone could create an account using only an email, but that didn't verify a user's identity. Multiple accounts were used to scam and spread misinformation throughout the platform. 
A phone verification system prevents people from creating multiple spam accounts or makes the process more costly and tedious. The system also makes it simpler to track those who send spam or make threats on the platform. 
The Best Part About DoNotPay's Fake Phone Number Is Its Versatility
Plenty of apps and services require phone number verification. While two-step authentication is a great way to ensure that nobody else can log into your account, you may not always feel comfortable giving something as private as your phone number to big corporations. 
If you want to test out the service, but are reluctant to provide your actual phone number, you can use DoNotPay's randomly generated phone number instead. Here are some instances in which DoNotPay can help you bypass phone verification: 
Use Our Virtual Credit Card To Sign Up for Free Trials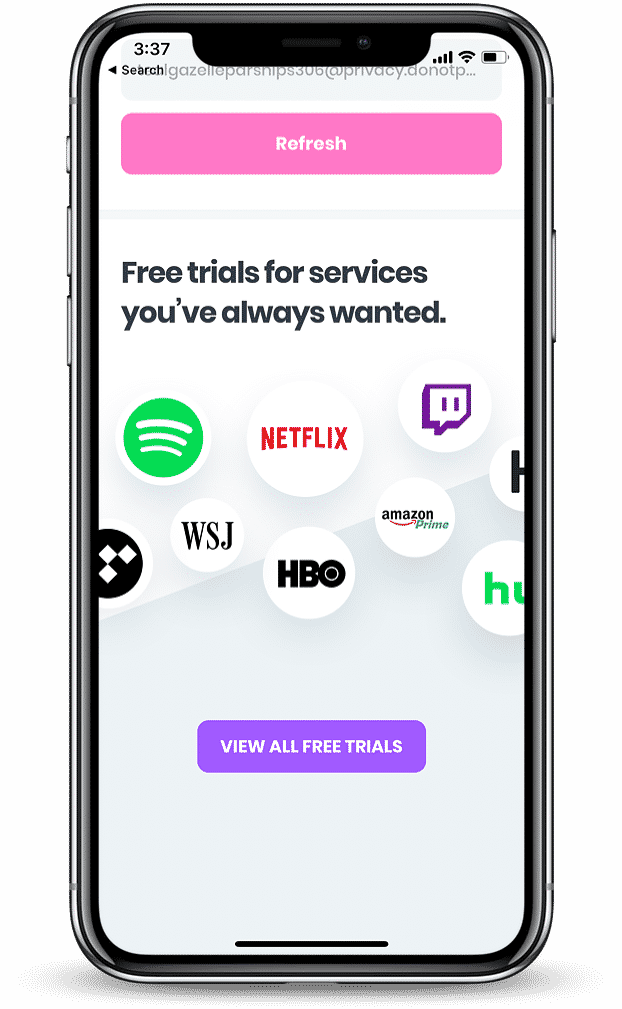 Some businesses require you to provide your credit card info to sign up for free trials or demos. If you aren't keen on sharing your personal information with companies you don't trust, we have a solution. 
DoNotPay's free virtual credit card generator can create a fake card you can use to sign up for free trials. The card doesn't hold any funds or require a deposit, meaning you won't be at risk of losing money when trying out a service. Here's how it works:
DoNotPay generates a unique

virtual credit card

You use it to sign up for a free trial

The trial runs out, and the company tries to charge you

As there are no funds on the card, you're unsubscribed immediately
Once you start using our virtual credit card generator, you won't have to worry about free trials ripping you off again.
DoNotPay Can Take Care of Tedious Day-to-Day Tasks

If you need a fake number or burner phone for Walmart, Venmo, or Instagram, we'll help you get one. Use DoNotPay's burner phone feature to complete verification for Snapchat, Craigslist, and a variety of other services. 
Our app can help take care of other mundane tasks too. If you want to report harassment or protect your copyright on Facebook, DoNotPay has your back. Whether you want to cancel Adobe Acrobat Pro or get a YouTube Premium refund, we'll show you how to do it. 
Access our app from your web browser and start using our app's many features. Here's a list of tasks we can help you with:
Disputing traffic tickets

Fighting speeding tickets