Instagram Phone Verification Bypass Explained
Instagram needs no introduction. It's one of the leading social media platforms used by one billion people worldwide. Instagram is a significant part of people's lives—we share where we travel, what we eat, and who we hang out with.
With so much information available online, more than 80% of Americans are concerned about the lack of privacy and control over their personal data. This is why more and more people are reluctant to reveal their phone number when registering on various online platforms, such as dating websites, social media, etc.
Find out how to skip using your phone to verify your Instagram account or any other apps and services.
Can I Open an Account and Bypass Instagram Phone Verification?
Yes, you can. If you want to create an Instagram account, you can sign up using one of the following:
Email address

Phone number

Facebook account
During registration, you can simply choose a different option if you do not wish to share your phone number.
Instagram may ask you to add your phone number later. Many users have complained about Instagram blocking their accounts until they submit a phone number and enter a verification code because it "suspected some suspicious activity."
Why Does Instagram Ask for Phone Verification?
Whether Instagram asks for your phone number upon registration or at a later time, the reasons for this could include:
Keeping you and other users safe

—Requesting a phone number makes registering and managing an account difficult for spammers and people who create multiple accounts

Setting up two-factor authentication

—This way, you can easily reset your password if you forget it or if you suspect someone hacked your account

Verifying your identity

—When you provide a phone number, you prove that you are a real person and not a robot
How To Bypass Instagram Phone Verification
People value their privacy and go to great lengths to avoid revealing their personal information whenever they can—and for good reason. In 2019, Instagram confirmed that a security issue exposed users' accounts and their phone numbers. It would be prudent to familiarize yourself with different ways to bypass Instagram phone verification:
How To Skip Instagram Phone Verification When Registering
When you register on Instagram, you can choose Email or Facebook and skip linking your phone number to your Instagram account.
Here's how to register with your email address on the app:
Download Instagram from the

App Store

or

Google Play

Click on the app to open it once it's installed

Tap on

Sign Up With Email or Phone Number

if you have Android, or

Create New Account

if you have an iOS device

Type in your email address

Follow the prompts to create a username and password

Click on

Done
To create an Instagram account with your email on your computer, do the following:
Go to Instagram's

website

Click on

Sign Up

Enter your email address, full name, user name, and password

Tap on

Sign Up
If you don't want to go through all of these steps, click on Log in With Facebook, instead of entering your email address.
Skipping Instagram verification is not a perfect solution because Instagram could ask for your phone number down the line, and you may not be able to skip it at that point. Luckily, there are other steps you can take to protect your privacy.
Buying a Burner Phone To Avoid Instagram Phone Verification
Movies and TV shows usually depict burner phones as a means for remaining untraceable or tools used by criminals and spies. More and more people in real life turn to buying burner phones to prevent the invasion of privacy and tracking for marketing and other purposes.
You can buy burner phones in many places, including:
The downside of burner phones is that you will end up with an additional device you probably won't be using. You may keep receiving spam text messages and phone calls, even though it won't be on your main phone.
DoNotPay—Instant Solution for Instagram Phone Number Verification

DoNotPay provides a fake phone number for you so that you don't have to purchase a burner phone.
You can use DoNotPay's temporary phone number to:
Avoid robocalls

Escape spam text messages

Protect yourself from phone number leaks

Bypass phone verification for many apps, services, or subscriptions

Protect yourself from harassment and stalking on dating websites
Compared to other fake phone number apps that charge more than $50 a year and burner phones ranging from $20 to $100, DoNotPay is the most affordable option.
Similar apps typically give out only one burner number, whereas DoNotPay allows you to get multiple phone numbers. Not only can you obtain a risk-free phone number, but you can also enjoy other handy features DoNotPay has to offer, such as the virtual credit card generator.
How Does DoNotPay's Fake Phone Number Work?
Follow these steps to create a temporary phone number and bypass Instagram phone verification:
Visit DoNotPay in any

Choose the

Burner Phone

feature

Enter

Instagram

when asked about the company or service

Tap on

Create a Temporary Number

View the number DoNotPay quickly generated

Click on

View My Text Message
That's it! Once you tap on the text message, you'll see the verification code you can then use to verify your Instagram account.
That specific number is meant for one-time use only. It gets deactivated ten minutes after you receive the code. The reason behind this time limit is to ensure your privacy and block further spam messages.
Stay Protected With DoNotPay's Virtual Credit Card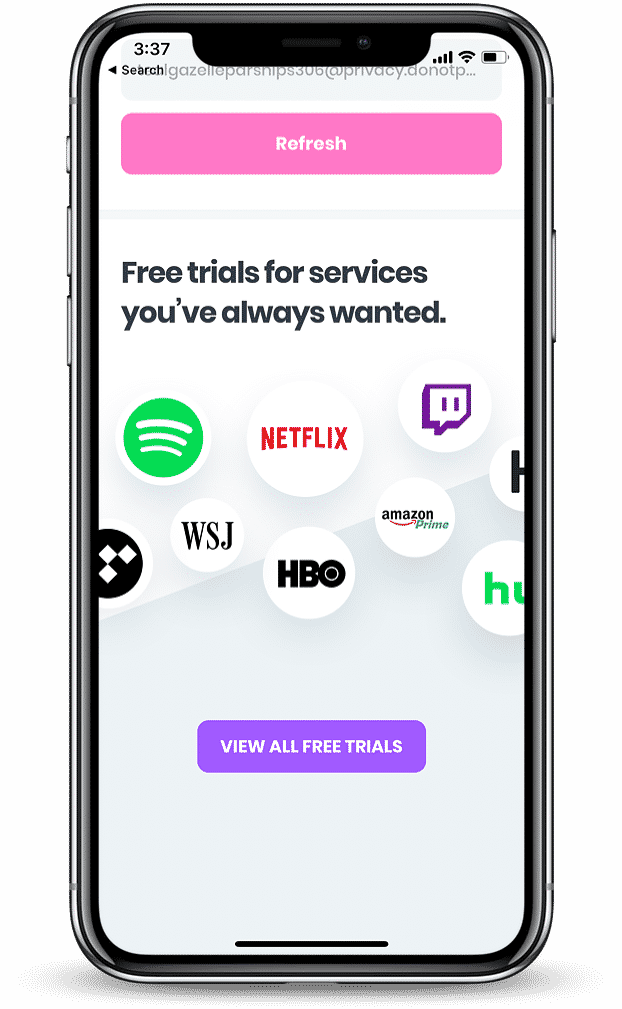 After DoNotPay asks you to enter the service for which you need a phone number, you also get the option to create a free virtual credit card.
DoNotPay's virtual credit card includes randomly generated numbers that look like those on a real credit card. It is also linked to a fake user's name and email address and has no funds. By using this card to sign up for different services, subscriptions, or free trials, companies cannot trace you or make you pay. When they attempt to charge this card, they won't be able to. They'll cancel the subscription themselves, and you won't have to worry about revealing your credit card info or being charged without notice.
More of DoNotPay's Nifty Guides and Solutions

Now that we have your Instagram phone verification sorted, you may want to declutter your life and get rid of administrative or legal issues. Learn about Instagram customer support hacks, the essentials of Instagram copyright, dealing with Instagram copyright infringement, or stopping your ex from stalking you.
DoNotPay can also assist you in reporting a social media stalker and stopping Facebook confirmation code text spam.
We have even more in store for you! Open DoNotPay in your and let the best virtual assistant help you next time you want to:
Contest your speeding tickets

Overturn your traffic tickets