Don't Let the Under Armour Return Policy Beat You—DoNotPay Has a Solution
If you've purchased sports apparel or accessories from Under Armour and the item doesn't match your expectations, you have the right to return it.
This article will guide you through the nitty-gritty of the Under Armour return policy. We will also show you how DoNotPay's AI solution can act as a booster to make your return process faster and less stressful.
How Does the Under Armour Return Policy Work?
All Under Armour (UA) items—online or in-store purchases—must be returned within 60 days of delivery. They must be in "as purchased" condition, and you must present the proof of purchase.
There are a few more conditions to note about the Under Armour return policy:
You can exchange items based on size or color via the website within 60 days of purchase
Items bought using ApplePay, gift cards, or Klarna cannot be exchanged
To exchange your gift or retail purchase, you should first send it back then place a new order
Purchases from any UA partner retailer must be returned to the original retailer—UA only accepts returns for purchases on their website, in the app, or at store locations
If you receive wrong or defective items or the order gets damaged in transit, call UA customer care at 1-888-727-6687 to get assistance.
Can You Return UA Items After 60 Days?
Under Armour still makes exceptions for items without proof of purchase or items sent back after the return window has elapsed. The company reviews these returns on a case-by-case basis and accepts or declines them at its discretion.
If your return is accepted after the expiration of the return window, you'll have to ship the item yourself with the proof of purchase for a refund. If you don't have the proof of purchase, Under Armour will refund you in the form of a UA eGift Card based on the item's last known selling price.
Under Armour Return Policy—How To Return an Online Purchase
The correct method for returning an online purchase via mail depends on whether the order arrived with the return label or not. If you got the return label, then follow the instructions on the packing slip.
Otherwise, you can get the return label on Under Armour's official website and follow these steps:
Print the free shipping return label and the Return Authorization Form—if you want a replacement item, make sure to mark the item for exchange before printing the return label
Pack the form and your return item together
Stick the return label on the box.
Send the package to your nearest FedEx location or post office.
If you're returning your online purchase to a UA store, make sure it comes with its original packing slip, and you'll be reimbursed to your original payment method. In-store returns are not possible for PayPal, ApplePay, or Klarna orders.
Under Armour Outlet Return Policy—Returning In-Store Purchases
To take the item yourself to a physical store, make sure it is in its original condition and packaging. Bring your original Under Armour receipt—if you don't have that, go with a valid photo ID.
You can bring your item to any UA Brand House or Factory House.
To return your store-bought item via mail, you'll need to get a free return label and return form in the same way as for an online purchase return. Make sure to include your original receipt in the packaging before sending it out.
In-store purchases will be refunded to the original payment method if they are returned to a store. In-store purchases returned by mail will be refunded in the form of a UA eGift Card. Under Armour will send it to the email you provide on your return form.
How Long Does Under Armour Take To Process Returns?
The Under Armour return policy states that processing returns takes 10–14 business days. This time frame doesn't include the 3–10 business days it will take your returned item to reach UA's return facility before processing.
After your return is processed, you will get an email notification confirming that your refund has been issued. It could still take another 3–5 days for your refund to show up on your statement, depending on the bank.
DoNotPay Can Help You Smooth Out the Return Process!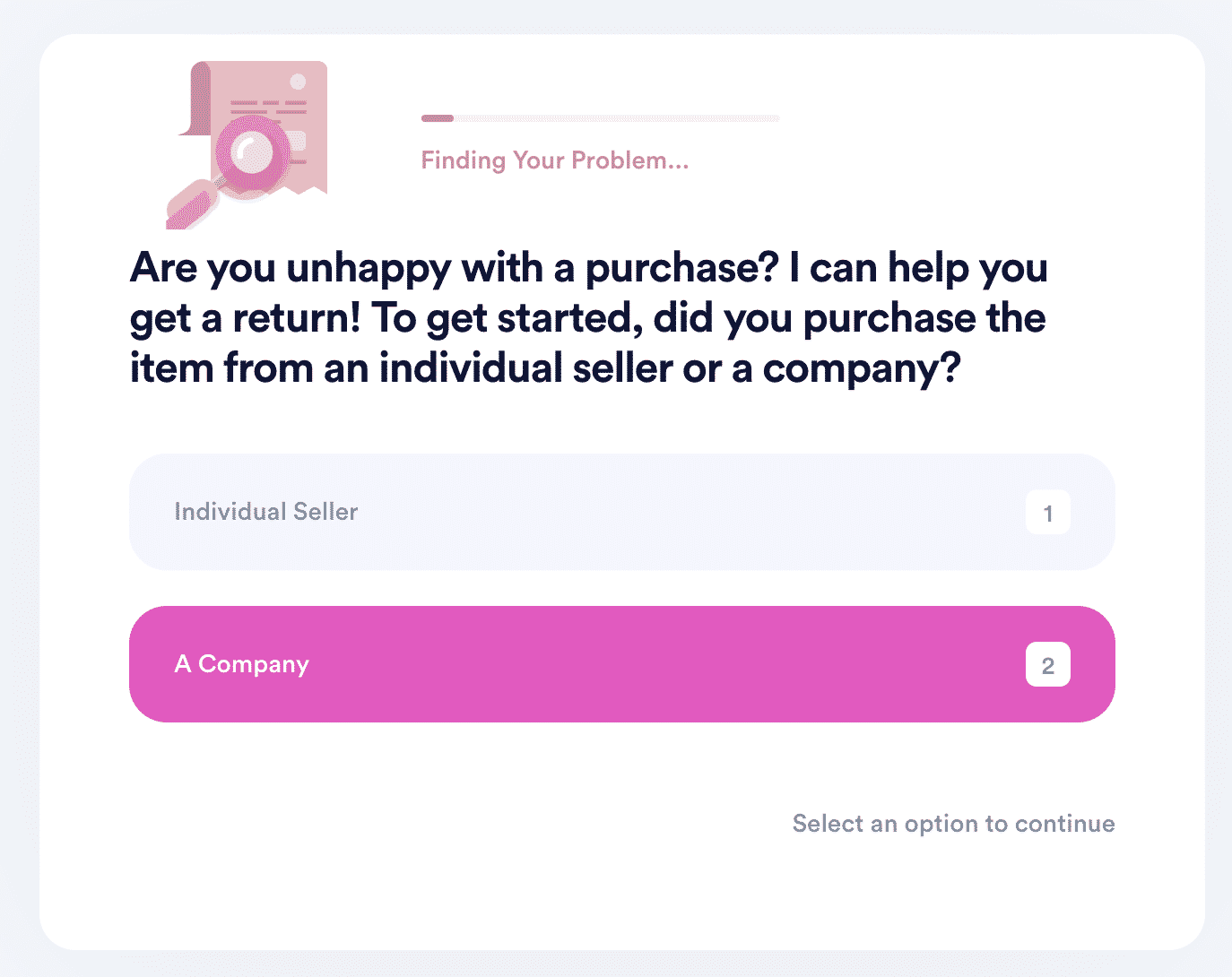 If you want to make sure customer support doesn't ignore your return request, use DoNotPay's AI service.
Just follow these simple steps:
Log in to your DoNotPay account via any web browser
Select the Item Return Request service
Answer a few questions, and include photos (if applicable)
Submit the request
DoNotPay will generate a time-sensitive custom return request and send it to the merchant. You will also receive a free return label so you can save on shipping costs.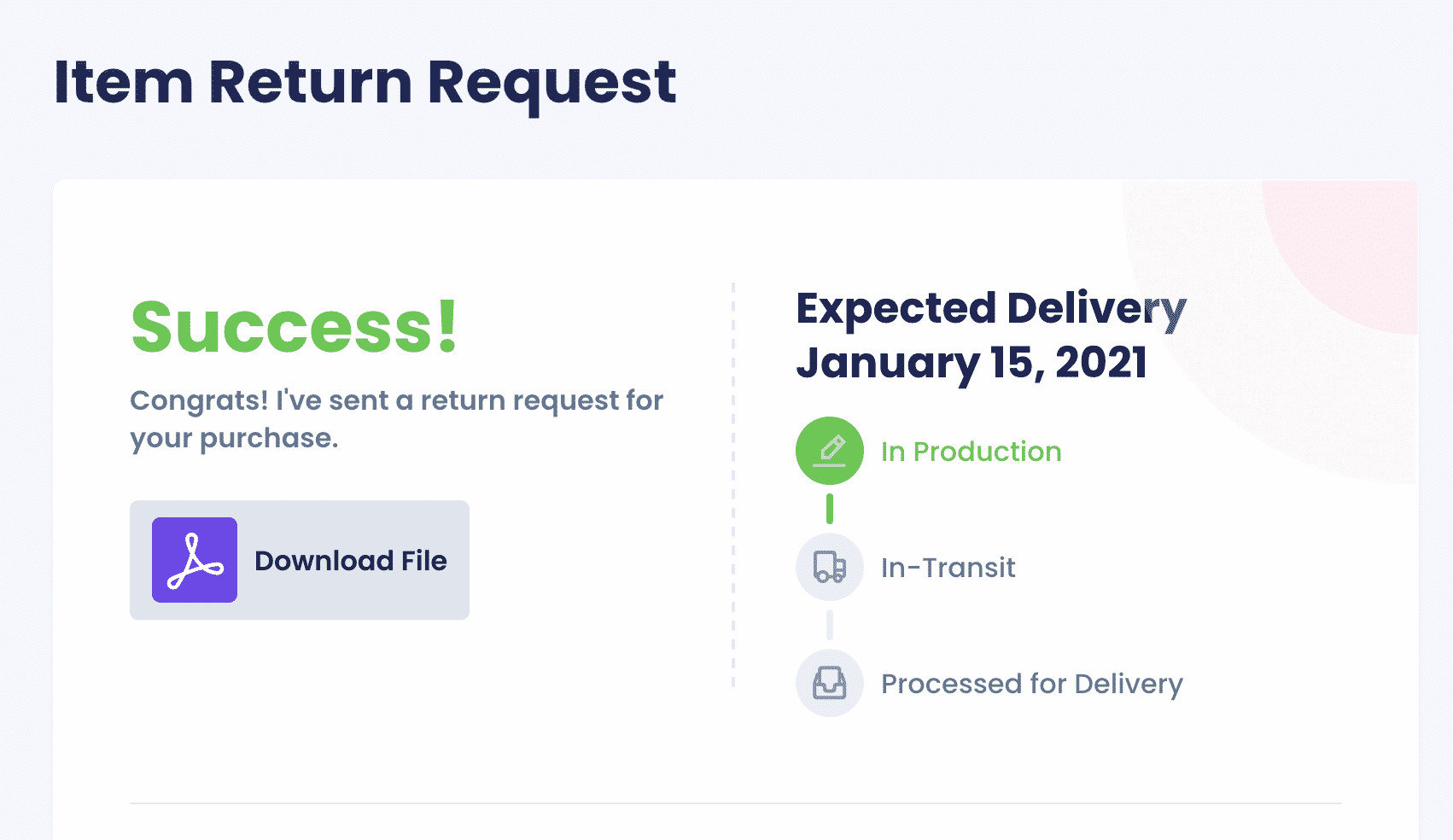 We have helped our customers return disappointing items to hundreds of other companies, including other popular clothing brands—like Zara or H&M.
If you would like to understand the return policies of other brands you deal with, check out some of our easy-to-read guides in the table below:
Sick of Dealing With Companies? We'll Take Over
Companies that don't respect your consumer rights are the reason why DoNotPay exists—our range of AI-powered products is here to help you fight for justice.
If you want to demand a refund for a rescheduled flight, cancel your free trial using our virtual credit card, sue any company or individual in small claims court, appeal your parking tickets, protect your work from copycats, claim warranty and insurance, rely on your AI-driven personal assistant.
Don't want to pay sky-high lawyer fees for simple legal tasks? You shouldn't—use DoNotPay to draw up any legal document, including a child travel consent form, divorce settlement agreement, power of attorney, and many more.
Complete All Tasks From the Comfort of Your Home
As soon as you subscribe to our versatile app, you'll be able to do all of the following without leaving your home: