UH Manoa Financial Aid—How To Get It the Easy Way
Have you considered attending the University of Hawaii at Manoa but have been put off by the sky-high tuition? The good news is that this institution offers a variety of support options.
To find everything you need to know about the UH Manoa financial aid, read this short guide. Keep in mind that DoNotPay can help you write a financial aid appeal letter if you get a low offer from any college or grad school. All you have to do is !
The Basics of the University of Hawaii Financial Aid Program
UH Manoa students may apply for the following financial aid provided by private donors and federal and state governments:
Scholarships
Grants
Loans
Federal Work-Study
While some programs are based on demonstrated financial need, others are based on merit or academic records. The major source of loans, work-study funds, and grants to undergraduate and graduate students is the federal government.
Types of Aid
Explanation
Available Programs
Scholarships
They are awarded to exceptional students, Hawaii residents, class-, major-, college-, and school-specific students, or students with demonstrated financial need

B+ Scholarship
Manoa Academic Merit Scholarship
New Warrior Scholarships
UH Manoa Student Scholarships (STAR)
ROTC Scholarships
University of Hawaii System Scholarships
Other scholarships

Grants
Federal, state, or institutional financial support based on financial need that does not have to be repaid

UH Opportunity Grants
Federal Pell Grant
Federal Supplemental Educational Opportunity Grant
Teacher Education Assistance for College and Higher Education (TEACH) Grant
Other grants

Loans
Aid that must be repaid after you graduate, withdraw from school, or drop to less than half-time

Federal Direct Loans
State Higher Education Loan
Short-Term, Emergency Loans
Other loans

Federal Work-Study (FWS)
This type of aid allows students to work part-time to cover their education expenses
SAP Standards for Recipients of Financial Aid
To qualify for federal, state, and institutional aid programs, you must meet these Satisfactory Academic Progress (SAP) standards:
GPA Standard
Pass Rate Standard
Maximum Credit Hour Standard
Check out the table for more info:
GPA Standard
Pass Rate Standard
Maximum Credit Hour Standard

Undergraduate students must have a minimum cumulative GPA of 2.0
Graduate students must have a minimum cumulative GPA of 3.0

All students are required to pass at least 67% of all credit hours

Undergraduate students must complete their degree with less than 180 attempted credit hours
Master's program students are required to complete their degree within 4–10 semesters
Doctoral students must complete their degree within 14 semesters
Who Is Eligible To Apply for Federal Aid at UH Manoa?
You qualify for federal financial aid at the University of Hawaii at Manoa if you:
Are a U.S. citizen or an eligible noncitizen
Have a valid Social Security number
Are admitted or enrolled as a regular student at UH Manoa
Are pursuing a degree or certificate in an eligible program
Show you are qualified for a post-secondary education
How Much Aid Can I Expect?
According to federal regulations, financial aid (loans, grants, and work-study programs) and scholarships can't surpass the cost of attendance, which includes:
Tuition and fees
Books and supplies
Room and board
Personal expense
Transportation
Keep in mind that students who don't live on campus but at home with their parents will still have a room and board allocation in their cost of attendance budget. Tuition and fees are the direct costs paid to UH Manoa by all students. All other components are allotments used to determine the need for financial support.
If you'd like to increase the cost of attendance and get more financial aid by including other educational costs (airfare, medical expenses, childcare, or computer expenses), contact the UH Manoa Financial Aid Office.
How To Apply for the University of Hawaii Financial Aid
To apply for federal, state, and some institutional funding, you must complete and submit the Free Application for Federal Student Assistance (FAFSA) form to the federal processor. The University of Hawaii at Manoa (school code: 001610) should be listed on the FAFSA as one of the schools receiving your information.
The deadline for priority applications is February 1. You can submit your financial aid application after that date, but the awards will depend on the remaining funding.
The aid offer may include funds from public and private sources, depending on your:
Residency
Degree of need
Date of file completion
Major
Class level
Availability of funds
After being selected for verification, you will have to submit the forms required by the University of Hawaii Financial Aid Office. You can always check your aid status on MyUH or contact the UH Manoa Financial Aid Office.
If your application gets declined, DoNotPay can help you file an appeal.
Did UH Manoa Decline Your Financial Aid Request? Appeal Its Decision With DoNotPay!
If UH Manoa declined your aid request or didn't offer enough financial aid, do not panic—you can appeal the University's decision. Don't bother with the time-consuming task of writing your own appeal letter and let DoNotPay take over.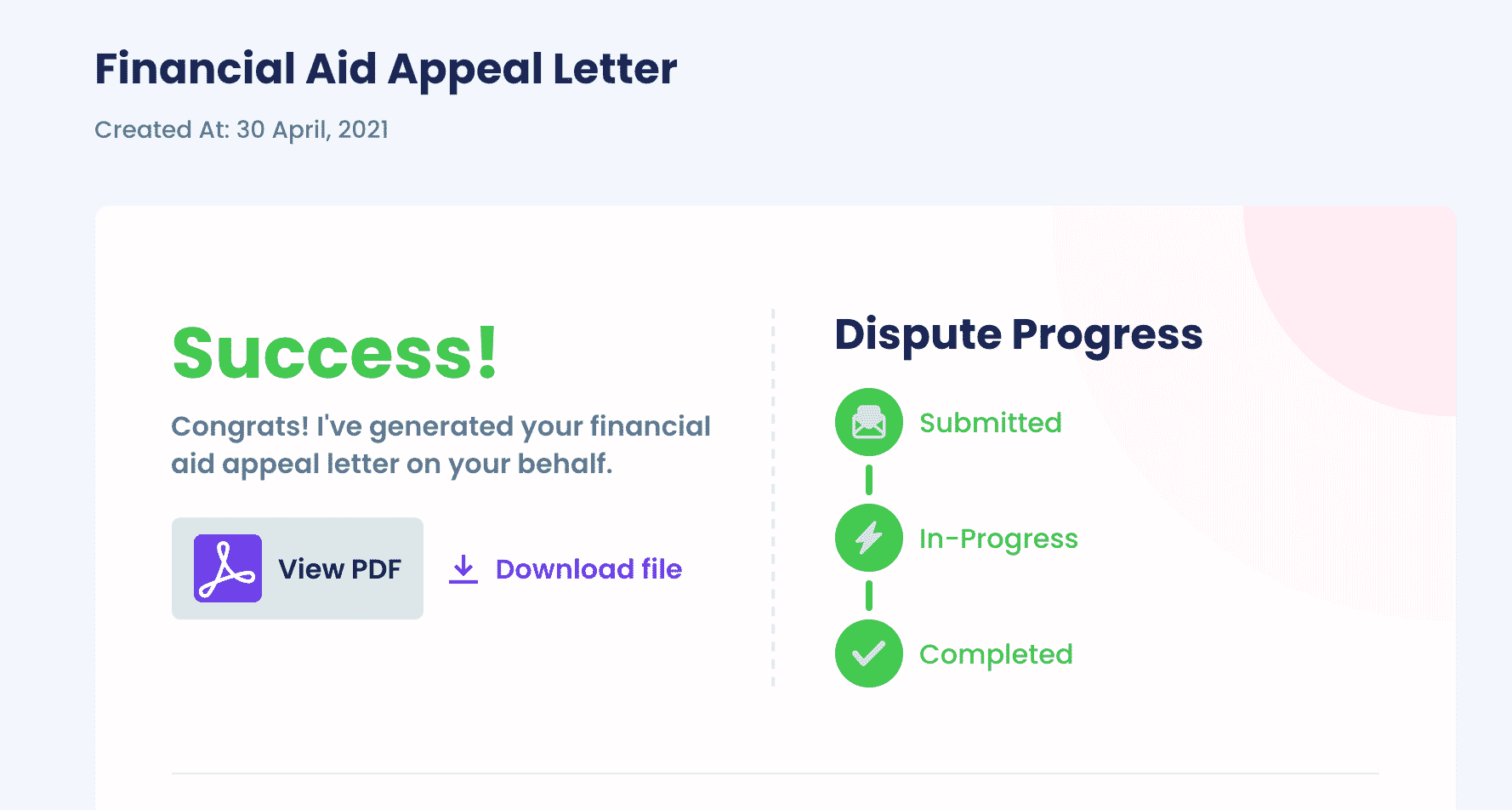 Here's what you need to do:
Choose the Appeal for More Financial Aid product
Enter the name of the university
Answer a few questions from our chatbot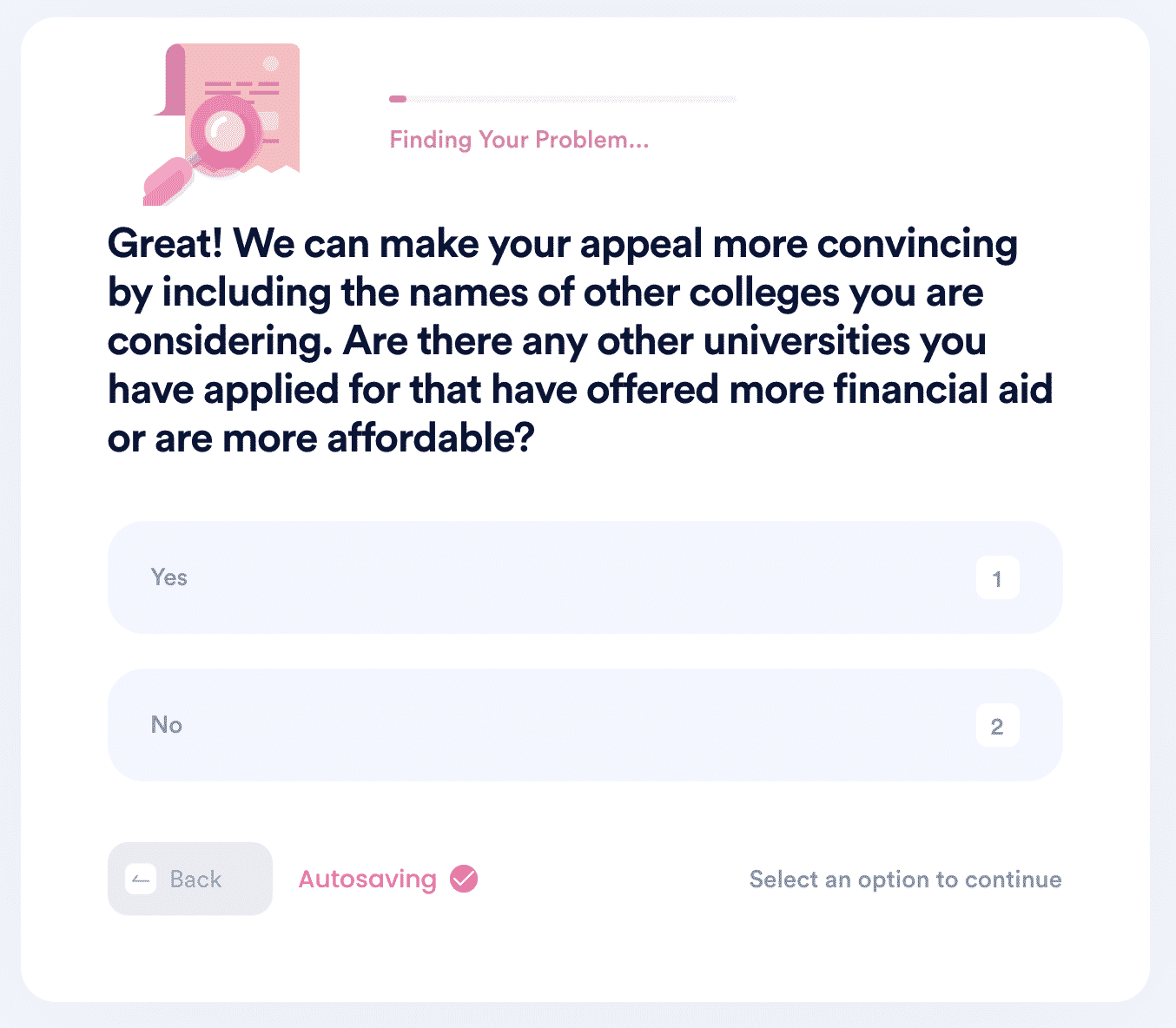 Once you do that, our app will generate a personalized appeal letter and send it on your behalf! If you wish, we can send the letter to you, and you can mail it to the school's Financial Aid Office by yourself.
Discover our guides for other universities to get more info about how much aid you can get and for how many years:
DoNotPay Is the Robot Lawyer You Need!
Dealing with the law and understanding legal protocols is difficult if you're not used to doing it on a daily basis. That's why DoNotPay comes to the rescue!
Assisting you in drafting legal documents, creating a neighbor complaint letter, and suing companies in small claims court is what we do best.
That's not all! With us, you can tackle any legal task head-on, no matter how big or small, including:
Deal With Companies Hassle-Free
If you love to shop and you want to make the experience as easy and enjoyable as possible, you're in the right place! DoNotPay provides you with various features that allow you to accomplish just that.
You don't have to struggle trying to reach customer support or figuring out how to claim a warranty or file an insurance claim by yourself. You can cancel any subscription, sign up for free trials, and discover how to use every last penny from your gift cards in minutes!
In case you made a purchase, but your package is missing, don't fret! Finding your missing parcel is only a few clicks away.