How to Cancel T-Mobile Fast With DoNotPay?
T-Mobile is a global telecommunication company with a total customer base counting over 86 million subscribers.
The company operates the third largest wireless network in the U.S. market and provides its users with data, messaging, and wireless voice services.
Different Methods to Cancel T-Mobile Subscription
| | |
| --- | --- |
| Can You Cancel With | Yes / No |
| DoNotPay | Yes |
| Email | No |
| Phone | Yes |
| Letter | No |
| In-person | Yes |
| Company website | No |
Cancel Your T-Mobile Account In-Person
One way to terminate your T-Mobile account is to visit a local store. A company representative will guide you through the cancelation process. If you have any equipment connected to your T-Mobile account, make sure to take it with you.
Cancel T-Mobile Over the Phone
You can end your T-Mobile subscription over the phone, but not by calling them directly. You have to schedule a callback.
Here is how to do it:
Go to the T-Mobile website

At the top menu hover over the Contact & Support tab

Click Help & Support

Click see all under Your T-Mobile Account section

Scroll down until you reach How-Tos section

Click Manage Your Account to expand the section

Click on Cancel Service

Scroll down and click the Schedule a Callback button on the Cancel page

Follow the instructions to cancel your account once you are taken to the

Sign In page
Cancel Your T-Mobile Subscription With DoNotPay in Two Minutes

Looking for a straightforward method of canceling your T-Mobile subscription? DoNotPay can help you accomplish this in just a few steps!
Here is how:
Access DoNotPay from your

Choose the Find Hidden Money feature

Enter T-Mobile as the name of the service
DoNotPay will inform you when we cancel your T-Mobile subscription.
Does T-Mobile Offer Prorated Refunds?
No, T-Mobile offers no refunds for mid-month cancelations. You should cancel your service during the last week of the billing cycle because you won't be able to request a refund otherwise.
Does the T-Mobile Subscription Auto-Renew?
The subscription is renewed, but your card is not charged automatically unless you have AutoPay set up. You are responsible for making the payment each month.
Can You Pause the T-Mobile Subscription?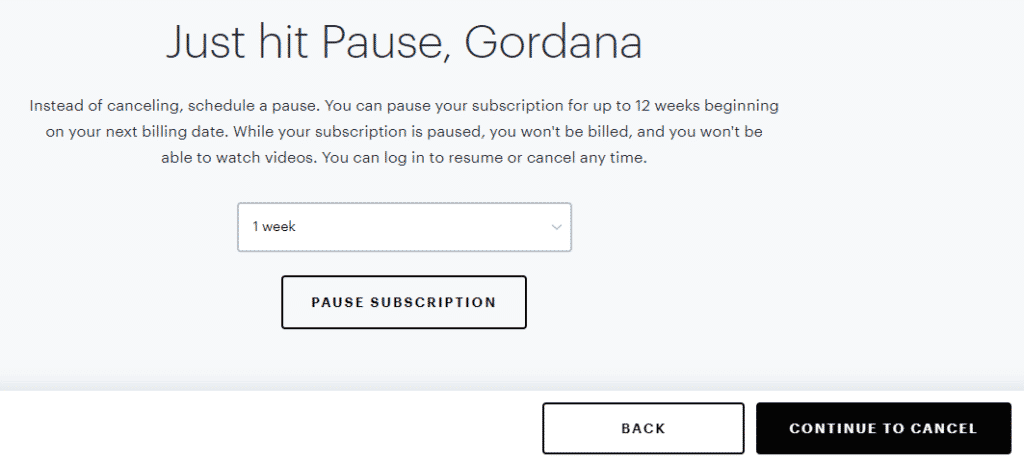 You can suspend your subscription twice in 12 months, but you will still have to pay the bill—only a lower fixed price. Each suspension can last up to 90 days.
You can do this if:
You don't plan to use your phone for a while

Your device was lost or stolen

You're about to enter active military service
DoNotPay Helps Your Track All Your Subscriptions!

Did you know that Americans spend 197% more on subscriptions a month than they believe?
DoNotPay can find all your subscriptions, identify those you don't use, and cancel them.
You only need to connect your email and bank account to DoNotPay, and we will do all the rest!
How Will My T-Mobile Charges Look on a Bank Statement?
T-Mobile charges may show up on your bank statement as:
| | | |
| --- | --- | --- |
| T-MOBILE.COM ORDER | T-MOBILE TEL PCS SVC PPD ID: 0000450304 | PENDING - TMOBILE*AUTO PAY 800-937-8997 WA |
| AXS TIX T-MOBILE ARENA | EXPRESS FUNDS CHECK DEPOSIT-MOBILE | T-MOBILE 888-278-3397 |
| Debit Purchase - Visa T-mobile Recurri800-937-8997wa | T-MOBILE-TEL\CUP | T-MOBILE-ACCESSORI WIMBORNE GBR |
| TMOBILE*POSTPAID IVR 800-937-8997 WA | TMOBILE*AUTO PAY xxx-xxx-8997 WA | TMOBILE*POSTPAID FDP 800-937-8997 WA |
| T-MOBILE #2926 SANTA MONICA CA | T-MOBILE HOTSPOT AERBONN DE | T-MOBILE.COM*ORDER 800-672-5390 WA |
| T-MOBILE HOTSPOT GMBH BONN | T-MOBILE HOTSPOT G, BONN | Debit Card signature purchase to TMOBILE*POSTPAID PDA|800-937-8997|WA |
| TOP UP BNKM MAY10 WYBOSTON SER T-MOBILE / EE | TMOBILE*TEL UPGRADE 800-937-8997 WA | TMOBILE*AUTO PAY 800-937-8997, WA, US |
| T-MOBILE #8266 | T-MOBILE #9698 LAS VEGAS NV | T-MOBILE HOTSPOT GMBBONN DE |
| T-MOBILE #5521 LAS VEGAS NV | T MOBILE HOTSPOT G, BONN | ACH Transaction - T-MOBILE FDC PAYMEN |
| TMOBILE*POSTPAID TEL 800-937-8997 WA | Withdrawal from T-MOBILE PCS SVC | T-MOBILE RECURR 800-937-8997 WA |
Does T-Mobile Offer Free Trials?
The company doesn't offer free trials generally, but it can happen when introducing new products or services.
Manage Your Free Trials With Our Virtual Credit Card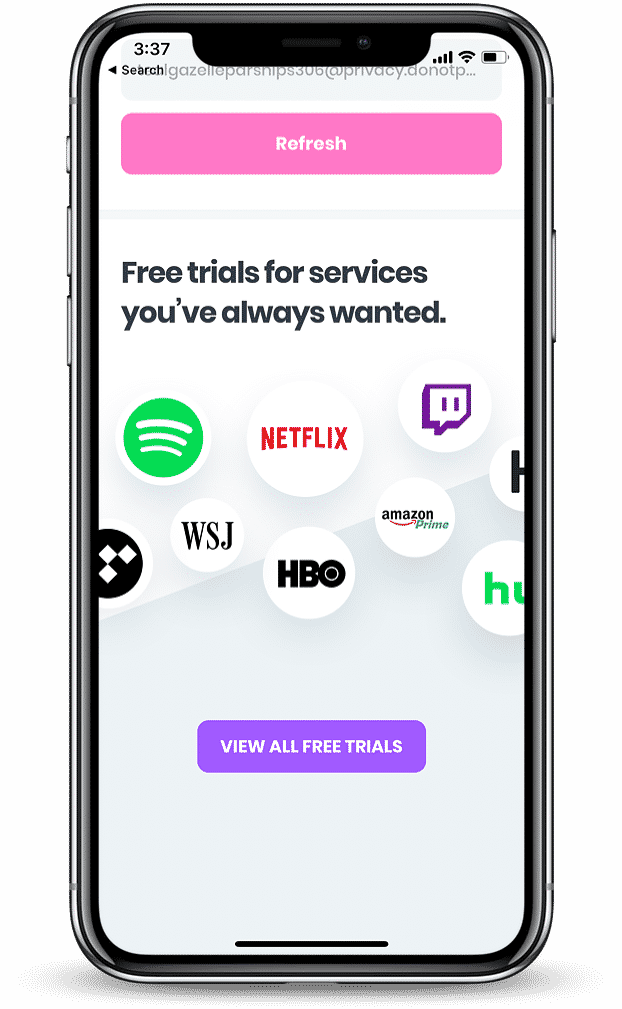 DoNotPay's virtual credit card enables you to sign up safely for any free trial without worrying that you will get charged the full price when the trial expires. The app creates a virtual credit card that approves free trials automatically but rejects any actual charge.
Open DoNotPay in your to get a free virtual credit card.
Alternatives to T-Mobile
If you are not happy with the service T-Mobile offers, you might want to check some alternative options.
Company

Pricing

Benefits

$24.88 per month

In-store availability

Unlimited talk and texts

$20 per month

Free worldwide data

Great phone compatibility

Unlimited calls and texts

no fixed price

Flexible pricing

Usage alerts available

Mix and match plan structure
DoNotPay Turns Any Administrative Chore into a Simple Task

DoNotPay is the first robot lawyer in the world that can help you take on different tasks like handling your internet bills, applying for unemployment insurance, or dealing with student loans.
We can also help you cancel other services like your World of Warcraft subscription, Amazon Prime membership, or Netflix
Open DoNotPay in your and check out other fantastic tools our app has to offer.
Check out some of the tasks we can help you with:
Fighting speeding tickets

Disputing traffic tickets