The in-depth guide to T-Mobile Gogo inflight texting and Wi-Fi 
Long-haul flights are hard to endure, especially if you are not keen on reading books for long stretches of time or if you are traveling on your own. Chit-chatting with fellow fliers can only get you so far. For most of the trip, you are left to your own devices. Surely, you wouldn't want to waste precious time on a flight with no Wi-Fi. Not to mention the situations when you are pressed for time to finish a work-related project. Thankfully, modern aircraft are usually equipped with state-of-the-art technology, including inflight Wi-Fi service.
What if the airline internet leaves much to be desired? If your subpar Wi-Fi experience was with T-Mobile Gogo, we are here to help you make the most of it next time around. Learn how to connect to it, which features it offers, and how to claim compensation for poor Wi-Fi service with DoNotPay.
What is T-Mobile Gogo?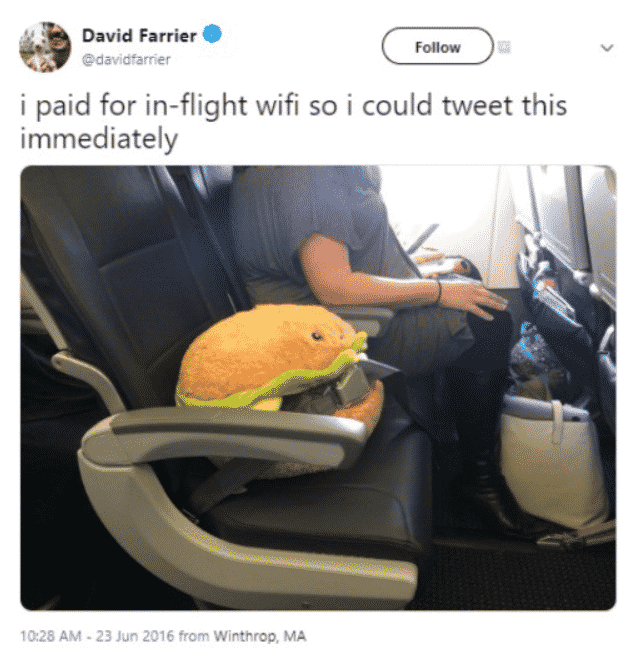 Gogo Inc. is a leading inflight broadband internet service provider with over 20 years of experience in the industry. It supplies around 20 airlines and is set up on over 2,500 aircraft. Initially, it provided phone service for business aviation, only to later expand to provide an Air-To-Ground (ATG) network for commercial aircraft. Today, Gogo offers the top-notch 2Ku inflight connectivity technology. Gogo's clients include numerous major airlines across the world, most notably:
American Airlines

Virgin America

Alaska Airlines

Delta Air Lines

Aeromexico

Air Canada

Air France KLM

Brazilian Airline GOL

Japan Airlines' entire domestic fleet
It is also the supplier for the whole Airbus and Boeing fleet.
In September 2014, Gogo partnered up with T-Mobile, the third most popular wireless carrier in the U.S. Initially, all T-Mobile customers could enjoy free messaging service (text messaging, WhatsApp, Google Hangouts, iMessage, and Viber) throughout their flight plus one hour of free Gogo inflight internet on their smartphones. Today, the offer is expanded to two different cell phone plans with T-Mobile:
Magenta

, which offers the standard

free texting and a 1-hour inflight Wi-Fi

(the price starts with $35 per line and drops with each additional line)

Magenta Plus

, which provides

free texting and unlimited inflight Wi-Fi

( the price starts with $43 per line and gets lower with more lines)
Which domestic airlines use T-Mobile Gogo?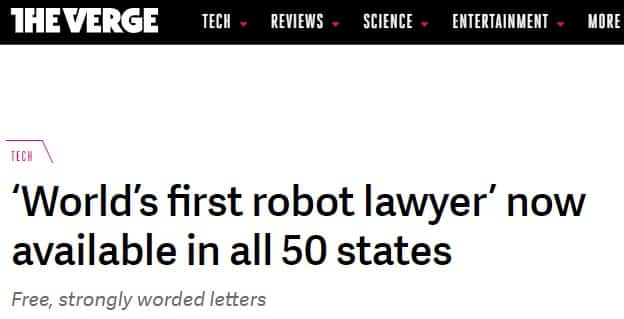 Several domestic airlines support T-Mobile Gogo inflight Wi-Fi.
| | |
| --- | --- |
| Alaska Airlines | Their entire Airbus fleet |
| American Airlines | Only flights that offer Gogo service |
| Delta Air Lines | Their entire fleet |
How can I connect to T-Mobile Gogo Wi-Fi?
Before you board your flight, make sure to take the following steps:
If you don't already have an active account, set one up

Make sure your device has enabled Wi-Fi calling (check

this

out in case it doesn't)

If your software is outdated, it's recommended that you update it pre-flight

Register your e911 address
If your plane is equipped with high-speed Wi-Fi, you will be able to use Gogo throughout your flight. If your aircraft doesn't have high-speed internet, the Gogo inflight Wi-Fi will become available as soon as the aircraft climbs to 10,000 feet. Pay attention to when the Wi-Fi indicator lights up, or the captain gives the green light for using the internet. At that point, this is what you need to do to access T-Mobile Gogo internet:
Set the device to

Airplane mode

and turn Wi-Fi on

Double-check that

Wi-Fi calling option is on

(the texting service won't work without it)

Choose either

Gogo or the airline's network

connection

Open the

Gogo homepage

in any browser 

Android devices will automatically open the login page

For iOS systems, you will need to type the address "airborne.gogoinflight.com" manually 

Some airlines have their URL for this service (e.g., www.wifidelta.com)

Go to

"T-Mobile Exclusive Pass for Unlimited Text and One Hour of Data"

Hit the

"Get me started"

button

Input your

T-Mobile phone number

Type in the required

CAPTCHA code

Select

"Get Wi-Fi and Texting"

and wait for the confirmation screen to appear
Once you've taken these steps, you are connected and free to enjoy your free inflight Wi-Fi service! You can use your free internet for an hour and send unlimited text and picture messages during the entire flight. 
How reliable is T-Mobile Wi-Fi? Are there any issues I can expect?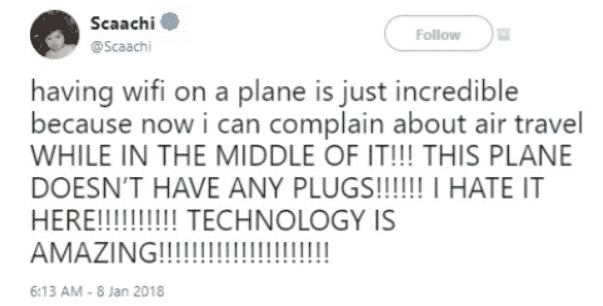 Although Gogo's internet stability has improved significantly in recent years, passengers are still likely to experience specific issues. Inflight Wi-Fi can become quite unstable at times, particularly with airplanes that still use the ATG (Air-To-Ground) system. Gogo has come out with a newer 2Ku satellite system, but it is yet to be installed in all carriers. So far, this system is only available in approximately 600 planes.
The more people connect to the inflight internet, the slower the loading speed will be. That particularly holds for T-Mobile Gogo Wi-Fi, as it is free of charge. More people tend to use it simultaneously in comparison to other subscription-based Gogo offers.
Another thing to keep in mind if you find yourself in a flight that uses the ATG network is that it won't be available at all times. It doesn't cover the entire planet, so encountering dead zones is a standard issue. As more airlines get the 2Ku setup, which includes the whole globe, this problem should work itself out.
Can I get compensation for poor Wi-Fi connection?
Unfortunately, no laws are requiring wireless providers to compensate users for an unstable or broken Wi-Fi connection. But that doesn't mean you are not entitled to claim it.
You boarded your flight expecting a functional internet connection. Whether you needed to get some work done or to browse the web to pass the time, your expectations weren't met. Not to mention that you, as a paying customer, chose a specific T-Mobile plan (like Magenta or Magenta Plus) and didn't get your money's worth.
Your options are to call the Gogo or T-Mobile customer support and lodge a complaint. The chances are that you won't achieve anything through these channels. You could take them to court and claim your customer rights, but like all other court-related processes, this one is bound to take a long time as well. Before committing to something like that, work out if it's even worth the effort.
How can DoNotPay help me claim compensation for subpar T-Mobile Gogo inflight internet?
Luckily, DoNotPay can fight this issue for you in no time. We can handle all your flight compensation claims. You won't have to lift a finger while we do all the complaining and claim the compensation on your behalf. We only need some basic flight info from you, and you can leave the rest to us. Here's all you need to do:
Open the

DNP web app in any browser

 

Go to

Inflight Wi-Fi Protection

Tell our chatbot which

airline

you were flying with, and give details of your

Wi-Fi purchase

(you'll need a receipt for this)

Select Gogo

as the provider in question

Confirm your email

address, and you're all set!
We will get back to you within 48 hours. In case Gogo or T-Mobile deny you your rightful compensation, we can even help you take them to small claims court.
Can I watch Netflix with T-Mobile Gogo?
Video streaming services are not included in this offer. While you might be able to load some short video clips on Facebook, unfortunately, Netflix is not supported (and neither is YouTube).
What is the T-Mobile Gogo Wi-Fi speed?
Gogo's internet speed connection is around 500–600 kilobits per second for downloads and roughly 300 kilobits for uploads. The total bandwidth for all passengers on the aircraft is about three megabits per second. 
Can I use T-Mobile Gogo with my device?
T-Mobile Gogo inflight Wi-Fi is available for smartphone devices only. Laptops and tablets are not supported. If your smartphone came out after January 2015 and has the latest software version, you shouldn't experience any issues with your free flight internet.
What else can I do with my DoNotPay app?
In case you are feeling frustrated about more than weak airline Wi-Fi, rest assured that we can help you get rid of your headaches! Here is what else we can do for you:
Appeal speeding tickets

Contest traffic tickets