A Comprehensive Guide to the Sierra College Financial Aid Program
Sierra College is the place where quality education meets affordable tuition fees. If you want to enroll in this school, you don't need to settle for paying the entire tuition—financial aid can cover your expenses.
How can you apply for Sierra College financial aid? What is the proposed deadline? Are you even an eligible candidate? These are some of the questions that our guide covers. DoNotPay will also help you appeal the offer if you get rejected or receive a disappointing financial aid package.
What Types of Financial Aid Does Sierra College Provide?
With 63% of Sierra College students receiving financial aid each year, you also have a good chance of receiving monetary help. Undergraduates and graduate students can get financial aid in the form of:
Grants

Cal Grants
Federal Pell Grants
AmeriCorps Grant
California Chafee Grant for Foster Youth
California National Guard Educational Assistance Award Program
Federal Supplemental Educational Opportunity Grants (FSEOG)

Scholarships—including:

American Association of University Women (AAUW) Auburn Branch Scholarship
American Association of University Women (AAUW) Nevada County Branch
Aspire Scholarship Program Scholarship
Bonnie Carey Music Scholarship
California Community Colleges Scholarship Endowment
Gillian Hodge Memorial Scholarship
Herman and Lorena Donsted Scholarship
Keller Family Pathway Scholarship
Loomis Basin Veterinary Clinic Scholarship
Maureen Brown Memorial
Oscar F. Seavey Scholarship

Fee Waiver/California College Promise Grant
Student employment

CalWORKS program
Work-study federal program
On- and off-campus jobs

Student loans

Federal student loan
Federal parent loan
Private loan

Two years free tuition program—any first-time student who completes the Free Application for Federal Student Aid (FAFSA) form, enrolls full-time, and opts-in through mySierra to participate in this program is eligible
How To Apply for Financial Aid at Sierra College
Financial aid at Sierra College is open to any student who:
Fulfills the eligibility criteria
Follows the application process
What Makes an Eligible Candidate for Sierra College Financial Aid?
A student needs to meet the following requirements to apply for financial assistance:
Having a high school diploma, GED, or equivalent
Being a U.S. citizen or eligible non-citizen
Having a valid Social Security card
Enrolling in a suitable program that leads to an associate degree
Meeting the satisfactory academic progress set by the Financial Aid Office
Expressing a financial need
Registering with the Selective Service if you are a male between 18 and 26 years of age
Paying off any prior student loan
Having no convictions of selling or possessing drugs while receiving financial aid
What Is the Application Process for the Sierra College Financial Aid Program?
It's crucial that you don't miss any key steps of the application process, so here is a reminder:
Complete the Free Application for Federal Student Aid (FAFSA) form by:

Obtaining your FSA ID
Preparing your Social Security number
Using the code 001290
Supplying the federal income tax returns, W-2s, and other records of income

Submit the California Dream Act (CADA) form—for undocumented students and non-residents of California who graduated from a California high school and meet AB540 requirements
Check the application status by:

Logging into your mySierra account
Selecting Financial Aid
Finding the Financial Aid Activities option
Choosing View My Financial Aid Status

Provide additional documents if selected for FAFSA Verification
What Are the Sierra College Financial Aid Deadlines?
Sierra College is very strict about its application deadline, so you must know when you need to apply. For on-time application, use the table below to keep up with form submission dates:
Deadline
Type of Application
March 2

Cal Grant GPA Verification Form (requires FAFSA)
Sierra College Scholarship Application
FAFSA and CA Dream Act Application (priority deadline)
FAFSA and CA Dream Act Applications for Two Years Free Program

May 15

FAFSA and CA Dream Act Applications for Summer (priority deadline)

May 21

FAFSA and CA Dream Act Application (to be Eligible for Spring Financial Aid)

June 1

Two Years Free Program opt-in on mySierra

page

June 30

FAFSA or CA Dream Act Application for Summer
How To Contact Sierra College Financial Aid Office
Financial aid advisors at Sierra College can answer any question you have about the application process, deadlines, or paperwork. You can reach them at two locations:
Rocklin
Grass Valley
Rocklin Financial Aid Office
Contact the office by:
Visiting in-person at 100 Sierra College Blvd., Rocklin, CA 95677
Sending an email to financialaidquestion@sierracollege.edu
Calling (916) 660-7310
The summer office hours are Monday–Thursday, 9 a.m.–4 p.m.
Grass Valley Financial Aid Office
You can get in touch with the Nevada County office by:
Visiting in-person at 250 Sierra College Dr., Grass Valley, CA 95945
Emailing at financialaidquestion@sierracollege.edu
Dialing (530) 274-5346
During the summer, the office is open Monday–Thursday, 8 a.m.–5.30 p.m.
How To Get a Better Financial Aid Offer at Sierra College
Keep in mind that Sierra College might reject your application or send you an offer with insufficient funds. What you should do in such a situation is:
Look into other schools
File an appeal
Looking Into Other Schools?
If you want to browse for other schools and their financial aid terms, these guides will give you all the information you need:
Appealing the Financial Aid Offer
To file an appeal, you must write a compelling appeal letter and provide supporting documentation to the Financial Aid Advisory Committee. The revision process can take up to four weeks.
Writing an appeal letter can be nerve-wracking, so , and we'll take off that dreary task of your hands.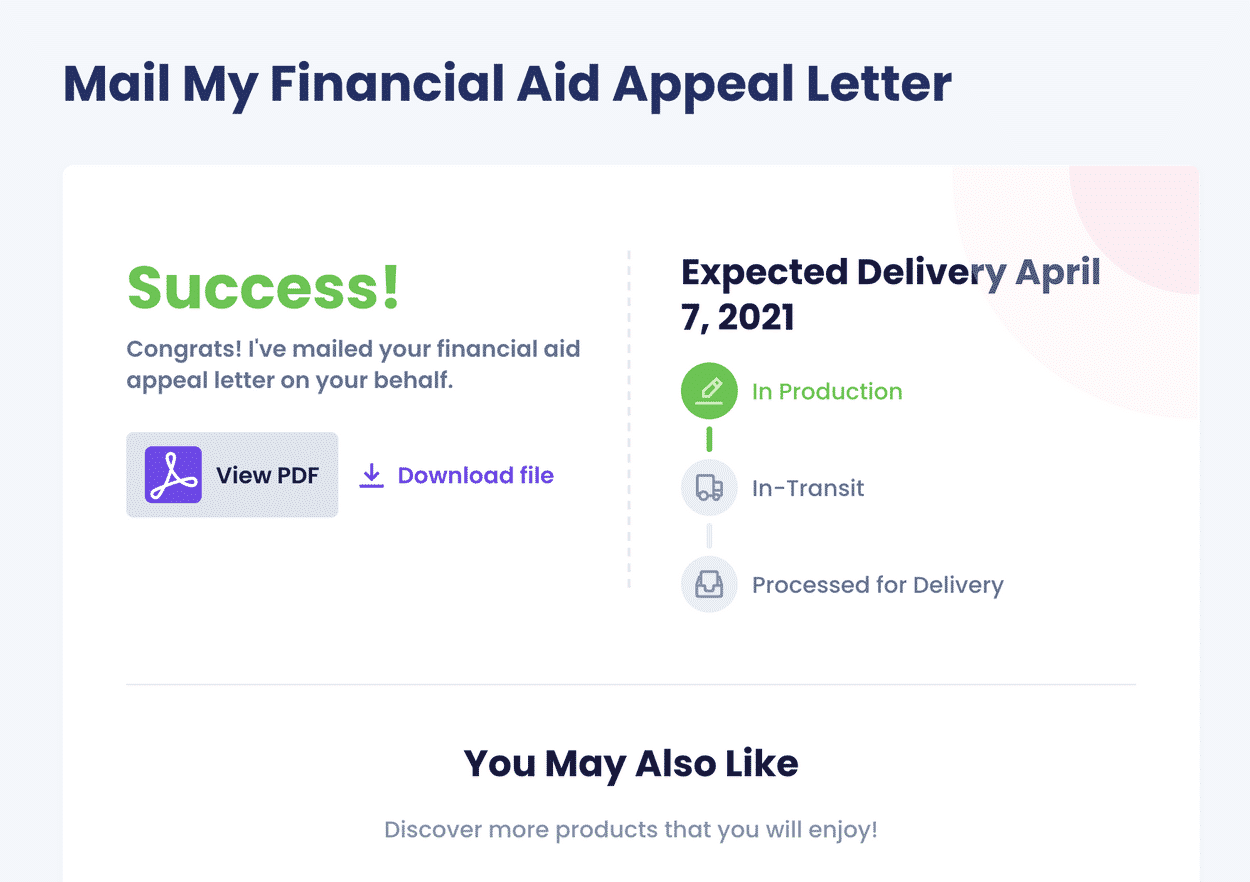 DoNotPay Makes Quick and Easy Appeals Possible
DoNotPay can help you get more financial aid by generating a customized and convincing appeal letter. Here's what you need to do:
Select the Appeal for More Financial Aid product
Answer the chatbot's questions about your financial aid application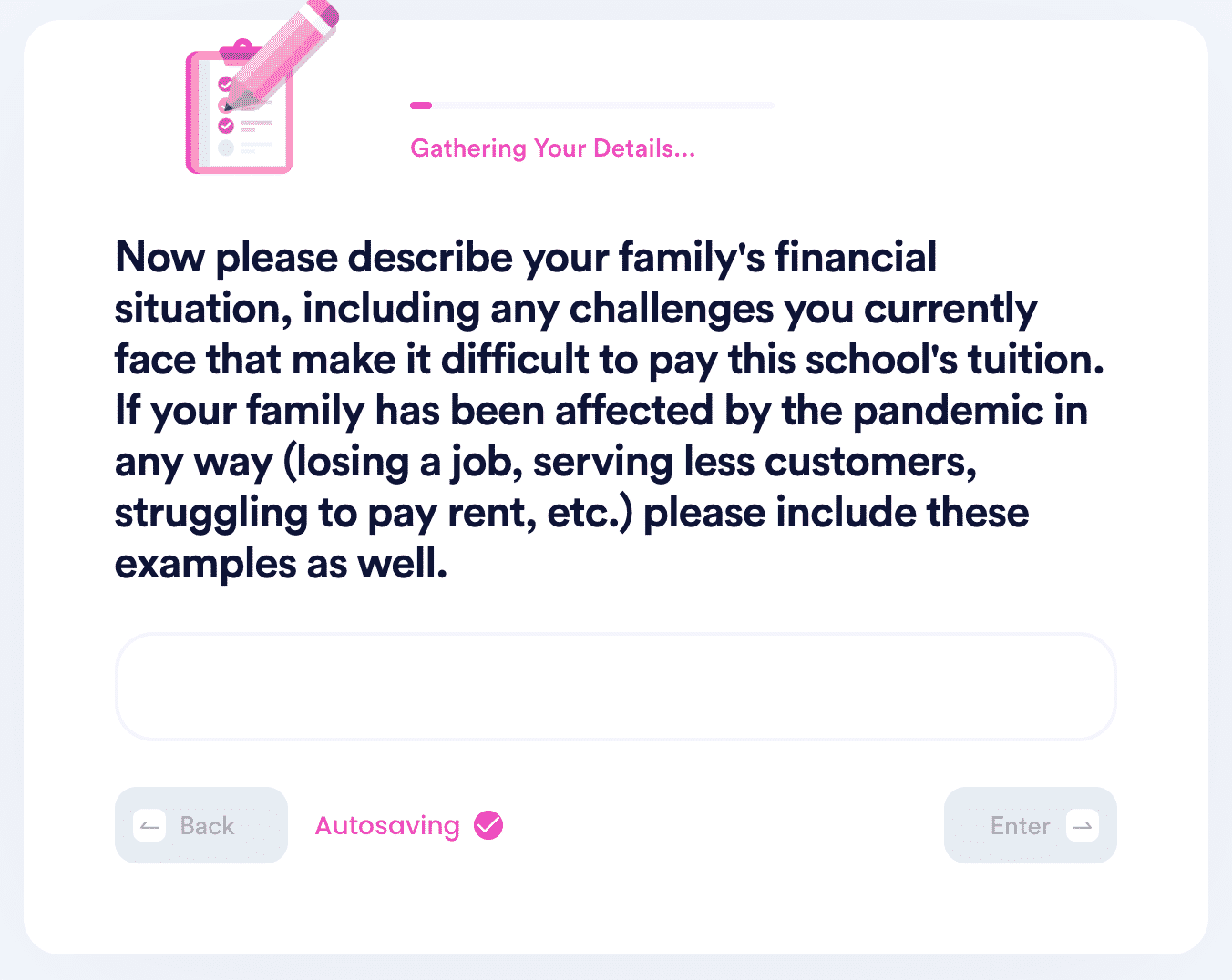 We'll process your information and send the letter to the financial aid office within minutes.
If you have any questions about financial assistance at a college or university, DoNotPay is here for you. We can help you find out how many years you can receive financial aid, how many funds you can get, and more.
Solve Your Legal and Bureaucratic Issues With DoNotPay
The primary purpose of our app is to provide you with practical tools that can speed up all the drawn-out tasks you must complete. All you need to do is choose a suitable feature from our offer and get your problems solved in a heartbeat!
Once you create an account with DoNotPay, you can:
File:
Create:

Powers of attorney

Divorce settlement agreements

Many other legal documents

Get:
Feeling Unsafe or Harassed? DoNotPay Can Help You!
Have annoying calls and messages become your everyday problem? Don't give up on your peace—rely on DoNotPay and deal with robocalls and restless text and email spammers easily.
We also take care of your privacy, allowing you to create burner numbers and virtual credit cards to avoid revealing sensitive information when signing up for various online services.
If you are being stalked by somebody or discriminated against at work, we will do our best to help you fight for justice and report the case accordingly! We will also safeguard your creative work from copyright violation and ask for violent crime compensation on your behalf.