Your Go-To Manual for the Sherwin-Williams Return Policy
Has Sherwin-Williams delivered you a damaged canvas or the wrong wallpaper? Do you want to return your item but don't know how? Read this digestible guide and learn all you should know about the Sherwin-Williams return policy!
Companies make mistakes all the time, but you don't have to be stuck with faulty products because of that. , and we'll help you navigate the return procedure stress-free!
Everything You Need To Know About the Sherwin-Williams Return Policy
The Sherwin-Williams return policy allows you to return most items if you honor the company's 30-day deadline. Don't let the 90-day warranty fool you—it only applies to defective products!
To be eligible for a return, your item must be:
Unopened
Unused
Containing all original components
Not all items are returnable—you can't refund or replace the following:
Tinted paint
Special orders
Custom items
Items marked as Non-Returnable
Keep in mind that you cannot refund regular paint either. Sherwin-Williams can only issue a replacement for defective paint.
Sherwin-Williams Return Policy—How To Initiate the Return Process
If you aren't satisfied with your purchase, here's a list of viable ways to return the item to Sherwin-Williams:
Making Your Return Request in Person
If you decide to return your item to Sherwin-Williams in person, do as follows:
Go to the Sherwin-Williams website
Use the Store Locator tool
Find the nearest outlet
Bring your item in its original packaging along with your purchase invoice or receipt
Visit the store
Request a refund or replacement from an employee
After Sherwin-Williams processes your return request, the company will issue a replacement in 4 days. It may take longer if you're seeking a refund, and the company will not be accountable for any delays caused by your bank.
Returning Your Item via Mail
Online returns always take longer, so you need to make sure your delivery arrives at a Sherwin-Williams store within 30 days. The store might decline a return if you ship off the item right before the deadline.
If you still think mailing your item is the way to go, do as follows:
Find the address of a store near you
Inform a store associate via phone about your return
Put your item in its original packaging
Enclose your purchase receipt or invoice
Attach the shipping label and write the address on the box
Ship off the item at any post office
Keep in mind that you will have to pay for the shipping label. Sherwin-Williams will also not refund any delivery fees.
Pick a Better Way and Submit a Return Request With DoNotPay
DoNotPay is your go-to resource if you want a company to take your return request seriously! No need to strain your nerves dealing with different stores' return policies—DoNotPay will make sure the return process goes smoothly!
Our app helps you out by:
Using your input to create a custom return request letter
Sending the letter to the company
Setting a deadline for the company to process your return request
Providing you with a free shipping label to cover postal expenses!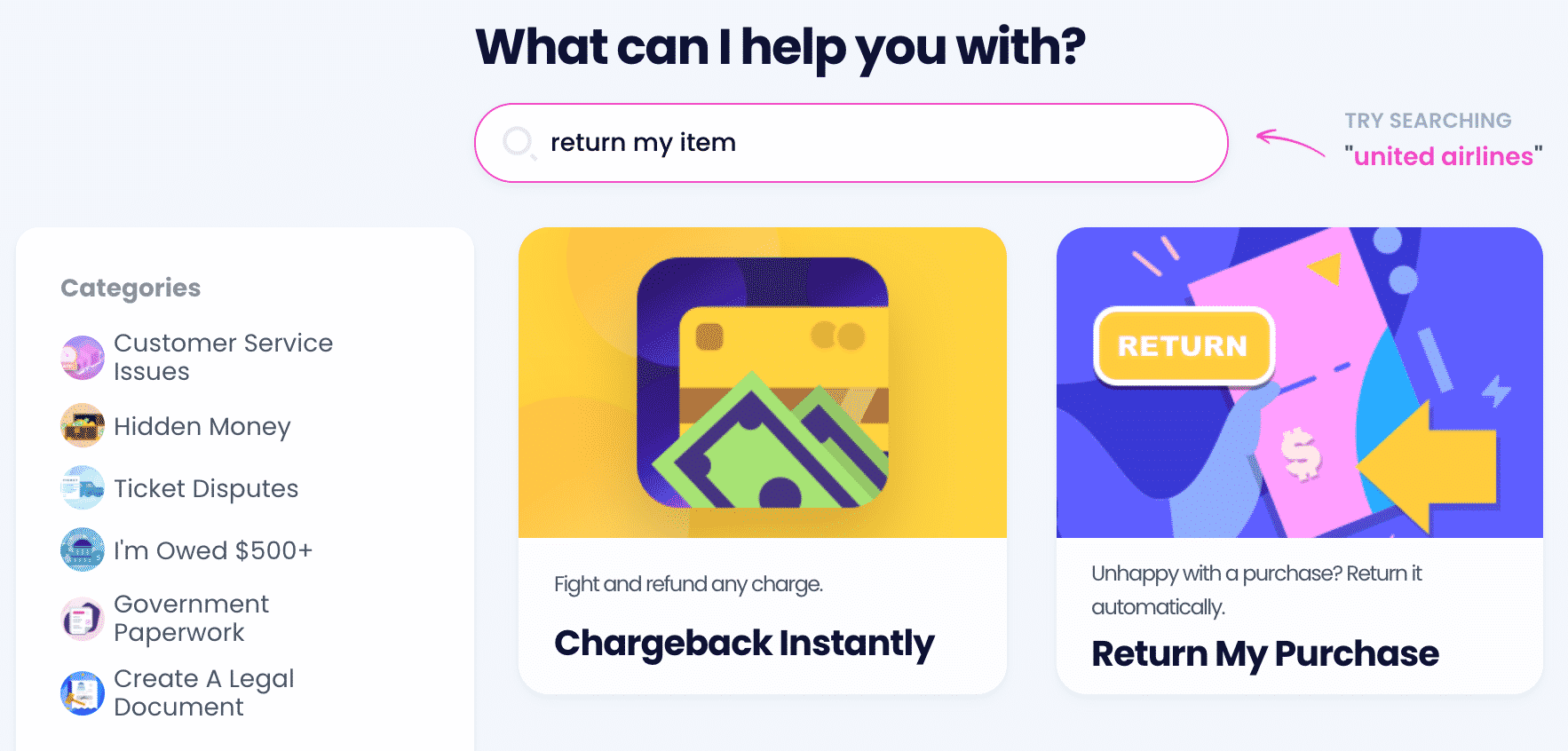 Initiate your return request in a few clicks:
Choose the Return My Purchase tool
Enter the details of your return request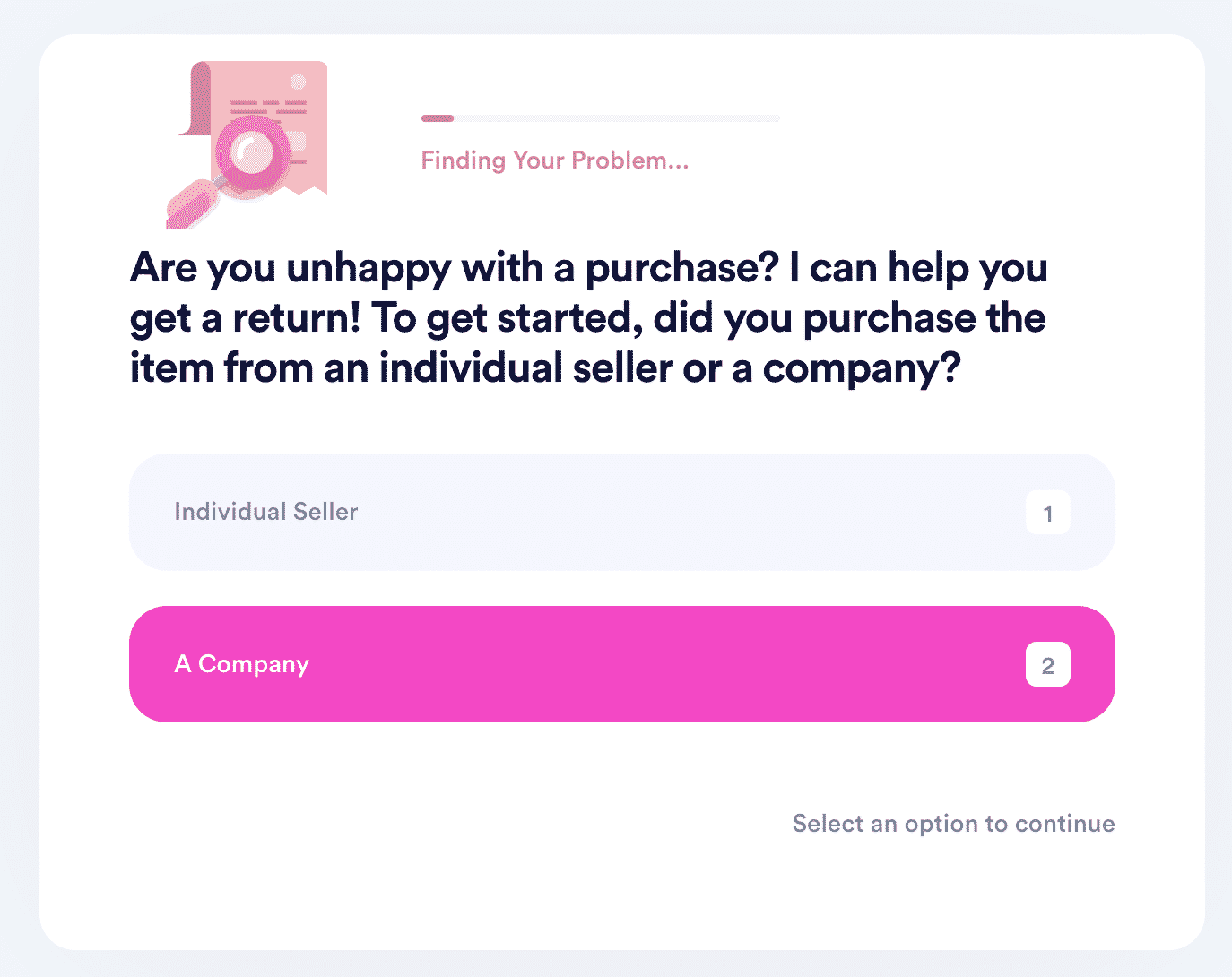 If you're looking to return an item to another company, here are detailed guides to other major companies' return policies:
Has Your Return Request Been Declined? You Don't Have To Settle
With DoNotPay by your side, you can rest assured that you'll get what's rightfully yours. We'll draw up a refund request letter in your stead and send it to the company in question. If it refuses to cooperate, our app will help you take it to small claims court.
We'll fill out all the necessary court forms, generate any legal document you need, get it notarized remotely, and fax it to any recipient of your choice. You're not alone in your fight for justice!
If you're dealing with anyone else who's difficult—be it a creepy stalker, neighbor, coworker, or email or text spammer—you can count on us to safeguard you.
Looking for Any Other Type of Assistance?
The best part of subscribing to DoNotPay for a low monthly fee is that you get access to all of its products. You can use them to: