Athleta Return Policy Demystified
If your item from Athleta did not live up to your expectations, you have every right to return it. DoNotPay is here to simplify the Athleta return policy for you and take the load off your back by showing you how to return the item.
The Basics of the Athleta Return Policy
Below are the general terms of the Athleta return policy:
Athleta has a GIVE-IT-A-WORKOUT guarantee—You can try out the item, and if it doesn't meet your expectations, you have 60 days to return it
Damaged or defective items can be returned at any time
Refunds and exchanges are free if you return your item to the store or use the Athleta returns shipping label
Orders placed online can be returned by mail or to an Athleta store (except for Mail Only items or items purchased on Facebook and Instagram), but in-store purchased items can be returned to a store only
If you buy a discounted item or a product on promotion, you can exchange the item for one of the same style but different size or color to keep the discounted value. The discount won't apply to an item of a different style
Athleta's Refund Policy
If you'd like to return your item for a refund, it will be processed to the original method of payment. For more details, check out the table below:
| | |
| --- | --- |
| Payment Type | Refund Method |
| Credit card | The amount will be credited to the card that was used for the initial payment |
| Gift card | The amount will be credited to the gift card, or another gift card will be issued with the value of the item |
| Reward points | You will get the spent points back in your Rewards account |
| PayPal or Apple Pay | You will receive the refund back to your PayPal or Apple Pay account |
| Afterpay | You will receive a refund if you return the item to Athleta and not Afterpay |
What Items Can't Be Returned to Athleta?
According to the Athleta return policy, masks and final sale items cannot be returned.
How Do I Return My Items Directly to an Athleta Store?
If you would like to visit a store to return your item, follow the steps listed below:
Locate a store that is closest to you
Bring the item in its original packaging
Present the shipping confirmation email or the original credit card that was used for the purchase
Tell a customer service representative if you want a refund or exchange
How Do I Return My Items to Athleta via Mail?
You can ship back the items you don't want anymore using an Athleta returns shipping label that you can generate online. The original shipping and handling charges for items ordered online will not be refunded.
If you'd like to exchange your item for another Athleta product, first do the following:
To return the items by mail, whether you're asking for a refund or replacement, follow these steps:
Open Athleta's Returns page
Enter your order ID
Provide your email address
Hit Submit and follow the rest of the prompts
Use the original packaging to pack the item
Include the previously generated packing slip
Remove any other labels on the packaging and affix the packing slip
Ship the package via UPS or USPS
When Athleta processes your return, you will receive a confirmation email.
What if I Want To Return a Gift to Athleta?
If you would like to return a gift, you should know that the outcome depends on whether you have the receipt. Check out the details in the table below:
| | |
| --- | --- |
| Do You Have a Receipt? | What Will Happen? |
| Yes | You will receive a gift card in the amount of the value paid |
| No | You will need to wait to receive a merchandise certificate in the mail in the value of the current selling price |
What Is the Easiest Way To Return Your Items to Athleta? It's DoNotPay!
The most straightforward and stress-free way to return your order to Athleta is with DoNotPay. You won't have to deal with Athleta's complicated policy that might give you a headache in the end. DoNotPay's Item Return product is simple to use and helps you exercise your rights as a consumer.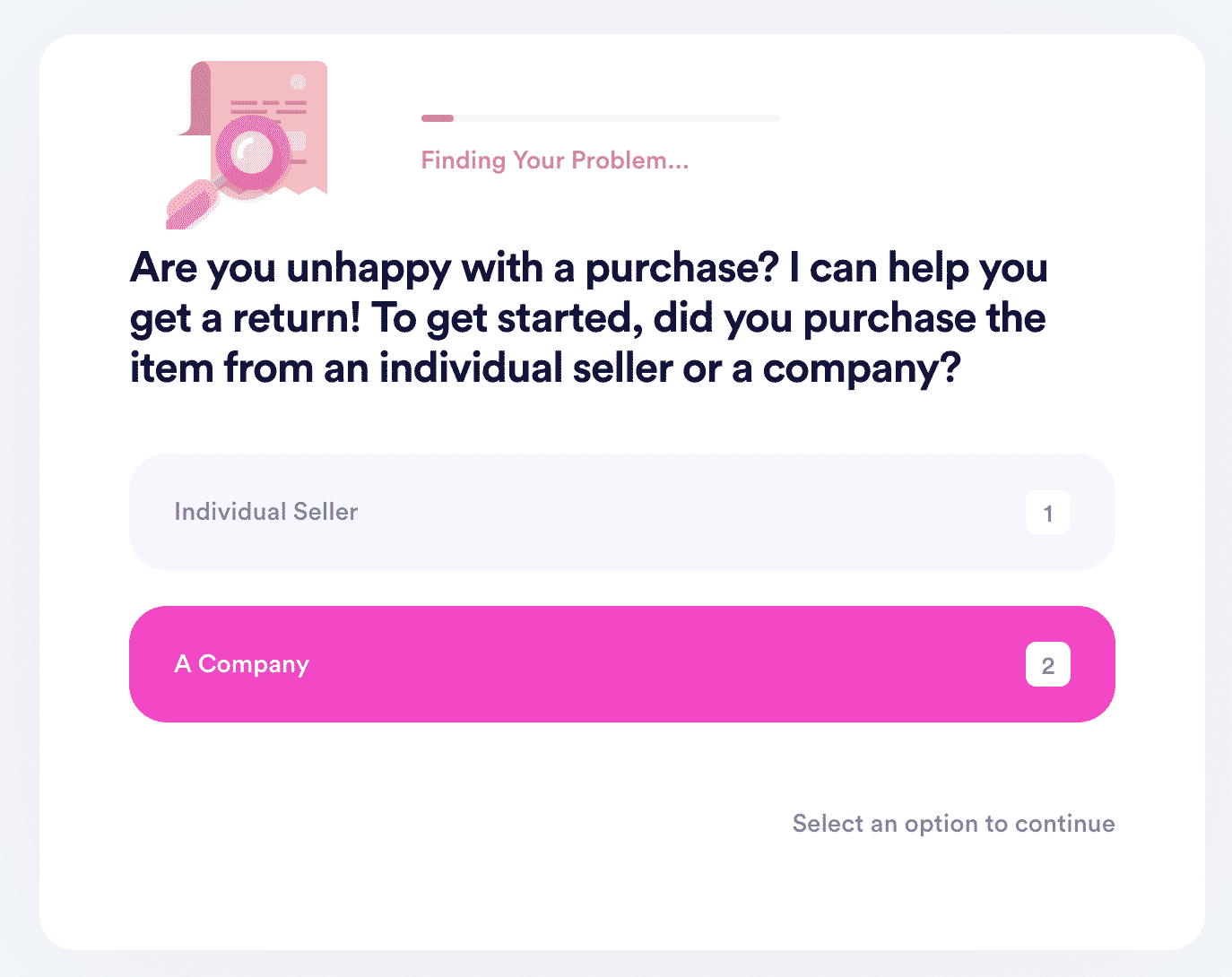 To begin the simple return process to Athleta with DoNotPay, follow the steps below:
Open DoNotPay in your web browser and sign up
Select Item Return Request
Answer the chatbot's questions about the date, location, and method of purchase
Select a deadline for the refund
Include photos of the items, verify your information, and submit the request
DoNotPay will draft a letter and mail it to Athleta automatically, explaining what was wrong with your item and stating you expect to receive a refund by the specified deadline. DoNotPay will also create a free shipping label for you to ship your items to Athleta at no extra charge.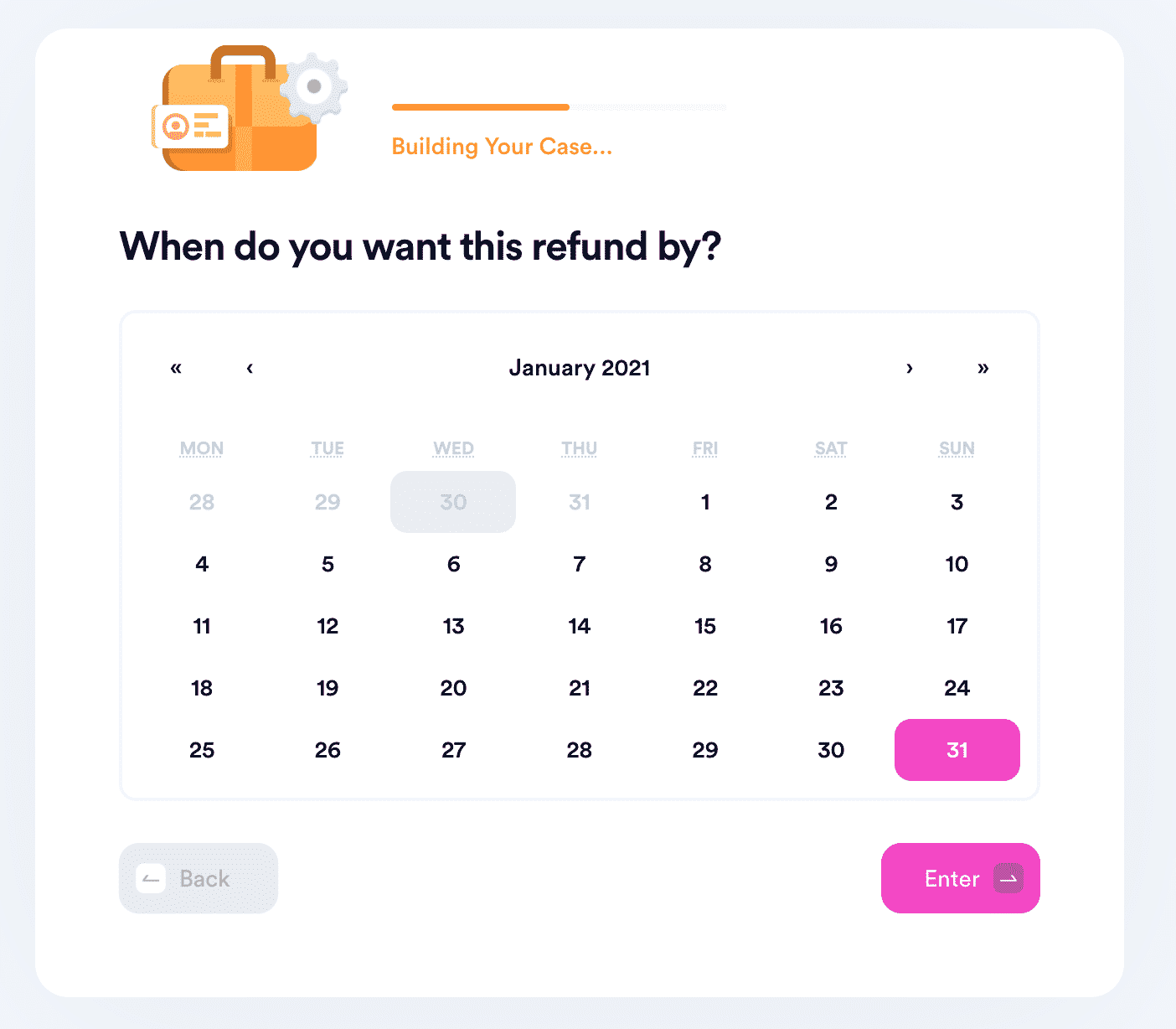 DoNotPay can help with the returns to the following merchants, among others:
Returned Your Faulty Item? Discover Other Nifty DoNotPay Products!
Apart from being your shortcut through returning your faulty items to merchants, our app can do so much more! From helping you request a refund, get extended warranties, file insurance claims, and find clinical trials in your vicinity to assisting you in creating legal documents, notarizing them, and faxing them—DoNotPay can do it all.
Do you think you're eligible for a victims of crime compensation program? Our app can help you apply for it. Do you want to get revenge on persistent robocalls, report someone for stalking or harassment, or get your noisy neighbors to be quieter? We got your back!
You Don't Have To Waste Time in Endless Lines
Returning an item may require you to wait in endless lines, but if you sign up for our AI-driven app, you will be able to skip all kinds of queues! You won't have to spend ages waiting in lines at the DMV or in customer support phone queues because DoNotPay will provide an easier way to get what you need.
If you want to skip the hassle of waiting on the phone when canceling a service, requesting refunds or compensation from airlines, requesting a college fee waiver, or connecting with a loved one in prison, you can count on DoNotPay to provide easy solutions.