A Quick Guide to the Sam's Club Mattress Return Policy
Have you bought a Serta mattress that you're not satisfied with but don't know how to return it? Don't fret because this guide will teach you everything you need to know about the Sam's Club mattress return policy.
, and we'll personalize your return request and help you get a refund or replacement stress-free!
Everything You Need To Know About the Sam's Club Mattress Return Policy
Deciphering the Sam's Club return policy can be a harrowing process. The company has several return deadlines, depending on the item you wish to return:
14 days for mobile devices
30 days for mattresses, motorsports items, and heavy equipment
90 days for freezers, dryers, and other houseware
If you have a receipt, the company will refund you in the form of the original payment method. Without the receipt, you will get store credit that you can spend on Sam's Club merchandise.
You can refund or exchange most items, but Sam's Club doesn't allow returns of the following goods:
Prescription products
Custom products
Gift cards
Items bought through the Wholesale Trading Program
Keep in mind that, even if you honor the deadline and your item fits the return criteria, Sam's Club may still deny your return request for any reason.
Sam's Club Mattress Return Policy—How To Submit a Return Request
The following table is a summary of viable and non-viable methods of returning your mattress to Sam's Club:
| Return Method | Yes/No |
| --- | --- |
| By mail | Yes (if ordered online) |
| In person | Yes |
| Via email | No |
| With DoNotPay | Yes |
Returning Your Mattress In Person
If you choose to return your Serta mattress to Sam's Club the old-fashioned way, do the following:
Go to the company's website and use the Store Locator tool
Find the nearest department store
Inform the store via telephone that you'd like to return an item
Bring the tags from your mattress (and the original receipt, if possible)
Make the return request with a staff member
Request a Return Online
If you'd rather initiate a return request online, follow these guidelines:
Go to your Sam's Club online account
Find the Purchase History tab
Select your item and order a return request
Wait for your request to be processed
Print the prepaid shipping label
Mail back your original receipt, tags, and any other documents the company requires (do not mail back the original mattress)
It will take up to seven business days for your mattress to be refunded or exchanged. Bear in mind that Sam's Club will deduct delivery fees from your refund unless the item was damaged during transport. If you want to exchange your mattress, the company will deduct the fee from your account.
You cannot initiate a return request online if you bought the mattress in person.
Return Your Mattress to Sam's Club the Simpler Way—With DoNotPay
Most retailers require you to follow complicated steps when returning an item, making you give up on your intent altogether. The great news is—you don't have to deal with the tedious Sam's Club mattress return policy on your own! Register for DoNotPay, and we'll make the whole procedure much quicker.
We will use the information you provide to generate a custom return request and send it on your behalf. The letter will include a return deadline for the company so that you can get your refund or replacement in a timely manner. DoNotPay also offers you a free shipping label, enabling you to return the product cost-free!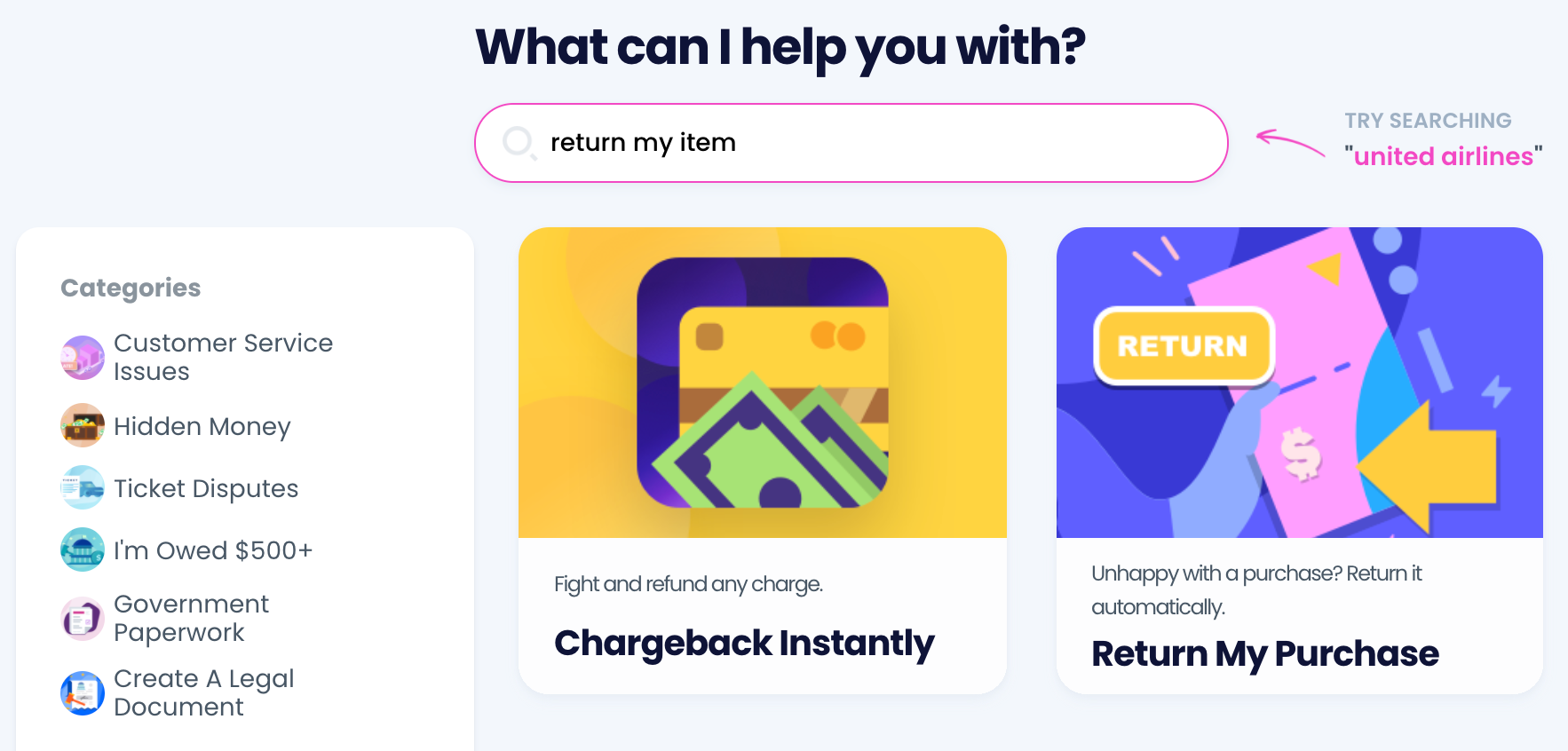 Do the following to get your money's worth:
Choose the Return My Purchase tool
Enter the details regarding your purchase and submit it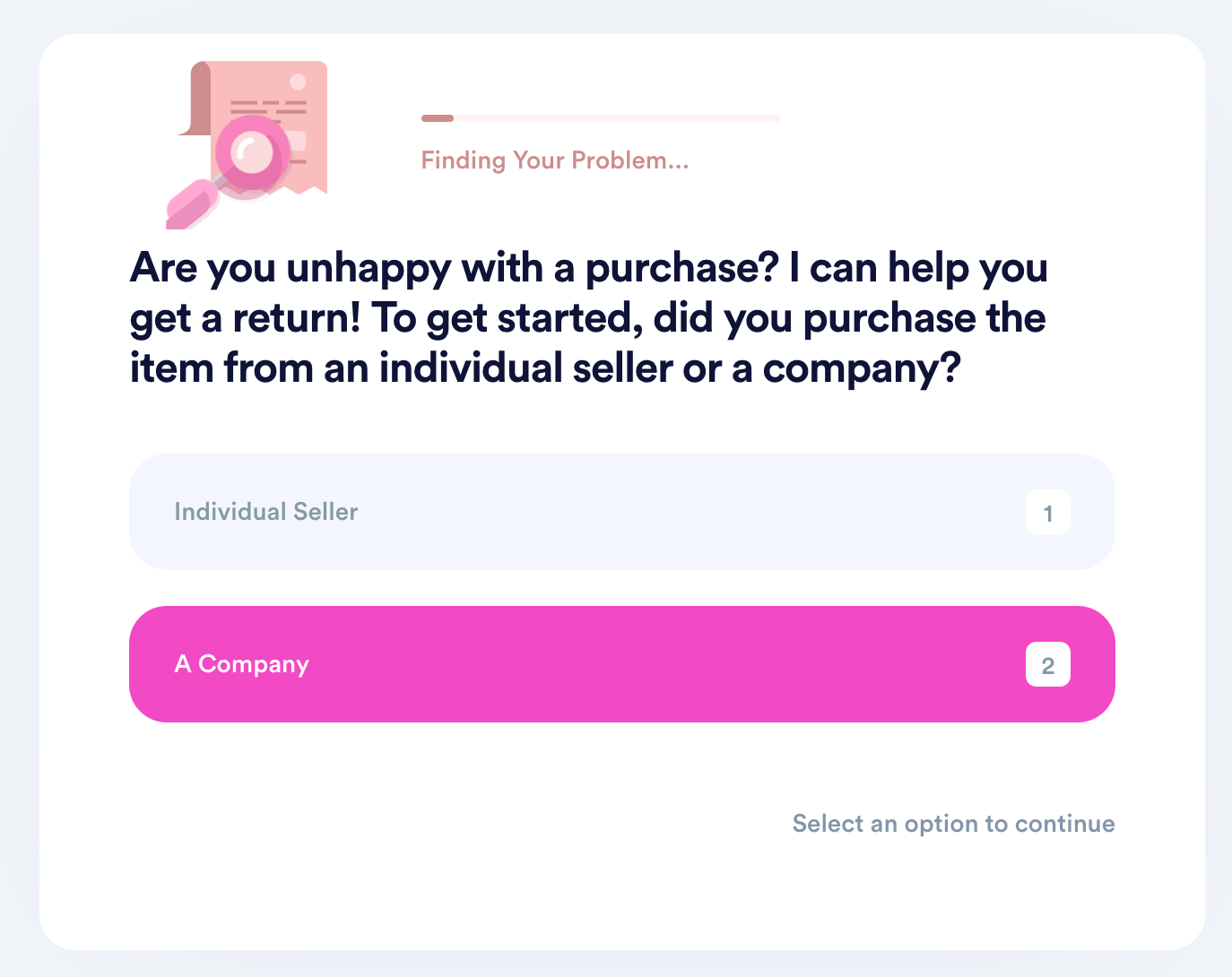 If you need help navigating another retailer's return policy, check out some of the companies DoNotPay can also help with:
The Company Doesn't Want To Refund the Damaged Item? We'll Help You Get Money in Other Ways
If the company you're dealing with refuses to issue a refund, you can take it to small claims court with your personal robot lawyer assistant. We'll create any legal document you may need for the lawsuit, have it notarized remotely, and fax it to anyone you specify in our short questionnaire.
Is there anything else you'd like us to help you with? No problem—rely on our AI-powered products to save the day:
Draft a divorce settlement agreement

Create a power of attorney document
Our Array of AI-Driven Products Doesn't Stop There
You can count on DoNotPay to lend a helping hand no matter what kind of struggle you're dealing with. Need financial assistance? Check out how our app can lower your utility bills and property taxes, appeal your parking tickets, get you a refund from any company or airline, find your unclaimed money, get you free raffle tickets, check your gift card balance and turn it into cash, and so much more!
Dealing with a noisy neighbor or a creepy stalker? Report them using our app! Want to get a refund for a late or missing parcel? Say no more—we'll help you get what's rightfully yours in mere minutes.