A Guide to the Hollister Return Policy
Did you shop at Hollister and end up with damaged items? This guide offers the best information about how the Hollister return policy works so you can return your faulty items and get your money back as soon as possible!
Besides Hollister, DoNotPay also offers information about the return policies of:
The Hollister Return Policy Basics
Hollister's return policy states the following:
You can return or exchange products you're not satisfied with for up to 30 days since the date of purchase
Products you return with a receipt make you eligible for a full refund to your original payment method
You will receive a refund in the form of merchandise credit if you receive products with a gift or exchange receipt
The items you're returning must be in their original condition
You must return your products to any Hollister store in the same state where you bought them
Items purchased at a Hollister outlet store must be returned at that specific location
You can't redeem your gift card or merchandise credit for cash except for locations with a cash back policy
Can I Return My Faulty Items to Hollister Without a Receipt?
Yes, you can return your items to Hollister without a receipt. To do that, you will have to provide valid identification so Hollister can track your returns and prevent the abuse of their policy. If the company accepts your return request, it can only refund you in the form of a merchandise credit.
Changes to the Hollister Return Policy Caused by COVID-19
Purchases you made on or after February 1, 2021, are eligible for returns through June 30, 2021, or 60 days after the date of purchase, whichever is longer. The 60-day deadline refers only to U.S. residents.
Hollister Return Policy—Promotional Sales
Suppose you return some or all items you bought during a promotional sale. In that case, Hollister reserves the right to reduce the coupon or promotional discount amount so it reflects the terms you would qualify for without the items you returned.
For example, you may buy some items during a promotional sale that offers 10% off for purchases above $50. If you return a product or two and the total is under $50, Hollister will adjust your refund accordingly because you're not eligible for that 10% off anymore.
How To Return Your Products to Hollister
You can initiate a return request to Hollister in two ways:
Online
In store
Initiate an Online Return Request to Hollister
To start your return to Hollister online:
Visit the Help page on Hollister's website
Locate the Start My Return button under the Returns & Exchanges tab and click on it
Enter your email address and phone number and click on the Look Up Order button if you don't have a Hollister account. Users that have a Hollister account can click on the Sign In & View Order History button
Follow further instructions
If you're returning your items to Hollister by mail, ship them to the following address:
Hollister Co. Returns
100 Hollister Co. Way
New Albany, OH 43054
US
Hollister won't refund any shipping fees. If you return your items after 60 days of purchase, the company will issue your refund as an e-gift card and send it to the email address you used during purchase.
How To Initiate a Return Request to Hollister in Store
To return your items to a Hollister store:
Prepare the products and proof of purchase
Visit your nearest Hollister store
Ask a representative to process your return request
Provide the necessary information
Return Your Items to Hollister for Free With DoNotPay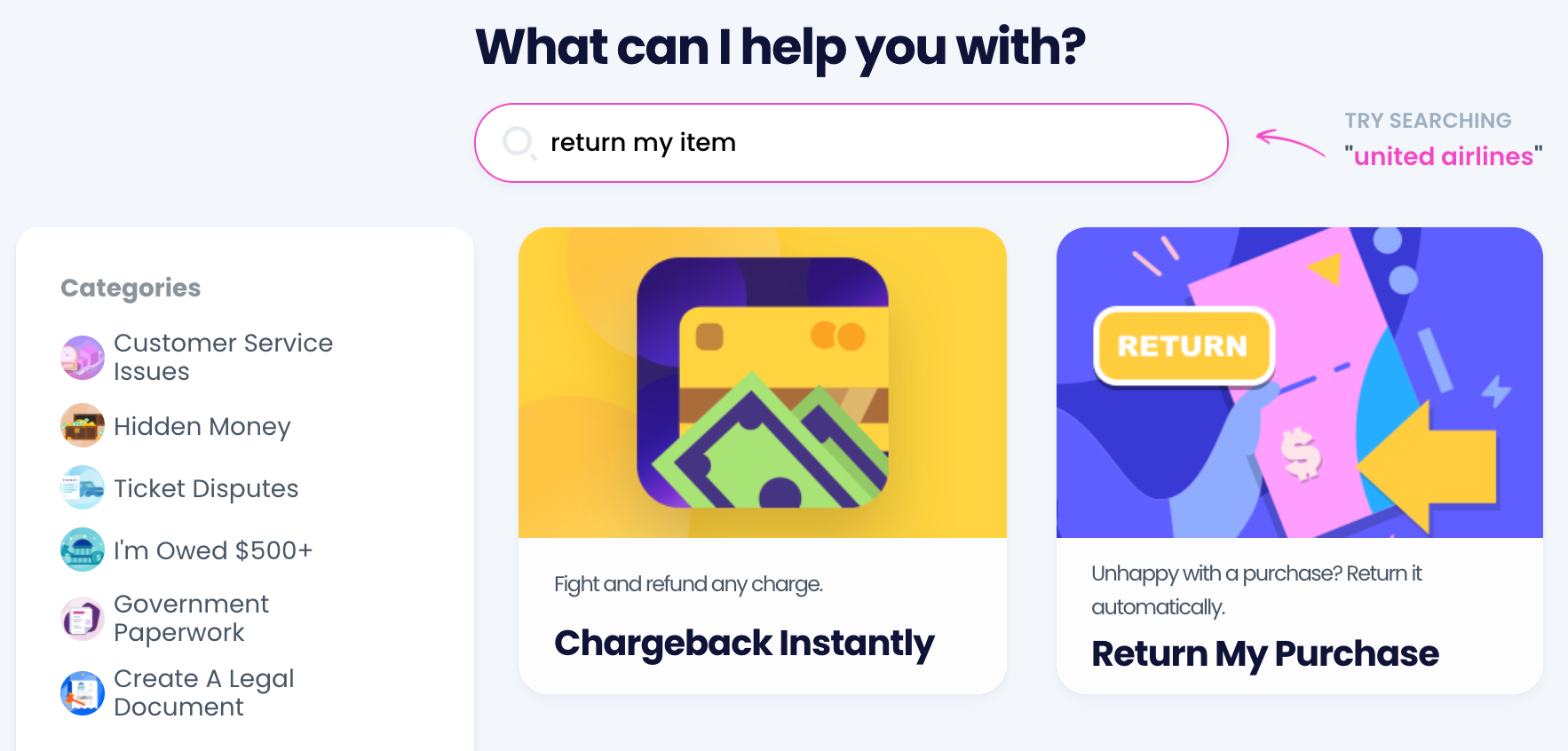 DoNotPay offers a free return shipping label so you can return your items to Hollister from the comfort of your home without paying a cent. To return your items to Hollister:
Select our Item Return Request product
Answer a few questions about your Hollister purchase and include photos
Submit the request
We will generate and mail a custom return request letter to Hollister on your behalf. The letter will include a deadline by which the company should process your request to make sure you get a response as quickly as possible.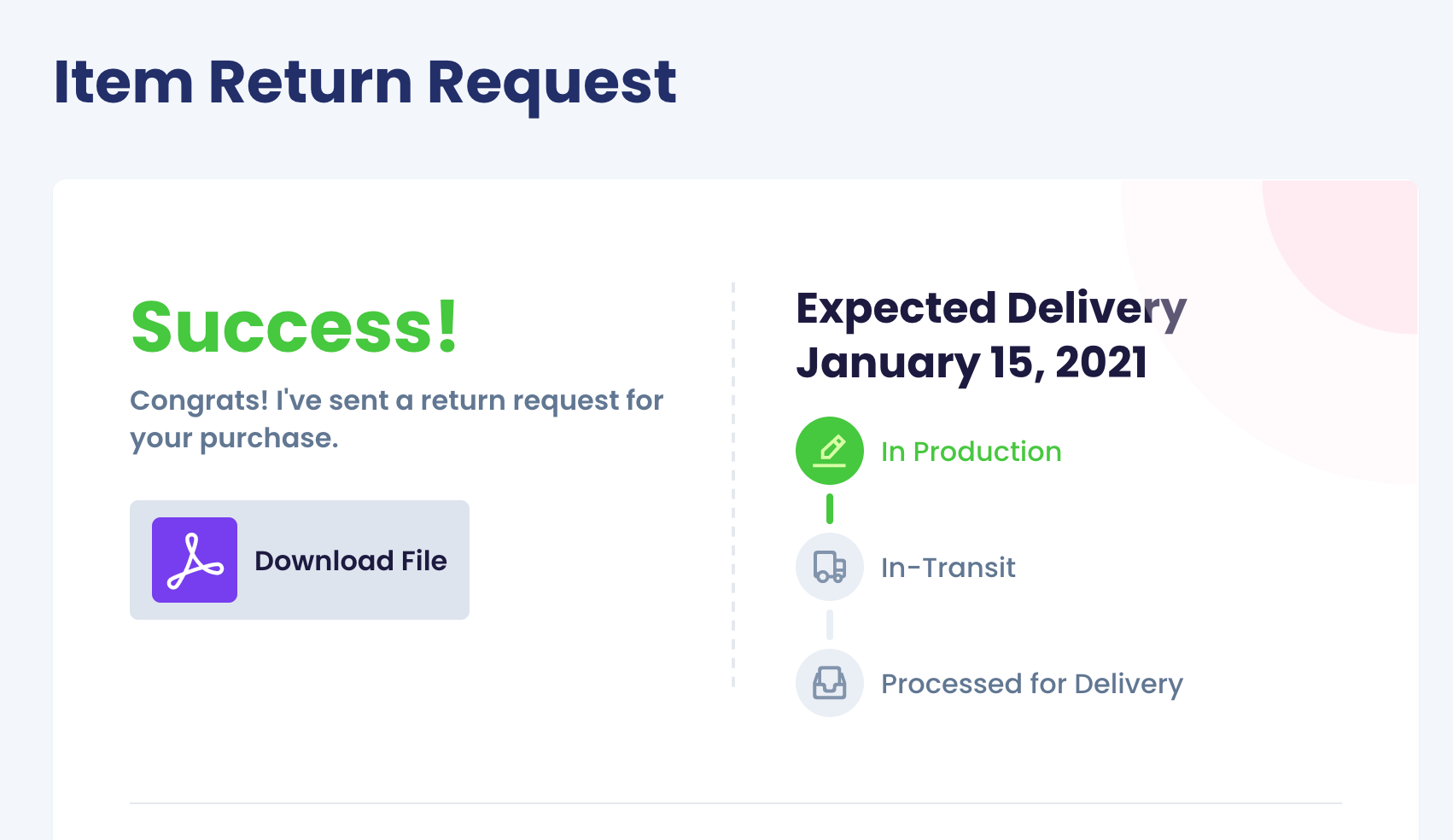 DoNotPay offers even more guides that can help you return your items to companies such as:
How Long Does It Take for Hollister To Process My Return Request?
Hollister takes about 14 days after receiving your items to process them. If the company accepts your request, it will credit the payment method you used during the purchase. It may take a couple more days for the payment to appear on your card statement.
Use DoNotPay To Demand a Refund From Hollister
When Hollister accepts your return request, you can demand a refund by doing the following:
in your web browser
Selecting the File a Chargeback feature
Clicking on Get Protected
Answering a few brief questions about the refund you're demanding
Is the Company Refusing To Cooperate? We Can Help You Get Justice
Is whatever company you're dealing with not being a good sport? Don't worry—the world's first robot lawyer is here to help. Our app can prepare all the necessary paperwork and provide guidance if you want to sue the company in small claims court.
We can also help you draw up any legal document you need for the case, have it notarized by an online notary, and fax it to anyone in a matter of minutes.
If you want to get revenge on tiresome robocalls or report a stalker or harasser, you can rely on DoNotPay.
Anything Else We Can Do for You?
Our AI-powered app is versatile—you can complete many tiresome, daunting tasks that you wouldn't want to tackle by yourself. You can use DoNotPay to:
If you want to get access to all of our nifty products, sign up now!