SCHEELS Gift Card Balance Check Dissected
Are you sure that you left some unspent funds on your used SCHEELS gift card, but you don't know how much? Hurry up and check the remaining value as you may be entitled to get the rest of the cash off the card and use it for better purposes.
This guide proposes several reliable ways to perform a SCHEELS gift card balance check and answers all the questions about the gift card cash back option. Using DoNotPay can help you reclaim the unused funds fuss-free from the comfort of your home!
The Basics of the SCHEELS Gift Cards
The SCHEELS gift card program contains two models—physical and digital cards. Customers can choose to load the card with an amount between $5 and $100 and spend these funds at any SCHEELS store or online.
The gift card policy is straightforward—here are some essential rules users must follow:
SCHEELS gift cards can't expire, which means you can use them whenever you prefer until you exhaust them
These cards are single-loaded—you can't add value to them once you spend the original credit
There are no hidden maintenance or transaction fees when using the cards
You are allowed to combine:

Up to 25 gift cards during a single in-store purchase
Up to 13 gift cards during a single online order

It's not possible to:

Return the gift card for cash unless the law allows it
Pay with this card when placing a phone order
Use the card as a valid payment method on the SCHEELS Visa account
Purchase Fan Shop products using this card
How To Check Your SCHEELS Gift Card Balance by Yourself
The most common method for finding out how much money is left on your SCHEELS gift card is to use the online balance checker. Here's how to go about it:
Visit the official SCHEELS homepage
Click on Menu
Select Gift Card Balance
Type in your:

Gift card number—a 19-digit code on the back of your card
PIN—a four-digit security code you can find under the scratch-off surface

Tap on Check Balance
Other Ways To Do a SCHEELS Gift Card Balance Check
If you aren't tech-savvy and prefer to get in touch with the company to inquire about the available gift card credit, you can:
Check your balance over the phone
Email customer support via a website form
Visit a SCHEELS store and have the card checked on site
How To Perform a SCHEELS Gift Card Check by Phone
Here are the steps to follow to get the gift card credit update via phone:
Call customer care center at (701) 356-8264
Disclose your gift card number and ask the agent to check the balance
How To Perform a SCHEELS Gift Card Check by Email
To send a balance check request to SCHEELS via email, do the following:
Go to the company's website
Select the Contact Us tab and pick Contact Us from the drop-down menu
Choose Email Us
Input your full name and your contact details
Select GiftCard Inquiry as the reason for contacting the company
Enter your location
Write your inquiry in the comment section
Click on Send Email
How To Perform a SCHEELS Gift Card Check in a Store
To get the assistance for a balance check in person, proceed as follows:
Find a SCHEELS store in your neighborhood
Go to the chosen shop and bring your gift card
Let the store staff swipe the card and tell you the current remaining amount
| | |
| --- | --- |
| Can You Check Your SCHEELS Gift Card Balance Via | Yes/No |
| Phone | Yes |
| Email | Yes |
| Letter | No |
| Chat | No |
| In person | Yes |
| Online | Yes |
If you want to avoid the hassle of checking your SCHEELS gift card balance by yourself, we present you with a more convenient solution—DoNotPay.
DoNotPay Simplifies the Process of Checking Your SCHEELS Gift Card Balance
Why bother performing the SCHEELS gift card balance check on your own when you can have our app do it for you? All you need to do to get started is complete our quick guide:
and pick the

Check Gift Card Balance

feature

Take and upload photos of your gift card from the front and back

Confirm your email address
That's all it takes on your part! DoNotPay will get in contact with SCHEELS and inform you about your remaining balance.
Is There a Way To Cash Out the Unspent Funds From Your SCHEELS Gift Card?
If your budget is tight and a few remaining dollars on your gift card would come in handy, you may want to convert them into cash instead of spending them at SCHEELS.
As the company's general gift card rules say, SCHEELS can let you return the used gift card for cash only if your state gift card laws propose it. This may be difficult as not all U.S. states support gift card cash back. You can do it in 12 locations only, including:
Missouri
Oregon
Vermont
Colorado
Connecticut
Maine
New Jersey
Washington
Massachusetts
Rhode Island
California
Puerto Rico
According to the gift card statutes in these states and Puerto Rico, retailers have to reimburse you for the available card value if you request to get cash off your old card. The safest bet is to check out the local statute and cash back limitations as the value of your gift card mustn't be higher than the proposed threshold.
Get All the Remaining Gift Card Credit in Cash With DoNotPay
DoNotPay is the fastest and most reliable way to demand gift card cash back from the company. Our app needs only a few moments to scan your state laws and check if you can receive the rest of the gift card credit in cash.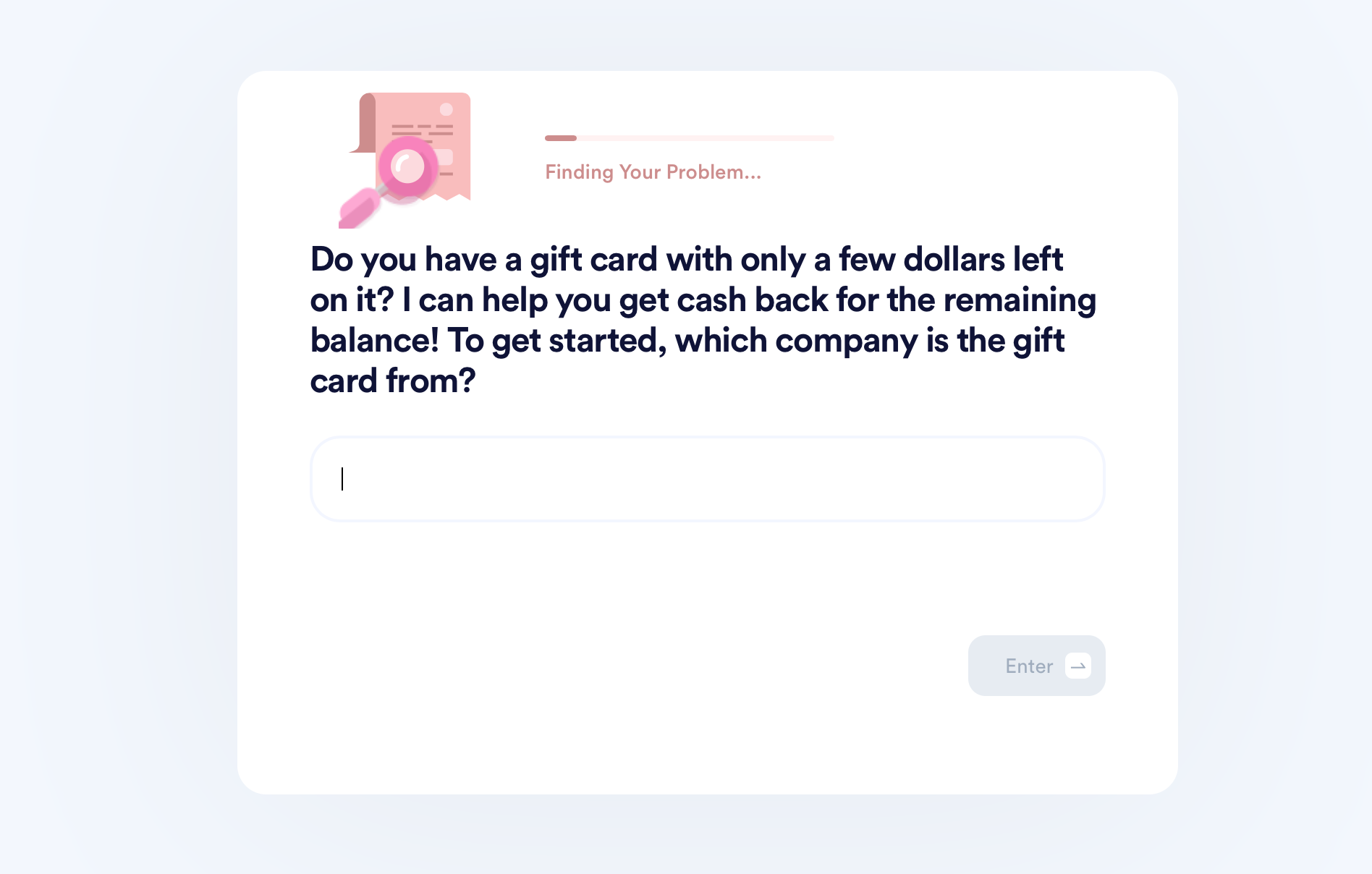 By gathering basic gift card details, we will compose a gift card cashback request and ensure it reaches the company fast! This means you don't need to do anything except clicking a few times—we do the rest.
These are the steps you should follow:
and log in to your account
Pick Gift Card Cash Back
Answer some questions regarding your gift card
Not eligible to get cash back based on your location? Keep calm and let DoNotPay do the trick! We will do our best to track down the company's retail office at any of the 12 locations that approve it and submit the request there.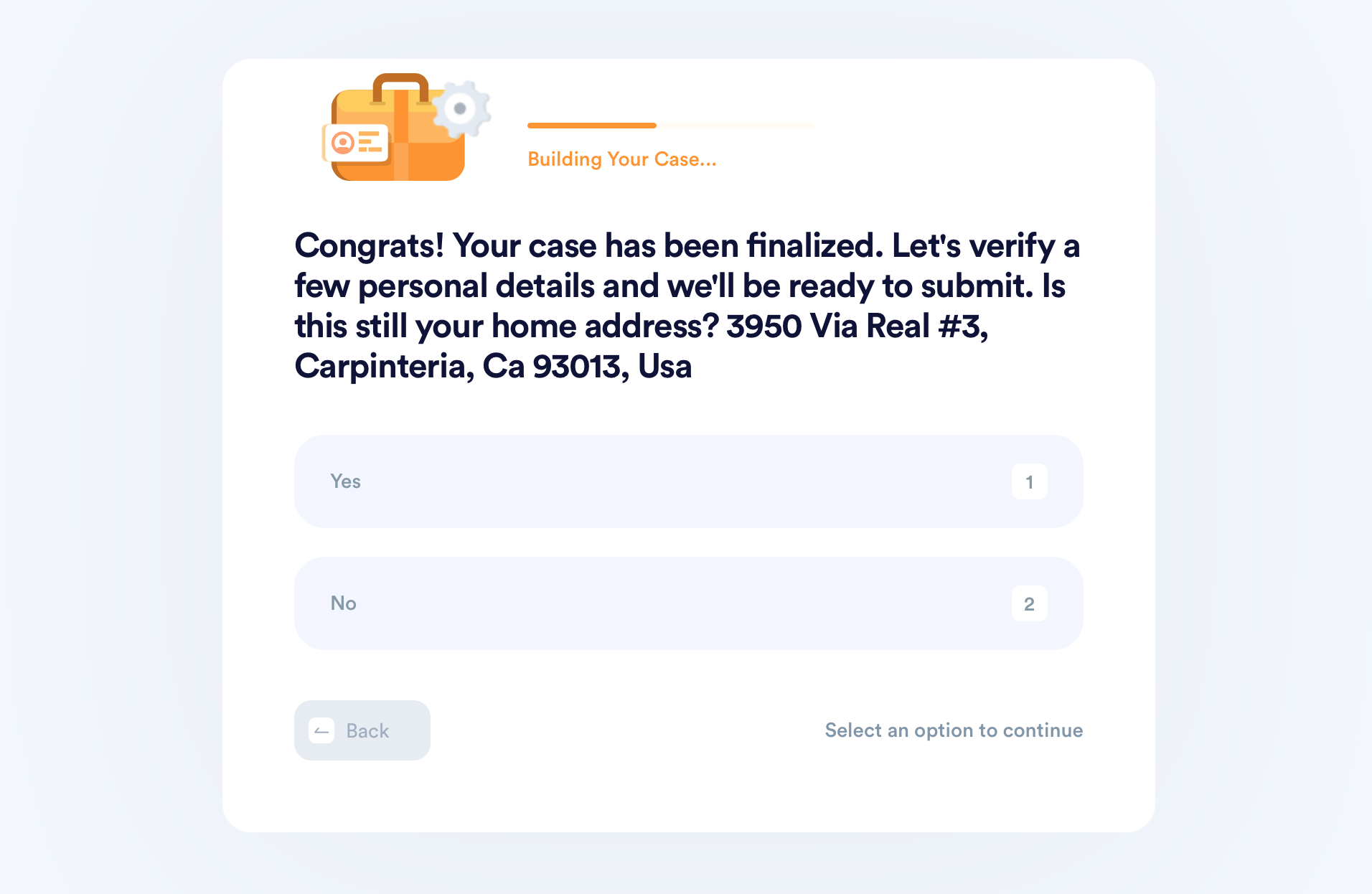 The option we provide is much simpler and secure than other methods of using the remaining gift card funds, such as reselling or exchanging the card. Our app can also request cash back for free or any other gift cards from:
Discover DoNotPay's Product Range
DoNotPay has a vast range of products that help you earn and save money and fight bureaucracy. Check out how to get insurance or warranty, file a FOIA request, send anything through online fax, draw up a tailor-made legal document, get documents notarized, get a college fee waiver, sign up for any clinical trial, and so much more!
Your personal AI-powered assistant can also lend its helping hand if you need to fight email or text spam, get robocall compensation, request refunds from airlines, draw up a child travel consent form, prepare for government tests, and combat workplace discrimination successfully.
Save and Earn Money
The best part of using DoNotPay is that you can both save and earn money. As soon as you sign up, make sure you check out how you can find missing money, get free raffle tickets, get compensation for victims of crime, report a late or missing delivery and get a refund for it, and request gift card cash back.
If you want to sign up for a free trial risk-free, cancel any subscription-based service, request a refund from a company, sue anyone in small claims court, or jump the phone queue when getting in touch with customer service reps, you can always count on us.