Do You Need To Check a Newegg Gift Card Balance? We Know How
Having a Newegg gift card is great for anyone since we all need computer parts and PC components.
If you've already used your card, you'll need to check your Newegg gift card balance before your next purchase. DoNotPay knows the way and provides a helpful tool to get the remaining money back.
What You Should Know About Newegg Gift Cards
Newegg offers different types of gift cards, and how to use or exchange the remainder may depend on the particular card. To understand the difference, check out the following table:
Newegg Gift Cards
Specific Information
Gift cards purchased on the Newegg website

Available in amounts ranging from $10 to $2,500
Additional credit cannot be added to an issued card
Lost or stolen cards can be replaced with the original proof of purchase
No expiration date

Promotional gift cards

Given free of charge as part of the awards, loyalty, or promotional program
Cannot be replaced if lost or stolen
Expire one year after the issuance

Store credit gift cards

Cannot be replaced if lost or stolen
No expiration date

Customer care gift cards

Cannot be replaced if lost or stolen
Expire 90 days after the issuance
Regardless of the type, Newegg gift certificates are valid only for purchases on the company website and in the country where the card was issued. You might also want to get familiar with the Newegg refund policy to be prepared for any possible scenarios.
Three Options To Check Your Newegg Gift Card Balance
To use your remaining funds, check your Newegg gift card balance:
Online
By phone
Want To Shop at Newegg? Check Your Gift Card Balance Online
You can check a Newegg gift card balance on your computer or smartphone by following these steps:
Open the Newegg Gift Card Balance page
Enter the card number
Type in the security code
Click on the Check box
The gift card number and security code are:
Call To Check Your Newegg Gift Card Balance
If you prefer speaking with a representative, you should call Newegg customer service at 1-800-390-1119. Make sure you have your gift card number and security code close at hand.
Use DoNotPay To Check Your Newegg Gift Card Balance
Spending time checking your gift card balance on your own becomes a thing of the past once DoNotPay gets involved! We'll take some burden off your back by finding out all the info for you. and complete these steps to get started:
Find and tap the

Check Gift Card Balance

feature

Take photos of your gift card from the front and back

Confirm your email address
We'll get in touch with Newegg and find all the deets about your gift card balance!
Can I Get Cash for the Remainder on a Newegg Gift Card?
Although Newegg terms and conditions state that the gift certificates cannot be redeemed for money, you should know that you can return your gift card for cash if:
If you would like to collect those few dollars you've got left, choose one of the following:
Determine whether your state has a gift card cash back policy in place and request reimbursement from the company reps
Register for DoNotPay to get your money back smoothly
Use DoNotPay To Go Through the Cash Back Process With Your Eyes Shut
Our AI-powered app can check your state legislation in a flash. What if we find out that your state doesn't require companies to reimburse their gift cardholders for the remaining few dollars?
We don't give up that easily! DoNotPay starts another search to confirm that the card issuer has an office located in one of the cash back policy states. We send your request to that address directly.
Want to get your money back? and take these steps:
Select our Gift Card Cash Back product
Provide information about your gift certificate, such as the company name, card number, and remaining balance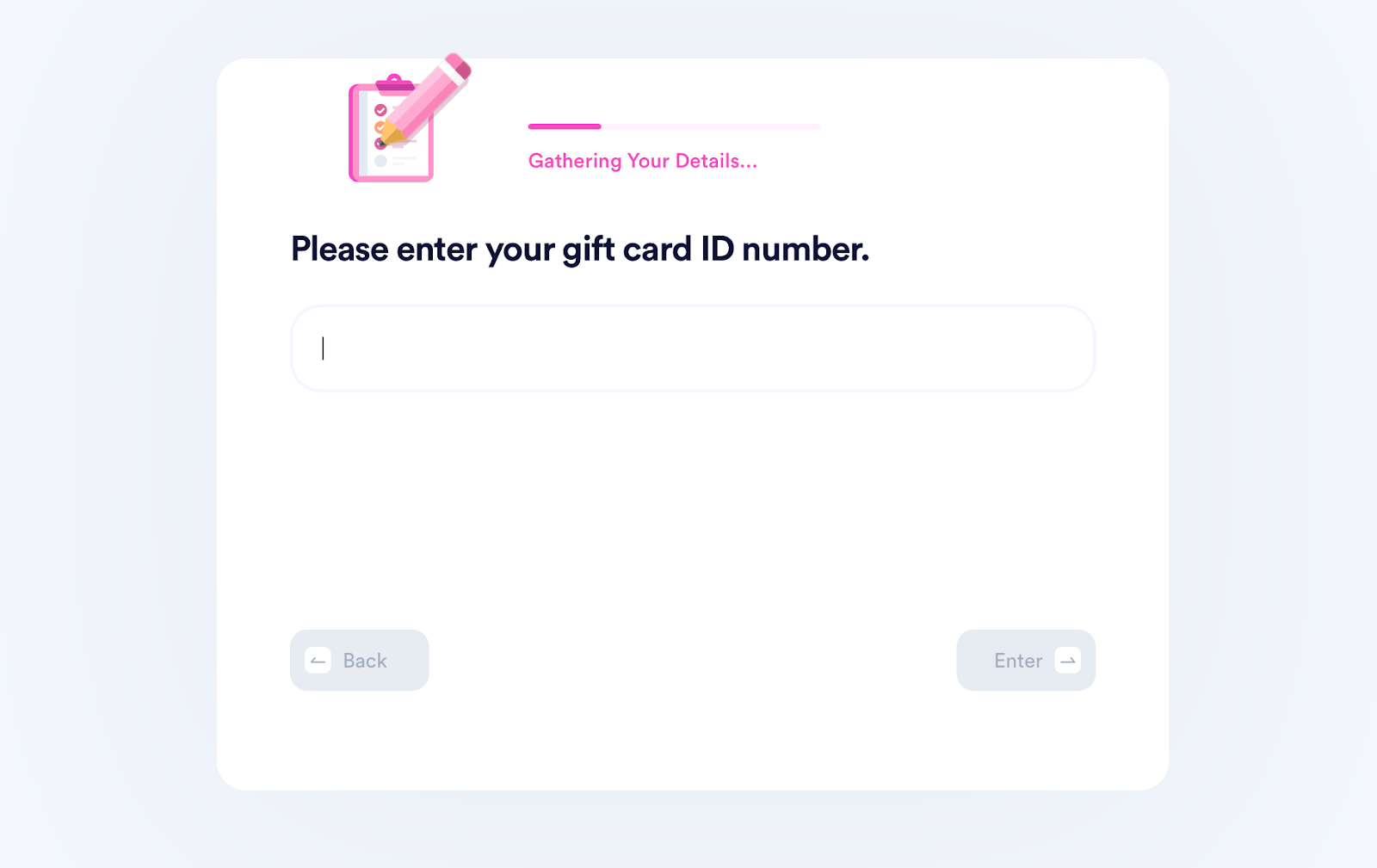 Once you're done, chill and wait for your cash (or check) to arrive in 14 business days via mail.
Do You Have Some Used Gift Cards Lying Around? Don't Toss Them Away!
If you've got a few gift cards you cannot use to buy anything of value, you should check their balance. Get the precise sum, make a list of all gift card amounts, and plan on how to use them wisely.
Some companies allow combining different cards and forms of payment. Others might be willing to offer you cash for your (un)used gift cards. You could also give your cards to a family member or friend if you have no use for them. Don't forget that you can easily collect cash for a few remaining bucks via DoNotPay.
To get more tips about gift cards, check out our helpful article on:
DoNotPay also presents relevant information on various card issuers, including the following:
DoNotPay—The Quickest Way To Deal With Greedy Companies
Spending hours on the phone with customer care reps struggling to get a refund or cancel certain services due to complicated procedures can be tiresome.
If you sign up for DoNotPay, we can help you:
Has a company refused to accept your warranty claim even though it was valid or wronged you in any other way? Make sure to serve them justice by bringing them to small claims court with DoNotPay's help!
Use Our App To Resolve Any Issue
DoNotPay has numerous products you can use. We can help you resolve any problem in a few clicks.
Do you want to find unclaimed money? Would you like to know how to protect your work from copyright infringement? Are you wondering how to apply for a college fee waiver because the application fee is too expensive for you? If you rely on us, you will solve all of these and many more issues stress-free!
Even victims of violent crimes—such as stalking—can use DoNotPay to solve their problems. Having a stalker is traumatic and potentially dangerous. We can tell you how to deal with the situation and apply for crime victims compensation in your state if you need help covering counseling expenses.
We can simplify the document notarization process and help you send online faxes and mail letters from the comfort of your home in less than five minutes.