Check Your REI Gift Card Balance in Three Steps!
Why let your used gift cards go to waste when you can use them with ease? We provide you with a step-by-step guide on how to check your REI gift card balance and explain how you can exchange your gift card for cash!
Sign up for DoNotPay, and learn how to get your gift card cash back easily!
Where Can I Use My REI Gift Card?
You can use your REI gift card at any of the REI stores throughout the United States. You can pay with your gift card when making an online purchase on their official website.
The REI gift cards don't have an expiration date, so you don't have to worry whether they're still valid when making your purchase.
How To Do an REI Gift Card Balance Check
You can perform an REI gift card balance check in four different ways. Consult the table below for specifics and see what option works best for you:
How To Check Your Balance
Instructions
In person
To check your REI gift card in person, follow these steps:

Find the nearest REI store and pay it a visit
Explain your request to an employee
Wait for them to do a balance check and provide you with the needed info

Via Phone
If you want to check your balance over the phone, this is what you need to do:

Call 1-800-426-4840
Tell the REI rep that you want to check your gift card balance
Follow their instructions

Online
To check your gift card balance online, do the following:

Visit the REI website
Type in your gift card number and PIN
Select Get Balance

With DoNotPay

You can skip the hassle of performing an REI gift card balance on your own by letting our app do it for you. Here's how it works:

Select the

Check Gift Card Balance

feature

Supply photos of your gift card from front and back

After you confirm your email address, DoNotPay will contact the card issuer and inquire about your remaining balance
What Can I Do After I Check My REI Gift Card?
After you check your REI gift card balance, you should decide what to do with the remaining amount. Here are a few ideas:
Use your card at an REI store—Using your card at any of the REI stores to pay for your goods is always a good option. If you have enough money on your card to cover the cost, you can avoid spending cash altogether, especially if you got your gift card for free or as a present
Give your card to someone as a present—You can skip the struggle of figuring out what present to get for someone by gifting them your card instead. The person receiving the gift card can decide how to use it, and you can avoid getting the wrong present
Sell your card—If you want to sell your card, you can search online for platforms specializing in such transactions. Take note that you will only get a percentage of your money back
Exchange your card for cash—In case you wish to use the money from your gift in a different way, you can exchange it for cash in one of the gift card kiosks if your state allows it
Can I Get Cash Back for My Rei Gift Card?
If you are from one of the states with a cash back policy, you can return your gift card for cash with ease. The following states, along with Puerto Rico, are the ones with the policy:
California
Colorado
Connecticut
Maine
Massachusetts
Montana
New Jersey
Oregon
Rhode Island
Vermont
Washington
Worried because the state you're from is not on the list? Don't be! DoNotPay is here to help you get your money back, even in such a scenario!
Get Your Cash Back With DoNotPay After Your REI Gift Card Balance Check
Getting your gift card money back doesn't have to be a burden! DoNotPay is here to simplify and walk you through the entire process. The best part is that our app does most of the work—all you need to do is complete our straightforward three-step guide! Here's how it works:
Choose the Gift Card Cash Back feature
Answer our questions
Upon completing the above-listed steps, DoNotPay will check whether your state has a cash back policy.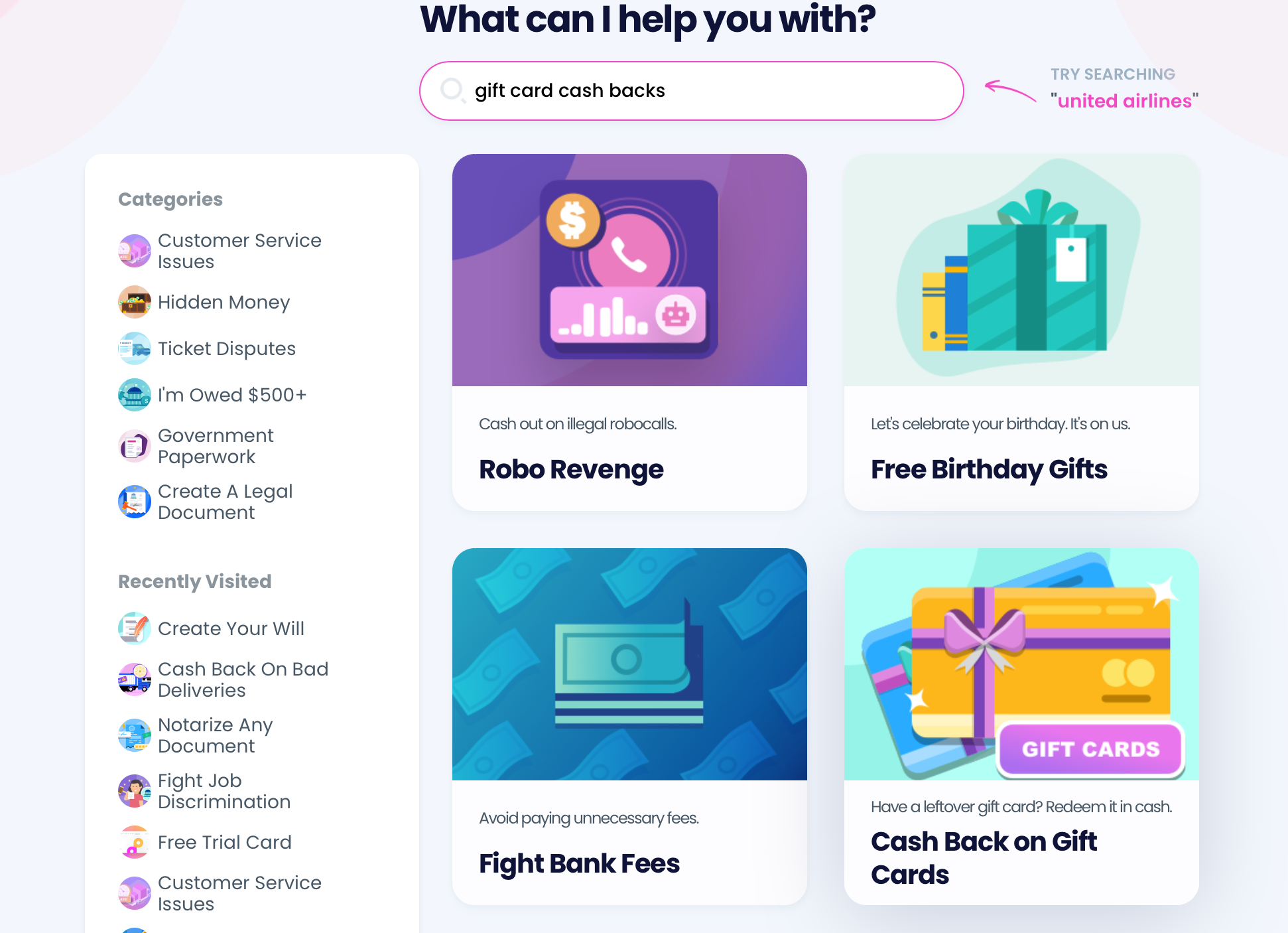 In case DoNotPay finds out that your state does not have the policy, we'll provide additional assistance by checking if REI has an office in any of the states that do have it.
We'll even send them a request on your behalf—you can relax and wait for your money to reach your mailbox. It shouldn't take longer than two weeks.
DoNotPay Doesn't Stop With REI!
REI isn't the only company we can assist you with! Should you find additional used gift cards, DoNotPay will show you how to check your balance and get your money back for them as well! Check out the list below to see some of the companies we can help you with:
There's More DoNotPay Can Do for You
In case you're struggling to cover your bills, our hacks may help you earn or save some extra money. Use our app to sign up for paid clinical trials in your area and try your luck with free raffle tickets. We can also help you get late delivery refunds and cash back on gift cards. You may not even know that you have funds lying around—rely on DoNotPay to uncover your unclaimed money.
If you have any documents or letters you need to send, we can save you the trouble of using a fax machine or waiting in line at a post office, thanks to our nifty products—Online Fax and Mailing Service.
Fast-Track Your Tasks With DoNotPay
If you've been putting off your errands because they take too long or they are too complicated, we know what to do! From filing insurance claims, getting documents notarized, submitting item return requests, and getting a child travel consent—there isn't much we can't streamline for you.
You can count on our assistance even for more serious and complex tasks, such as: