Orange County Notary Service—The Essentials
Having your documents notarized in Orange County—whether it's a deed, affidavit, or power of attorney—requires a bit of patience.
You might be wondering if there is a way to speed up the process and make it more practical?
The answer is yes! Some notary service methods make notarization less time-consuming.
DoNotPay will break down different Orange County notary services and help you choose the best one!
What Can a Notary in Orange County Do for Me?
Notaries in Orange County are public officials authorized to:
Certify

copies

Take depositions

Complete proofs of execution

Take

acknowledgments

Administer oaths and affirmations

Notarize signatures on

legal documents

, including immigration papers
Regardless of the notarization method you choose, a notary in Orange County has to complete specific steps when notarizing documents. Skipping any of them would constitute notary misconduct. During the notarization process, you can expect the notary in Orange County to:
Check your ID to confirm your identity

Determine if you are:

Mentally stable, sober, and not under the influence of illegal substances

Aware of what you are signing

Not being coerced or blackmailed into signing

Revise the document for blank spaces or missing pages

Supervise the signing

Complete the notarization with a

signature

and stamp if everything checks out

Fill out the notary journal
Different Notarization Methods in Orange County
You can choose between the three notarization methods in Orange County:
Visiting the local notary's office

Hiring a

mobile notary

Using an out-of-state

online notary

service
Traditional Notarization Method
If you choose the traditional method, you will have to do the following:
Find a local notary's office

by:

Schedule an appointment

Head down to the notary's office at the designated time

Pay a

fee

(California notaries charge $15 for most notarial services)

Sign the document in the notary's presence

Get the document notarized
The traditional notarization method is considered outdated and burdensome, and for a good reason. Regular notaries are typically overbooked, which makes scheduling an appointment difficult. If you make any mistake—such as forgetting your ID, for example—you will have to repeat the whole process. Traveling to meet the notary in their office during their limited working hours can be highly impractical.
Mobile Notary Service
Unlike traditional notaries, mobile notaries will come to you and notarize your document at any suitable place—including your home, office, or a nearby park.
Choosing a mobile notary will require you to:
Find a mobile notary (you can use the same notary search websites mentioned above)

Set up an appointment

Meet the mobile notary at the agreed time and place

Pay the fee (including the mobile notary's travel expenses)

Have the document notarized on the spot
Mobile notaries have more flexible business hours and typically work even on weekends. Scheduling an appointment and meeting them is much easier than using the traditional method, but also a lot more expensive.
California doesn't put a cap on mobile notary's travel expenses, meaning their final fee can be higher than you expect. If you want a mobile notary to visit you after hours or during holidays, you will face additional charges.
Out-of-State Online Notary
While California doesn't allow online notarization, you can hire an out-of-state online notary. He or she will notarize your documents in a completely virtual environment. You won't even have to leave your house—all you need is an internet connection and a digital device to finish the process! No need to waste money on travel expenses, coordinate your and notary's conflicting schedules, or risk your health during the pandemic.
Many U.S. states perform out-of-state online notarizations, including:
Here is what you have to do to get documents notarized online:
Schedule an appointment at any time (online notaries are available

24/7

)

E-sign the document on a video call with the notary

Get it notarized with an encrypted electronic signature and stamp
DoNotPay Is Your Ticket to Seamless Notarization
If you'd like to get your document notarized remotely, our app is the right choice for you! We will provide assistance by connecting you to an out-of-state online notary.
Here's how to schedule an appointment with an online notary using DoNotPay:
for our app

Type in

Notarize Any Document

after logging in

Upload the document you want notarized

Type in your email address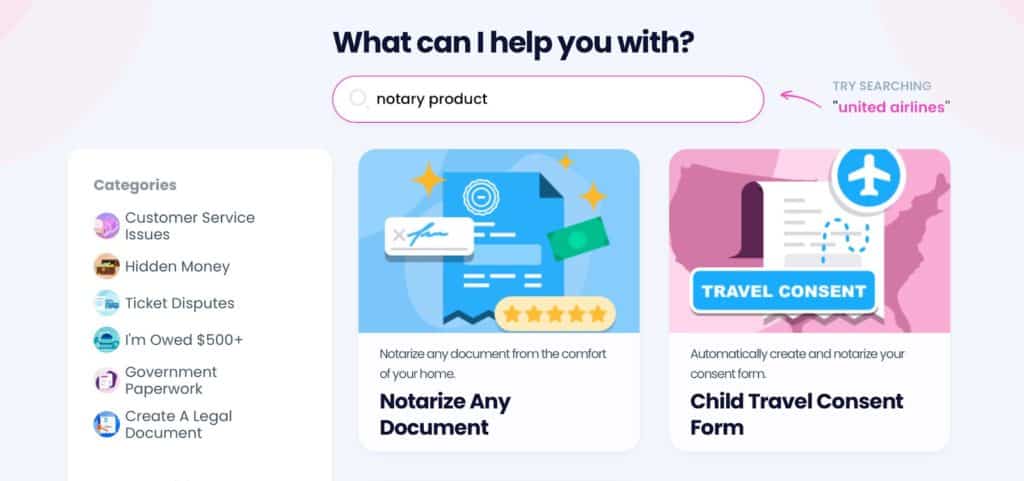 We will send you a link that will lead you to a webpage where you can set up an appointment. The rest is simple—you have to meet the online notary at the agreed time and complete the notarization steps.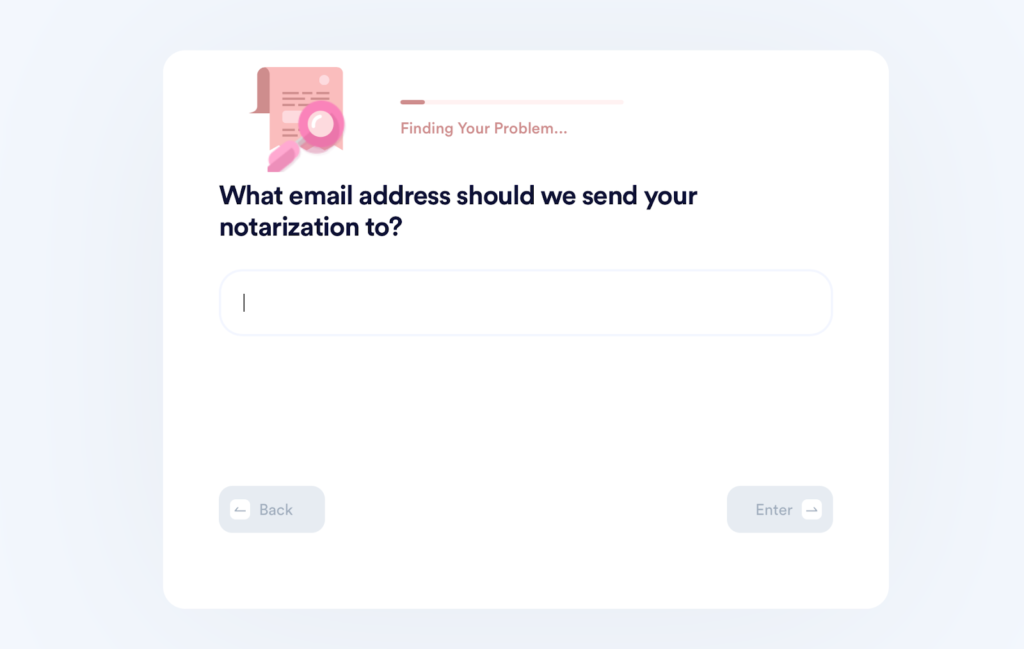 Use DoNotPay's Other Products for the Same Price!
DoNotPay can do much more for you! By , you can use our other products from the same platform. Take a look at how our tools integrate to give you a complete experience:
Product Name

Description

Standardized Legal Documents

Use this product to

create

numerous business, real estate, and other documents

Notarize Any Document

Give any document the necessary legal weight by having it notarized online

Online Fax

Ensure the safe transfer of any legal document by

faxing

it to the recipient using only your phone or laptop
Rely on DoNotPay To Solve Your Administrative Issues
Getting your documents notarized, drawing up legal paperwork, appealing parking tickets, and similar activities usually require a lot of effort. DoNotPay offers various useful products that can help you deal with administrative problems quickly and save a lot of time. We can assist you with:
Protect Your Consumer Rights With DoNotPay
Companies complicate cancellation and refund processes intentionally, hoping that consumers wouldn't want to spend hours trying to solve the issue they're having. DoNotPay knows how important consumer rights are, and that's why we created numerous products that can help you:
Many people forget to cancel their free trials on time and end up paying for the services they don't even use. To prevent that, DoNotPay has developed a nifty virtual credit card that will allow you to enjoy free trials risk-free. Our virtual credit card will also help you avoid spam email notifications by generating a random email address that you can use when signing up for a free trial.