Is Notarization Without Visiting a Notary in Walnut Creek Possible?
In-person notarization is quite complicated and outdated. Wasting time on finding a notary, setting up a meeting, and going to their office is not enjoyable in the slightest. There is a way to bypass this overlong and exhausting process, and it's called online notarization.
In this article, you can learn everything about the notarization process in California and find out how to get documents notarized without going to a notary in Walnut Creek.
What Services Does a Notary in Walnut Creek Provide?
The main duty of a notary in Walnut Creek is to confirm the identity of the person signing the document and witness that signing. This way, notaries help detect and stop potential fraudulent actions. While notarization doesn't make your contract or another document legally valid per se, the notary's signature can reinforce its validity.
In the following table, you can see what Walnut Creek notaries usually do:
Which Notarial Acts Can a Walnut Creek Notary Perform?
What Are Other Duties of a Walnut Creek Notary?

Taking an

acknowledgment

and statutory declaration

Administering an oath or affirmation

Protesting a note and bill of exchange

Executing a jurat

Certifying a copy of a document

Verifying an oath or affirmation

Verifying the identity of the signer by examining the ID or other identification document

Inspecting the document that needs to be notarized

Determining the signer's awareness of the document's content

Checking for the signs of coercion

Witnessing the signing of the document

Notarizing the document with an official notary signature and stamp

Creating a notary certificate

Saving a record
Notarization Process in Walnut Creek Explained
Even though it can be stressful, getting documents notarized is part of everyday life. Some of the documents that usually need notarization include:
Traditional and electronic notarization in Walnut Creek work on the same in-person principle and include the following steps:
Finding a notary:

By browsing

123notary.com

,

Notary.net

,

American Society of Notaries

, or other similar websites

In public places, including

banks

, courthouses, city clerk offices,

UPS

,

AAA stores

, insurance and real estate agencies, etc.

Setting up an appointment

Bringing your regular documents to the office and emailing or faxing your electronic documents to the notary

Waiting for the notary to examine your ID, confirm your identity, and carry out their service

Signing the document before the notary

Paying notary fees

Waiting for the notary to issue a certificate
Learn All About the Notary Fees in Walnut Creek
Notary fee limits are set by the state government and apply everywhere in the state. A notary has the right to ask the signer to pay a clerical or administrative fee for additional services, such as creating copies of documents, making phone calls, or traveling in case they provide mobile notary services.
California's notary fees are slightly higher than the U.S. average—you have to pay:
Does California Allow Online Notarization?
Why is remote online notarization (RON) practical? Online notary service helps people get documents notarized without going to a notary's office or meeting with them in person elsewhere. Online notaries are especially useful in difficult times, such as the outbreak of COVID-19, which is the reason why so many states passed some kind of online notary law.
Online notarization has many benefits—not searching for a notary in your area, being able to make appointments 24/7, attending the appointment from the comfort of your house, and many others.
California is one of the states that don't allow online notarization for now. While California doesn't permit RON, many other states do! Why is this information important to a California resident? The Golden State allows out-of-state online notarization, which means that you can get your documents notarized remotely with an online notary from one of nearly 30 states that allow RON. If you opt for the right online notary app, you will be able to set up an online meeting with a notary from the state that provides this convenient solution, such as:
If you , you can enjoy these services in no time and with zero effort!
Do Not Waste Time—Use DoNotPay To Book a Virtual Meeting With an Out-of-State Notary
With the greatest online notary app—DoNotPay—you can book an appointment with an out-of-state notary and get documents notarized in a jiffy!
Our Notarize Any Document product is simple, practical, and easy on the wallet. It can connect you to numerous online notaries across the U.S., and the best part is that we can do it 24/7!
and follow these steps:
Select the

Notarize Any Document

tool

Upload the documents that require notarizing

Type in your email address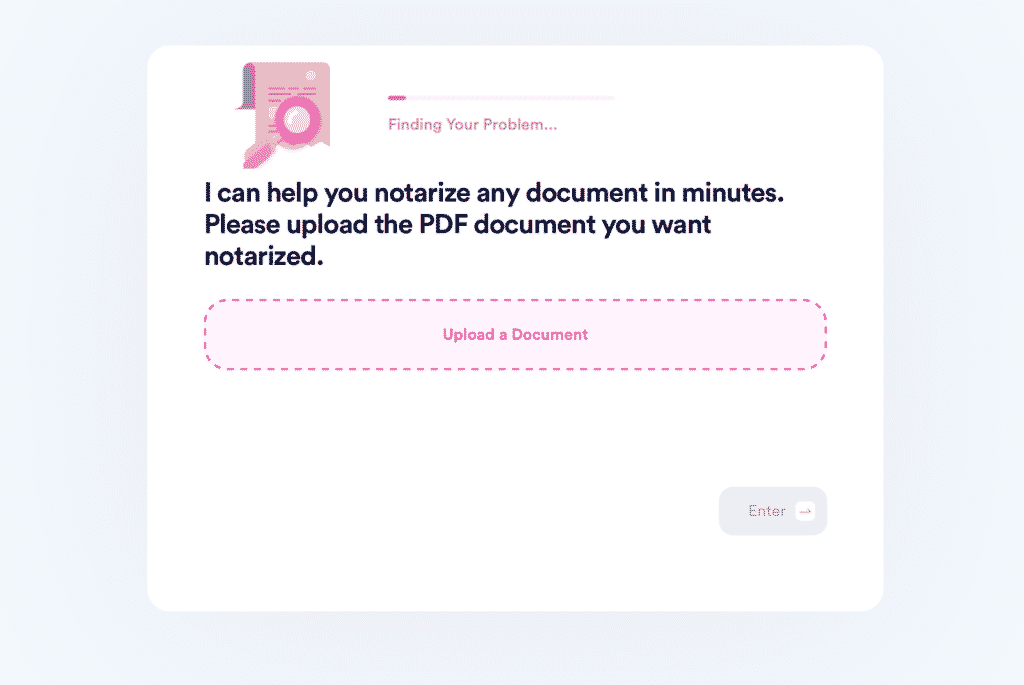 The only step left is to open your inbox and click on the link we will send you. By following the link from the email, you will confirm the appointment with your out-of-state notary.
Your Online Safety Is Our Priority
The benefits of the internet are numerous, but so are the opportunities for scams of all kinds. DoNotPay can help you fight scammers left and right with easy-to-use features, highly customizable to match your needs.
Our app can provide invaluable resources for fighting:
If you're an avid online shopper, we have your back. In case something goes wrong, we will help you contact customer service without holding, request a refund, or even sue the company in small claims court.
Diversity Is Our Middle Name
DoNotPay doesn't stop at online safety. Do you need to set up an appointment at the local DMV, but keep procrastinating because you know how awful the lines are? Are you a prospective college student trying to save on application fees? Have you lost track of all unnecessary subscriptions and memberships that keep draining your bank account?
If the answer is yes, DoNotPay is the right platform for you. Whether you're preparing for government-issued tests or looking for ways to lower your bills, our app will be of assistance.