Don't Bother Visiting a Notary in Santa Clarita, California
Did you know that going to a notary in Santa Clarita isn't the only way to get your affidavits, loan documents, car titles, and other contracts notarized? DoNotPay is here to tell you more about the online notarization process and help you set up a meeting with an online notary in a matter of minutes!
Don't lose precious time on the traditional notarization procedure. and deal with document notarization from the comfort of your car, home, or office.
Crucial Aspects of the Notarization Process in Santa Clarita, California
If you've ever had your document notarized in Santa Clarita the traditional way, you're familiar with all the steps you had to complete, including:
Finding a notary

online or in an institution that employs notaries (e.g.,

banks

,

AAA

stores,

UPS

facilities,

AIM Mail Centers

, and similar)

Booking a meeting

Bringing your document to the notary's office

Providing your ID for identity verification

Waiting until the notary:

Reviews your document

Ensures you're of sane mind and determines that you're singing the document willingly

Performs the appropriate notarial act

Paying

notary fees

Signing the contract in the presence of the notary

Waiting for the notary to complete the notarization by writing a certificate and marking it with a notary stamp and

signature
The standard notarization process is usually slow, burdensome, and subject to errors. For that reason, most Santa Clarita citizens prefer alternative notarization methods.
Other Notarization Methods in Santa Clarita
Besides visiting a regular notary to get your documents notarized, Santa Clarita citizens can also:
Electronic Notarization
E-notaries are officials who notarize digital documents. Like standard notaries public, e-notaries also perform notarial acts in their offices, which can be inconvenient for you. The only advantage is that you can email your documents instead of bringing them with you.
Mobile Notarization
Hiring a traveling notary is a great way to avoid waiting in line in front of a notary office. Mobile notaries don't work from their offices but travel from one client to another instead. These officials can go to cafes, hospitals, airports, nursing homes, clients' homes and offices, and many other places to perform notarization.
The main drawback of this type of notarization is the price because most mobile notaries charge high travel fees.
Does Santa Clarita Allow Online Notarization?
While most states have decided to allow remote notarization, California still forbids notaries to notarize documents virtually. Luckily, all California citizens can have their documents notarized by a remote notary from another state.
Online notarization is much more convenient than the traditional procedure and more affordable than the traveling notary service. It allows you to handle document notarization via a video call, which saves you a ton of time.
If you're not sure which states allow online notarization or how to connect with a remote notary, DoNotPay is here to help you out!
Finding an Online Notary Has Never Been Easier—Rely on DoNotPay
The first step to online notarization in Santa Clarita is finding an out-of-state online notary. DoNotPay's Notarize Any Document product will make your search super easy. We will find a notary for you and send you a link that enables you to book a virtual meeting.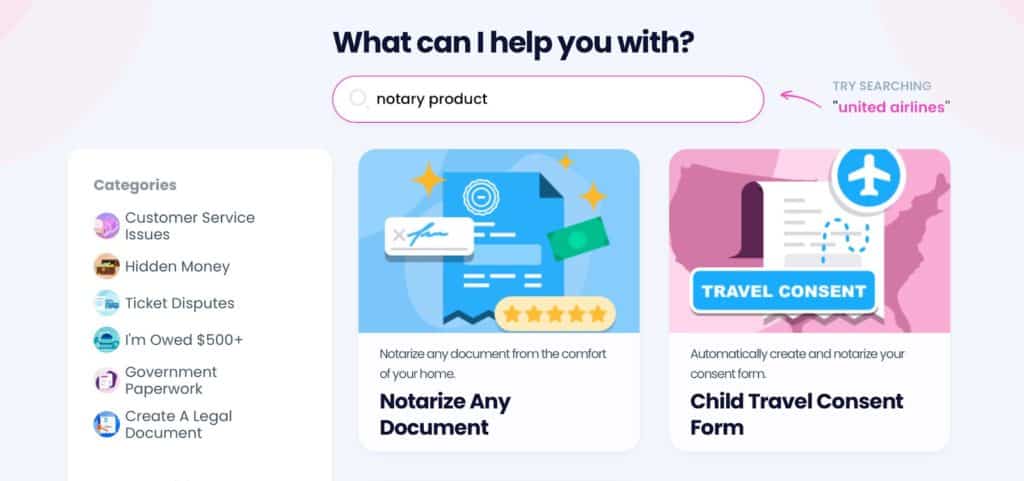 Our app can help you connect with an online notary from any state, including:
To get your documents notarized without leaving your home or office, follow these steps:
Pick our

Notarize Any Document

product

Upload your document and type in your email address

Open the email we send you

Click the link to make an appointment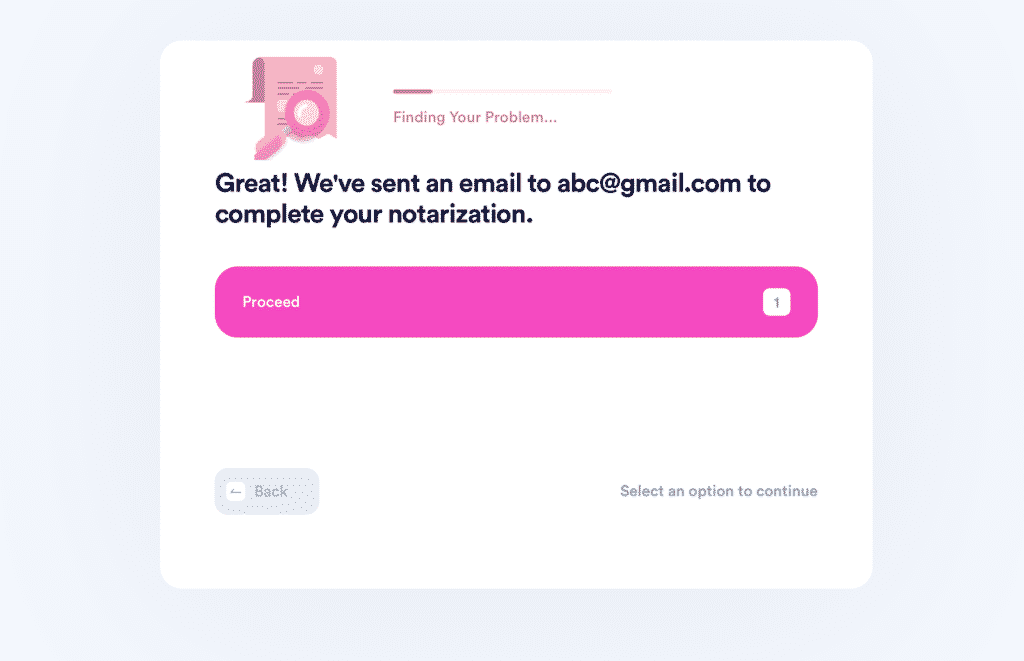 Notaries we work with are available 24/7, which is useful if you need to get your documents notarized during holidays or weekends. Another advantage of DoNotPay is product integration that allows you to draw up, fax, and notarize documents through the same app.
How High Are the Notary Fees in Santa Clarita?
While not all states dictate the highest fee that notaries can charge, most of them—including California—do. If notaries exceed the price limit imposed by the state, they can suffer severe consequences, including suspension.
These are the maximum fees that notaries in Santa Clarita can charge for each notary service:
| | |
| --- | --- |
| Notarial Act | Fee Limit |
| Notarizing a deposition | $30 plus $7 for the certificate and $7 for administering the oath to the witness |
| Other notarial acts, such as: | $15 per signature |
Apart from covering the price of notarization, you will also have to meet other administrative fees, e.g., travel, postage, and phone call costs. The State of California doesn't set a limit to these costs. Notaries are free to establish their own prices for administrative fees.
Each notary has to disclose his or her fees by showcasing the price list in the noticeable place in the office or on the website. Before you decide whether or not to make an appointment with a notary, you have the right to call him or her and ask about the total price of the service.
DoNotPay Has the Most Convenient Solution to Most of Your Problems
Whether you want to cancel subscriptions, request refunds for services, purchased items, or late delivery, or enjoy free trials without being charged, DoNotPay has a product for you.
We strive to help you users solve their issues as quickly and effortlessly as possible. With us, you can enter various raffles and sweepstakes, claim warranties or insurance, report copyright infringement, and reduce your property taxes in less than five minutes.
Protect Your Privacy With DoNotPay
Protecting your privacy can be challenging nowadays since most platforms require your phone number and email address upon registration. DoNotPay is here to ensure your personal info stays as secure as possible. Choose our Burner Phone product to register for services without phone verification or our virtual credit card if you want to use a randomly generated email address and payment details.
By using a fake phone number and email address, you can also avoid receiving annoying spam emails, text messages, and shady robocalls. DoNotPay can even make correspondence with inmates safer. If you don't feel comfortable sharing your address with an inmate, DoNotPay can receive the letters for you, scan them, and forward them to you risk-free.