Avoid Hiring a Notary in San Clemente and Choose Online Notarization
If you live in San Clemente, California, you can get legal documents—such as deeds, affidavits, or powers of attorney—notarized in person. The two available choices include visiting a local notary's office or hiring a mobile notary.
If none of these options sound appealing to you, there is another way—hiring an out-of-state online notary.
DoNotPay will explain what it means to hire a notary in San Clemente and why online notarization is the way to go!
Duties of a Notary Public in San Clemente
All notaries in San Clemente are authorized by California law to perform the following acts:
Take

acknowledgments

Administer oaths and affirmations

Certify

copies

Take depositions

Complete proofs of execution

Notarize signatures on legal documents and immigration papers
Notaries in San Clemente have to complete specific steps before notarizing your document. Their job is to prevent fraud from taking place during the signing. They ensure lawful notarization by:
Meeting you personally to complete the process

Checking your ID to confirm your identity

Asking you a series of questions to assess your mental state and awareness of the document's content

Determining if you are signing the document of your own free will

Glancing over the document to make sure there are no blank spaces or missing pages

Watching you sign the document
If everything checks out, the notary will complete the notarial certificate, sign it, and place a seal. They will also make an entry in a notary journal detailing every step of the process—including the fee, type of notarization, and the ID used for identification.
What Does Notarization in San Clemente Entail?
If you choose to get your documents notarized in person, you will have to complete the steps described in the table below:
Steps for the In-Person Notarization
Description

Find a local notary

You can try

locating a notary public

by visiting local places, such as:

They typically have an in-house notary, but it doesn't hurt to call them ahead and check.

Another option is to visit notary search websites, including:

Make sure to adjust the filters for finding regular and mobile notaries

Schedule an appointment

Traditional notaries have limited working hours. That can lead to conflicting schedules between you and the notary, which causes a delay in setting up an appointment.

Mobile notaries are more flexible and can visit you even on the weekends

Meet with the notary

If you choose the traditional method, you are required to visit the local notary's office at the agreed time. Mobile notaries will travel to meet with you at any sensible location, such as your home, office, or a coffee shop

Pay the fee

California sets a cap on notary fees

, but mobile notaries charge for travel expenses on top of regular fees

Complete the process

The notary witnesses you signing the document in person. Since getting documents notarized in person during the

COVID-19 pandemic

can be inconvenient, notaries and clients have to:

Wear masks

Keep an appropriate distance

Follow other health safety instructions
Why Is Online Notarization the Best Choice?
Many U.S.states have embraced remote online notarization as a permanent solution. Some of those states are:
Since California doesn't allow its notaries to perform online notarizations, you can find and hire an out-of-state online notary. Better yet—, and let us find one for you in a flash!
Online notarization offers perks you won't get with other notary services, including:
Practicality

—All you need to get documents notarized online is a strong internet connection and a digital device. You can complete the procedure on a video call with the notary

Document security

—The notary will notarize your document with an encrypted electronic signature and stamp, which minimizes the chances of subsequent document alterations

Speed

—Scheduling an appointment is fast since online notaries are available

24/7

Safety

—You won't have to risk your health in these dangerous times by meeting the notary in person
DoNotPay Is Your Ticket to Smooth Notarization
If online notarization ticks all your boxes, subscribing to our AI-driven app is the way to go.
We will streamline the notarization process by connecting you with an online notary and helping you schedule an appointment.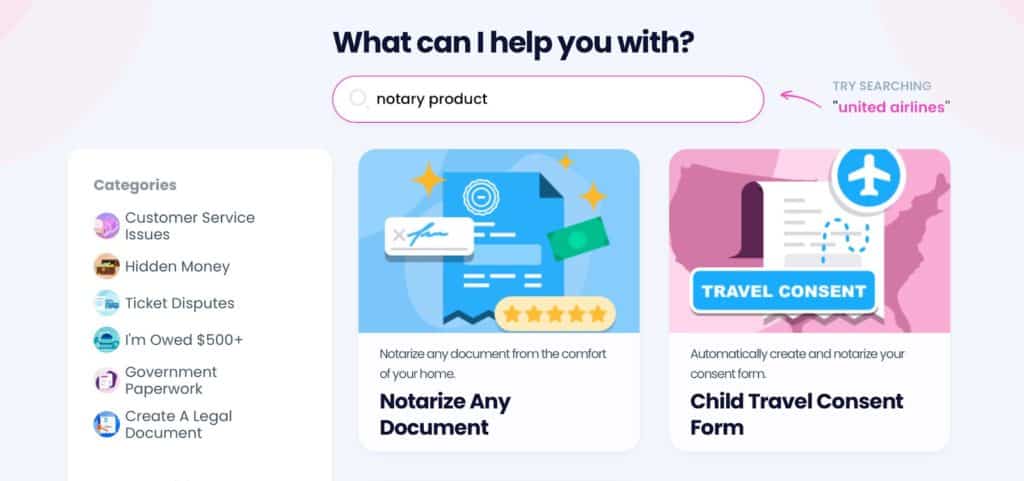 To start the procedure, and follow these steps:
Select the

Notarize Any Document

feature

Upload the document you want to have notarized

Type in your email address
Soon after completing these steps, you will receive a link. Follow it to schedule an appointment with an online notary. The rest is simple—meet them at the agreed time and complete the notarization.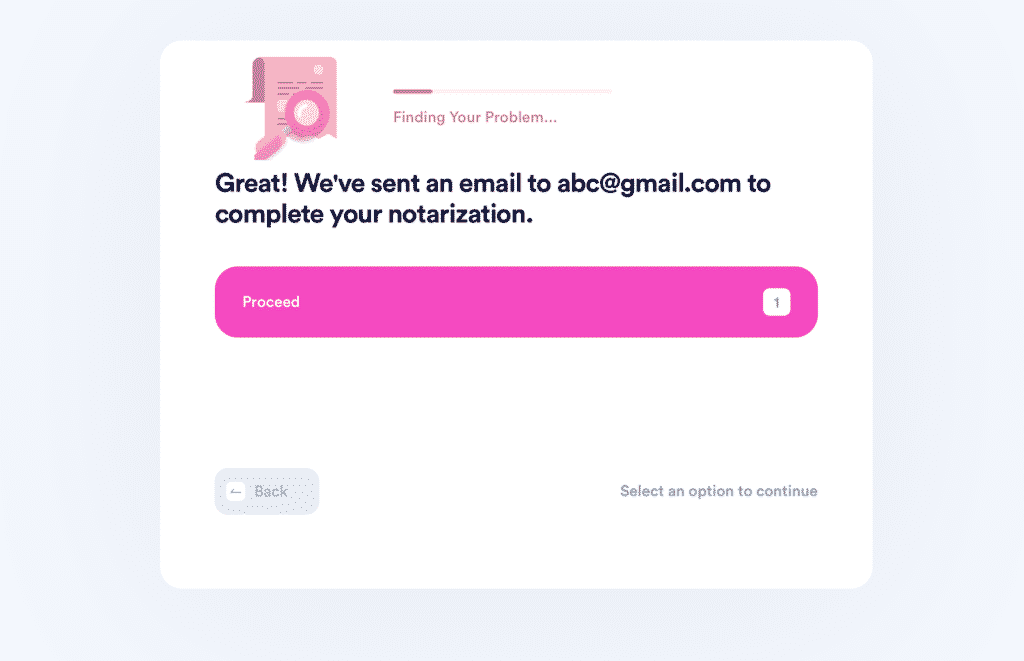 Learn About DoNotPay's Awesome Products!
DoNotPay is a multifunctional app that can solve numerous everyday challenges swiftly.
You can use our app to protect your work from copyright violations, schedule your driving exam or any other appointment with the DMV, reduce your property taxes in a few steps, and similar.
We have created many useful products to help our users take care of their issues through the same app. With us, you can:
DoNotPay Connects You With Your Loved Ones
Sending letters to inmates can be difficult since you have to follow certain rules to a T to avoid having your letter rejected. The situation is even more complicated if you don't know where your incarcerated loved one serves time. DoNotPay's app can help you locate prisoners and correspond with them without worrying whether you're breaking any rules.
Do you want to send a letter, but you don't feel like heading over to a post office? By using our mailing service, you can mail as many letters as you want from the comfort of your home. With DoNotPay, you can also send online faxes in under five minutes!
Email and text spam is something that everyone experiences at least once in their lives. DoNotPay has a solution for that too. Access your DoNotPay account and count on us to help you block spam and get compensation by reporting pesky robocalls.