Don't Bother Visiting a Notary Public in Syracuse, NY!
Getting your affidavit, car title, bill of sale, and other contracts notarized can be a stressful process. Besides having to prepare all the documents, you also need to waste time searching for a notary and going to his or her office. Luckily, most states—including New York—allow remote online notarization. In this guide, you'll find out how to connect with an online notary public in Syracuse, NY, and manage document notarization hassle-free.
, and we will help you find a remote notary and have your contracts notarized in less than five minutes!
Ways To Handle Document Notarization in Syracuse, New York
Syracuse citizens can handle document notarization by:
Issues With the Standard Notarization Process
There are three main issues with the traditional notarization method:
Problems With Traditional Notarization

Explanation

Finding an available notary in your proximity can be challenging

When searching for a notary, you will lose time:

Ideally, you will find a notary public that doesn't live too far, but that's usually not the case. Even if you manage to locate a notary in your area, you still need to schedule a meeting a few days or weeks in advance

The whole process can be time-consuming

Once you set up a meeting with the notary, you need to waste ages completing the following steps:

Gathering your documents

Heading over to the notary's office

Providing your ID for identity verification

Acknowledging that you're:

Familiar with what's written in the documents

Signing the contracts voluntarily

Waiting until the notary checks your documents to ensure there are no blank spaces or missing pages

Signing the documents in front of the notary public

Paying

notary fees

Waiting for the notary's seal,

signature

, and certificate

You're more likely to make a mistake

If you forget your ID or make any other mistake—such as bringing an incomplete document—you need to reschedule a meeting and wait even longer
Find Out More About Online Notarization and Get Your Contracts Notarized Effortlessly!
Why would you lose time on the standard notarization process if you can deal with contract notarization from the comfort of your home? New York State decided to allow remote notarization as a response to the COVID-19 pandemic. This means that all NY residents can deal with document notarization from the comfort of their homes.
The notary you connect with will perform the notarial act and witness your signature via a video call. He or she will provide a digital certificate and place the official electronic signature to complete the notarization.
Most online notarization platforms work with notaries who operate around the clock, which means that you can get your contracts notarized whenever you want.
Need Help Finding a Remote Notary in Syracuse, NY? Rely on DoNoPay!
If you're looking for an easy-to-use online notary app, DoNotPay should be your choice. We have developed a handy product that can help you find a remote notary and book a meeting in a few clicks.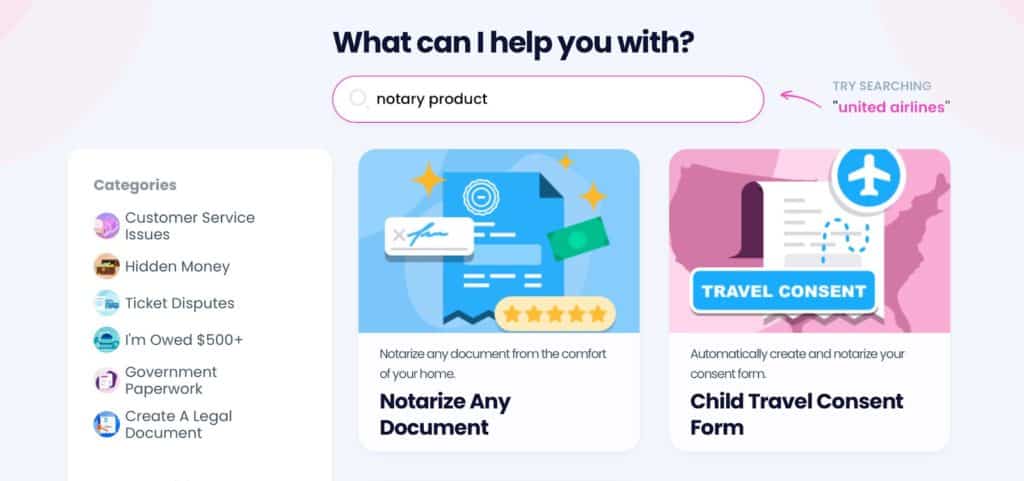 To use our Notarize Any Document feature, you need to complete these four steps:
Select the

Notarize Any Document

product

Upload your document

Type in your email address
Open our email and click on the link to set up a meeting with a 24-hour notary.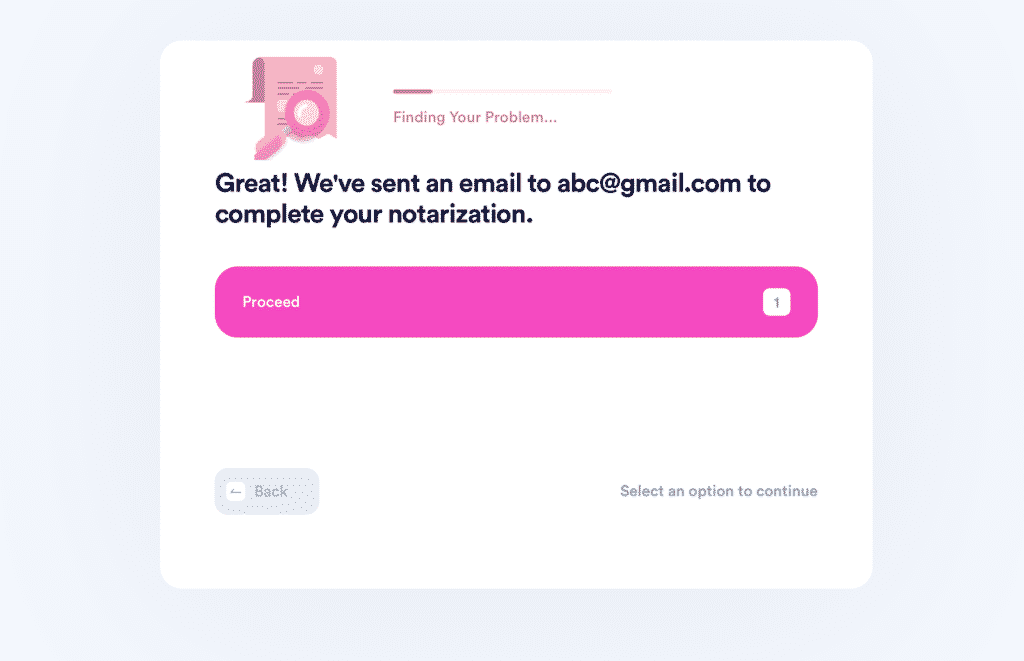 If you need to draw up a legal document before getting it notarized, you can use DoNotPay for that as well. We integrated our notary product with the Legal Documents one. Product integration enables you to create numerous documents—such as lease agreements and operating agreements—and get them notarized right away.
You can use our app not only in New York but also in any other state, including:
Syracuse Notary Fees Explained
New York law limits the fees that notaries can charge for notarial acts. Take a look at the following table to find out how much Syracuse notaries can charge for their services:
Notarial Acts
Maximum Notary Fees

Jurats

$2 each

Oaths and affirmations

Proofs of executions

$2 plus $2 for every witness

Acknowledgments

Protests

$0.75 plus $0.10 per notice
Mobile notaries in NYS have the right to charge additional fees to cover their travel expenses. They must negotiate the price with each client before scheduling an appointment.
Save Some Coins With DoNotPay
Are various subscriptions and memberships burning a hole in your pocket? DoNotPay can help you cancel all of your memberships in a matter of minutes without having to contact customer service reps.
Next time you want to register for a free trial, prevent unexpected costs with our virtual credit card. Once the trial is over, you'll be unsubscribed right away because our virtual credit card doesn't contain any money. We will also generate a random email address you can use if you want to protect your privacy and avoid spam marketing emails.
Do you need help claiming warranties and insurance policies? DoNotPay can help with that too.
Should you need assistance requesting refunds for purchased products, canceled flights, or late deliveries, we've got your back!
Avoid wasting money on lawyers—DoNotPay is here to help you sue anyone in small claims court and create numerous legal documents in the blink of an eye!
DoNotPay Can Help You Earn Money Too
DoNotPay users can save hundreds of dollars thanks to our app, but did you know that we can help you earn a few bucks as well? Our app enables you to claim missing money under your name or file your application for paid clinical trials in less than five minutes.
You can even get compensation for reporting robocalls or apply for a crime victims compensation program in your state by signing up for our app and following a few simple steps.