How To Get Your Documents Notarized by an Online Notary in Ann Arbor
Ann Arbor citizens usually need a notary public to notarize their wills, car titles, affidavits, copies of documents, and similar. Since the standard notarization process is outdated and cumbersome, most people choose to have their documents notarized remotely.
If you're looking for an online notary in Ann Arbor, DoNotPay has got your back! We will connect you with an available remote notary in a matter of minutes and help you get your documents notarized hassle-free.
What Is a Notary in Ann Arbor Authorized To Do?
Notaries public in all Michigan cities can take acknowledgments, witness document signing, administer oaths and affidavits, and attest to signatures. Every notary is obligated to:
Verify the identity of the signers by asking for a valid government-issued ID

Ask the signers if they know what's written in the contracts they're about to sign and if they are doing it voluntarily

Reject notarization if he or she:

Can't identify the signers

Notices that the signers are intoxicated or mentally incapacitated

Suspects a fraudulent activity
After ensuring that a notarization can be completed, a notary has to write a notarial certificate. The certificate needs to include:
Date of notarization

Name of the notary

Name of the county

The notary's commission expiration date
Notaries in Michigan aren't obligated to place their seal on the notarized documents.
How Much Do You Have To Pay To Have Your Documents Notarized in Ann Arbor?
While some states allow notaries to determine how much to charge for their notary services, Michigan is one of the states where the law dictates the notary fees. Ann Arbor notaries can charge up to $10 per notarial act.
The law doesn't impose the maximum travel fee that mobile notaries charge. Each traveling notary needs to discuss the fee with the client before document notarization takes place.
Where To Find a Notary Public in Ann Arbor, Michigan
Before you go to get your documents notarized, you need to find an available notary and schedule a meeting. Besides searching for the closest Ann Arbor notaries on Google, you can also find them on various websites and in public institutions:
Would you like to avoid wasting hours trying to find a notary on your own? You should and allow us to connect you with a 24/7 notary in no time!
Standard Notarization Process Explained
Should you choose the traditional, in-person notarization, you have to follow these steps:
Finding a notary in Ann Arbor and scheduling a meeting a few days ahead

Collecting all required documents and bringing them to the notary's office

Providing your ID

Stating that you're aware of the contents of the contract

Acknowledging that you're signing the documents of your own free will

Waiting while the notary checks everything is okay with the documents

Paying notary fees

Signing the documents in front of the notary

Waiting for a notarial certificate
If you feel overwhelmed by all of the steps you need to take, you'll be glad to know that traditional notarization is not your only solution. You can also hire a mobile notary who will come to the previously agreed-upon location—be it a cafe, hospital, your home, or your office—to perform notarization.
Do you have to notarize documents in digital format? You should either head over to an electronic notary or get your contracts notarized remotely.
Why Is Online Notarization a More Convenient Solution?
The remote notarization process is a much faster and convenient option than in-person notarization. Instead of spending hours going to a notary's office, you can connect with online notaries and finish the procedure via a video call.
During the online notarization procedure, a notary will check your ID and witness your signature virtually, and then provide a certificate in digital form.
DoNotPay Can Help You Notarize Documents as Effortlessly as Possible!
Since there are many online notary platforms on the internet, many people aren't sure which one to choose. DoNotPay is here to make the decision easier!
Our Notarize Any Document product is not only convenient and super easy to use, but it also gets the job done in the blink of an eye. As opposed to other online notary apps, DoNotPay enables you to draw up any legal document, fax it, and get it notarized through the same app.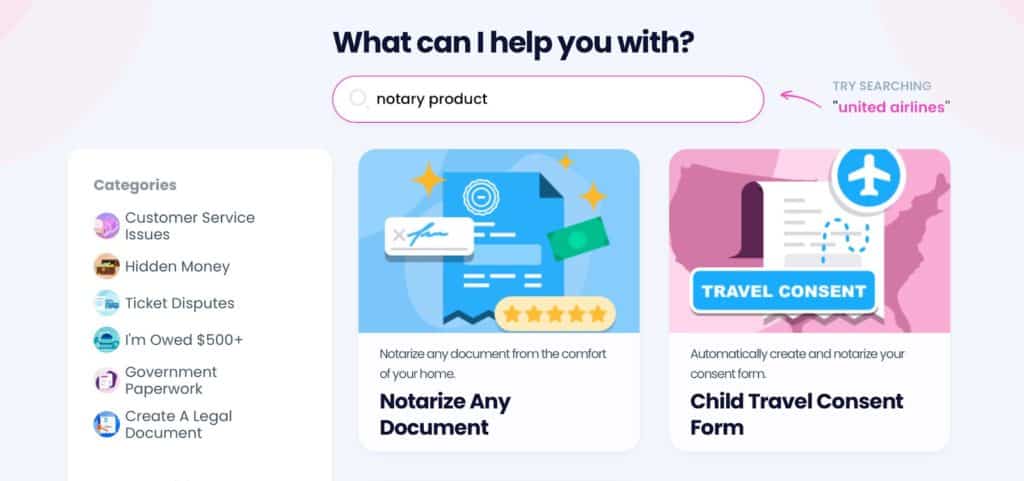 You can finish the entire process in under five minutes by following these simple steps:
Pick our

Notarize Any Document

product

Upload your document

Enter your email address

Open the email you receive from us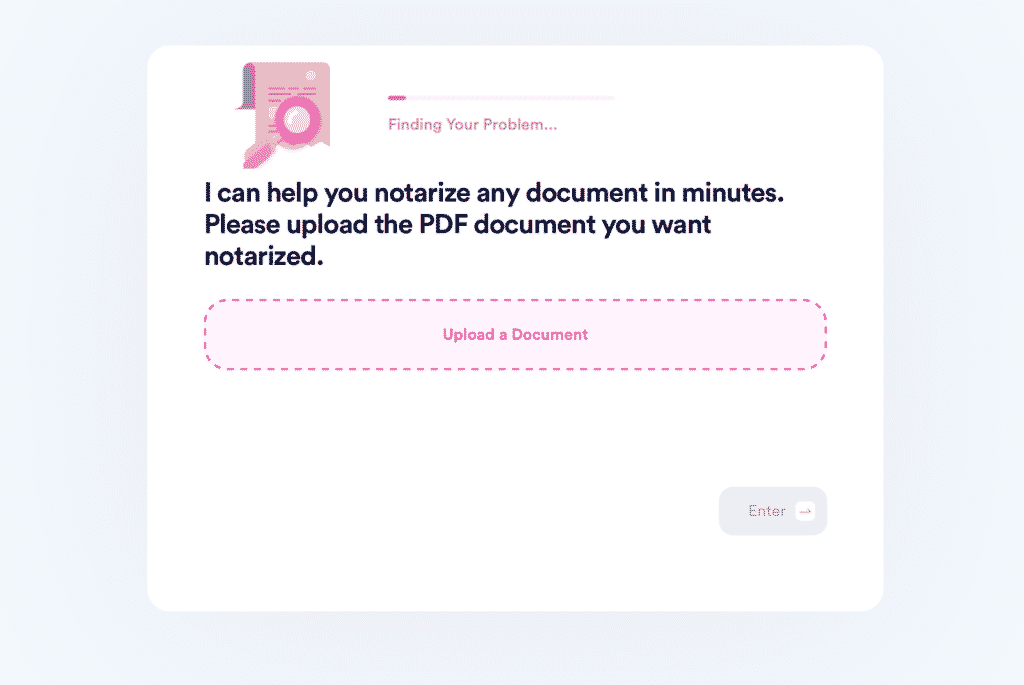 The email will include a link that enables you to set up an appointment with an online notary in a few clicks!
Michigan isn't the only state you can use our app in. DoNotPay can help you book a meeting with notaries from any state, including:
What Else Can Our Award-Winning App Do for You?
If you think that's impressive, wait until you've heard about other features we boast!
Our powerful app can draft paperwork for you, locate unclaimed funds under your name, cancel subscriptions, sue robocallers, and protect you from stalkers and harassers—all in one nifty browser app!
Our services have been recognized by the esteemed ABA Brown award, serving as a testament to our abilities to assist you with your small claims issues, college fee waivers, public records, copyright protection, and much more!
More Benefits of DoNotPay
DoNotPay is a useful tool for handling many otherwise annoying life's trifles, including: