Understanding the ModCloth Return Policy From A to Z
Buying a product only to realize you don't like it is not uncommon, especially when you shop online. Returning such a product can be challenging. Stores have convoluted return processes on purpose because they want to discourage customers from requesting a refund.
In this article, DoNotPay will cover the ModCloth return policy and explain all the details that you need to know before you file a return request.
We'll also show you how to use our Item Return Request product to speed up the process and make your life easier. Once you sign up, you can use DoNotPay to file a return request with hundreds of different companies, including T.J.Maxx, JCPenney, and Gap.
Terms of the ModCloth Return Policy
The ModCloth return policy states that you have to file a return request within 30 days of the shipping date for the request to be valid.
Bear in mind that ModCloth starts counting from the day they send you the package, which means that you probably have less than 20 days to react—if you're unhappy with the item, or it arrives damaged, you should act swiftly.
The company sets some restrictions when it comes to items for which they will accept your return request. The items you return must not be:
Promotional items or free gifts
Labeled as "final sale" ones
Washed, used, worn, or stained
Lacking any tags
They also have a list of products that are non-returnable. Those products belong to the following categories:
Intimates
Socks
Tights
Books
Cosmetics
ModCloth Return Policy—How To File a Request
Since ModCloth is an online retailer, you can file a return request only online. To do so, you have to complete the following five steps:
Visit the company's Returns Portal page
Enter your order number and other required information
Print the return form and the return label
Place your item inside a box together with the return form
Ship to ModCloth via FedEx or USPS
The return label is free, and ModCloth will cover the shipping costs in case of a faulty or incorrect product. If the reason for your return is not due to the company's fault, they will deduct $5.99 from your refund. The refund will be sent to the original form of payment.
If you don't want to use the prepaid return label, you can ship the time with a different carrier. In that case, address the package to Attn: ModCloth Returns, 2250 Roswell Dr, Pittsburgh, PA 15205.
Bear in mind that there are shipping requirements for certain products. Check the table below for more info:
| Product Category | Shipping Requirements |
| --- | --- |
| Shoes | You must pack them in their original shoe box without any postage stickers |
| Swimwear | The hygienic liner must be intact |
| Non-apparel items | These products must be in their original packaging |
If you don't fulfill these requirements, ModCloth will deem your items non-refundable.
ModCloth Return Policy—Use DoNotPay To File a Request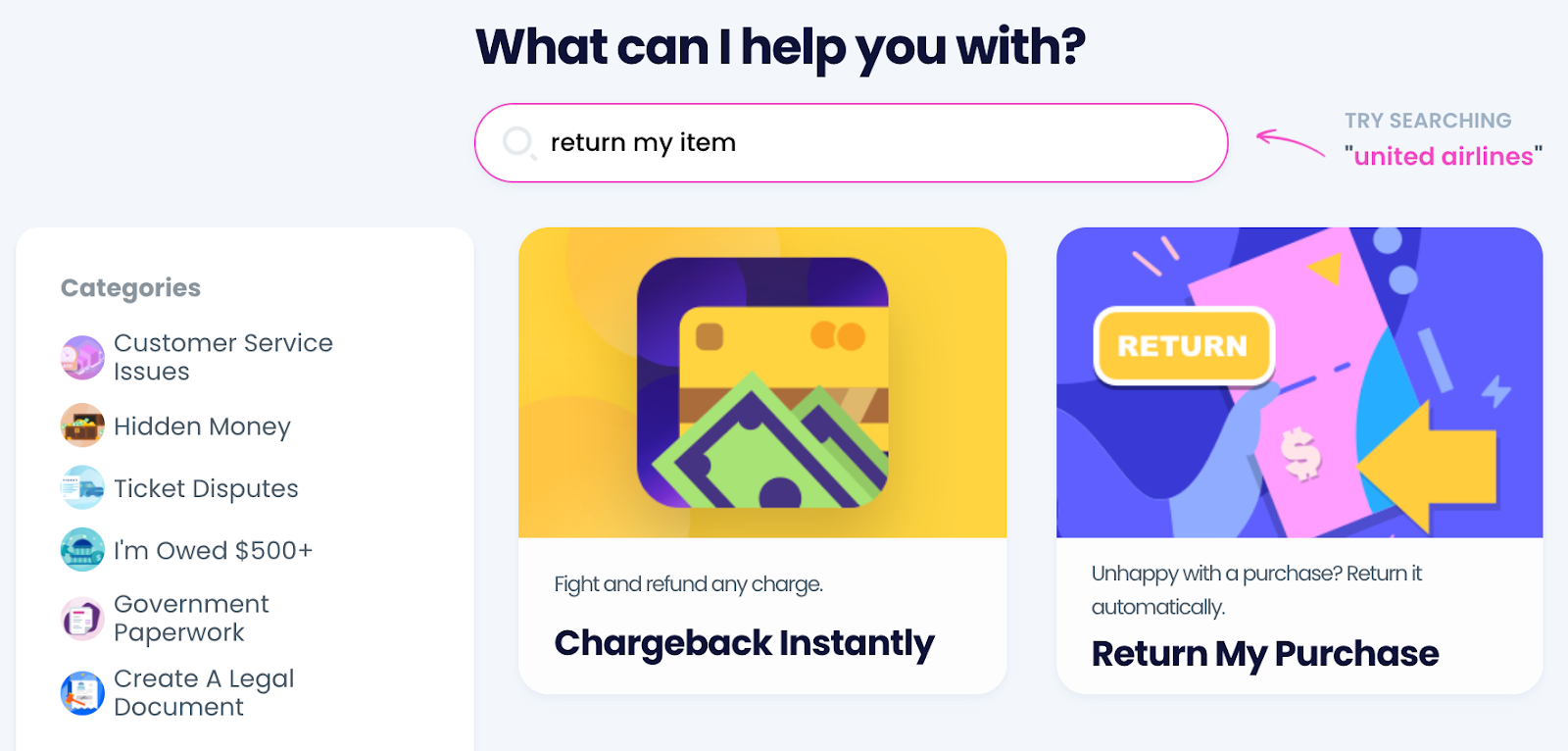 If you don't want to deal with the hassle of using the ModCloth portal and generating and printing paperwork, you can avoid the whole process. By opting to file a return request with DoNotPay's help, you allow us to do everything on your behalf. You only need to do the following:
using any web browser
Navigate to the Item Return Request feature
Answer a few questions from our chatbot
Click on Submit
Once you ship the product to ModCloth, you can sit back and leave the rest to us as we will reach out to ModCloth regarding your return.
How Long Does ModCloth Take To Respond?
Once they receive the item, ModCloth takes up to 14 business days to review your request and decide on its outcome.
If you don't want to wait that long, you can use DoNotPay's help to accelerate the process. When you file a return request with us, you can set a date by which you want your request resolved. Then, we will include a deadline in your request, and ModCloth will have to respect it.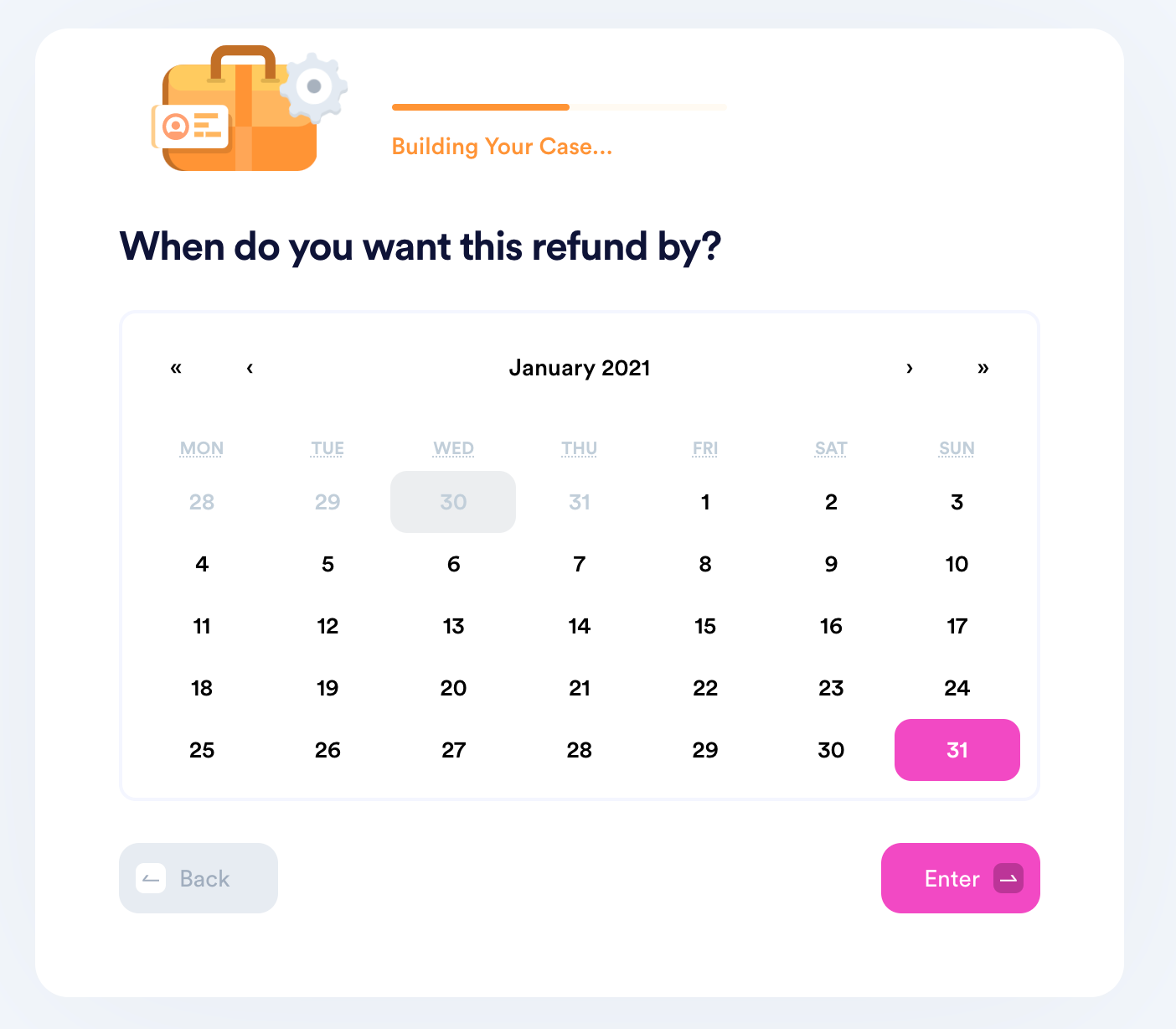 DoNotPay Can Help You Demand an Instant Refund From ModCloth
If you return an item to ModCloth and don't receive a refund even though you deserve it, you can use our app to demand what's rightfully yours. We will contact ModCloth and make sure the company respects your customer rights.
All you have to do is and follow these steps:
Click on the Chargeback Instantly feature
Select Get Protected and answer a few questions
Click on Sign and Submit
With your e-signature, you authorize DoNotPay to deal with ModCloth and ask for the refund you deserve.
How You Can Use DoNotPay To File Return Requests With Other Companies
ModCloth is not the only company whose product you'd like to return as effortlessly as possible? With DoNotPay, you can forget about going to a store to file a return request or wasting time navigating confusing websites. Repeat the process above to request a return from a number of other companies, including:
Item Returns and Other Annoying Tasks Take but a Minute With DoNotPay
Looking into resolving other tedious bureaucratic tasks with the help of our app? Check out a fraction of our product range that can assist you with:
Don't Stop There—See How We Can Help You Even Further
You can count on our app's assistance if you need to cancel any subscription, demand a refund from a company or airline, get help with utility bills, reduce your property taxes, get a tourist visa, appeal banned accounts, contact embassies, or get cash back on gift cards.
Think you have some missing money? Claim it before the government does it in your stead! Need help preparing for a government test? Skim through our guides! Want to schedule a DMV appointment in a snap? We'll do it for you! Have any other obstacles? We'll get rid of them in the blink of an eye.