Everything You Wanted To Know About Marietta Notary Services
Despite being a crucial step in many legal procedures, notarization is usually a lengthy and complicated process. Any mistake in the signing of your document or a forgotten ID may lead to a failed procedure. This is why you should know more about notary services at your location and learn how to avoid all potential difficulties.
This article contains all you should know about Marietta notary services in one place. Check out DoNotPay's handy manual and get a notary's signature effortlessly, without paying a visit to a notary's office!
What Acts Can Notaries Public in Marietta Perform?
Wondering what the duties and responsibilities of Marietta notaries are? Check out the table below to determine what acts a notary public can and cannot perform.
Notaries in Marietta Can:
Notaries in Marietta Can't:

Be signers of the documents they should notarize

Be involved in the transactions related to the notarial acts they are performing

Provide notary certificates containing false information

Notarize a document of the person whose identity they didn't confirm based on:

Personal knowledge

Satisfactory evidence

Execute attachments or garnishments or allow bonds for executing them

Notarize a document signed by the person who was forced into that act
What Notarization Types Are Available in Marietta?
Residents of Marietta can opt for one of the following notarization solutions:
Standard Notaries
Regular or in-person notaries are the most common option. They often work in their own offices but can also be found in various other institutions, such as:
Other financial institutions

Large companies

Colleges, universities, and public libraries

Police departments

Insurance companies

Clerk offices

Law firms

Money transfer stores
To have a document notarized by one of these officers, a client must schedule an appointment via phone or online and come to the notary's workplace. They should bring a physical copy of the document that needs notarization and a valid ID to confirm their identity.
Electronic Notaries
Electronic notaries perform notarial acts on digital versions of documents. The client must be physically present during the procedure and provide an e-signature. Once they do, the notary does the same and puts a digital seal on the document.
Mobile Notaries
If a person is unable to visit a notary's office, they usually opt for mobile notaries. These officers come to the location specified by the client, be it their home, office, or any other place. Booking a meeting with them may be difficult due to their tight schedules, and they may require you to pay additional travel fees.
Online Notaries
Online notarization consists of verifying the client's identity via a video appointment and placing an electronic notary seal and signature on the document. It's the best option for many people as they don't need to leave their homes or wait in lines to book a meeting.
What Are the Costs of Notary Services in Marietta?
According to Section 45-71-11 of the Georgia Code, notaries in Marietta aren't obliged to charge fees for the notarial acts they perform. If they decide to do so, they must inform the client about the total price of the service before notarization.
The state prescribes a maximum $2.00 fee for each regular notarial act regardless of the number of signatures or pages. Some documents require a special certificate from the Superior Court or the clerk's office, which is an additional $2.00 cost. Including the certificate, the total amount the client pays to the notary shouldn't exceed $4.00. Online notarial acts are more expensive—they usually cost up to $25.00.
Get Your Signature Vetted With Zero Effort Using DoNotPay
Even though notarization may sound too complicated, you can simplify it with DoNotPay's Notarize Any Document feature! Our app features the best tool for arranging an appointment with a remote notary swiftly. Unlike many online notary platforms, DoNotPay is easy to use and provides 24/7 assistance to all users, even on holidays!
Here's how to use this service:
and log in to your account

Select the

Notarize Any Document

option

Upload the document you want to get notarized

Disclose your email address
Once you click on the link we send to your inbox, you will be able to pick the desired appointment time and date!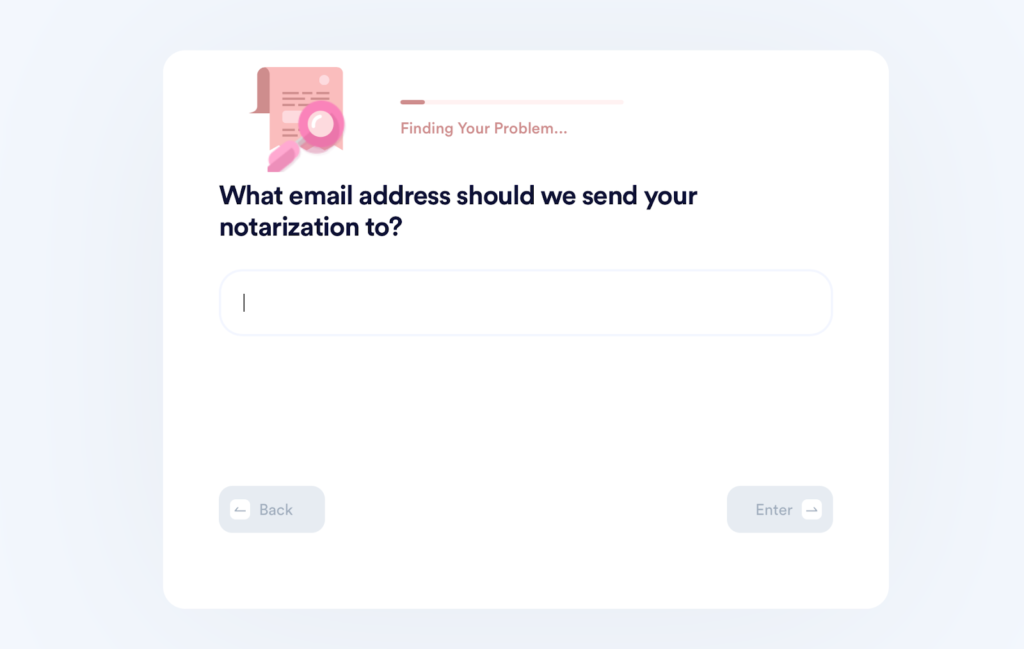 Create and Fax Your Legal Documents Easily With Your Virtual Assistant
Another trick DoNotPay can do is generate concise, state-specific legal documents—no more using pricey lawyers or vague online samples! Our Standardized Legal Documents feature contains numerous document templates you can complete with the necessary info and adapt to your case. To use this feature, proceed as follows:
Search for the contract template you want to edit

Provide more details about the content of your document
After drafting your contract and getting it notarized, use the same app to fax it to the desired number from your phone or any other device!
Rely on DoNotPay To Solve Your Administrative Issues
Getting your documents notarized, drawing up legal paperwork, appealing parking tickets, and similar activities usually require a lot of effort. DoNotPay offers various useful products that can help you deal with administrative problems quickly and save a lot of time. We can assist you with:
Protect Your Consumer Rights With DoNotPay
Companies complicate cancellation and refund processes intentionally, hoping that consumers wouldn't want to spend hours trying to solve the issue they're having. DoNotPay knows how important consumer rights are, and that's why we created numerous products that can help you:
Many people forget to cancel their free trials on time and end up paying for the services they don't even use. To prevent that, DoNotPay has developed a nifty virtual credit card that will allow you to enjoy free trials risk-free. Our virtual credit card will also help you avoid spam email notifications by generating a random email address that you can use when signing up for a free trial.