Return Your Purchase Under the LensCrafters Return Policy
LensCrafters sells prescription and lifestyle eyeglasses from brands like Michael Kors, Ray-Ban, Oakley, Burberry, PRADA, Versace, etc. If you're willing to invest in their pricey glasses, you should also learn the LensCrafters return policy if you need to return your purchase.
In this article, we'll teach you everything about returning items to LensCrafters. If you need a more efficient return process, use DoNotPay to speed everything up.
LensCrafters Return Policy—How To Return LensCrafters Items
LensCrafters' return policy allows customers to return their eyeglasses whether they bought them online or in store. The returned item must:
Be an original purchase in an unused condition
Have no signs of accidental damage, scratches, or breakage
Not have been stolen—LensCrafters will not replace a stolen item
LensCrafters offers a 30-day return window for all purchases. The window starts to count from the day you make a purchase in a store or the day your online purchase arrives at your address.
Returning LensCrafters Item Bought Online
Online purchases can only be returned by mail. To return your item, you will have to request a return via the Return Requests page on the LensCrafters website. You will need to provide your:
First and last name
Street, city, state/province, and country
ZIP code, phone number, and email address
Order number and date
You'll receive a prepaid return shipping label within 48 hours—or an update if your request doesn't get approved. Print out the shipping label, attach it to the item's original box after packing the item, and mail the item back to LensCrafters.
Returning an In-Store Purchase
To return an in-store purchase under the LensCrafters return policy:
Ensure your item is undamaged and in its original condition
Take your item back to the store where you bought it
Present your receipt, and a LensCrafters staff member will help you with the return process
Use the LensCrafters Store Locator to find any store. You can search by state, city, or ZIP code.
Returning Your Ray-Ban Stories Glasses
If you purchased a Ray-Ban Stories item, contact customer service first to begin the return process. To ship back your item, take these steps:
Move all your photos from the glasses to the Facebook View app or to your phone
Delete all personal details and photos by doing a factory reset and turn off the glasses
Place the eyewear and its accessories in the original packaging—if the packaging is damaged or missing, notify customer support, and they will mail you a return kit
Follow the instructions printed on the box
To contact the LensCrafters customer care representatives, use one of the following methods:
Call them at 1-877-753-6727
Live chat with a rep from 9:00 a.m. to 5:30 p.m., Monday through Friday
Contact them via webmail
How Long Does Return Processing Take?
The processing period starts counting from when LensCrafters receives your returned item. It takes 7–10 days to process and refund a returned order.
Refunds are made to the original credit card whenever possible. LensCrafters will send you an email notification when they issue the refund.
Create a Watertight Return Request With DoNotPay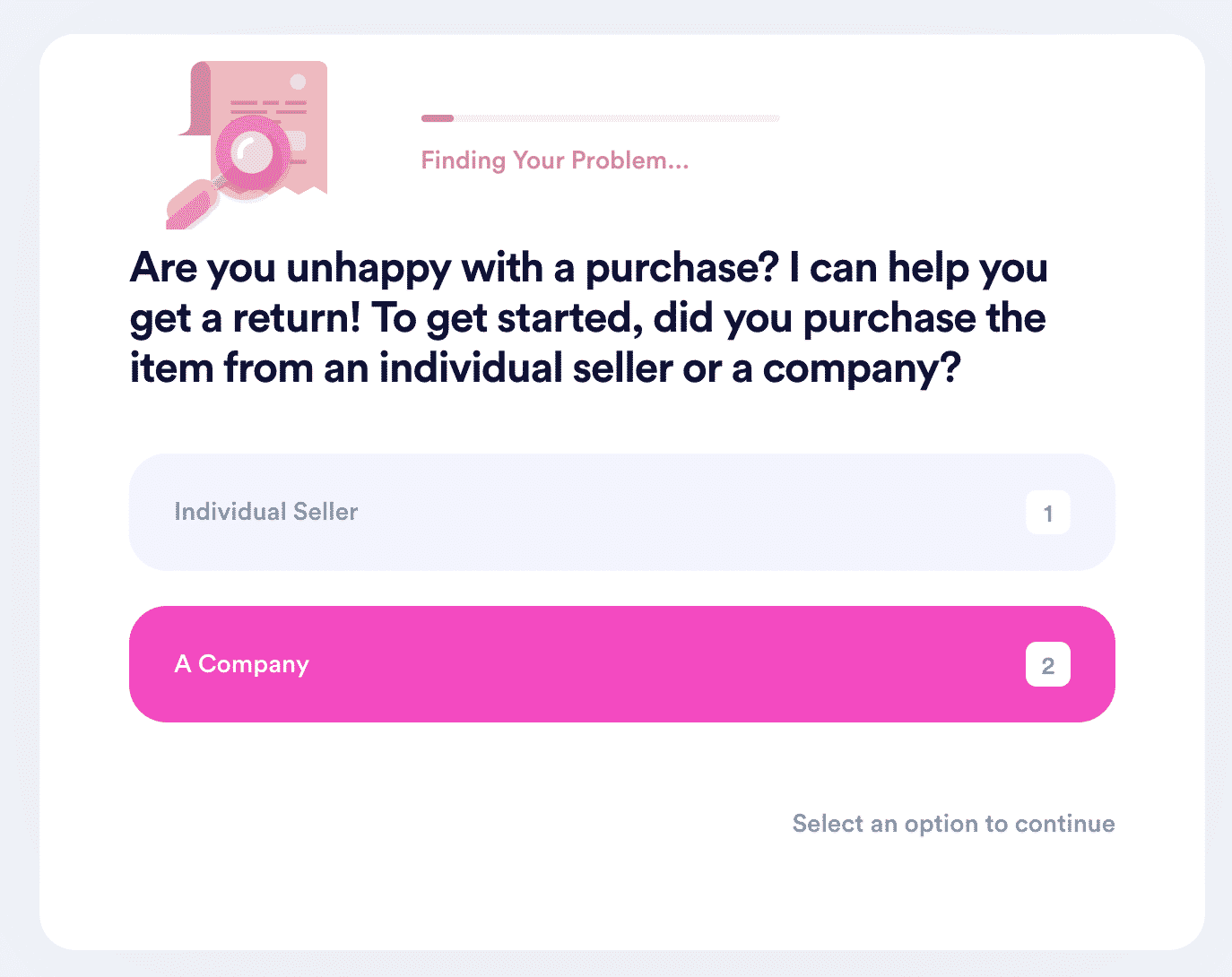 Nobody looks forward to contacting customer support when trying to return an item. With DoNotPay's Return My Purchase feature, you don't have to. Take the following steps to draft a request letter that will save you hours on the phone:
Locate the Return My Purchase feature
Answer a few questions
Submit your request
Your request letter will provide all the crucial details of your return and give a deadline for the merchant to respond to your request. This service also comes with a free return label so you can save on shipping.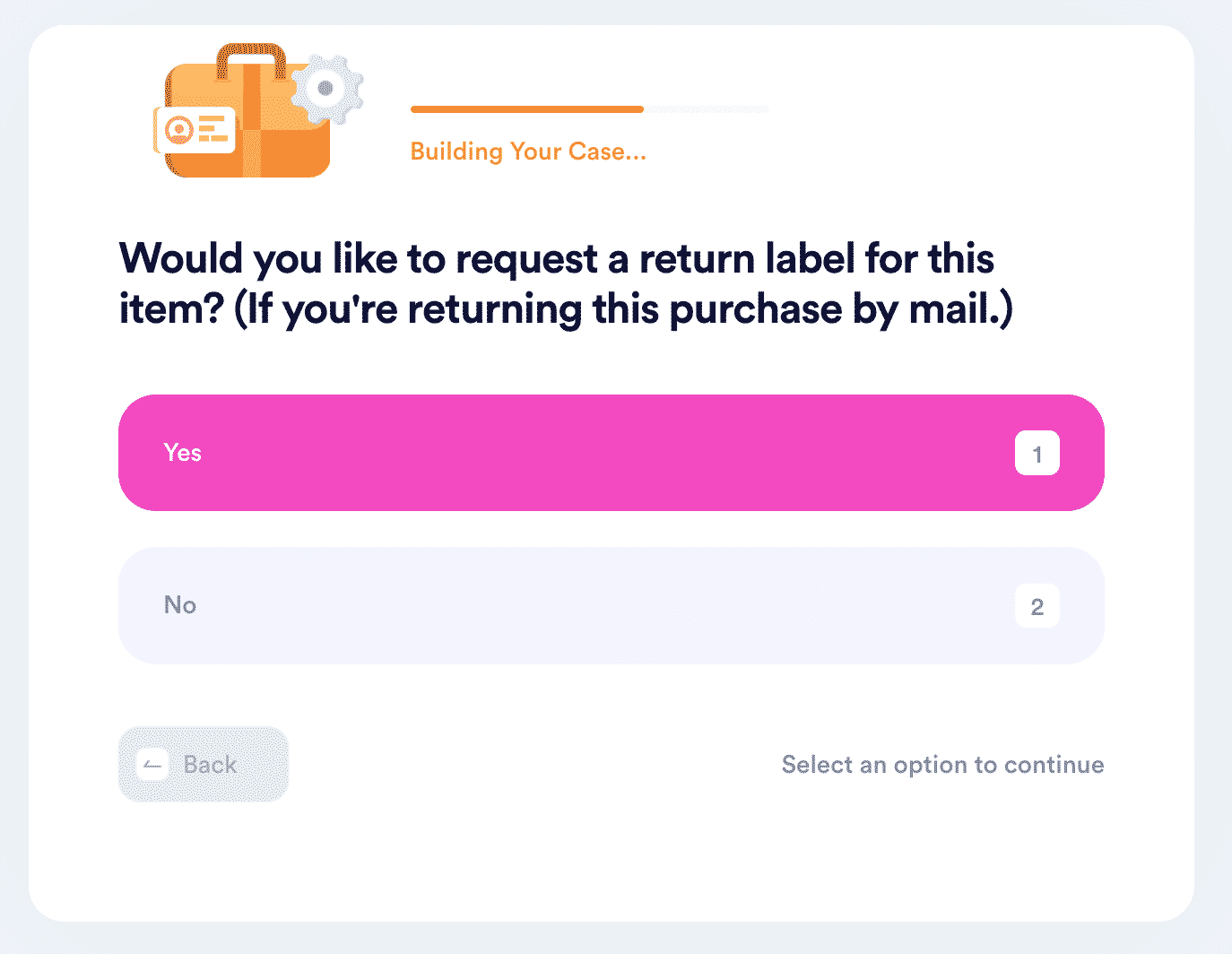 In the table below, you can check out the return policies of some of the other brands that we can help you deal with:
Is the Situation With the Merchant Getting Messy? Take Them to Small Claims Court!
If you feel like the merchant has wronged you, our AI-driven app recognized by the ABA Brown Award will help you sue them in small claims court! You don't need to worry about filling out lengthy court forms or collecting evidence for your case—we'll step in and do it for you!
You can use DoNotPay to generate any legal document you may need for the lawsuit, add legal weight to it through online notarization, and fax it to the court—all in a matter of mere minutes.
Facing any other legal issues? Check out how our app can assist you in:
We Can Help in Many Other Ways!
No matter what kind of assistance you need DoNotPay to provide, you can rely on it to solve any admin or legal issues you may have.
You can use our app to jump the phone queue when contacting any support team, skip the line at the DMV, get cash back on gift cards, create a valid passport photo, appeal any banned account, file an insurance or warranty claim, and get in touch with a loved one in prison in a snap.