How To Give Homeschool Credits for High School
If you are new to homeschooling, the way high school credits work may confuse you. Don't beat yourself up because many parents struggle with the same issue. The list of credits in your child's homeschool transcript is crucial for documenting their progress and enabling them to pursue higher education in the future.
While the term "homeschool credits for high school" may seem complicated, the process is relatively simple if you get the correct info. This article explains the concept and teaches you how to allocate the credits to a homeschooled student with zero complications. We will also help you get the notice of intent to homeschool. and start homeschooling with no stress!
What Are the Homeschool High School Requirements?
There are three types of requirements important for high school credit allocation. Check out the table below for details:
Type
Explanation
Local (state) requirements
High school homeschooling criteria vary depending on the state and district. While some are flexible, others impose strict laws parents and students must comply with. These regulatory acts may not always contain much info about the credit allocation, but they can help you find out:

Properly executed homeschool helps your child achieve the required credits at the end of their high school education

College requirements
If your child wants to pursue higher education, you should look into the particular college credit requirements. In most cases, the institutions have specific rules regarding the required number of credits to apply for college. They can also advise on an adequate homeschool schedule and courses to help you make a learning plan for the child
Your child's requirements
Talk to your child and ask them what career they desire. If they want to go to a top-grade college, it's not enough to achieve moderate success. They will have to earn more credits and participate in specific activities related to their field of interest
How Can High School Students Earn Credits?
In the USA, one high school credit is equal to an entire one-year course. The student should have around 180 completed hours of instruction for the specific subject to finish a course. A completed semester of 60 homeschool hours is equal to half a credit.
According to some statistics, most students achieve between 21 and 28 credits during the entire high school period. If they choose to earn more, they can, but they shouldn't exaggerate as the learning routine can become overwhelming. These credits are usually acquired by combining core homeschool subjects and additional courses and electives.
Here are some ways to earn credits during a high school homeschool year:
Attending an online homeschooling course
Completing a high school book used in regular school programs
Finishing a one-semester course at a local college that offers the particular subject
Taking a regular one-year course in a standard high school
Taking up a one-year unit study
How To Give Credits to a Homeschooled High School Student
When a student attends a regular school, credit allocation isn't a big deal. The process is already set up, and all they need to do is finish all the proposed courses. This isn't the case with homeschooled students.
As a homeschooling parent and coordinator, you must find a way to distribute the credits according to your child's planned program. It gets even more complicated if your homeschool curriculum is quite different from the regular high school one.
Below is a step-by-step explanation of how to do it:
Create a list or table of all subjects and courses your child wants to attend, including all extracurricular, independent, or community college activities
Think about the way to calculate credits, especially if your child chooses various activities that don't belong to planned courses but are related to them. For example, sports activities or yoga classes can count as a part of a credit received for Physical Education. Singing in a choir can bring half a credit to your one-year Music course. Implement field trips and other electives whenever possible. For each regular homeschool course completion, allocate one credit per subject
Enter all the credit information into an official homeschool transcript. The document should include:

Total number of credits per semester
Total number of credits per school year
Cumulative number of credits
Besides credits, you should also include personal and school info, graduation scale, and names and grades for all attended courses
Calculate the student's GPA. You can do it yourself—which can take some time—or automatically via online programs
Once you distribute the high school credits and finish your transcript, you can sign and have it notarized. It is crucial for the child's college application, as most institutions need this document to let homeschoolers pursue higher education.
Discover the Charms of Making a Great Letter of Intent With DoNotPay
Home-based education is not a paperwork-free endeavor. Before you can even start homeschooling your child, you must compose and file the letter of intent to homeschool. With DoNotPay, you can do it without failed drafts and hours of wasted time!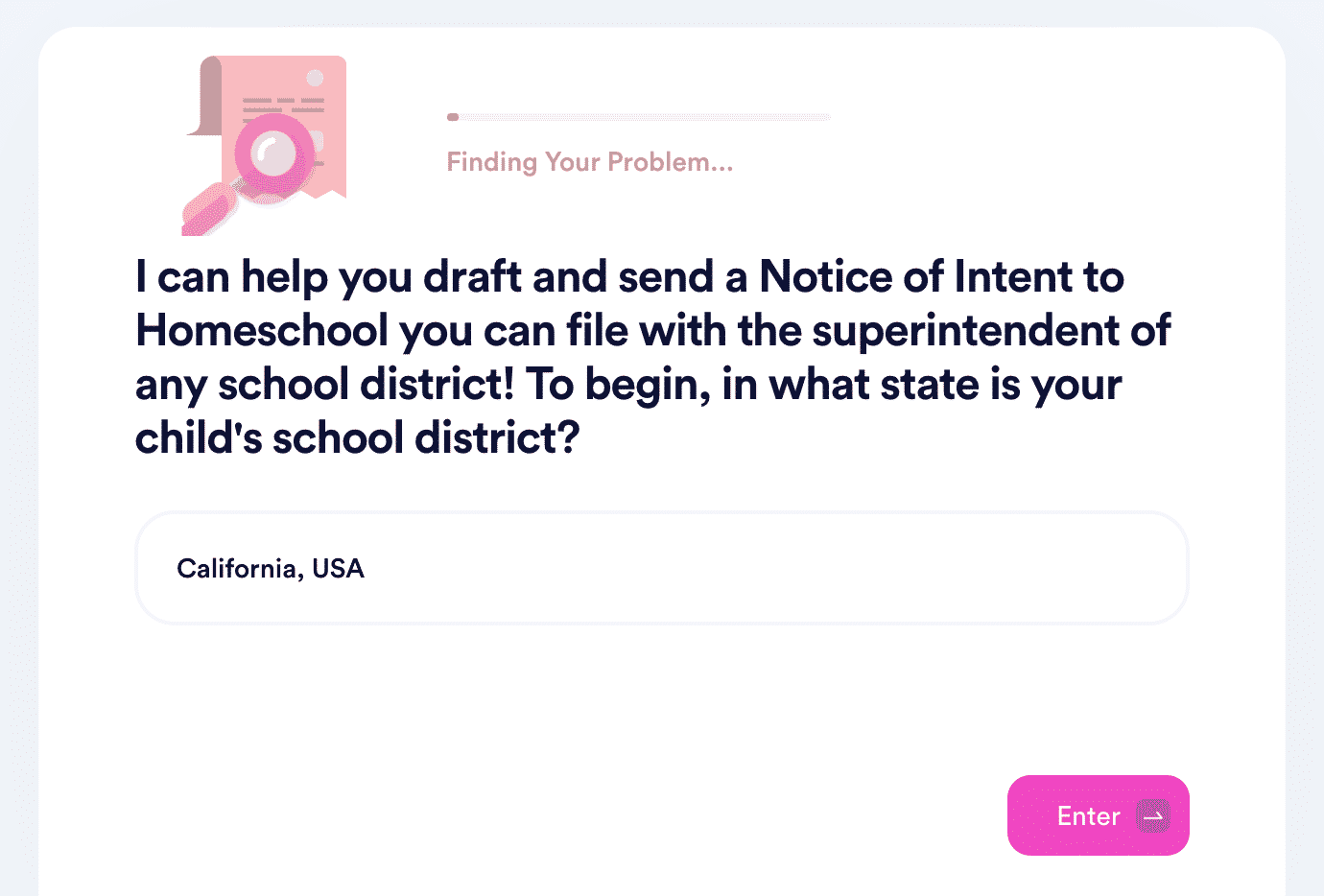 Here's what to do:
Select Notice of Intent to Homeschool
Specify your school district
Give us more info about your prospective homeschool plan
We will automatically create a customized letter and send it in your name. If you want to submit it yourself, our app will generate a digital version and even help you have it notarized. The best part is that the entire process won't take more than five minutes!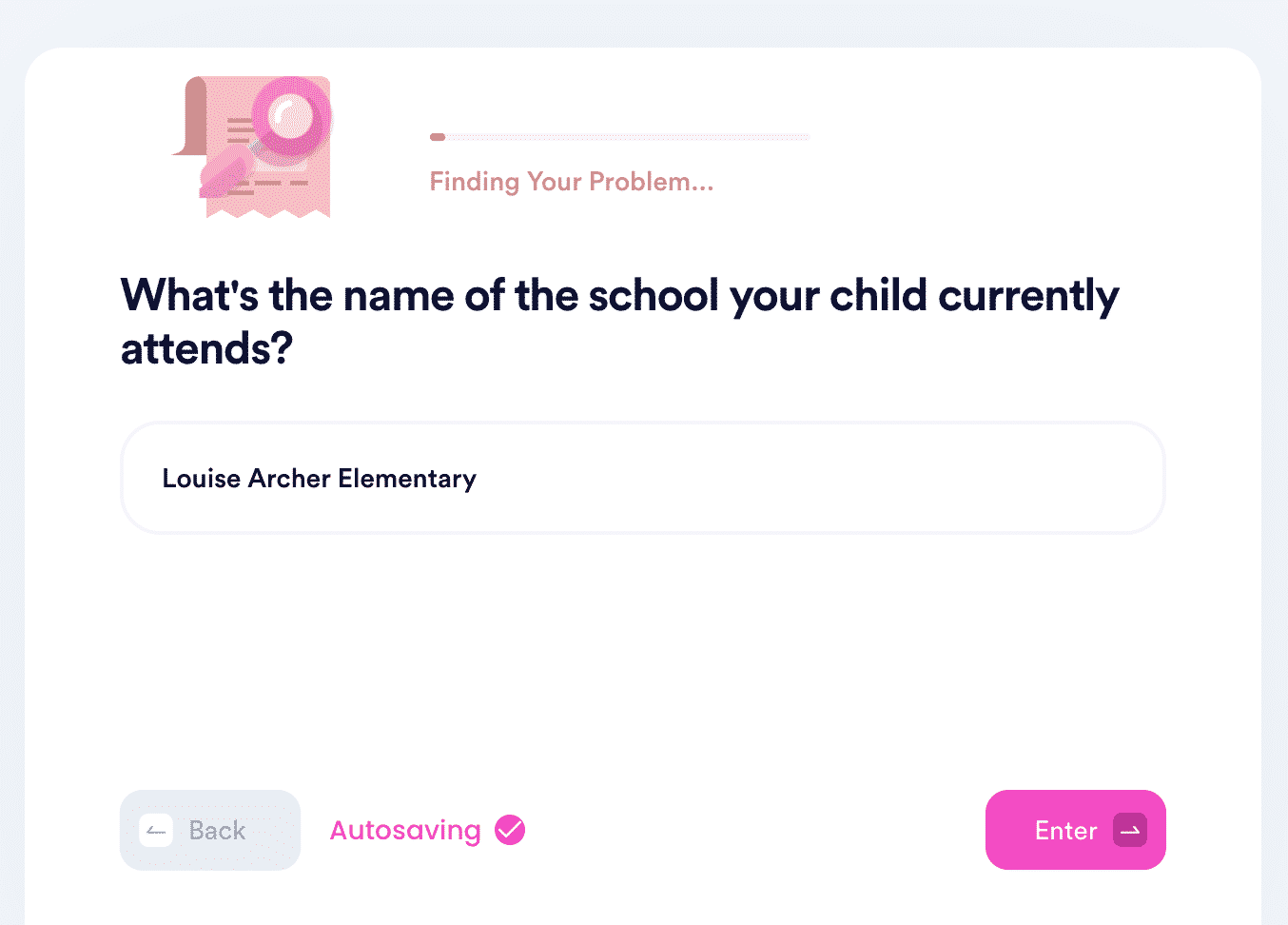 DoNotPay can also help you find out:
Don't Let Admin or Legal Issues Wear You Down—Hand Them Over to DoNotPay
Do you believe you may have some missing assets? Use DoNotPay's nifty product before the government claims them! Have you ever wanted to enter sweepstakes without purchasing anything? Our app will sign you up for them quickly! Trying to figure out how to reduce your property taxes or utility bills? DoNotPay can show you the way. Want to avoid getting charged for free trials that never fail to auto-renew into paid subscriptions? We'll help you cancel them before they expire.
Anything else you may need? Check out how our app can:
Check Out Our Other Robust Products
It doesn't stop there—DoNotPay can help you send a defamation demand letter, create passport photos, get gift card cash back, get any document notarized, request access to public records, claim insurance and warranty, request a college application fee waiver, appeal parking tickets, and much more.
Sign up now to get access to any of our products for one low monthly fee!