Understanding the eBags Return Policy—How Can DoNotPay Help?
Returning a product you're not happy with and getting a refund should be as easy as ordering the item—but it never is. If you've made an unsatisfactory purchase with eBags, you've come to the right place.
DoNotPay has gone over the eBags return policy so you don't have to, and we'll explain all the details in this article. More importantly, we'll present you with a way to . If you want to make a return request to eBags, as well as HP, Sears, PetSmart, and many other companies, you can do so in a matter of minutes by using our app.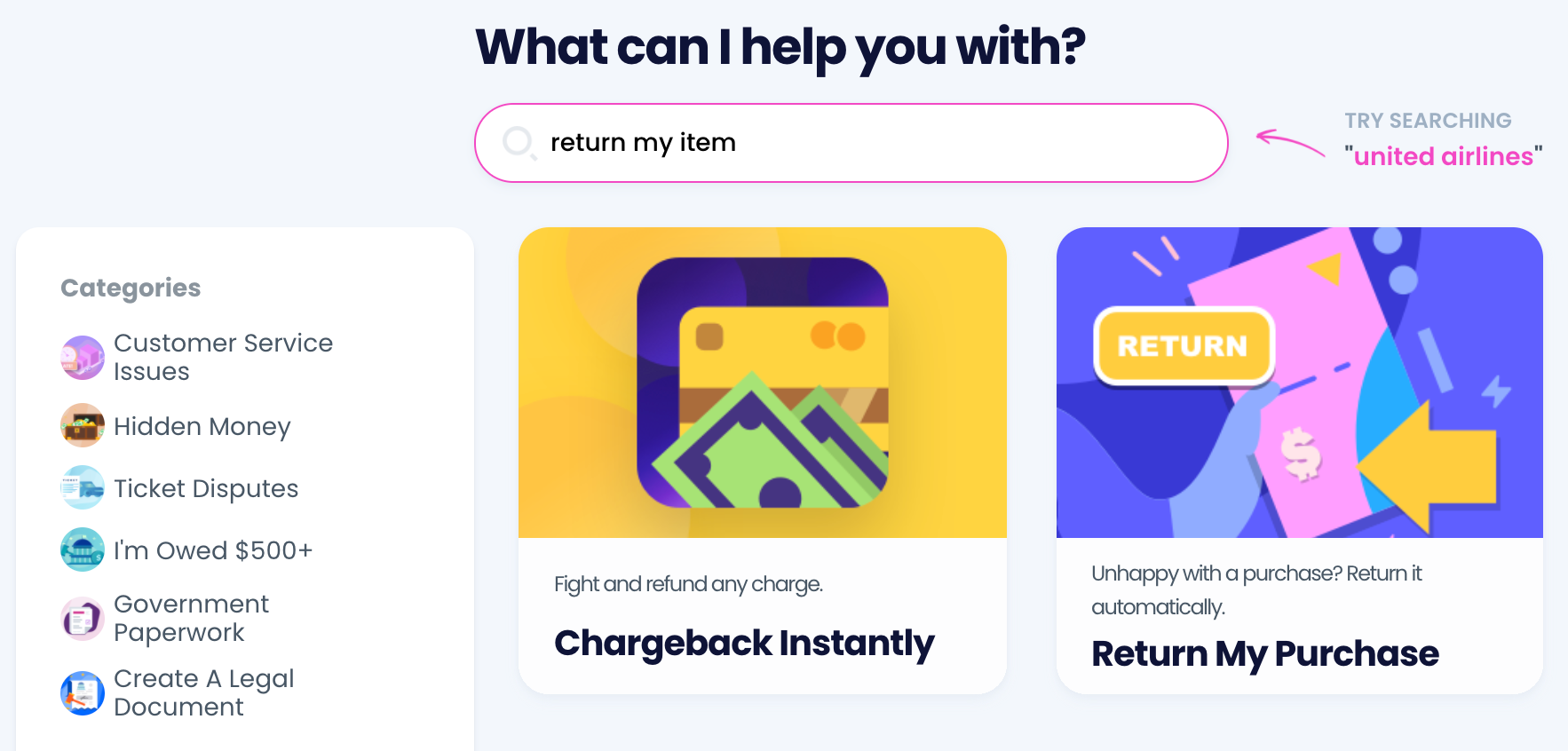 All About the eBags Return Policy
Since eBags is an online bag retailer, the only way you can make a return request is online. According to their return policy, you have to make a request within 30 days of the shipping date.
If you want your request to go through, you need to meet the following criteria:
You must send the product back in its original packaging
All hang tags must remain in place
The product must be unused, unstained, and unwashed
You have the right to request a return if:
You received a damaged or incorrect merchandise
You're unsatisfied with the product
Regardless of the reason, the process for making a request is the same.
How To Return a Product According to the eBags Return Policy
Every shipment eBags sends comes with a pre-paid return label to make the process easier for you. Bear in mind that you'll need your order number to make the request. If you don't have it, you can contact eBags via their email address (help@ebags.com) or chat support for help.
To make a return request on the eBags website, you need to take the following steps:
Go to the Online Return Center to create a request
Locate the order using your customer information and order number
Choose the reason for the request
Print out the return authorization paperwork and place it inside the packaging together with the pre-paid return label
Ship the product back to the point of purchase (not to eBags' fulfillment center)
After that, you have to wait for the shipment to reach its destination and for eBags to review your request.
Will eBags Issue a Full Refund?
You will not receive the full price you've paid for the bag you're not satisfied with. You'll be the one covering the costs of the pre-paid label you use to create the request. The price of the label varies depending on the product:
Non-travel item—$9.99
Travel item—$14.99
The company will deduct the cost from your refund.
They may also reduce your refund if the product you're returning was a part of any promotion.
If the reason for your request is a faulty product and eBags accepts your request, they will cover the shipping costs. You will still have to pay the shipping fee if they deny your request.
Make a Return Request Using DoNotPay
You can make your life easier with DoNotPay. With our app, you don't have to deal with all the hassle of making a request and handling the paperwork that comes with it.
All you need to do is go through the following four steps:
Use your browser and
Navigate to the Item Return Request section
Answer a few questions
Send the request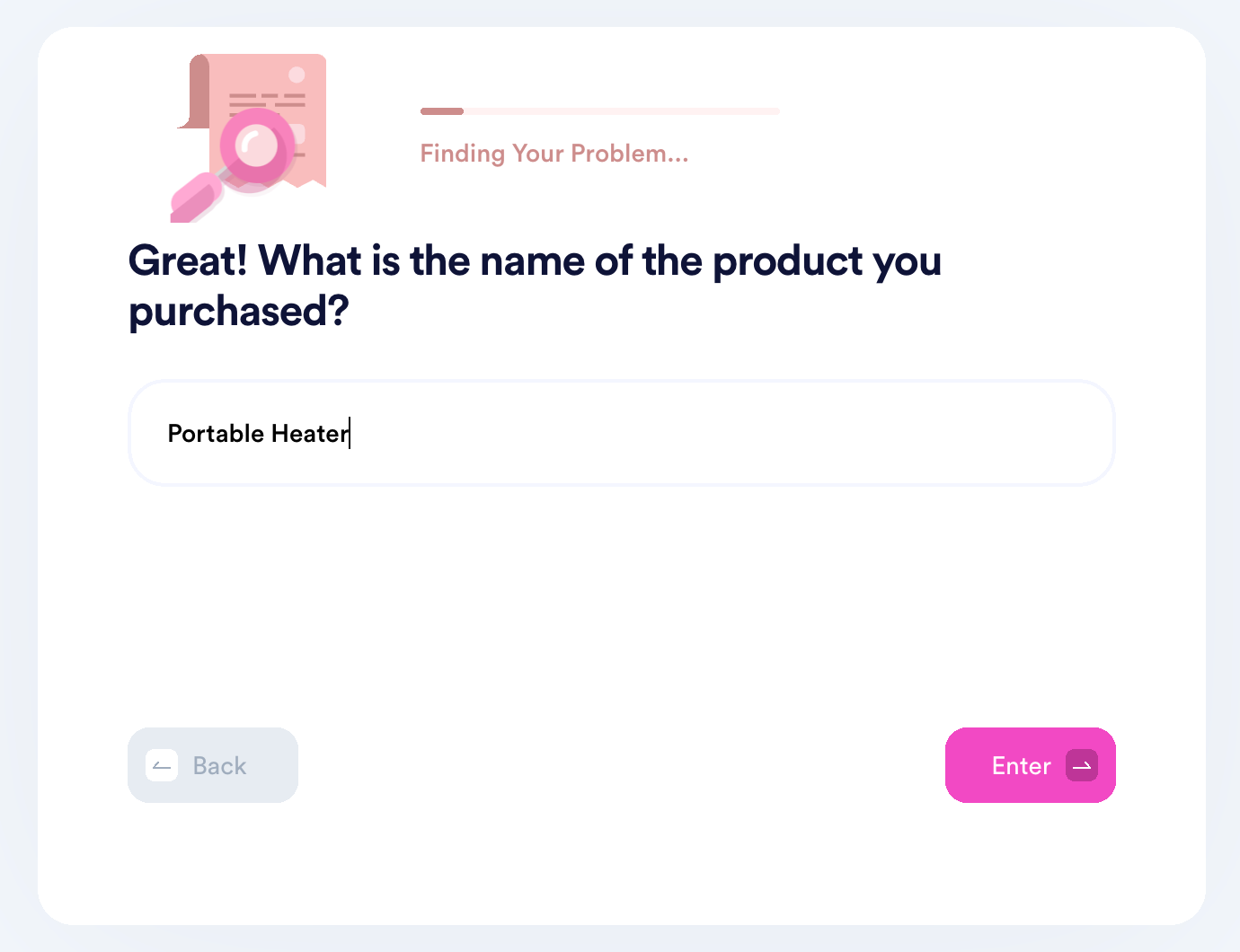 The rest is up to us! All that's left to do from your side is to ship the product, and that's it. We will handle all the communication with eBags on your behalf.
How Long Until eBags Reviews Your Request?
Once your product reaches eBags, their customer service will start handling your request. According to their policy, they need up to 14 business days to review your request and notify you of the outcome.
If they accept your request, they will send you the refund. The company will use the same bank account information you used when you made the purchase.
Getting a refund is the only available outcome of a resolved request. The store does not accept any exchanges. If you want a different bag, you'll have to place another order after receiving a refund.
The good news is, DoNotPay can help you with the waiting period as well. While filling out your request, you can specify by which date you want your return request to be resolved, and we will notify eBags about the deadline.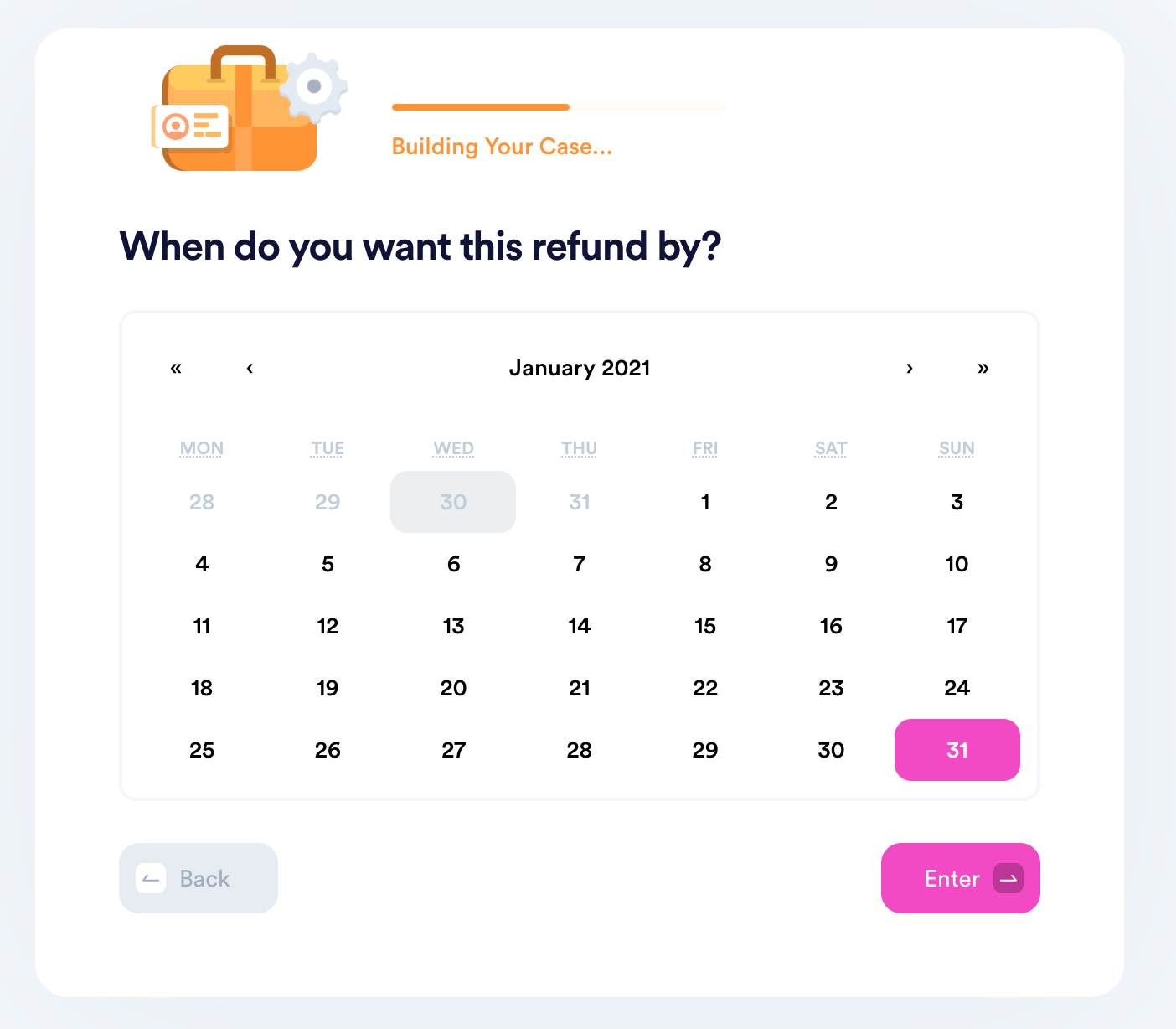 You Can Use DoNotPay To Send Return Requests to Other Companies
DoNotPay allows you to file return requests with a wealth of companies, both brick-and-mortar and online ones, as follows:
Item Returns and Other Annoying Tasks Take but a Minute With DoNotPay
Looking into resolving other tedious bureaucratic tasks with the help of our app? Check out a fraction of our product range that can assist you with:
Don't Stop There—See How We Can Help You Even Further
You can count on our app's assistance if you need to cancel any subscription, demand a refund from a company or airline, get help with utility bills, reduce your property taxes, get a tourist visa, appeal banned accounts, contact embassies, or get cash back on gift cards.
Think you have some missing money? Claim it before the government does it in your stead! Need help preparing for a government test? Skim through our guides! Want to schedule a DMV appointment in a snap? We'll do it for you! Have any other obstacles? We'll get rid of them in the blink of an eye.