Credible Witness for Notary Signings—Everything You Need To Know
Notarization is a complicated process, and it is perfectly understandable not to know everything. Before serving as a human ID card for someone getting their documents notarized, you should learn what the responsibilities of a credible identifying witness are.
In this article, you can find answers to all the questions you might have about what being a credible witness in a notary identification process entails.
What Is a Credible Witness?
Before notarizing a document, a notary public must verify the identity of the signer by checking their ID card, passport, or driver's license. When the signer is unable to provide a government-issued identification document, an impartial party can vouch for their identity. This person is referred to as the credible identifying witness.
To serve as a credible witness, a person has to:
Know the signer personally

Be sane, aware, truthful, and impartial

Take an oath or affirmation to vouch for the identity of the signer

Sign the notary's record
Some states also require the credible identifying witness to provide a state-approved identification document of their own.
What Are the Responsibilities of a Credible Witness?
Besides attesting to the signer's identity, a credible witness must swear that the signer is unable to get hold of their identification documents easily.
The complete list of responsibilities of the credible witness is much longer. A credible witness has to swear that:
The signer of the document personally present before the notary and the individual whose name is in the document are the same person

They personally know the signer

The signer is not in possession of any of the government-issued identification documents

There is a reasonable explanation why it's difficult or impossible for the signer to acquire any other form of identification

They don't have a financial interest or any kind of benefit in the process

They are not named as a beneficiary in the document that is being signed
What Situations Call for a Credible Witness?
Various circumstances can justify the use of a credible witness:
The signer lost their ID and hasn't been able to replace it yet

The ID has expired

The signer is hospitalized or lives in a nursing home or another assisted living facility, not being able to renew their ID

Notarization is performed in jail, and the signer cannot provide identification
Can a Family Member Serve as a Credible Witness?
Generally speaking, yes, but it depends on the case. If a family member has a financial gain from the transaction or receives something valuable, they cannot serve as a credible witness. States have different laws regarding credible identifying witnesses, so it's best to check with a public official from your state to be sure.
Credible Identifying Witness—Specific Requirements
Most states that accept credible witnesses as a method of identification apply the same rules to every notary service. Whether you're getting documents notarized by a regular, mobile, online, or electronic notary, you should get to know the requirements in your state first, especially if you choose remote online notarization (RON) and an out-of-state notary.
Some states have specific credible witness guidelines. Read more about those rules in the following table to avoid unpleasant surprises:
State
Credible Witness Guidelines

Arizona

One credible witness is enough

The notary must know the credible witness, or they should present an ID

Indiana

There can be one credible witness, but they must be known to the notary

The signer may take an oath of personal identity

Florida

One credible witness is enough, but they must be known to the notary

If there are two credible witnesses, the notary doesn't have to know them if they provide IDs

Credible witnesses must sign the sworn written statement

California

There can be one credible witness if the notary knows them or two that the notary doesn't know

Credible witnesses must show IDs

One credible witness is enough

The notary must know the credible witness personally
Credible Witnesses in Remote Online Notarization
Remote notaries use various communication platforms to perform notarization online instead of in person. Sometimes, an unstable internet connection can lead to poor video quality, making it understandable why so many states require some other method of identification besides showing an ID over the webcam. RON identification methods include:
Personal knowledge

Credible identifying witnesses

The multi-part identity verification process
The state where your online notary is located determines the rules regarding the number of credible witnesses and other requirements.
To learn more about RON and schedule an appointment with an online notary anywhere in the U.S., !
Need an Online Notary? DoNotPay Is Happy To Help!
Getting a credible witness for notary identification is easy. Finding an online notary is not as much, but that is about to change once we introduce you to the Notarize Any Document service! Whether you need a notary's signature on a will, affidavit, power of attorney, or child travel consent form, we will help you find a reliable online notary wherever you are!
DoNotPay designed an outstanding tool for connecting our subscribers with online notaries throughout the U.S. Why should you choose DoNotPay's online notary app? Because it's:
Time-saving

Cost-efficient

Easy to use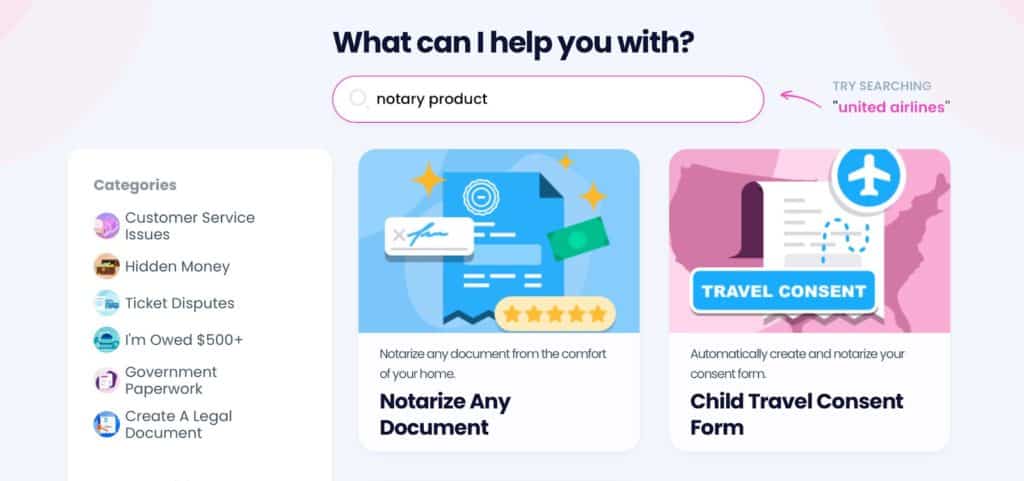 You can book a meeting with an online notary from your laptop or smartphone in four simple steps:
Select the

Notarize Any Document

service

Upload the document that requires notarization

Insert your email address
Once you receive an email from DoNotPay, follow the link to set up a virtual meeting with a remote notary.
Your Online Safety Is Our Priority
The benefits of the internet are numerous, but so are the opportunities for scams of all kinds. DoNotPay can help you fight scammers left and right with easy-to-use features, highly customizable to match your needs.
Our app can provide invaluable resources for fighting:
If you're an avid online shopper, we have your back. In case something goes wrong, we will help you contact customer service without holding, request a refund, or even sue the company in small claims court.
Diversity Is Our Middle Name
DoNotPay doesn't stop at online safety. Do you need to set up an appointment at the local DMV, but keep procrastinating because you know how awful the lines are? Are you a prospective college student trying to save on application fees? Have you lost track of all unnecessary subscriptions and memberships that keep draining your bank account?
If the answer is yes, DoNotPay is the right platform for you. Whether you're preparing for government-issued tests or looking for ways to lower your bills, our app will be of assistance.