Conduct a Simon Gift Card Check Effortlessly
A Simon gift card provides a world of spending opportunities—whether you're interested in fashion, fine dining, entertainment, or something else. If you own a Simon gift card, you need to check the balance regularly so you can decide how to manage the remaining cash on time.
If you're interested in the most practical ways to perform a Simon gift card check, DoNotPay is at your disposal. We will also show you how to get the remaining balance on your used card in cash!
Basics of Using a Simon Gift Card
A Simon gift card is a prepaid payment device issued by Visa or American Express. You can use it to purchase products and services anywhere in the U.S. where American Express and Visa Debit Cards are accepted.
The Simon gift card works like any other debit card—once you make a purchase, the appropriate amount will be deducted from the card's value. If you don't have enough funds on your card to make a purchase, it will be denied.
Both Visa and American express Simon gift cards can be loaded with any amount between $20 and $500. You can buy them in one of two ways:
Via their website
By visiting one of their Simon Guest Services in the nearest Simon Mall, Mills, or Premium Outlet store
You can use your Simon gift cards for in-person, online, mail, and telephone purchases.
Why Should I Check My Simon Gift Card Balance Regularly?
You have to keep track of your Simon gift card balance because:
Most retailers won't be able to tell you your balance as they would for other standard retailer gift cards
The Simon gift card will not always automatically deduct all available funds for purchases that exceed the amount you have on your card
Luckily, Simon offers practical ways to check the balance on your gift cards and avoid getting your purchase denied due to insufficient funds.
How To Perform a Simon Gift Card Balance Check
Take a look at the table below for detailed information on how to check your Simon gift card balance:
Method
Details
Online

Visit the company's official website
Scroll down to find the support section
Click on Check Your Card Balance
Enter your:

Card number
Security code
Card expiration date

Hit Check Your Balance

By phone

Find a toll-free number on the back of your Simon gift card (you can call them 24/7)
Provide the card information over the phone
Find out your gift card balance

In person

Visit Simon Guest Services at your nearest Simon Property or Premium Outlets
Give card information to one of the staff members
Get the details about your gift card balance right then and there
Does Simon Allow Gift Card Cash Back?
Once you complete the check, you may discover that you have a couple of dollars left on your Simon gift card. Since Simon doesn't allow you to reload the card, you have no choice but to let the remaining money go to waste or try to redeem it for cash.
Unfortunately, Simon will refuse to reimburse you for the remaining money unless required to do so by law. States that allow gift card reimbursements are:
Maine
Colorado
Connecticut
Rhode Island
Vermont
Massachusetts
Montana
New Jersey
Oregon
Puerto Rico
Washington
California
The balance on your Simon gift card for most of these states mustn't be higher than $5, except California—$10.
The only downside is that even if you live in one of the gift card cash back states, the process of getting the money from Simon by yourself is complicated and time-consuming.
You will get a much better deal with us! and get your gift card cash back with zero effort!
You Can Rely on DoNotPay To Get Your Gift Card Money Back
Why should you waste time researching state laws and trying to explain your legal rights to confused Simon employees? We will do all the research for you and make sure you get the deserved gift card reimbursement even if your state law doesn't allow it!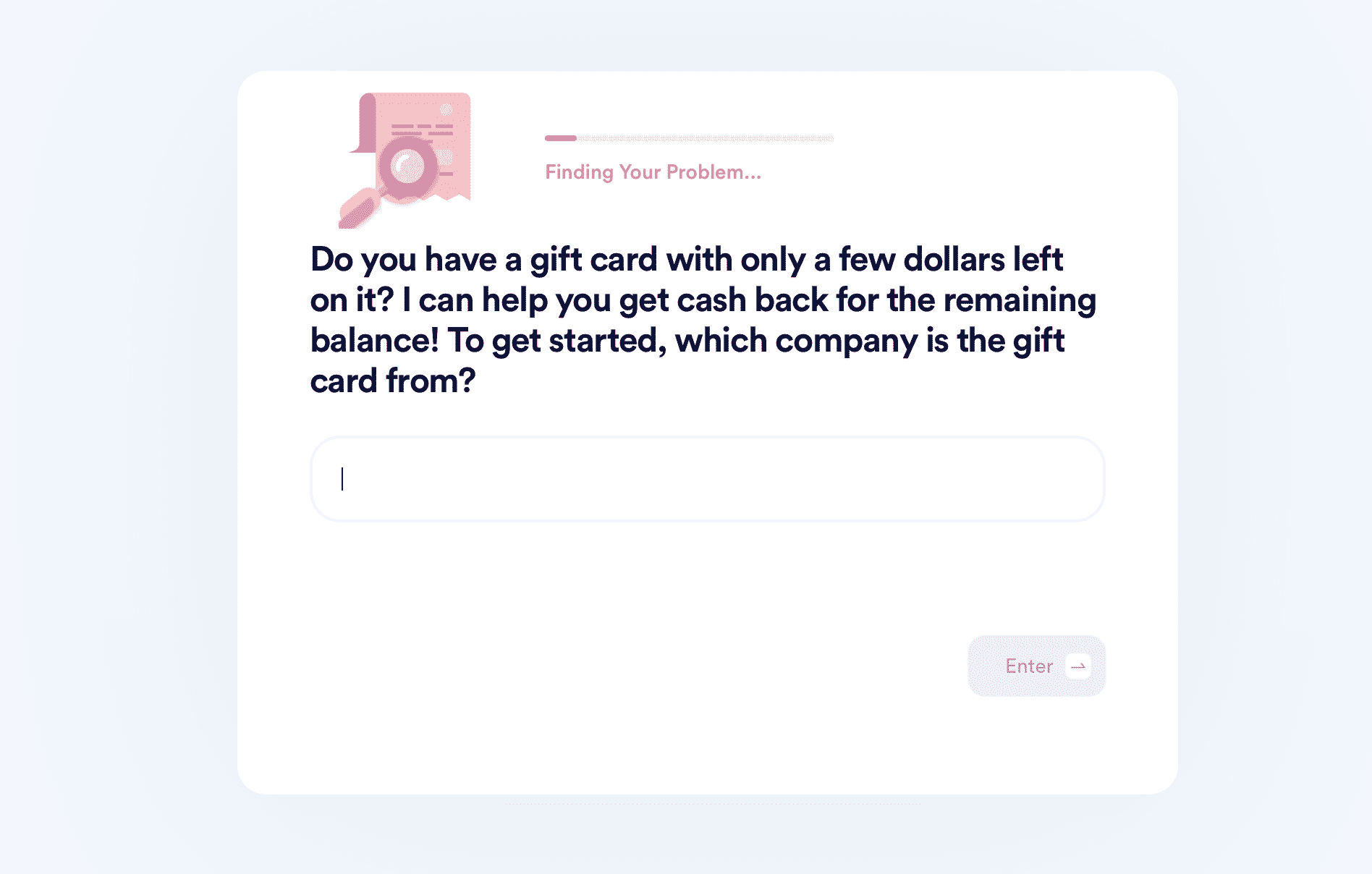 The process requires you to:
Go to our Gift Card Cash Back product
Answer our chatbot's questions
If it turns out your state doesn't have a gift card cash back policy, we will immediately find out if Simon has offices in one of the states that do. That way, we will be able to send the request directly to one of the gift card cash back states and get your money back!
Once we issue a request, you won't have to wait longer than 14 business days to get the cash or check by mail.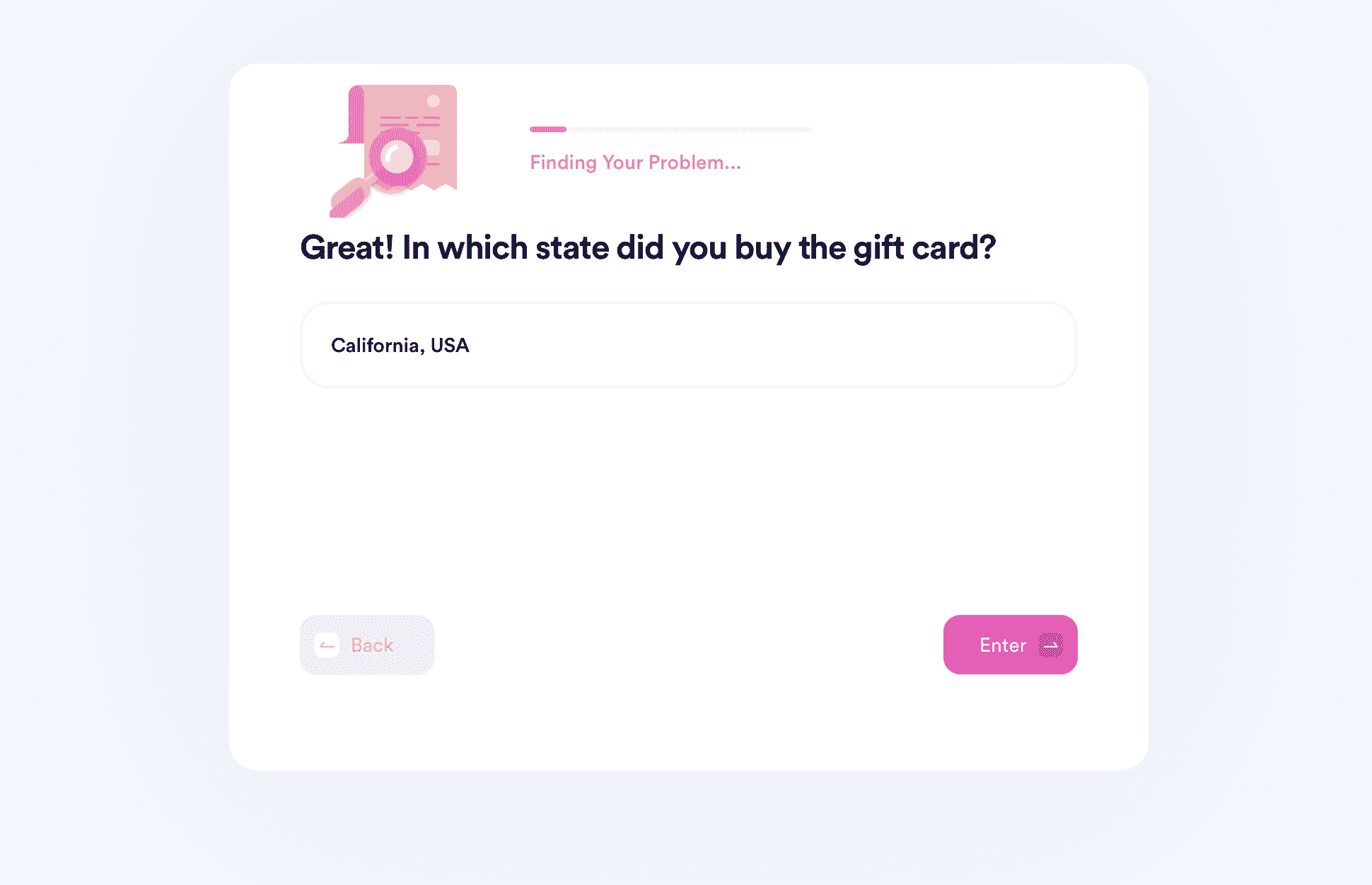 Are you interested in finding out more about gift cards? Access our comprehensive knowledge base and get the answers to some of the most popular gift card-related questions:
Rely on DoNotPay To Solve Your Administrative Issues
Getting your documents notarized, drawing up legal paperwork, appealing parking tickets, and similar activities usually require a lot of effort. DoNotPay offers various useful products that can help you deal with administrative problems quickly and save a lot of time. We can assist you with:
Protect Your Consumer Rights With DoNotPay
Companies complicate cancellation and refund processes intentionally, hoping that consumers wouldn't want to spend hours trying to solve the issue they're having. DoNotPay knows how important consumer rights are, and that's why we created numerous products that can help you:
Many people forget to cancel their free trials on time and end up paying for the services they don't even use. To prevent that, DoNotPay has developed a nifty virtual credit card that will allow you to enjoy free trials risk-free. Our virtual credit card will also help you avoid spam email notifications by generating a random email address that you can use when signing up for a free trial.