Take the CDL Practice Test in KY and Get Ready for the Exam!

To obtain your commercial vehicle driver's license in Kentucky, you first have to pass the CDL test. The Kentucky CDL test includes two subtests:
The knowledge test

The skills test
You can lean on DoNotPay's CDL practice test for KY to perfect your knowledge and get your CDL on a first try!
What Is the Kentucky CDL Test?
To pass your CDL test, you should learn what kind of questions it includes and where to find the study material and guides.
The Kentucky CDL test has two subtests, including the knowledge test and the skills test. You will be presented with 50 multiple-choice questions and have an hour to answer them.
The Kentucky CDL endorsements are:
T Double/Triple Trailer

P Passenger

N Tank

H Hazardous Materials

S School Bus
Endorsements are added to the CDL—they aren't mandatory for obtaining your license.
The skills test is mandatory, and you pass it by demonstrating your driving skills. You have to schedule your CDL skills testing appointment by calling Kentucky State police at 1-800-542-5990 a week or two in advance.
How To Get Ready for the Kentucky CDL Testing?
Thoroughly preparing for your Kentucky CDL test will increase your chances of passing it and give you a confidence boost before such a nerve-wracking experience! If you leave enough time for studying and take advantage of the numerous practice tests DoNotPay offers, you will get ready for your exam in no time! Other than practice tests, you can use any studying method of your choice—be it the Kentucky CDL manual or various CDL-related websites.
It's not important which method you opt for as long as you get the wanted results and make progress, but practice tests are of immense help. You can use them once you finish studying to check your knowledge and see if you need to go through anything again.
Take the Kentucky CDL Practice Tests With DoNotPay
Take the following steps to practice for your Kentucky CDL test with DoNotPay:
Access DoNotPay from any

Pick which practice test you want to take

Select the

number of questions

you would like to get (you can choose from 10, 20, or 30 questions)

Crush your

Kentucky CDL practice test

!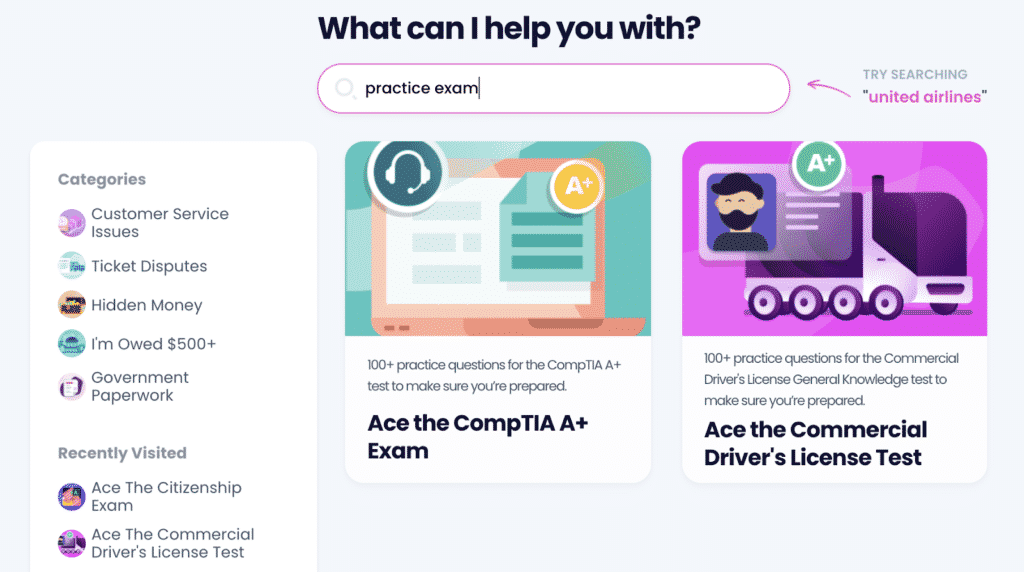 Making a mistake on your practice test is nothing to worry about! Choose to retry the question immediately or take your Kentucky CDL test again after getting the results.
In the list below, you can see other CDL practice tests you can take with our app:
DoNotPay offers more than CDL practice tests! We will help you with your written driving test, driving test appointment, the postal service exam, the notary exam, U.S. Citizenship Test, Criteria Cognitive Aptitude test, HAZMAT, ASVAB, CompTIA A+, as well as finding your ASVAB test scores!
What Are the KY CDL Test Requirements?
CDL requirements are not the same in every state. You are qualified for a Kentucky CDL if you meet the following requirements:
Are at least 18 (21 to drive out of Kentucky)

Have a valid Kentucky Driver's License

Obtain a Medical Examiner's Certificate, and prove that you are able to drive a commercial motor vehicle (CMV) in the state of Kentucky
Before you begin the CDL application process, you'll have to submit the above information (and a copy of both the front and back of your medical card) to the Division of Driver Licensing. You can submit it by fax, mail, or email.
These are the Kentucky CDL restrictions:
K—Intrastate driving only

L—Vehicles without air brakes

M—Except Class A Bus

N—Except Class A and B Bus

O—Vehicles other than tractor trailer

E—Auto transmission CMV only

Z—Hydraulic over air brake

V—Variance

W—Farm restricted service

X—No cargo in tank vehicle

P—No passengers on the bus
The Kentucky CDL Classes
The Kentucky CDL is classified into three categories—Class A, B, and C.
Class
Covers

Class A

A combination of vehicles weighing 26,000 pounds or more

Class B

A straight truck with two or more axles and a GVWR of 26,000 pounds or more

All vehicles with two or more axles and a GVWR of 26,000 pounds or more that are towing a vehicle with a GVWR of 10,000 pounds or less

Vehicles designed to transport 16 or more passengers (along with the driver) if the GVWR is 26,000 pounds or more

Class C

Vehicles with a GVWR weighing less than 26,000 pounds that are transporting hazardous materials requiring placarding

All vehicles made to transport 16 or more passengers (along with the driver) if the GVWR is less than 26,000 pounds
Enjoy Services Worry-Free With DoNotPay
Do you want to try out a new service but are worried about being charged if you forget to cancel it before it ends?
With DoNotPay, you can sign up for free trials without worrying about auto-charges. Our virtual credit card makes sure you enjoy your trial run of the service and prevents any company from taking money out of your real account.
This free-trial card also protects you from email spam because it generates an alternate email address for the free trial sign up.
If you want to keep your phone number private and deter robocallers and text spammers, use DoNotPay's Burner Phone feature when subscribing to services.
In case the company does charge you, initiate a chargeback on your credit card transactions quickly with our app.
Discover DoNotPay's Amazing Features
DoNotPay is a virtual lawyer app that can take over annoying bureaucratic tasks from you.
We can cover anything you may need help with—dealing with customer service reps, booking appointments with the DMV, securing refunds and compensation from airlines, disputing your parking tickets, or getting you an extension on bill payments.
Our app can help you draft any legal document in minutes or access public records from state and federal databases.