The Missouri Commercial Driver's License Practice Test Helps You Get Your CDL

The CDL test, mandatory for getting your commercial driver's license, is complex and requires a lot of studying. You can't show up and expect to pass it—you have to put in the work and prepare for it.
You do not have to do it all by yourself! DoNotPay offers the Missouri commercial driver's license practice test you can use to prepare easily!
Missouri CDL Test Explained
Missouri CDL driving test is a three-part exam that includes a pre-trip inspection test, basic control skills test, and driving test.
You have to make an appointment to take the skills test, and you need to have a CDL permit for at least 14 days before taking the exam.
The Missouri CDL exam includes General Knowledge, Air Brakes, and Combination Vehicles tests. Each knowledge test covers 20 general areas and contains up to 50 questions. A separate test for drivers who want to operate CMV's with air brakes in Missouri covers seven additional areas.
To pass the knowledge tests (both general and endorsement), you have to answer correctly at least 80% of the questions explained in the Missouri commercial driver license manual.
The skills test must be taken in the type of vehicle that the candidate will operate.
How Do I Prepare Using the Missouri CDL Practice Tests?
Practice tests are designed to show you what your real exam will be like and what to expect from it. Using the practice tests allows you to grasp the material better and see how long it is going to take to answer the questions.
There are numerous practice tests online. They usually consist of multiple-choice questions and serve as an accurate indicator of your knowledge. Online practice tests can sometimes prove unreliable, but you can count on DoNotPay to provide updated and useful prep material and guides!
How Can I Take the Missouri CDL Practice Test With DoNotPay?
Once you visit DoNotPay from any , follow our simple, three-step guide to take your Missouri practice test with ease:
Select the test you want to practice for

Choose the number of questions you want to have on your practice exam (10, 20, or 30)

Start practicing!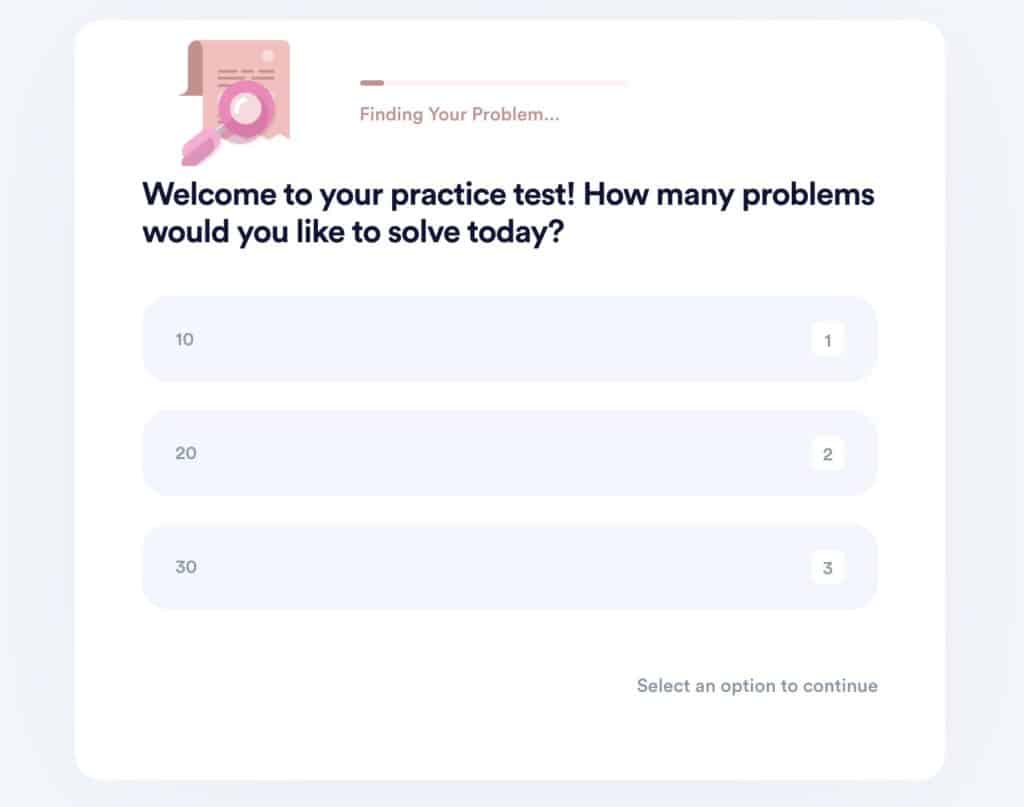 Allow DoNotPay to assist you in practicing for your Nebraska, Alabama, Oklahoma, North Carolina, Arizona, Kansas, Montana, Wisconsin, and many more CDL tests!
We help with more than CDL-related issues! You can use our app to thoroughly prepare for any of the next eight exams as well!
Checking your ASVAB test scores is also something we can give you a hand with!
What Is the Missouri CDL Test Cheat Sheet?
The cheat sheet uses 50 multiple-choice and "true or false" test questions to give you a taste of what you are going to experience when you take the real exam. The difference between the practice tests and the cheat sheet is that the cheat sheet should offer key elements from the driver's manual and present it in an easy-to-learn way.
Every time you take the test, you should get a new set of questions, which means you'll cover more areas. You can also get additional help by using the 50/50 feature, which narrows down the choices by removing 50% of incorrect answers. Even though they can be helpful, cheat sheets nothing like the real exam. To check how much you learned, take practice tests because they are the closest thing to the real deal.
Pros
Cons

Can be found online easily

Not difficult to navigate

You can usually take them for free

Questions are not always accurate

Requires a computer and stable internet connection

You sometimes have to pay to use it
The MO CDL Test Requirements
The Missouri CDL test requirements are as follows:
Candidates for a CDL need to have a CLP for at least 14 days before completing skills testing for a full CDL

The CLP will be issued for 365 days, and it is not renewable. Once it expires, the candidate will have to complete all required knowledge testing to obtain a new CLP

An out-of-state CLP cannot be directly transferred to obtain a Missouri CLP

Candidates will have to obtain a Missouri driver's license before they are issued a Missouri CLP

The

Missouri Department of Revenue

receives and transfers the skills test results electronically to other jurisdictions. The Department uses secure encrypted email to meet this requirement

The S-School Bus Endorsement is allowed on a CLP now (it wasn't allowed before—a permit holder could have only had the passenger endorsement for purposes of training in the empty school bus)
Get Back at Greedy Corporations With DoNotPay
How many times have you tried reaching out to an airline regarding your canceled flight? Did you ever spend hours trying to contact customer service reps only to be refused your refund request?
Big companies tend to make certain processes complicated for their customer in hopes they would give up on pursuing their goals.
This is why your warranty claims often get denied the first time or why canceling a gym membership can be an administrative hell.
Our AI-powered app is here to help you sort these problems out.
Whether you're trying to file an insurance claim, schedule your driving test, start a free trial without disclosing your payment info or a phone number, or get access to public records, we've got you covered.
DoNotPay Is the Virtual Assistant You Need
DoNotPay is the first robot lawyer in the world created to simplify complex tasks. We can help you with anything from appealing your parking citations to filing lawsuits in small claims court.
In case you need to save up some money, our app will show you how to get an extension on your bill payments, sign up for paid clinical trials, or avoid paying your college application fees.
DoNotPay can also report robocallers, text spammers, and email phishing attempts, and real-life stalkers with a few clicks.