Elevate Your CDL Results by Taking an Oregon CDL Practice Test
If you're in the prep phase of your CDL journey, you cannot skip practice tests. Finding reliable practicing material can be challenging because of numerous shady and out-of-date websites, but you're in the right place.
Not only will DoNotPay provide you with useful Oregon CDL practice tests but also go over the nitty-gritty details of the application process. This way, all you need to worry about is rolling up your sleeves to study and practice.
The
Oregon CDL Test
Explained
The Oregon CDL test is based on the Oregon Commercial Driver Manual. You can check section 1.4 in the introduction to see which sections you need to study for your job.
The test consists of two segments—a knowledge and skills exam. Depending on the type of commercial vehicle you'll be driving, the tests differ. Check out the details in the table below:
Knowledge Test
Skills Test

General knowledge test

—for all commercial drivers

Combination vehicles

—required for Class A combination vehicle drivers

Air brakes

—mandatory for vehicles equipped with air brakes

Hazardous materials endorsement

—necessary for hauling hazardous materials

Doubles/Triples endorsement

—required to pull double or triple trailers

Tank endorsement

—obligatory when hauling liquids or gas in bulk

Passenger endorsement

—for driving Class A or B vehicles designed to transport passengers in commerce or Class C vehicles designed to transport 16 passengers or more, including the driver

School bus endorsement

—mandatory for drivers who transport students from home to school, from school to home, or to and from school events

Pre-trip vehicle inspection

Completing a pre-trip inspection of your vehicle

Explaining to the examiner what you're inspecting and why

Basic control skills

Performing backing exercises to show your ability to control your vehicle

On-Road driving test

Showing your ability to drive your vehicle in different traffic situations safely, including:

Curves

Highways

Intersections

Railway crossings

Left and right turns

Single and multi-lane roads
Unlock Success by Taking DoNotPay's
Oregon DMV CDL Practice Test
s
CDL drivers earn a high income, especially if hauling hazardous materials. It goes in your favor to practice for the test, get satisfying results, and snatch the best jobs. The best way to achieve that is by taking DoNotPay's CDL practice tests.
Here's where to find them:
Access our app from any

Type in

CDL Test

Select your preferred test length

Start the test
Choosing the number of questions on our practice test means you can practice at your own pace. You can pick 10-, 20-, or 30-question tests.
When you start our practice test, you'll see one question at a time. If you answer a question incorrectly, you can either try again on the spot or move on and retake the entire test later. Take the test as many times as you need to feel good about your progress and results.
DoNotPay's practice tests are available to you on different devices.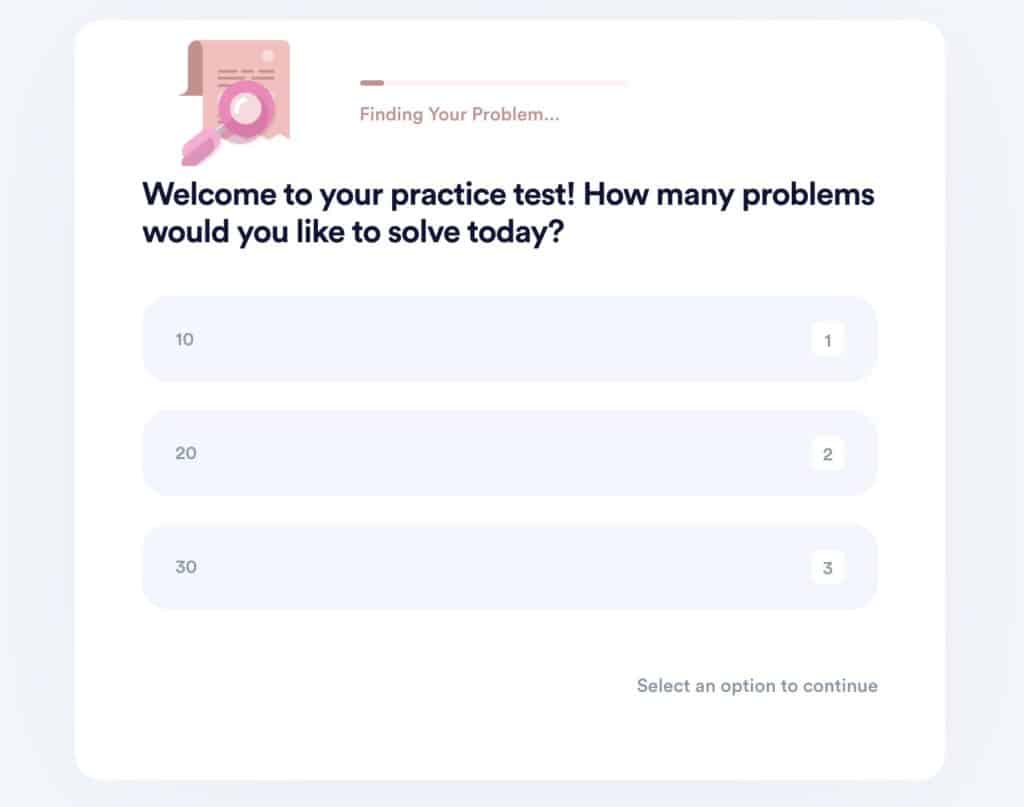 DoNotPay Helps You Prep for Different Tests
The CDL test is not the only exam we can help you prep for. Check out the table below for useful info regarding various government tests you may take in the future:
Besides providing different practice tests, we also offer tips and guidance in the application and testing process. Open DoNotPay in a , and we'll help you climb the career ladder.
Applying for a CDL in Oregon
The Oregon CDL application is a lengthy process, and it will set you back a considerable amount. We'll walk you through the process step by step.
To obtain a CDL, you must:
Start your application

online

Be 18 for intrastate and 21 for interstate driving

Submit

proof

of your full legal name, identity, date of birth, residence address, and legal presence in the U.S.

Provide your Social Security number

Pass a vision test

Submit a copy of your Medical Examiner's Certificate

Pay the required

fees

Pass the CDL knowledge test

Book a skills test with a third-party

CDL tester

Contact the Oregon DMV for your CDL issuance
Fighting Administration Is Easier With DoNotPay
Bureaucracy is a disease of the modern world, and we finally have a cure. Thanks to artificial intelligence, DoNotPay knows how to handle numerous rules and regulations and make your life so much easier.
Our bots ask you a few questions, gather the necessary info, and off they go! Filing warranty and insurance claims, requesting property tax reductions, getting access to public records, or claiming unclaimed funds under your name—you can deal with these bothersome tasks from the comfort of your home and within minutes!
If you need to get in touch with customer service representatives to ask for refunds or contact airline companies regarding compensation, our platform will make the process painless and care-free.
Don't hesitate to put our app into service if you need to contest parking tickets or avoid long lines at your local DMV!
How Else Can We Help?
Not only does DoNotPay handle bureaucracy, but it also saves you money in the process. Whether you're looking for the best learning materials for government tests or planning to comb through and cancel streaming subscriptions you don't use, DoNotPay can give a helping hand.
Our platform grows every day and comes with user-friendly features that will help you manage unpaid bills, stop copyright violation, or solve problems with credit cards faster than ever!