Take the Wisconsin CDL Practice Test in Three Easy Steps!
If you are looking for an easy way to prepare and crush your CDL exam, you've come to the right place! One of the most common and effective methods of preparing for your commercial driver's license exam is by taking practice tests. DoNotPay will present you with the Wisconsin CDL practice test, as well as straightforward instructions on how to best prepare for the real deal!
How To Study for the WI CDL Test
Studying for the Wisconsin CDL test is a crucial step towards passing it, and you can choose any method you like.
Take into consideration what type of learner you are. If you are the visual type, you can get the CDL study guides or Wisconsin commercial driver's license manual and use them to make notes, boards, diagrams, or concept maps.
In case you are the auditory type, you can hire a tutor or find videos to watch online.
Practice tests are by far the best method of learning and checking how much you covered or what parts you should work on. Don't worry about finding the right material—DoNotPay has the test you need!
No matter which preparation method you choose, make sure to take the studying process seriously!
Prepare and Crush Your Exam With DoNotPay's Wisconsin CDL Practice Tests
The easiest way you can take your Wisconsin CDL practice test is with DoNotPay! We made sure to streamline the process completely and give you simple, straightforward instructions.
This is what you need to do once you visit DoNotPay from your web browser:
Find the

CDL practice tests

Pick the test 

Choose the number of questions you would like to get (your options are: 10, 20, or 30 questions)

Take your

Wisconsin CDL practice test

!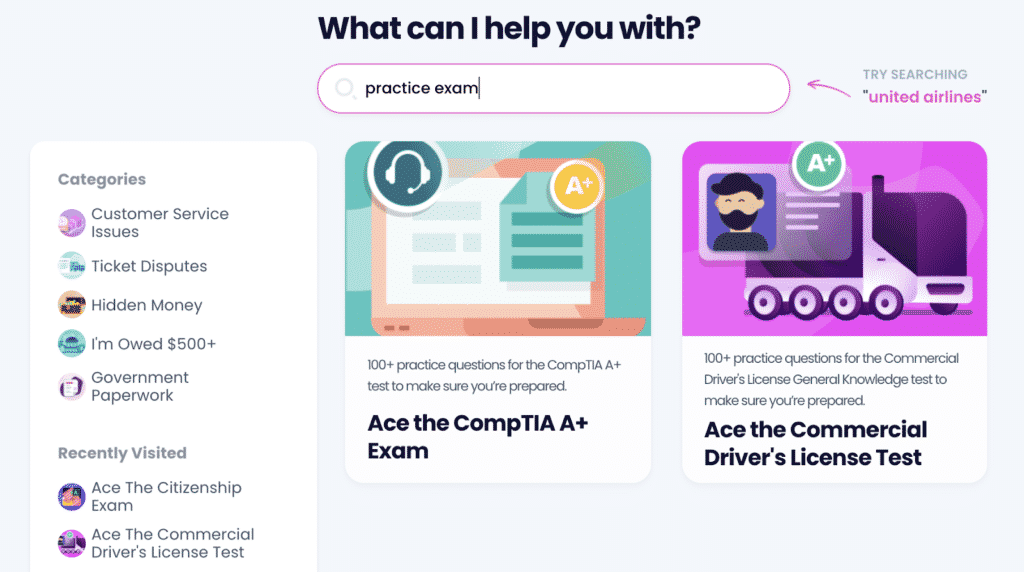 If you make a mistake and get any of the questions wrong, you have two options:
Retry on the spot

Retake the practice test after you see your score
We can also assist you in practicing for other government tests, such as the Notary Exam, HAZMAT Test, CompTIA A+, Armed Service Vocational Aptitude Battery (ASVAB), Postal Service Exam, Criteria Cognitive Aptitude Test (CCAT), written driving test, and U.S. Citizenship Test. That's not all! DoNotPay helps with ASVAB test scores and DMV test appointments.
If you aren't from Wisconsin but need to get ready for getting your CDL exam, give our Maryland, Arkansas, Nevada, California, Oklahoma, Indiana, Montana, or Texas CDL practice tests a try!
What Does the Wisconsin CDL Test Look Like?
The Wisconsin CDL test includes a knowledge test and a skills test. The knowledge test has seven subtests, and all of them are free. CDL knowledge tests take anywhere from 60 to 90 minutes, and no appointment is necessary.
The passing score is 80%. You will have to present a valid Class D license at the time of testing.
Candidates for a Hazardous Materials (H) endorsement must show Proof of Citizenship or Legal Status in the U.S. at the time of testing.
The number of questions you'll get on the test depends on the class, endorsements, and restrictions.
| | |
| --- | --- |
| Test | ​The Number of Questions |
| B/C - General Knowledge | 50 |
| A - Combination Vehicles | 20 |
| Air Brakes | ​25 |
| P - Transporting Passengers | ​20 |
| ​T - Doubles and Triples | ​20 |
| ​N - Tank Vehicles | ​20 |
| H - Hazardous Materials | 30 |
| S - School Bus | 25 |
| F - Farm Services | ​10 |
Wisconsin CDL Requirements
To get your Wisconsin CDL, you will have to meet specific requirements. This is what Wisconsin CDL law states:
A classified licensing system

Only one license can be issued to each driver

You have to present proof of

Citizenship or Legal Status in the U.S.

People with a CDL will have to provide proof of legal status when they renew their license, transfer an out-of-state license, and add or remove a class, endorsement, or restriction

Testing of commercial drivers who need to pass a knowledge test and driving skills test must be performed in the type of vehicle they drive

Enforcement of the law via the Commercial Driver License Information System (CDLIS) applies

Administration of CDL disqualifications regarding alcohol and serious traffic violations and speeding in a commercial motor vehicle applies

School bus drivers must pass a knowledge test and a driving skills test at each renewal in addition to presenting proof of physical fitness in the form of a completed MV3030B, or valid Federal Medical Certificate

School bus drivers will also have to complete the School Bus Endorsement Application

​All hazardous materials drivers who are transferring, renewing, or applying for the "H" endorsement for the first time need a background check, which includes fingerprinting, and they have to fill out the Hazardous Materials Endorsement Application MV3735, pass the hazardous materials knowledge test, and present proof of citizenship or legal status in the U.S. at the time of testing
Can't Afford a Lawyer? DoNotPay Will Jump In!
Did you know that you don't have to waste money on expensive legal help just to get rid of some minor bureaucratic issues? DoNotPay is here to save you hundreds of dollars with ready-to-use solutions that require mere minutes. 
Our AI-powered bots gather the most important information via short questionnaires, draft required legal documents, and provide you with online fax services. If you need specific public records to support your case, we'll point you in the right direction.
With our virtual lawyer's help, you will be able to:
Spend Your Time on More Enjoyable Activities
With DoNotPay's help, you're bound to have more free time. If you're considering a new streaming platform subscription, make use of its free trial without worrying about unwanted charges. Need to get rid of other subscriptions? Use DoNotPay to cancel them without contacting customer support centers.
Don't worry about phone number identification at the signup. With our Burner Phone feature, spam text messages won't be bothering you ever again!