Pass Your Texas CDL Test Without Any Trouble
Taking a CDL test is a nerve-wracking experience for most. With all the numbers, regulations, and specific requirements you need to remember, passing it on the first try may feel like an impossible task. 
With the right attitude and a decent amount of preparation, you have a fair chance of passing it straight away. DoNotPay is here to explain the preparation process and the best method of getting ready.
What Is a CDL Test?
Commercial Driver's License test is a test for operating heavy, large, and placarded hazardous material vehicles, such as trucks, dump trucks, and passenger busses. 
The test consists of two parts—a Knowledge test and a Skills test. 
There are seven knowledge tests. One covers general knowledge, five are for specific endorsements, and one is an Air Brakes test. Every state has specific regulations, so you should get acquainted with the Texas CDL manual before taking the test. Most people have to take three or four out of seven, depending on the type of vehicle they want to drive. 
The skills test is performed in front of the examiner and consists of three parts:
Vehicle inspection test

—Assesses your ability to estimate whether a truck is safe to drive

A road test

—Tests your safe-driving abilities

A basic control skills test

—Estimates your capacity to park, turn, and back up the vehicle
To operate a commercial vehicle, you must pass all three parts of the skills test.
Why Should You Prepare for the Texas CDL Permit Test?
Texas driver's test for operating commercial vehicles is considered one of the most difficult to pass. It requires a great deal of expertise, practice, and concentration. 
You need to have at least an 80% test score to obtain your license. If you fail any test parts more than three times, you must pay the fee again and retake both parts. 
You can avoid all the stress and unnecessary expenses with the appropriate amount of preparation. That is why we recommend taking preparation tests. They will reduce your anxiety and help you gain the confidence needed to pass the test on the first try.
What Is a Texas CDL Practice Test, and Why Is It Important?
Studying from the manual and trying to memorize a huge amount of information is not enough to pass the CDL driver's test. You have to get familiar with the terminology and the structure of the test. This approach will help you reduce the time needed to decipher the questions and focus on providing the right answers.
Practice driver's tests are designed to prepare you for the type of questions that will appear on the actual exam. 
You shouldn't expect to find the exact questions from the real test, so don't waste your time trying to memorize them. Questions from the practice tests help you get more insight into what segments you have mastered and what you need to improve.
You should apply the knowledge you acquired from the manual and practice as much as possible. We will provide the most reliable practice tests and show you how to access them!
How Can DoNotPay Help You Pass the Texas CDL Driving Test?
DoNotPay offers a sure way to get your Texas CDL license. Being prepared for the real test means knowing answers to as many question combinations and variations as possible. Our app allows you to access Texas CDL practice tests and retake them as many times as you need to feel confident. All you need to do is:
Access DoNotPay from your

web browser

Find the practice test by typing in the

commercial driver's license

keyword

Indicate whether the test should have 10, 20, or 30 questions

Answer the questions one at a time
You can correct the mistake on the spot or choose to retake the entire test after you finish. When you decide that you are ready to take the actual CDL test, you can use our app to find out how to schedule a DMV appointment.
If you are interested in taking other types of practice tests, such as the U.S. citizenship, notary, postal, or DMV practice test, DoNotPay will deliver. We can also give you some tips on how to pass a written driving test fast and easily!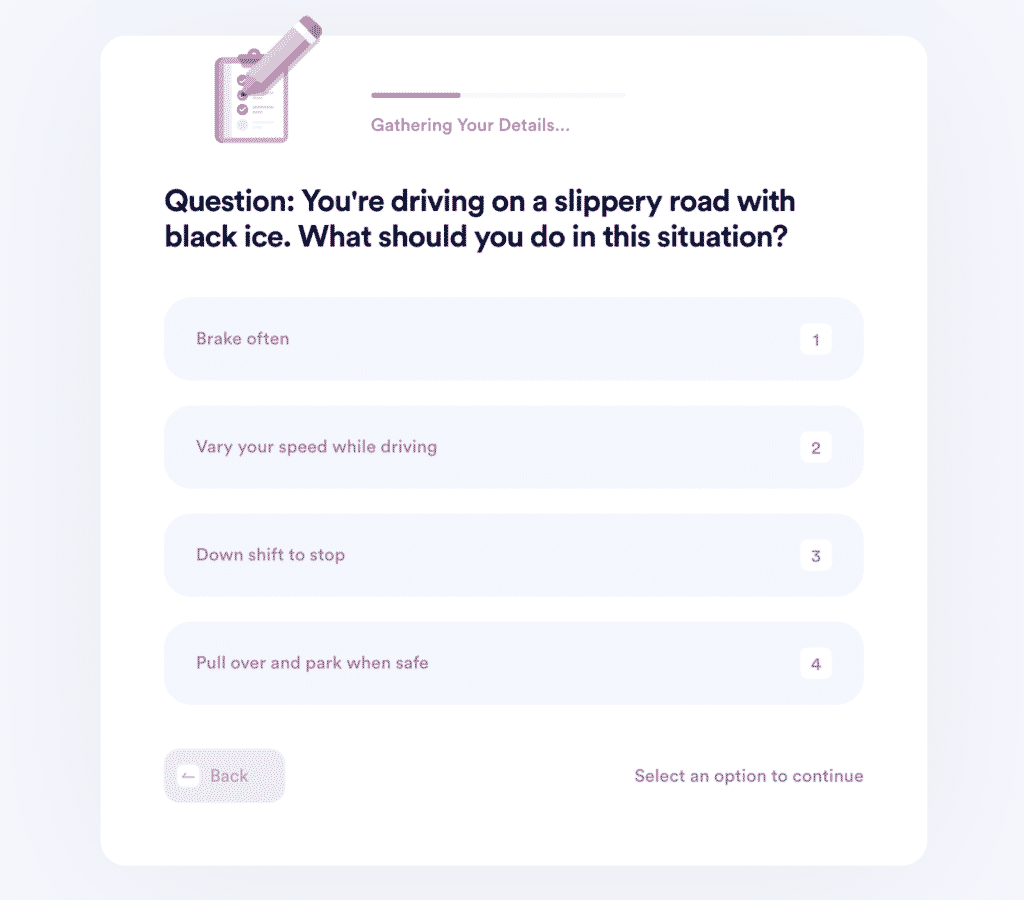 Can You Find a Texas CDL General Knowledge Practice Test on Your Own?
Candidates can find Texas CDL practice tests online. You will encounter a huge number of search results, and all websites claim to offer the most comprehensive material. How do you know which one to choose?
Here are certain factors you need to consider if you opt for one of those online tests:
The website claims to have the questions from the actual test—

Take this information with a grain of salt. You can use the test to practice, but don't waste time memorizing the answers

The reviews—

Check out how the practice test helped people pass the real deal

The source—

Research the website you are about to use. Some offer the complete material only after you agree to pay for a more advanced plan
The options are numerous, but there is no way of telling if you will choose the right one. If that many choices are giving you a headache, go for the most reliable method—DoNotPay.
How To Prepare for a Texas CDL Test
Before you take the actual exam, you have to make sure you understand the process and have all the necessary documentation. Here is what taking the Texas CDL permit test entails:
What Else Can DoNotPay Do for You?
Let DoNotPay be your faithful companion through numerous administrative tasks. We can help you gain insight into other useful tests, such as CCAT, ASVAB, HAZMAT, and CompTIA A+. Find out how to understand ASVAB test scores. 
DoNotPay has more in store for Texas residents. If you are tired of paying parking tickets in Houston, use our app to overturn them in a few easy steps. We can assist you in getting an extension for your electric bills and enrolling in the best clinical trials in Texas.
Open DoNotPay in your web browser and discover the easiest methods of:
Fighting speeding tickets

Overturning traffic citations