Illinois CDL Practice Test That Will Bring You the Best Results
People who want to obtain a commercial driver's license need to follow specific rules and steps that are different from the ones applying for the non-commercial license. The first step is taking the CDL test available in your state. We will tell you everything you need to know about the CDL test in the Prairie State and explain how to get prepared for it with DoNotPay's help!
What You Need To Know About the
Illinois CDL Written Test
The Illinois CDL written test consists of 50 multiple-choice questions. You will have to get 80% of them right to pass. You need to respect the same rules when taking this test as with any other:
Don't use a phone

Don't use any kind of aid

Be careful not to look at other people's tests or talk to them

Finish the test on time

Be at the CDL facility at least an hour earlier
In case you fail your CDL test three times, you won't be able to retake the test for 30 days. If you don't pass the next three times as well, you won't be able to take the test for 90 days. Add three more to that (nine failures in total), and you won't be able to check your knowledge and get the CDL license for an entire year.
Now that you have this information, you should know how important it is not to take the test lightly. As much as 60% of people fail the first time! Don't be among them, and prepare properly.
How To Get Ready for the
CDL Test in Illinois
You will need to know everything about the rules and regulations to pass the CDL test in any state. As with any other test, you will need to study. The important question is—how? What is the best way to store this knowledge and use it when the time comes?
Study Method
Description
Downsides
Study Guides

You can start by studying the

Commercial Driver's License Study Guide

for the state of Illinois. This useful guide includes everything you should know for your test

The information is spread over almost 200 pages, so you might not know what the most important parts are

YouTube Videos

For some people watching YouTube CDL videos works best for learning what they should know about this type of license

Might not include all the relevant information, and you won't see examples of the test questions

Practice Tests

The best way to prepare for a test. You can see the type and form of questions and know what parts of the study guide are the most important

You might need some previous knowledge before using them (it is not crucial)
These approaches work best when combined. You should also remember to give yourself enough time to prepare properly—don't leave everything for the night before.
Use DoNotPay's
IL CDL Practice Test
To Get Properly Prepared
DoNotPay can help you learn everything you should know about the heavy-vehicle rules and regulations. You will ace your Illinois CDL test without breaking a sweat. We have numerous combinations of questions that can ensure you come to the test fully prepared.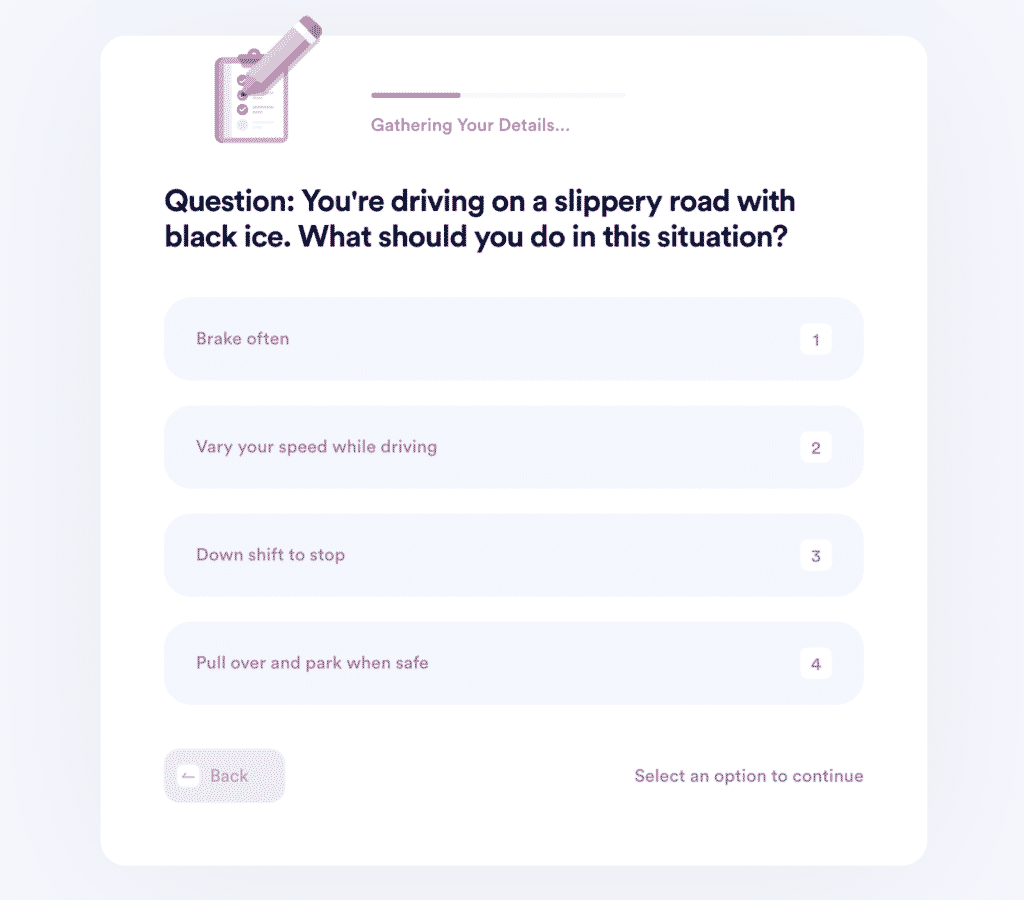 There are only a few clicks between you and the best CDL practice test available. To check your knowledge, you'll only need to:
Access the DoNotPay from your

Type in the keywords of the test's name

Select the test you want to get ready for

Let us know if you want to check your knowledge on 10, 20, or 30 question tests

Initiate the test completion
If you prefer, you can see your results first and then redo the test. In case you want to retake the questions immediately, we leave you with the on-spot option as well.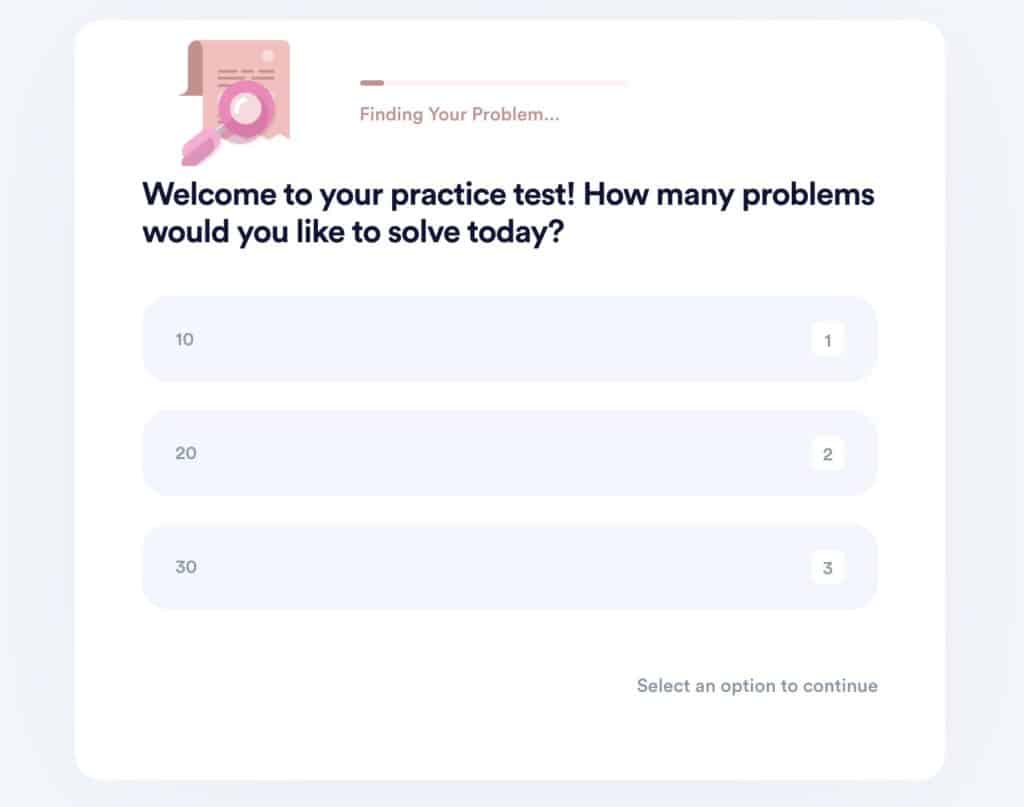 Other Government-Issued Tests DoNotPay Can Help You Ace
DoNotPay can help you obtain the license you want no matter what type of test you need to pass. Regular practice and the right exercise will help you reach the best results. These are all the tests we can help you ace:
DoNotPay's comprehensive offer can help drivers with any of their possible troubles. We know the easiest way for you to pass the written driving test and can make sure you have everything you need on your driving checklist. Our app can also tell you how to make a DMV driving test appointment. These are the other tests relevant to people who wish to spend their time behind the wheel:
How To Schedule the
Illinois CDL Test
If you have all the necessary qualifications, you can schedule the Illinois CDL test. You may do so in two ways:
How To Schedule the Illinois CDL Test Over the Phone
You may call and schedule your CDL test appointment in Illinois this way. Proceed as follows:
Call

217-785-3013

Tell the rep that you want to schedule the CDL test

Provide them with all the info they ask for

Pick the date that suits you

Follow any further instructions
You can reach the Office of the Illinois Secretary of State from Monday to Friday between 8 a.m. and 4:30 p.m.
How To Schedule the Illinois CDL Test Online
If you are not a fan of talking over the phone, you can schedule your CDL test in Illinois online by following these steps:
Access the

Office of the Illinois Secretary of State

website

Enter your driver's license number

Click on

Submit

Choose the date and time that work for you

Follow any other instructions
Check Out All the Other Useful Features in DoNotPay's Offer
You can use DoNotPay to handle various tasks in Illinois. Maybe you need help paying electric bills? We can assist you to manage them. Perhaps you are looking for clinical trials in Chicago? We know the best interventional studies available in the Windy City.
DoNotPay can help students living on tight budgets request fee waivers for The University of Illinois at Chicago (UIC). If you want to cancel ComEd or get a Ventra card refund the easiest way, we are there for you as well.
That's not all! DoNotPay is not limited to one state—our features are available across the country. See what else we can do for you by opening DoNotPay in a and pick any of the following tasks:
Disputing speeding tickets

Fighting traffic tickets