The Best Arkansas CDL Practice Test Available
Having a CDL is a safe card to some well-paid job opportunities for drivers across the country. If you want to get your commercial driver's license in Arkansas easily, you'll need to get ready for the required tests.
DoNotPay's practice test offers everything you need to ace the real CDL knowledge test!
The Relevant Info Regarding the Arkansas CDL Test
The Arkansas CDL knowledge test is similar to other CDL tests across the country. It consists of 50 multiple-choice questions, and you can only allow yourself to have up to ten incorrect answers if you wish to pass the test.
Getting 80% of the answers right won't be easy, so you'll need to prepare properly. Arkansas CDL test will check your knowledge of:
Driving in hot weather

Braking

Correct emergency behavior

Commercial vehicle operation techniques

Proper care of your vehicle

State laws

Cargo loading

Identifying key parts of your suspension system

Road skills

Safe driving practices
Why Is It Necessary To Get Ready for the Arkansas CDL Test?
People who don't take the CDL test seriously won't be able to pass it—it's that simple. The test requires the participants to take some time and prepare for it. This means that you cannot expect great results only by showing up. If you don't want to be among the large percentage who fail the first time, choose your preparation techniques carefully.
Once you learn all about the rules and regulations and cover all the questions you can expect to see on the test, you will manage to get the best results.
How Do People Prepare for the CDL Test in Arkansas?
Not even drivers with years of driving experience behind them can know all the rules and regulations needed to wield the commercial driver's license.
This is why you will have to try at least one of the following study techniques:
Study guides

Tutors

Practice tests
Study guides are the starting point of getting ready for your CDL knowledge test. Each state has a handbook containing numerous rules and regulations that are state-specific. Arkansas study guide will help you understand what a commercial driver's license is all about and how it differs from the non-commercial one. You should read it a few times and try to make some notes along the way.
If you feel like spending some extra money on something that is not necessary, you can try getting a tutor. The person could probably help you understand the material better, but their services are often expensive, and you have other cheaper methods available.
Practice tests are there to make sure you can use the knowledge you acquired from the study guide. You will see what the questions look like and what to expect from the real test.
Open DoNotPay in your , and you can test your knowledge until you feel completely prepared for the Arkansas CDL knowledge test.
DoNotPay Has the Arkansas CDL Practice Test You Need
The best Arkansas CDL practice test awaits you on DoNotPay. We have all the questions and combinations you need to cover! Access our app from any and follow these straightforward instructions:
Type in the name of the test

Select the test you wish to take

Inform us whether you'd like to take a 10-, 20-, or 30-question practice test

Begin completing the test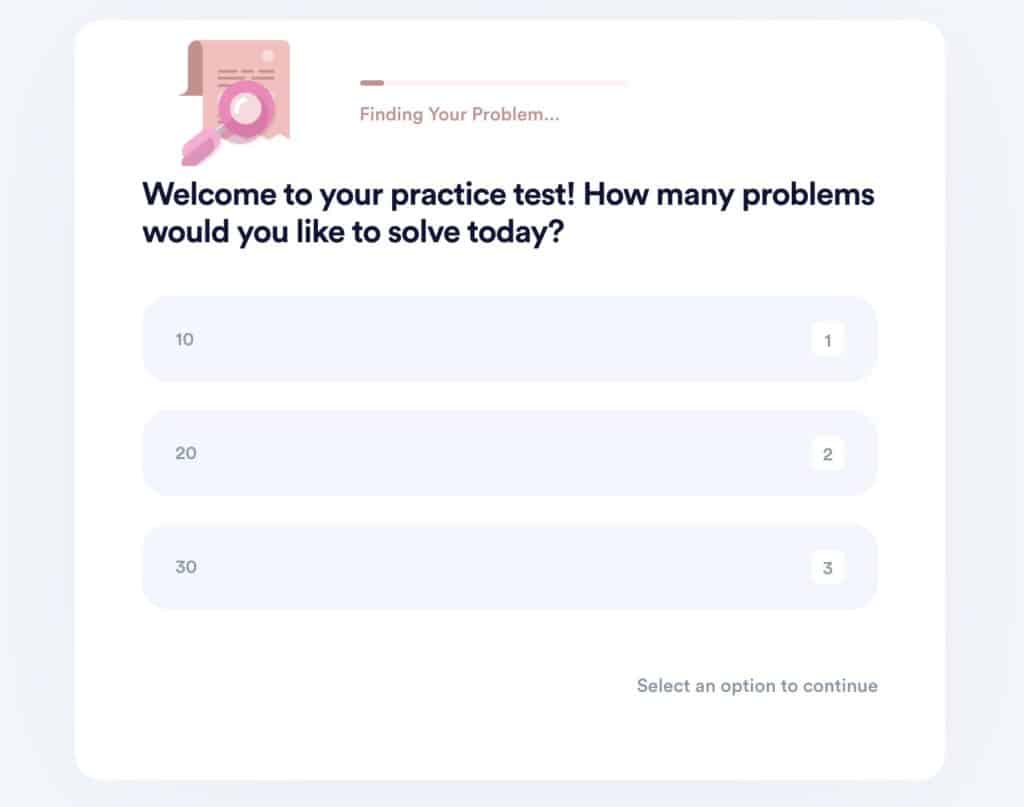 Other Tests You Can Practice for With DoNotPay
DoNotPay is a helpful tool that can bring you the best scores on various government tests. Take a look at the table below to see other tests and additional services our app offers:
How To Schedule a CDL Test in Arkansas
People who wish to schedule a CDL test in Arkansas may do so in two ways:
How To Schedule a CDL Test Appointment in Arkansas Online
You can schedule a CDL test in Arkansas online by following these steps:
Go to the

In Line Online

website

Select the

Make Appointment

button

Pick your appointment type

Choose the time and date that you wish to take the test at

Type in your name, email, and phone number

Click on

Submit
How To Schedule a CDL Test Appointment in Arkansas Over the Phone
You can schedule a CDL test in Arkansas over the phone by following these instructions:
Call the Arkansas State Police CDL help desk at

501-618-8149

Let the rep know you want to schedule a test appointment

Provide them with all the info they ask for

Follow any additional instructions
Don't Let Companies Take Your Hard-Earned Money!
People love to subscribe to all sorts of services—especially if there are free trials involved. The problem is that most of them forget that they signed up for anything in the first place. Companies are aware of this, which is why they auto-renew memberships as soon as the free trials expire.
Don't let them get away with it—use DoNotPay to sign up for free trials and cancel subscriptions right before they renew. If you want to save even more money, use our platform to learn how to handle high bills, parking tickets, college application fees, canceled or delayed flights, or faulty services you should get refunded for.
Use DoNotPay To Stop Illegal Activities and Earn off Scammers!
Our AI-powered platform can assist you in dealing with all sorts of scammers. If you got any of the following, the world's first robot lawyer will help you seek justice:
Do you want to protect yourself and your loved ones from stalking and harassment as well? Use DoNotPay to learn how! If the situation with a stalker escalates, our app is going to help you take them to small claims court by preparing all the paperwork and your court statement.
Don't stop there—check out how you can bypass phone number verification, claim any type of warranty, or pass any government test with flying colors!